Last Thursday, I showed you the lovely bathroom I'm working with for Calling it Home's One Room Challenge – six weeks to makeover one room (eek – I'm excited, and just a bit nervous!).  Every Thursday until May 7th I'll be sharing updates to our small cottage bathroom.  You can also check out the progress of 20 amazing designers every Wednesday.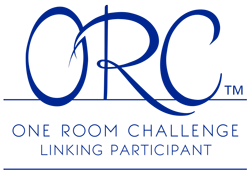 Most everything in our bathroom is original to the early 1970s when the house was built, which makes this makeover easy and difficult at the same time.  I've decided to gut the bathroom (due to some structural problems in the floor, and everything else is just plain ugly), which makes designing it easy, because I can start from scratch.  Then again, gutting it means there is a lot more work to putting it back together.
Did I mention that this little lake house is an hour and a half from our home?  This makes working on it a tad bit more difficult, as we can only go up on the weekends.  Plus, I have not the slightest idea how to install a bathtub.  That's going to be dad's job, and well, that needs to be done before anything else can go in.
So, for this week, I have the demo pictures, and a quick look at what I am envisioning for the space.
Remember, this is what she looked like last week.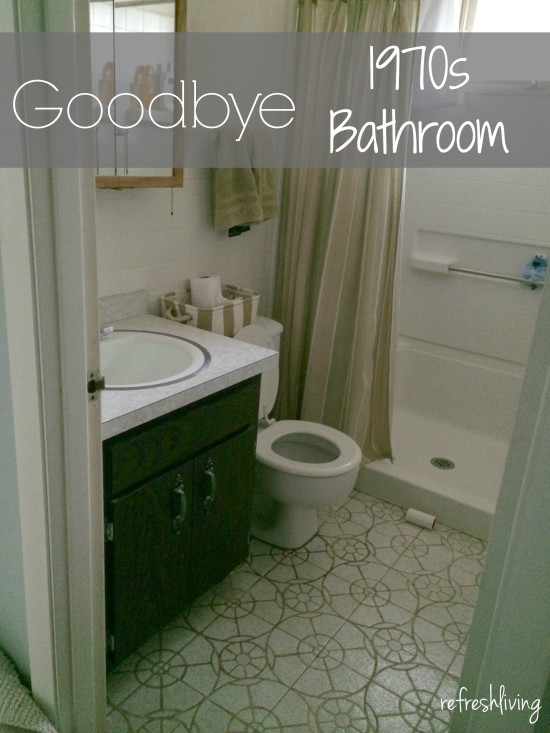 And here is what she looked like about fours hours after that first picture was taken.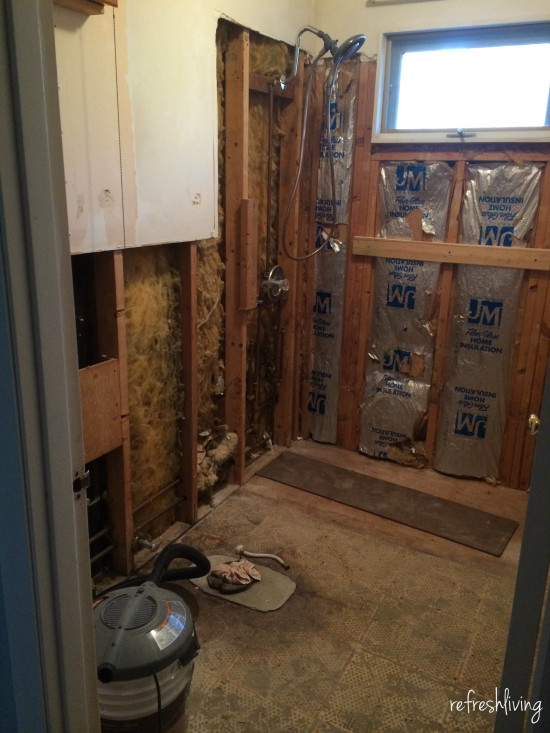 You can see why we needed to take out the tile in the room so we can repair the floor around the toilet.  A year ago we semi-patched the floor directly under it, just to stabilize things a little bit while we waited to gut the whole room.  We'll take out the plywood in that area and replace it with new, sturdy stuff!
The walls and shower came out fairly easily, and no live critters or creepy crawlies were found in the walls!  It's amazing how small this bathroom looks with everything gone, probably because it's so dark.  I'm glad I'm using such a light color palette with the tile, floor, and walls.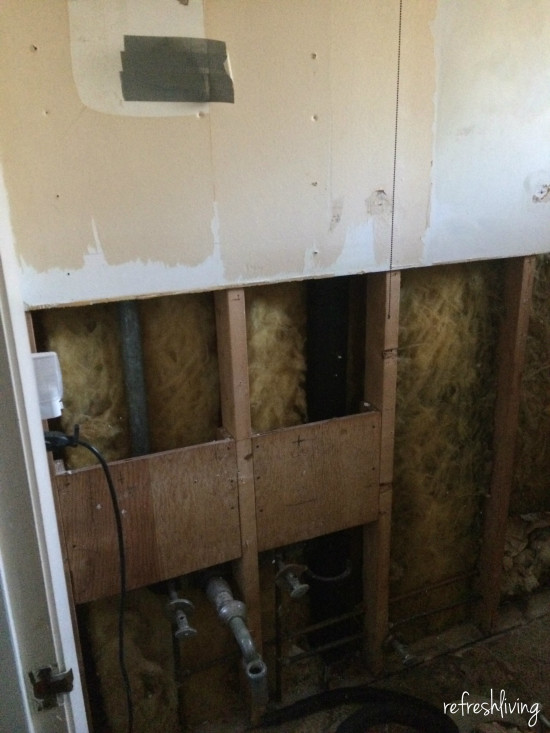 Which brings me to the exciting part – here's what I'm picturing for the space.  (Be kind, I've never created one of these mood boards before, and don't quite know what I'm doing.)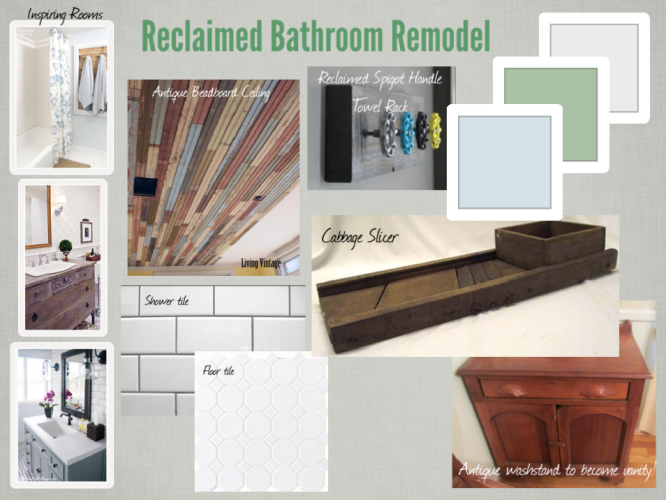 Image sources:  The Golden Sycamore, Tidbits & Twine, The Lilypad Cottage, Living Vintage
I am really hopeful that I'll be able to find enough antique bead board to cover the ceiling.  The first place I looked didn't have quite what I was looking for, but I have one other "shop" in Wisconsin that may very well have what I need.  (If you know of any places in the Chicagoland or southern Wisconsin area that may have antique bead board, let me know!)
I already have the antique washstand that we are adapting to be large enough to become a vanity.  I found a piece of 1.5″ thick quartz that is made to look like marble at my local ReStore (for $15, I might add!!) and a new white under mount sink ($10) that is at a counter top maker's shop as we speak.  He'll finish the edges of the scrap stone and cut the hole for the sink and faucet.  This is virtually the only thing we'll be paying for to make this one-of-a-kind vanity; I'm hopeful that it will cost less than $175 to create the whole thing!
Yes, I'm using an antique cabbage slicer in the bathroom.  You may have some guesses on how I'm going to use it, because there are only so many things you need in the bathroom, but you'll have to come check out the room at the end to see how I plan to incorporate it into the space!
Check out all the other week 2 room updates as well!
Like what you see?   I'd love for you to follow along!
Send us some love with a like on Facebook, check out inspiring projects on Pinterest, follow along on Bloglovin', or have posts delivered to your inbox once a week. [mc4wp_form]
Join the Refresh Living DIY & Upcycling Community
Join the subscriber list to receive one to two emails per month with updates from the blog. PLUS, you'll gain access to my printables and graphics library. Every new design I create will be added here, and you'll have free access - forever!