I missed you last week, but I promise I was working hard to make some progress on our little cottage bathroom.  Because it's in Wisconsin, there was just no progress to post, because we weren't actually up there to work on it.  We went up this weekend, though, and have some major updates to share.
We have a bathtub, my friends, and tile too!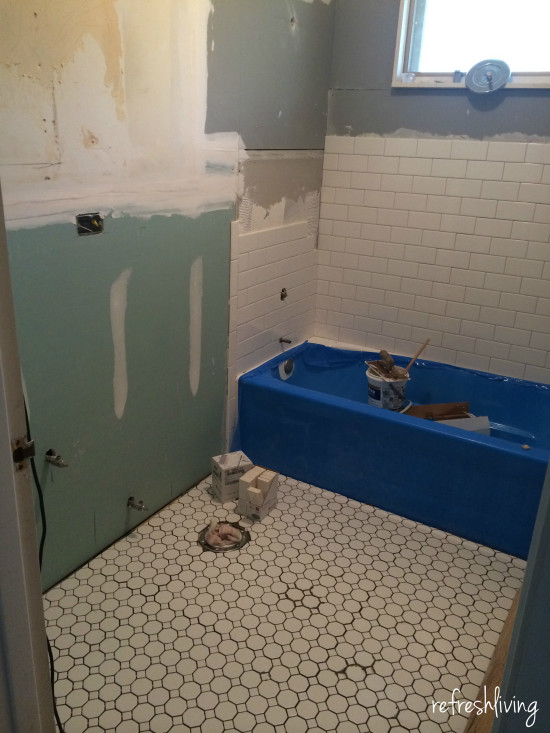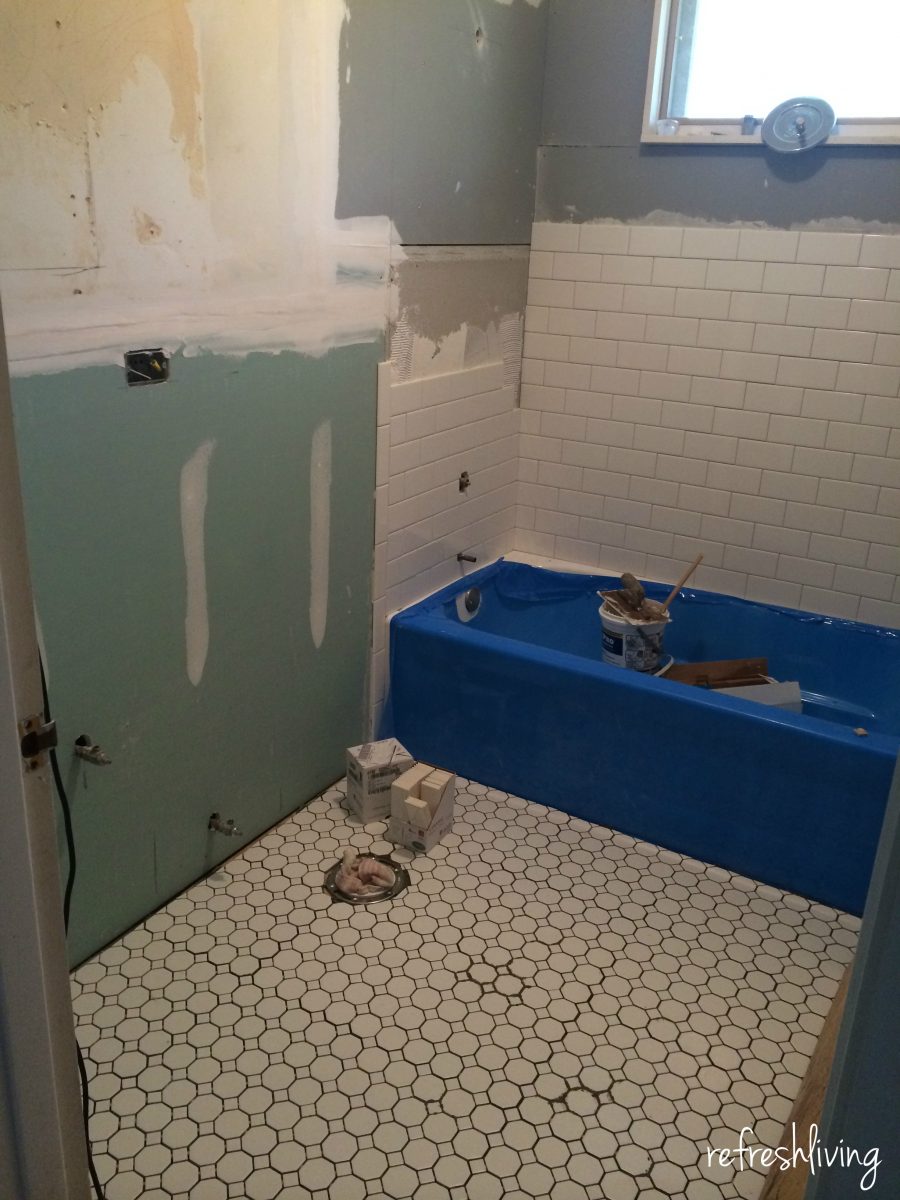 I know, I know, we tiled a bit backwards (who tiles the floor before the walls?!), but my dad and I were working at the same (there are only so many hours in a weekend).  I had a lot more to tile in the shower (or maybe I am just a lot slower at this tiling thing), and he was tackling the floor.  We had to put down a piece of plywood to step on to disperse the weight.  You can see some of the mortar seeping through, but nothing that a pen couldn't remove before it dried.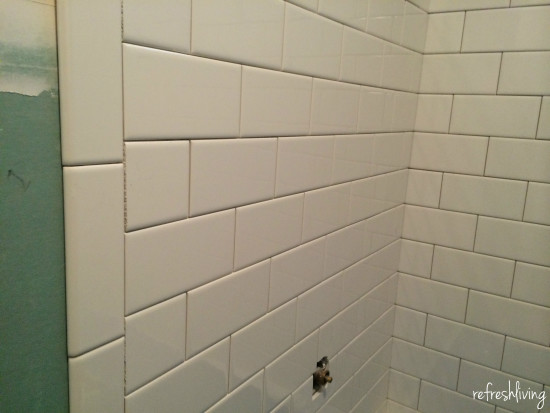 We're renovating on a major budget, $1,500 for the entire space, so white ceramic subway tile seemed like the perfect choice for the walls.  At $0.15 a tile (I waited for them to go on sale, of course), and about 600 tiles, we're talking $90, plus $20 for the bullnosed edges, to tile all the way up to the ceiling.  The floor tiles were $2.57 a square foot, but when you only need 25 square feet, it only set us back $65.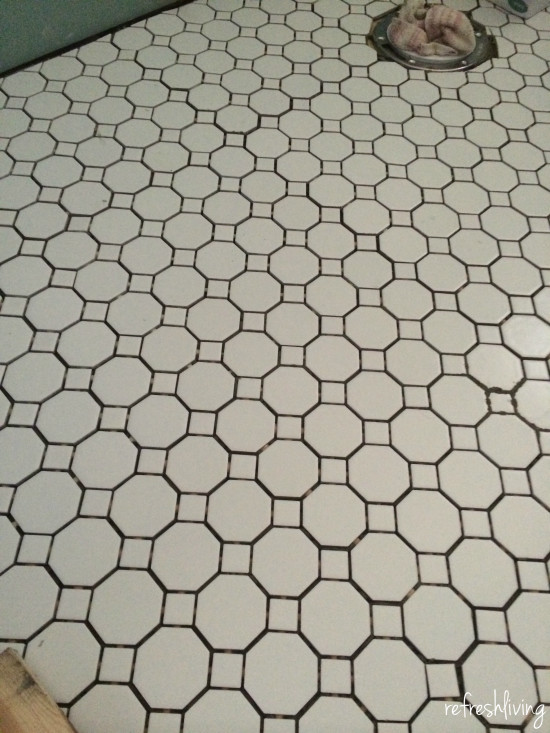 The bathtub was $150 (I went with acrylic to save us some bucks) and the cement board, drywall,  plywood for the floor repair, and odds and ends were $75.
I explained our plans for the vanity in my week 2 post, and that should only set us back $175 (and I'm hopeful that it's going to be my favorite piece in the room).
Which brings me to the unnecessary splurge in the room – antique bead board, for the ceiling!  This was salvaged from an old milk barn, and I am in love.  It's Douglas Fir and painted in white on one side and it's original wood on the other.  I made add a little bit of color to some of the pieces to give a bit of variety to the ceiling, but there will be more about that later.  $80 for enough wood to cover the ceiling – I can't wait to get started on it!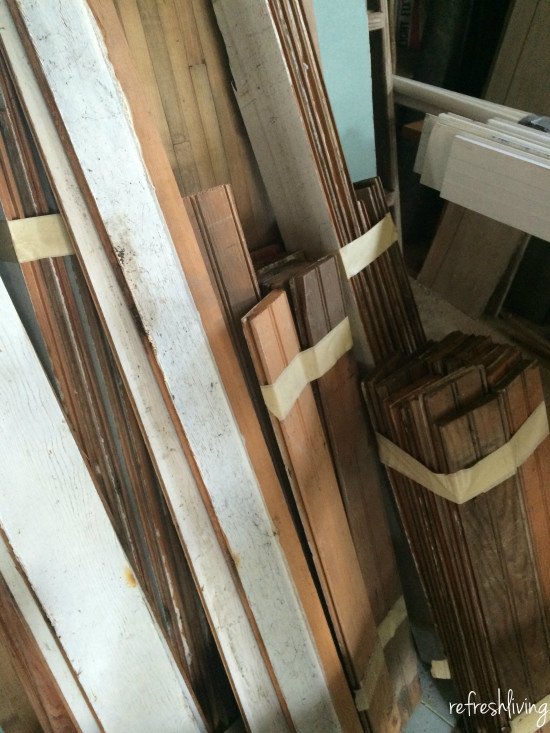 Because I love how everyone else has lists, and it will probably help me to get my act together, here's what we've accomplished thus far:
Gut almost everything
Reroute drain and plumbing for a bathtub
Repair wobbly/rotted floor
Remove the last of the wallpaper (in the entire house!)
Replace and mud drywall
Tile shower
Tile floor
Paint walls
Vintage faucet towel rack
Counter top cut at shop
Retrofit old washstand into a vanity
Bead board ceiling
Paint medicine cabinet
New light fixtures and switches
Install toilet

Check out the progress I've made:
Week 1:  Flashback to the 1970s
Week 2:  It's gutted – and I've got big plans!
Week 3:  Oops – we'll just say I was working too hard to post an update…
Check out all the week 4 updates at Calling it Home by clicking on the image below.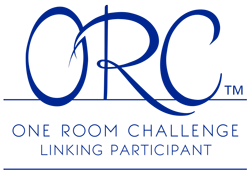 Like what you see?   I'd love for you to follow along!
Send us some love with a like on Facebook, check out inspiring projects on Pinterest, follow along on Bloglovin', or have posts delivered to your inbox once a week. [mc4wp_form]
Join the Refresh Living DIY & Upcycling Community
Join the subscriber list to receive one to two emails per month with updates from the blog. PLUS, you'll gain access to my printables and graphics library. Every new design I create will be added here, and you'll have free access - forever!