I've been reading and experimenting a lot lately with different painting techniques, and I thought the best way to truly compare them would be to try to use each one on the same material, and side by side one another.
I found these antique pieces of molding at this awesome junk store near Janesville, Wisconsin.  If you've ever been around that area, it's the one with the large plane sticking out from the heaps of stuff in the yard.  You can't miss it.  After cleaning up the dirt and grime (they were unfinished, unpainted wood), I painted each one with a base coat of homemade chalk paint.
After they dried, I used three different resist mediums: vaseline, hemp oil, and wax.  Each one of these can be used as a resisting agent, allowing the base color to show through when sanding/distressing.  I've used each of these techniques on different pieces, but because they were different types of wood, with different types of paint, and different pieces, I was having trouble comparing the actual difference between the resisting agents.
I applied the second color of paint (all Miss Mustard Seed Milk Paint – in Boxwood/Luckett's Green mix, Shutter Gray, and Ironstone) and after they all dried, I used sandpaper to distress down to the first coat of paint.  The wood with the vaseline starting chipping right away, so I just used a piece of painter's tape to remove chips of the paint.
I think the pictures show the difference better than I could ever put into words, so take a look.
Vaseline
Hemp Oil
Wax
Personally, I like the look that the hemp oil creates when used as a resist.  I keep finding more and more reasons to love this stuff!  Although, I know I will find uses for each of these techniques, depending on the project.
These beauties are going to be upcycled into hanging hooks soon!
You can find all of my furniture refinishing projects here, along with all my tips and tricks for painting furniture.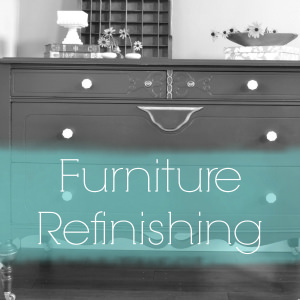 Join the Refresh Living DIY & Upcycling Community
Join the subscriber list to receive one to two emails per month with updates from the blog. PLUS, you'll gain access to my printables and graphics library. Every new design I create will be added here, and you'll have free access - forever!