One of my very best friends is having her first baby.  All those little items are definitely necessities, but not the most exciting gifts to give, or open.  My friends and I cleared off her registry will all those little items, but we needed a cute way to pull it all together.
I picked up a wooden crate at JoAnn Fabrics, with a 50% off coupon, of course.  I gave it 2 coats of DIY chalk paint, and then worked on the pattern for the side.  I suppose you could call it a very simple harlequin pattern.  Whatever you call it, you could still use this same method to create a pattern with more diamonds.
1.  Cut a piece of paper to the size of the surface.
2.  Fold the paper in half horizontally, and in thirds vertically.  If you want more diamonds, fold it into smaller pieces.
3.  Draw lines connecting the top edges of each of the crease folds.  After drawing all your lines, you should see the pattern on your paper.
4.  Lay the paper on top of the surface, and lightly mark the wood right underneath the paper at the point where you need to start your lines.  This will create tick marks along the perimeter of the surface.
5.  Use a straight edge to connect the tick marks.  (You're essentially doing the same process twice – once on the paper and then on the wood.)
6.  Tape off half of the diamonds with painter's tape.
7.  Paint the inside of each diamond, and remove the tape.
8.  Let dry.
9.  Tape off the other half of diamonds and paint.  Remove the tape and then let dry.
After painting, I lightly distressed the pattern and finished it with furniture wax.
I hoping she'll be able to use it in her nursery – if it's a boy or a girl!
You can find all of my furniture refinishing projects here, along with all my tips and tricks for painting furniture.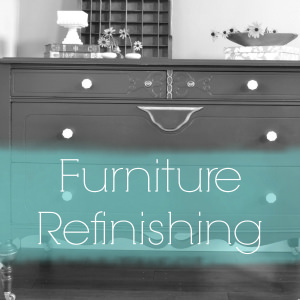 Join the Refresh Living DIY & Upcycling Community
Join the subscriber list to receive one to two emails per month with updates from the blog. PLUS, you'll gain access to my printables and graphics library. Every new design I create will be added here, and you'll have free access - forever!