I feel like a bit of a slacker this week.  It feels like I got next to nothing done in the space, but I've been doing a lot of online shopping browsing, which I think still counts as being productive.  I should probably actually buy all of those finishing touches so they arrive in time for the final reveal…
Anyway, I think I finally decided on a light fixture (although that might still change) and the vanity color and hardware.  I also bought the wall color paint, an almost white/grey.
In the space, I'm working on covering up a massive hole (this was where the recessed medicine cabinet was when we moved in.  We just bought a large mirror to cover the hole, which I'll be keeping in the space with a little update with paint.  After deciding that I didn't actually need to patch the drywall here because of the plank wall I'll be installing (YES!) I decided to cut a new hole in the wall right next to it.  Seems a bit counterproductive, but I went ahead with it anyway.  I'm going to be building a recessed shelf to hold toothbrushes and toothpaste, since this is the bathroom that the whole family uses to brush their teeth and I hate having four tubes of toothpaste out on the counter.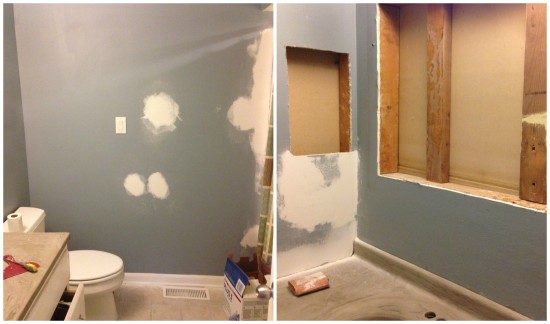 The only other productive thing I did in the room was to tape and mud all the massive holes in the walls from wall anchors.  (and the spot where I sawed too big of a hole in the wall and had an electrical pipe running through the middle of my cubbyhole…oops)
I just looked back at my week 2 post, and I actually accomplished all of my goals, expect for painting the walls, but I can bust that out in no time.  Maybe there's even time tonight…
Here's that to-do list that is now looking especially long…
Remove fixtures and patch holes in drywall
"Cubbyhole" storage in the wall
Feather finish concrete counter top
Dye counter top and seal
Install faucet
Repair and refinish grout
Paint walls
Paint vanity
Install new light fixture
Wood feature wall
Vintage door knob towel rack
Antique spindle toilet paper holder
Final touches
For next week, I'll need to paint the walls, finish the cubbyhole shelf, dye the counter top, and paint the vanity.
You can check out my progress here:
Week 1 – Face Lift for a Blah Bathroom
Week 2 – The Ugly, Dirty & Dingy is Gone
Week 3 – Finally, a Vision for the Space
Week 4 – Updating the Vanity on the Cheap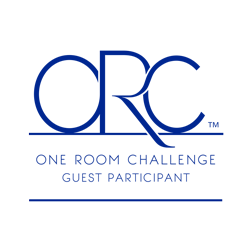 Now, go ahead and check out all the other One Room Challenge participants here.
Like what you see?  I'd love for you to follow along!
Facebook || Pinterest || Instagram || Google + || Bloglovin'
Or, enter your email to have posts delivered to your inbox every Friday morning:
[mc4wp_form]
Join the Refresh Living DIY & Upcycling Community
Join the subscriber list to receive one to two emails per month with updates from the blog. PLUS, you'll gain access to my printables and graphics library. Every new design I create will be added here, and you'll have free access - forever!