Welcome to the 12 Days of Christmas Blog Hop! From December 1st to December 12th, Danielle from Creatively Homespun will be hosting 15 AMAZING bloggers that are all showing off some of their favorite Christmas creations. Get prepared to be awestruck with some incredible recipes, DIY projects, and gift ideas!
Each day at least one blogger will be sharing a project of their choice. We can say with full confidence that you are sure to find something to inspire you for this joyful holiday season.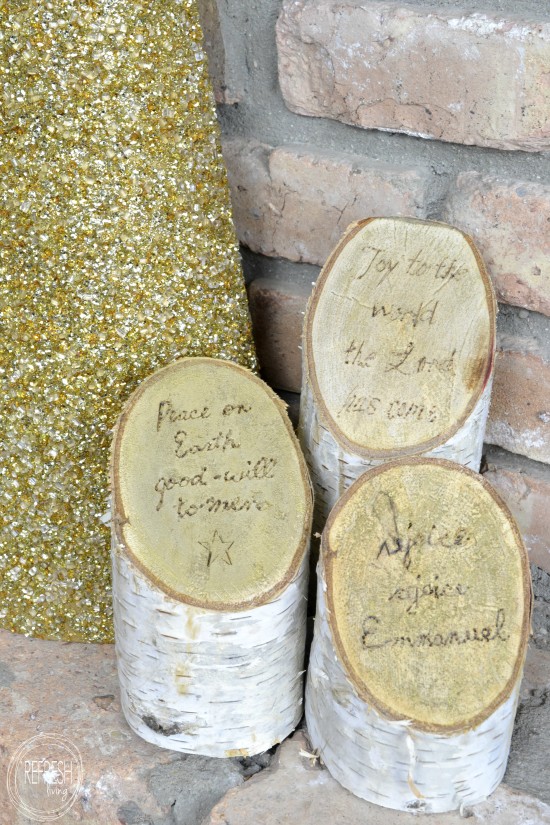 Today, on this "5th day of Christmas", I'm busting out the Christmas songs and including them in my home decor.  I took a few of my favorite Christmas lyrics and added them to some birch logs.  I've been using birch logs a lot lately.  I can't seem to help myself – I have them laying around and I got them for next to nothing.  I shared all my secrets for buying birch logs here, in case you love birch wood as much as I do!
For these pillars, I used a basic image transfer technique to make sure my letters didn't look like chicken scratch.
Basically, you print the words using an inkjet printer.  Then, shade the back of the paper with pencil.  Trace over the letters with a pencil, and when you take it away, you'll see a faint tracing of the letters.
I decided to try out my wood burning tool (I also use this to heat-seal cut ribbons to stop them from fraying and for cutting stencils) to make the letters.  I had the wrong attachment for it, so it was a bit frustrating and didn't turn out quite as perfect as I'd like.  You could easily just use a paint pen to write the lyrics on the logs, too (which in hind-sight is what I think I should have done).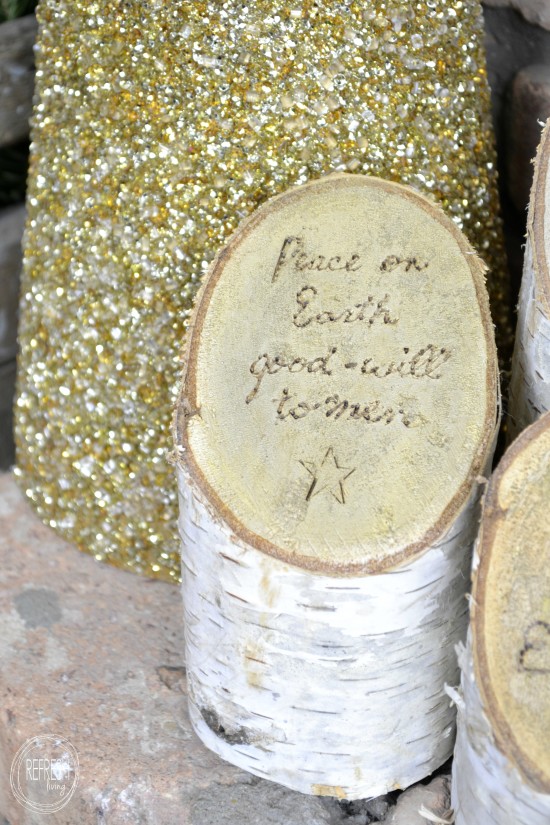 I added a little bit of gold gilding wax to bring a little shimmer to the tops of the logs.
They'll be easy to move into other areas of my home as I decorate for the holidays.  In fact, I should probably move them away from the fireplace, because my daughter loves to help by throwing stuff in the fire.
I hope you're feeling the holiday spirit just as much as we are! Be sure to keep popping by the other bloggers throughout the 12 days!
On the 4th day of Christmas: THE DIY MOMMY
On the 5th day of Christmas: REFRESH LIVING
On the 7th day of Christmas: MY LIFE FROM HOME & OUR CRAFTY MOM
On the 12th day of Christmas: FARMHOUSE 40
A few more DIY holiday crafts you might enjoy:
Join the Refresh Living DIY & Upcycling Community
Join the subscriber list to receive one to two emails per month with updates from the blog. PLUS, you'll gain access to my printables and graphics library. Every new design I create will be added here, and you'll have free access - forever!