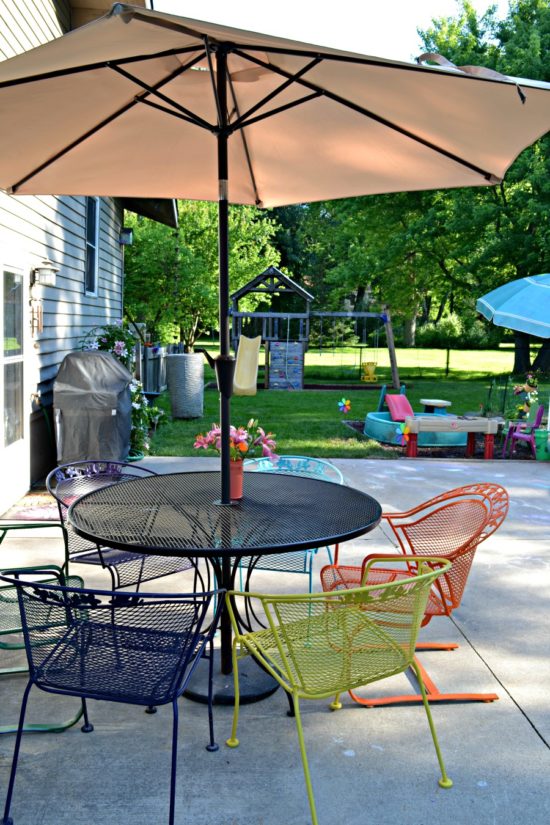 Welcome to our backyard; a space "designed" to keep the kids busy, our veggie baskets full, and money in my pocket.  I use the word "design" quite lightly here, because you can see that it's not a backyard oasis in the traditional HGTV sense.  However, when my friend Tara from Lehman Lane set up a Summer Garden & Outdoor Spaces Tour, I looked out my back window and thought, I think I can actually participate in a tour like this…finally.
You see, we've lived in our house for 10 years, and although we have worked hard every year to create a yard we can use and enjoy (and that the neighbors aren't scared of), it started off in really rough shape, and it's massive, so there are always different parts to focus on.  We have 3/4 of an acre of land, and our house is almost smack dab in the middle of the yard.  With such a huge project, it never seems like we can make a dent in the work that needs to be done, but stepping back and thinking about all we've done to our yard, we really have made some huge strides, even if it has taken 10 years.
Now that our two girls (they are 4 and 2) are running, jumping, and screaming, we've turned our focus to the back half of the yard, which we fenced in about 5 years ago, and we've started to turn it into a space for them to enjoy.
If you follow along with my blog, you know I create and design on a budget, and this backyard is no exception.  As you look around you'll see a lot of projects and items that were made with "hand-me downs", but they work perfectly for us!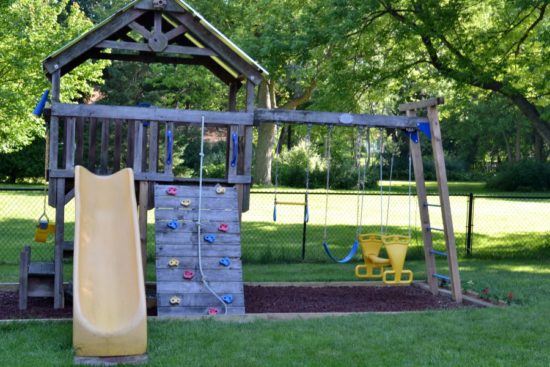 Earlier this spring we added this swing set to our back yard.  I searched on Craigslist for used swing sets for months, and didn't find any that were in excellent shape for a price that I wanted to pay.  So I turned to the local Facebook group I am in and asked if anyone had a cedar swing set in their backyard that they didn't need anymore that I could purchase.  To my surprise, at least 10 different people sent me pictures of theirs, and everyone said I could have it for free, as long as we came to take it down.  We chose this one, and ended up needing to replace a couple of the posts with new cedar posts and we gave it a new steel roof with a piece my dad had leftover from another project.  For $100 and quite a bit of manpower, we now have a "new to us" swing set that is going to last many more years!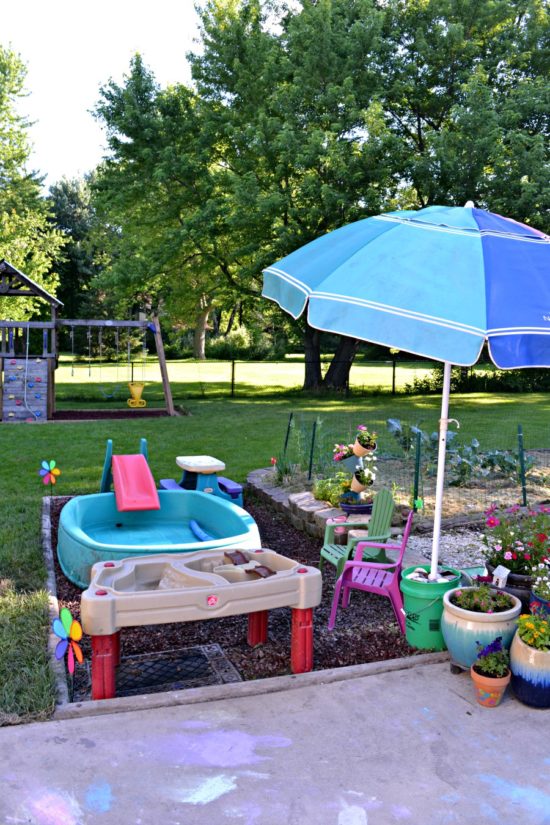 Last year, we dug out this area next to our patio as a play area.  I picked up that Step 2 pool on the side of the road, and then a couple of weeks later I found a slide that seems like it was just made for it.  Little did I know how fabulous this pool actually is!  It's super sturdy, fairly large, and won't pop or pierce from crazy dogs and kids.  It was discontinued years ago and you can only find them through resale (or in people's trash!).  Everyone seems to beg the company to produce them again, but it sounds like there won't be any more of them made.  It was definitely a lucky trash pick!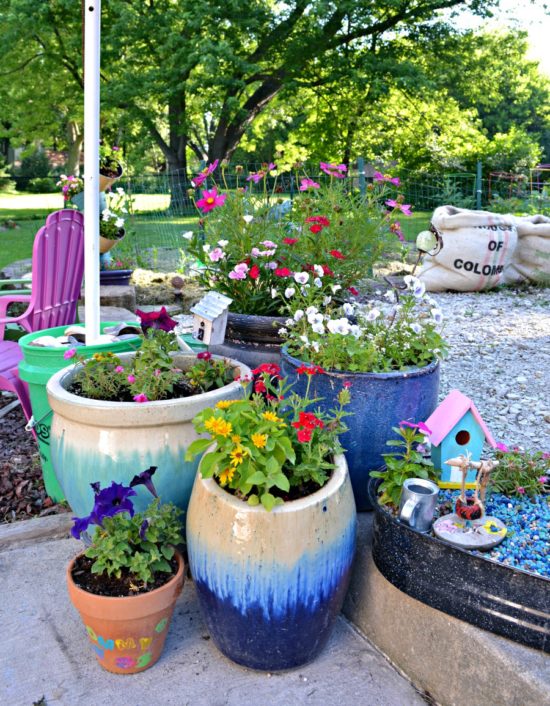 My girls helped me to plant our flowers this year,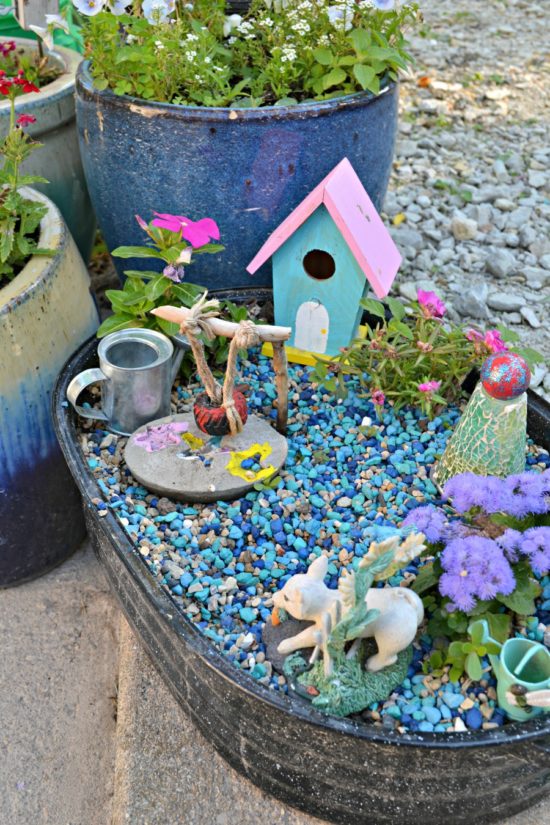 and my four-year-old designed her own fairy garden.  She saw all the knick-knacks at the craft store and wanted to spend a small fortune on little accessories.  I convinced her that we could find plenty of items at home as long as we were creative.  A painted tire from a toy truck (she wanted it to look like a ladybug), a painted wooden birdhouse, and an upside-down cover from a landscape light all came together to create a little home for fairies.  The blue aquarium stones originally were in the shape of a river, but she quickly spread them out to cover the entire area.  It's hers, so I just let it go.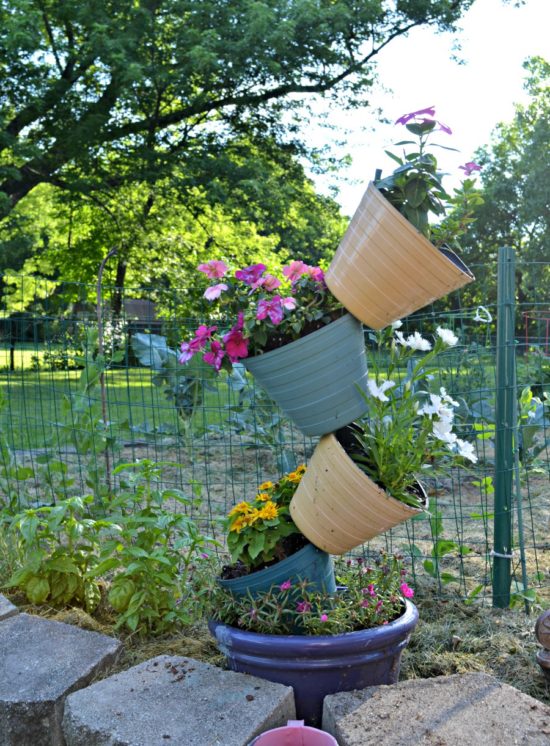 At the edge of our vegetable garden we planted some flowers in my stacked planter I made a few years ago.  It's still holding up strong!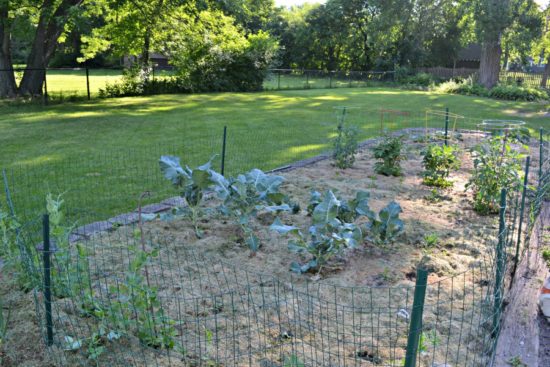 I love planting a vegetable garden every summer, but it's especially fun to have my girls help me.  My oldest loves to plant, water, and check for new flowers and growth every day.  It's a really large space, and the weeds take over, so the past couple of years I've used grass clippings as mulch.  As long as it is thick enough, it keeps out the weeds really well.  Plus, it's free and environmentally friendly!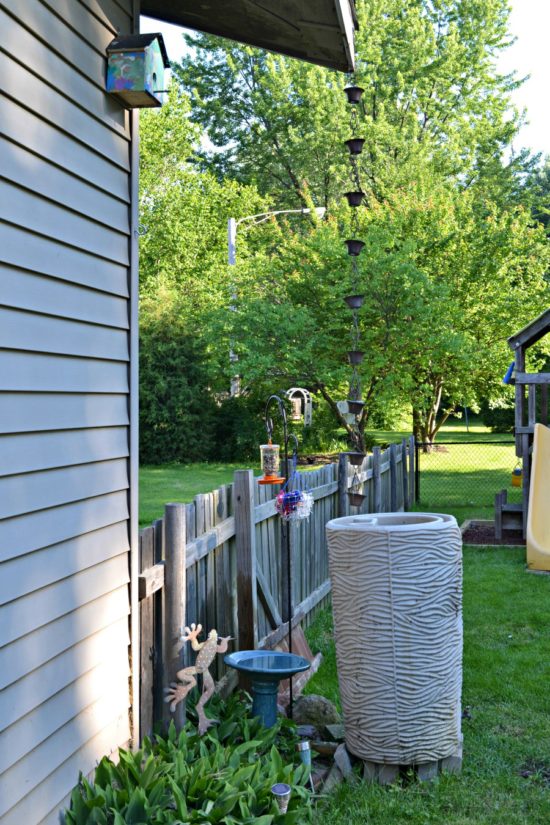 We try to only use water from the rain barrel or the pool to water the garden.  We use enough water filling up that pool, so we try to put it to good use and not use any extra for our plants.
We recently added that birdhouse to the side of our house.  The girls painted it and after only a couple of hours of it hanging on the wall, two birds were already checking it out and starting to build their nest.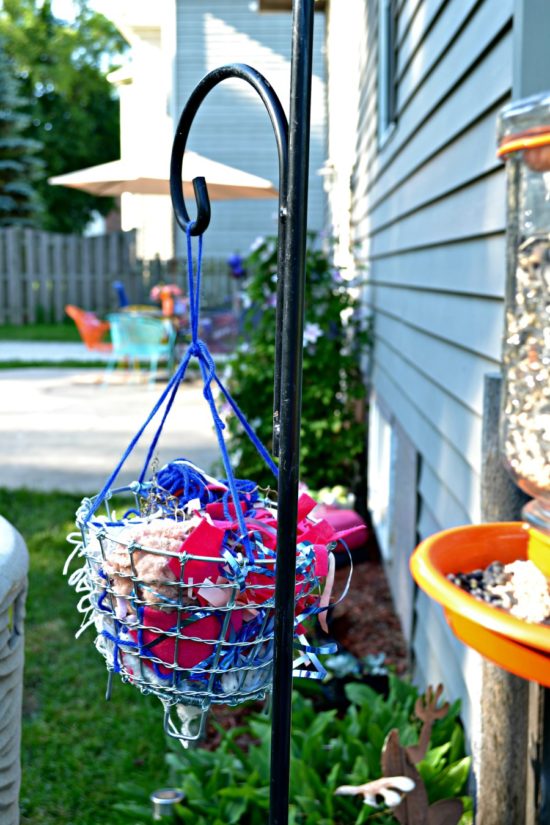 My girls and I went into our basement and found a lot of items that birds might like to use in their nest.  They loved searching around for soft, thin items and cutting strips of ribbon, fabric, and fabric for the birds.  I don't know how much of it the birds have actually used, but my girls love thinking that they are helping the birds to make their nests!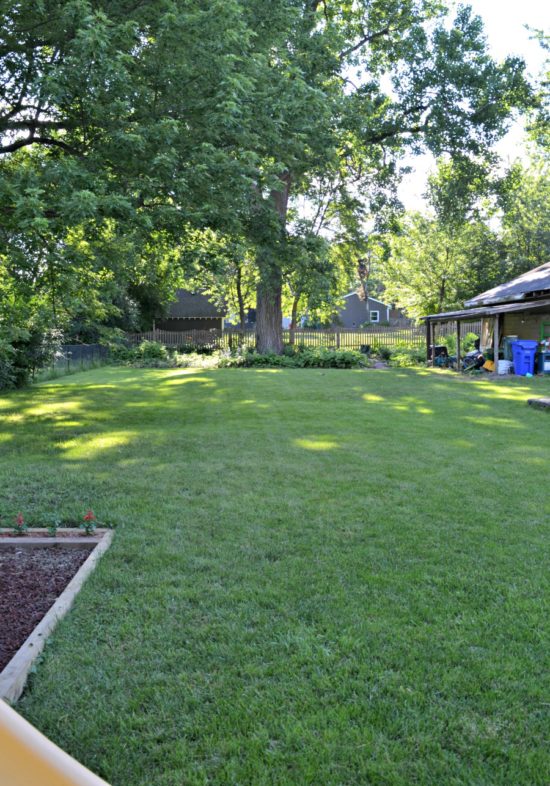 Because I'm all about transparency, here is a look at the rest of our backyard.  It's huge, and I love it, but there is still A LOT of work to be done.  That back area used to be filled with trees, shrubs, vines, and weeds.  It was a thick wooden area overgrown with who knows what.  After years of trying to tackle it, we finally hired a landscaping company to remove all the growth.  They couldn't totally excavate the area because we still have buried railroad ties (we already pulled out over 50 of them!) and a full foundation to a house that used to be back there, but it looks 5,000 times better than it used to a year ago.  The garage is also in need of a makeover.   We're slowly making progress…
That Cottonwood tree is well over 100 years old and it is massive.  When I wrap my arms around it they don't even make it halfway around.  We joke that if it falls over, we don't think it would hit our house which is a good 150 feet away.
For now, I planted 10 pumpkin plants in a clearing back there and two rows of corn.  I hope that in the fall the girls and all their cousins can come pick pumpkins in our pumpkin patch!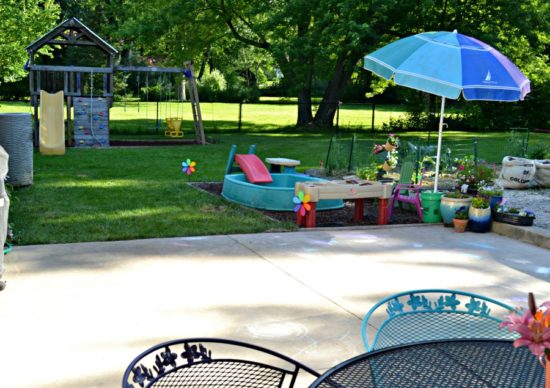 For now, my husband I have this patio set to sit on, relax, and watch the girls play.  It's another hand-me-down that my brother-in-law gave us 10 years ago.  It was his old patio set and when we got it, it was a hunter green color.  I painted the whole set black, and it stayed that way until last year when I decided to add a little bit of color.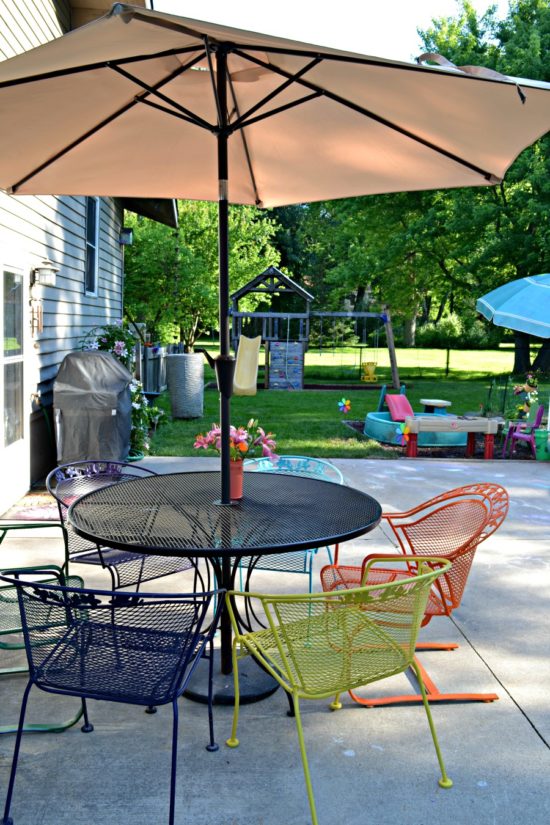 See that green chair on the far left of the table?  That chair is shaded at almost every time of the day, and it's mine.  Of course, I painted the rocker chairs in my favorite colors and placed my favorite in the prime spot at the table.  My daughter is still asking me why I didn't make her favorite color, purple, one of the rockers.  I told her that when she starts painting furniture around here, she can pick the colors she wants.  I might regret those words; I can totally see her finding a can of paint and creating a masterpiece of her own.
I love gaining inspiration from others, and this Summer Garden & Outdoor Spaces Blog Hop is the perfect place to find new ideas for my own space!  I hope you'll check out some of the other backyards, front yards, and gardens from my friends!

Summer Garden Tour & Outdoor Spaces Blog Hop
Monday
Tuesday
Wednesday
Thursday
Friday
Follow Along with all the garden tours by following #gardentourbloghop
Join the Refresh Living DIY & Upcycling Community
Join the subscriber list to receive one to two emails per month with updates from the blog. PLUS, you'll gain access to my printables and graphics library. Every new design I create will be added here, and you'll have free access - forever!