I'm just a tad bit excited over here; I built our new queen bed!  As part of the One Room Challenge hosted by Calling it Home, I decided to tackle our master bedroom.  We have some problems with storage around here.  We live in a small house, and I've pretty much taken over the basement for a workroom and kids' playroom,  so there's not much room to store off season clothes.  This DIY platform bed is going to solve all of those problems!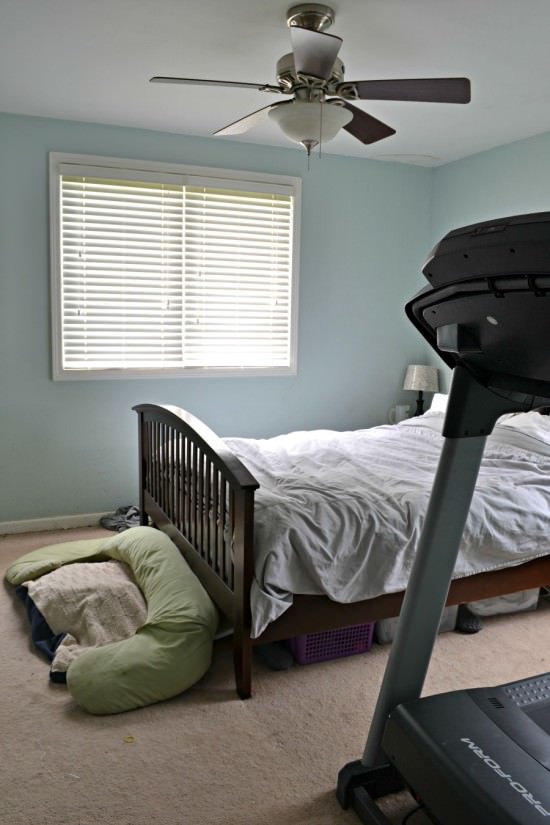 Previously, we stored off season clothes in roll-away plastic containers under the bed.  They collected a lot of dust, and one of our dogs loved to squeeze in between them to chew up things he was not supposed to have.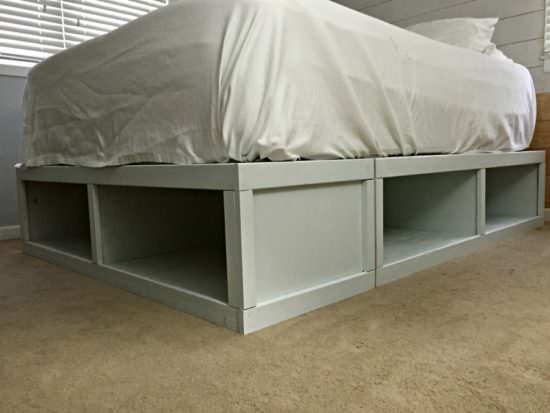 Not anymore!  I'm going to build some wooden crates to fit inside the cubbies, and my hope is that it's going to look 100 times better than our scattered plastic crates.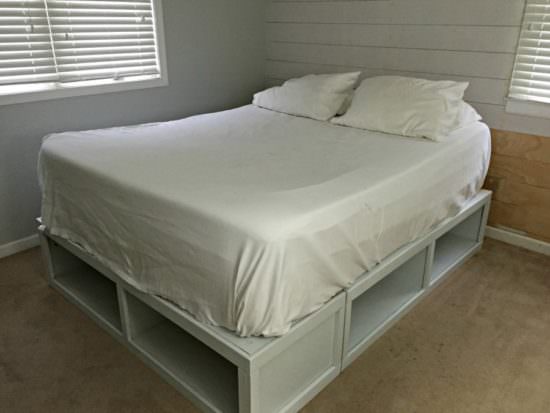 I'll have an entire post dedicated to our new bed, included better pictures.  I'm actually out of town, so I asked my husband to take a couple of pictures.  He seemed worried, but I assured him he could do it.  He asked what to do with the sheets and such, and I told him it really didn't matter.  I can tell that he made sure to try to make the bed with the sheets, which just makes me smile.
For now, I have a lot more work to do in the space when I return home.  I always consider these smaller, finishing-touch projects to be more fun, though, so I hope I'm able to get them all done!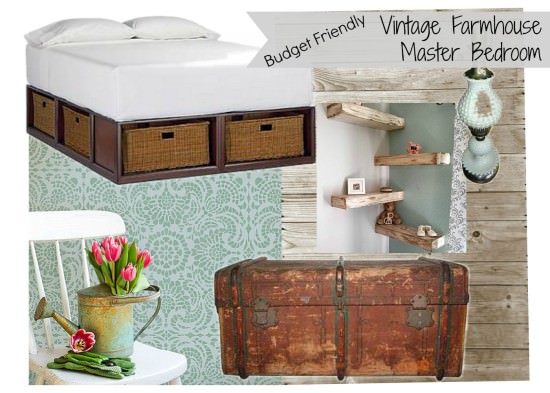 If you want to check out my progress posts, you can see them here:
Week 2:  Ceiling repairs and painting the wall
Week 3:  Installing a plank wall
Here's that to-do list that keeps me accountable.  If I didn't have it somewhere in my head, I would try to leave everything until the last week, which would make life really difficult.
Repair ceiling and wall; repaint ceiling
Paint walls
Cut and install plank wall
Patch holes and paint plank wall
Build queen platform bed
Paint bed
Make and stencil headboard
Make crates for underneath bed
Sew and stencil curtains
Repair and upholster vintage chair
DIY nightstand project
Make pillow covers from vintage fabric
Hang new (old) light fixture?
Like what you see? I'd love for you to follow along!
Facebook || Pinterest || Instagram || Google + || Bloglovin'
Join the Refresh Living DIY & Upcycling Community
Join the subscriber list to receive one to two emails per month with updates from the blog. PLUS, you'll gain access to my printables and graphics library. Every new design I create will be added here, and you'll have free access - forever!