How to make a portable DIY camping sink or camping kitchen that is lightweight and folds down for easy storage in a pop-up camper or in a trunk for tent camping.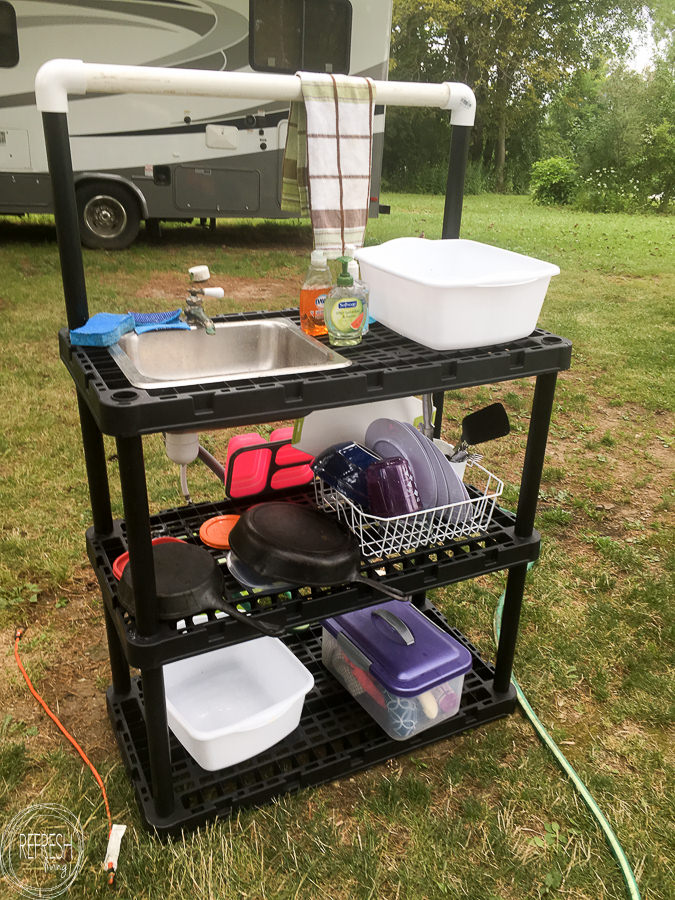 First, let's clear up my definition of camping. We are not luxury campers. We don't own an RV, therefore we walk to the outhouses or use the port-a-potty and wash our dishes outside. But, we also aren't complete "roughing it" campers either. (Although I know it's entirely possible with 4 young kids, it's just not in the cards for us personally right now.) We stay at electric and water access sites and bring our remodeled 1993 pop-up camper when we go "camping". If you can relate to this type of camper, then this post might be helpful to you!
First, let me quickly introduce you to our pop-up camper. I purchased it for dirt cheap knowing full well there was water damage. It turns out that half of the roof was rotted away, so we worked to completely rebuild the pop-up camper roof and sealed it so it wouldn't take any more water. Then, I prettied up the inside with a new DIY RV ceiling, new curtains, cushion covers, counter tops, flooring, and painted cabinets.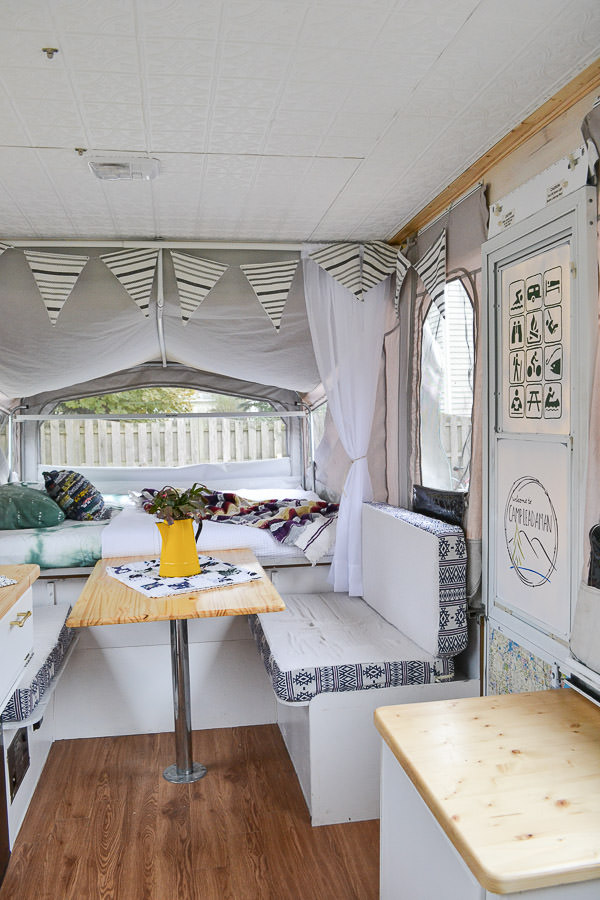 When we remodeled our pop-up camper, I decided to remove the sink and water tank to gain more storage and counter space. I had all intentions of making an outdoor kitchen and therefore didn't see the need for it inside our small pop-up camper. After having camped in it multiple times, I'm so glad I decided to get rid of the sink inside. I honestly haven't missed it once!
And, because I removed the sink from the inside, I now had the perfect sized sink to use for my DIY camping kitchen!
Supplies Needed to Make a Camping Sink
I've linked all the materials available through Amazon as I find it helpful to see the parts I'm looking for. I will say that each of these parts were quite a bit cheaper at the hardware store, so you may want to check there first before buying from these links. 🙂
A few notes on these supplies. If you don't have a camping sink, I'd recommend taking a look at a building supply resale store (like ReStore). I see small bar sinks there all the time that would work perfectly. While you're there, look for a single faucet as well!
How to Make a Camping Sink
I used only the first three shelves of my plastic shelving kit (and used the other two in my garage!), and it's the perfect height for a sink. I purposely chose a unit with shelves that were not solid so they could work as a natural dish drying rack.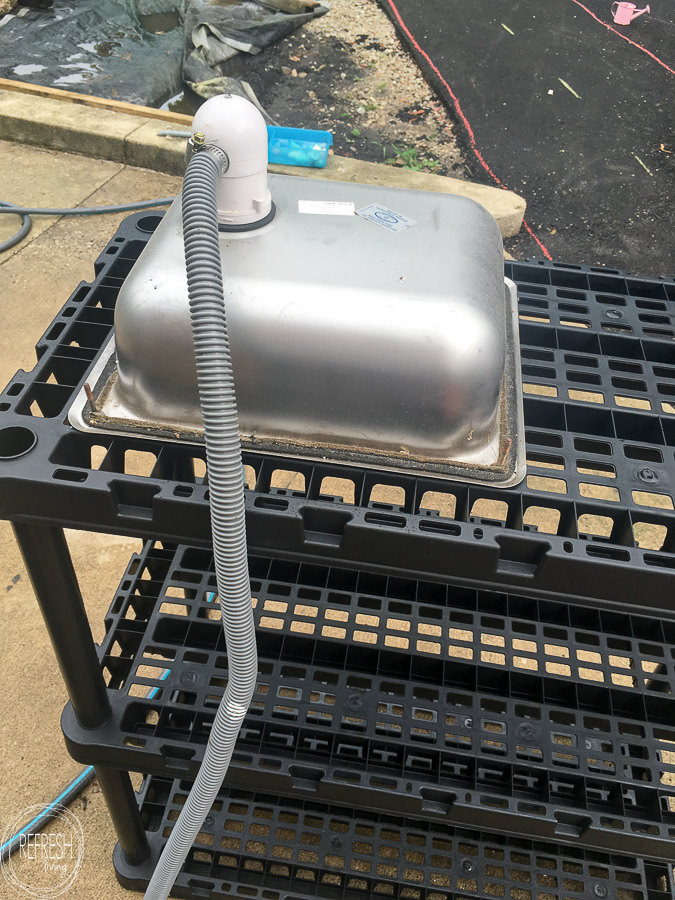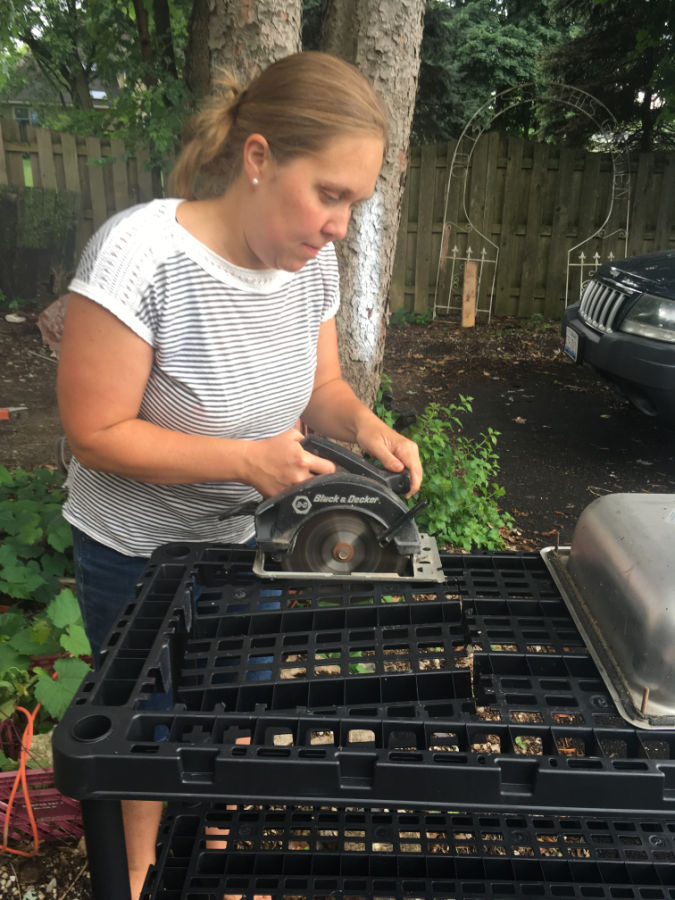 I measured the outside edge of the sink and cut a hole slightly smaller for the sink to sit in. Then, I drilled a hole in the place where the faucet would go behind the sink.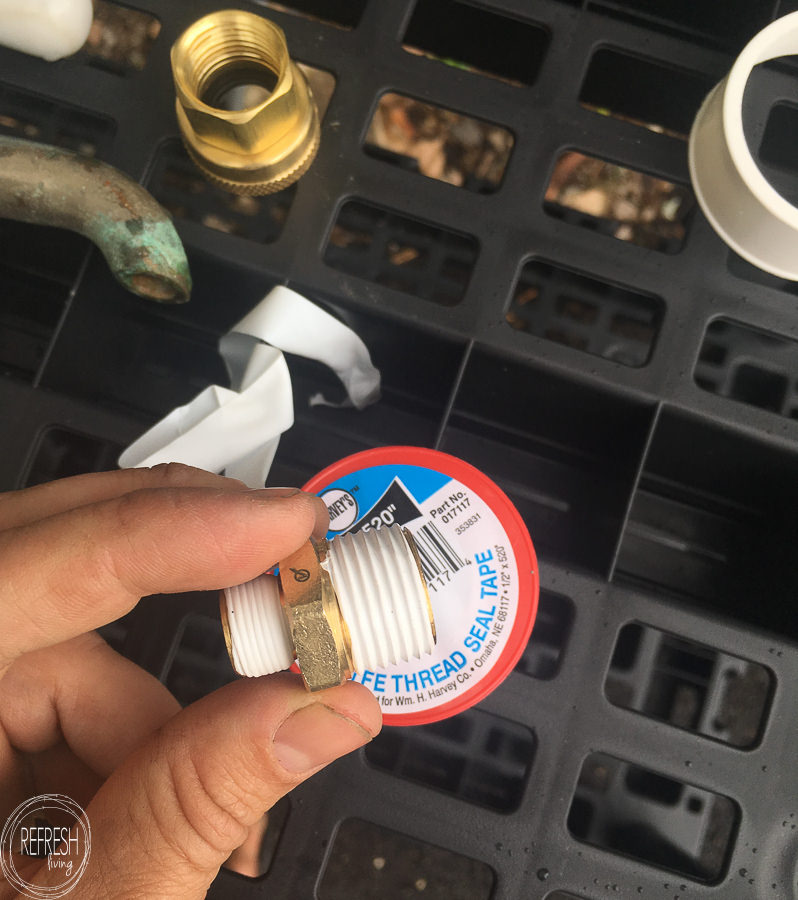 To connect the faucet to a garden hose, I found a couple of connectors that made it easy. Between all of the connections, I wound thread seal tape around the fitting to ensure it wouldn't leak.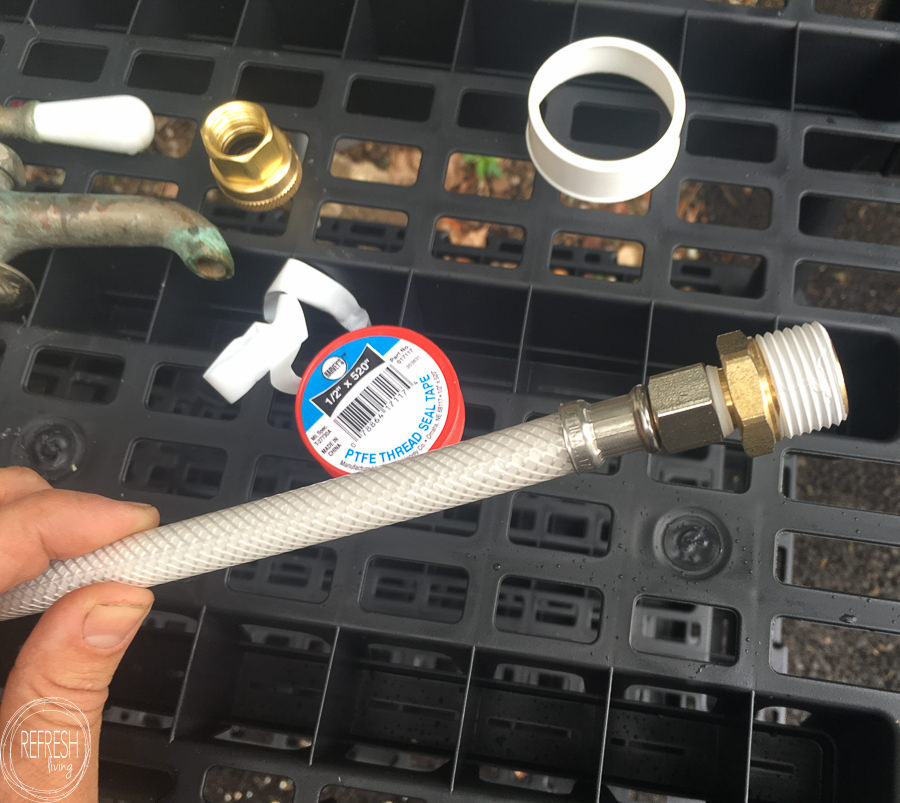 First, I took the 3/8″ x 1/2″ connector and connected the 1/2″ side to the faucet line.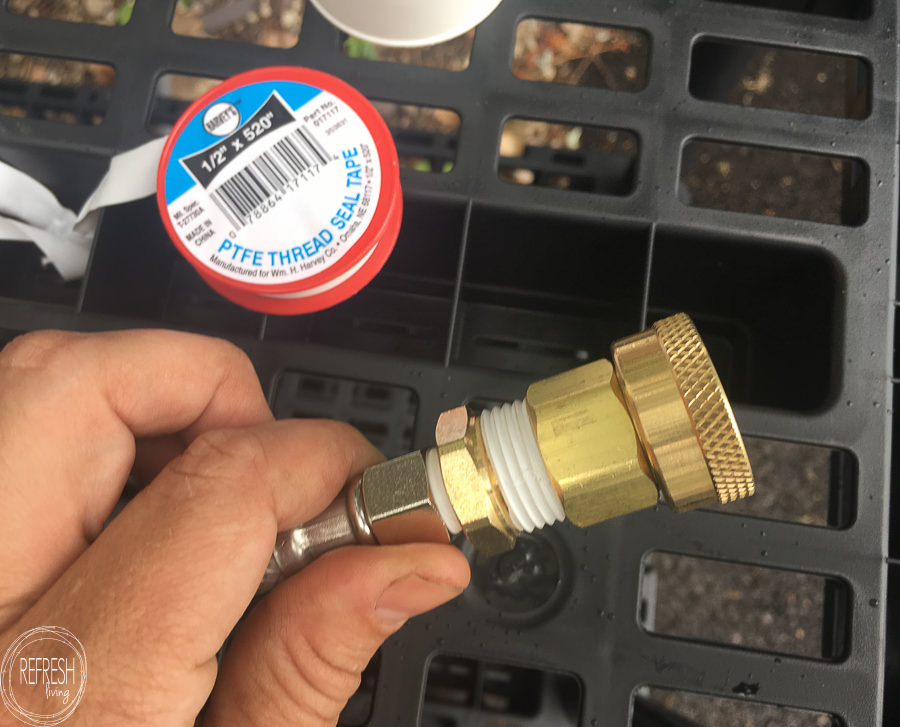 Then, I connected the hose adapter to the connector. Now, it can easily connect to any standard garden hose!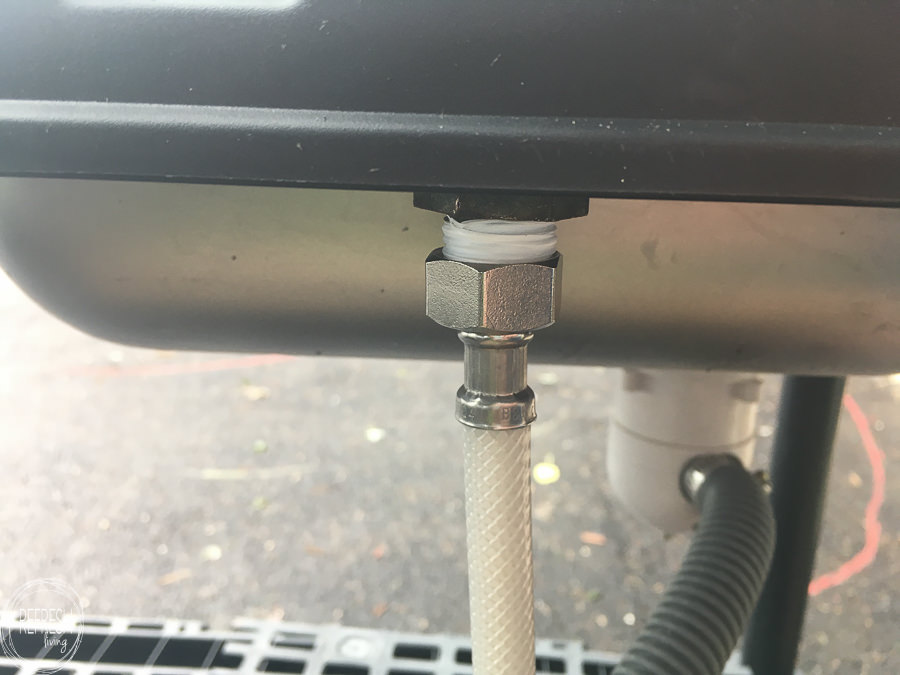 The other end of the faucet line screws right onto the thread of the faucet.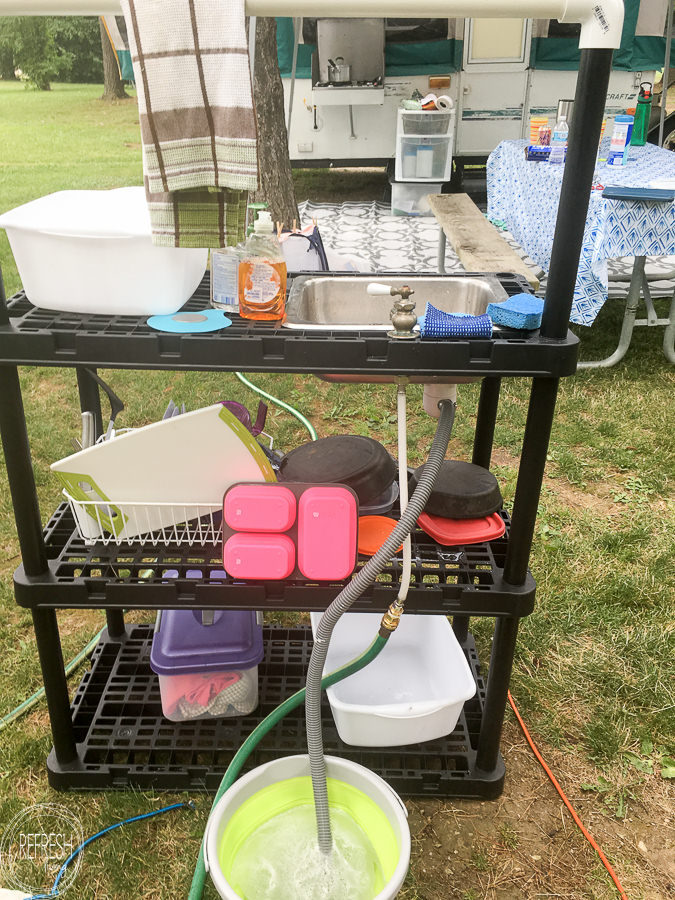 That's it! Because my sink already had a drain and a drain tube, I didn't need to do anything else. We just drain the water into a bucket that can be easily dumped.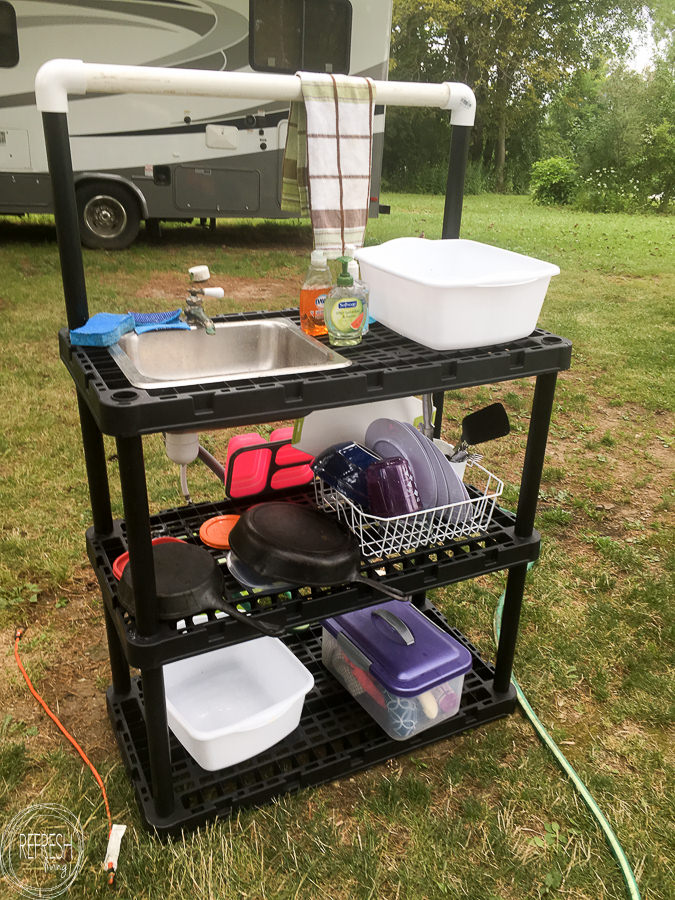 After using this sink a few times, it's a bit annoying how small the faucet is. It makes it hard to get dishes under it to wash well, so if I find a large arch one second hand, I'll probably replace it. I also added PVC pipe elbows and piece of PVC pipe to make a hanging rack.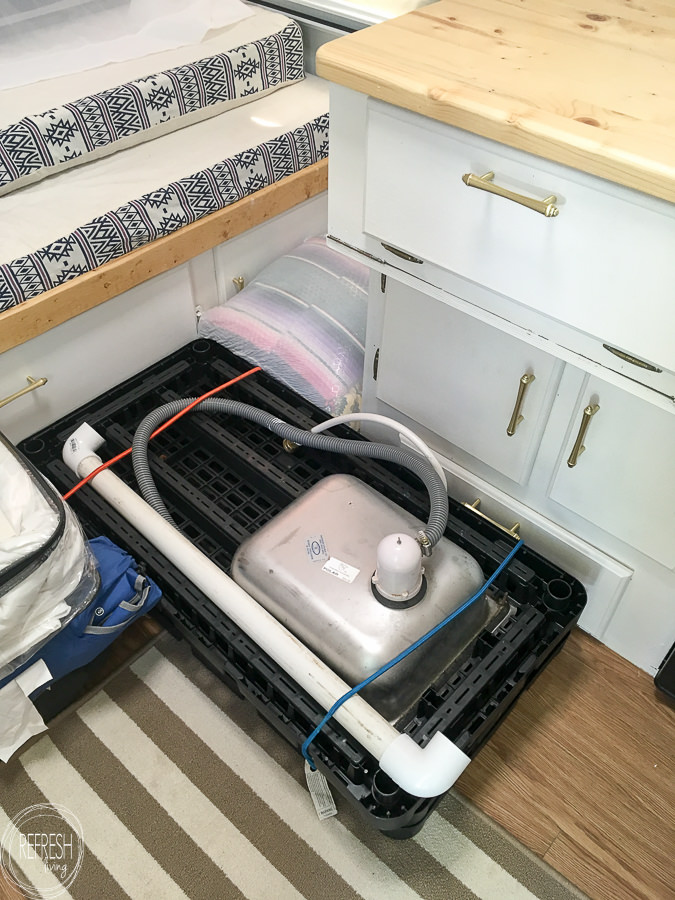 The best part of all might be how easily it breaks down. I attach the pieces together with two bungee cords and it fits perfectly underneath our counter that folds down for travel in our pop-up.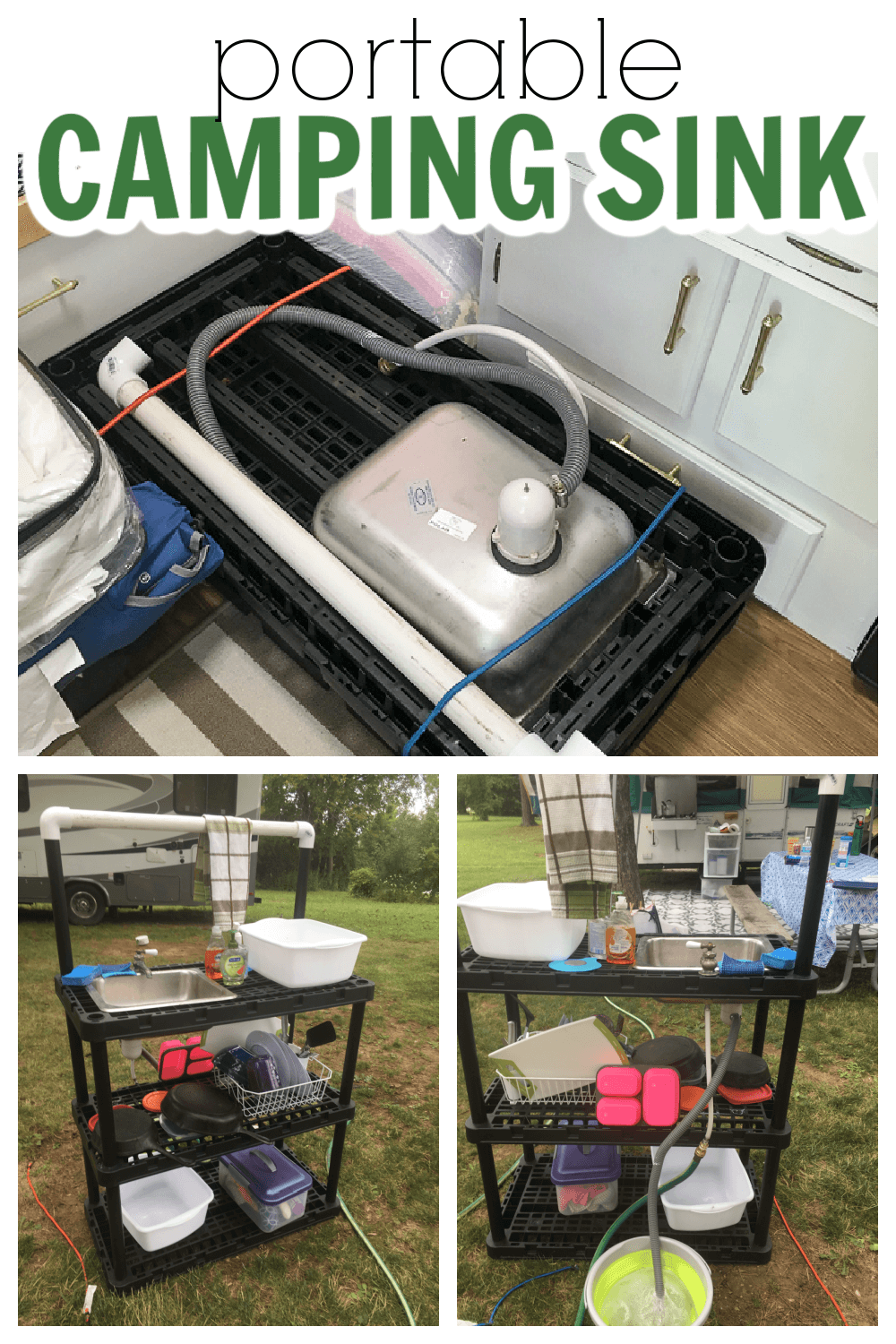 Want to buy instead of DIY?
A few of my other pop-up camper projects:

Join the Refresh Living DIY & Upcycling Community
Join the subscriber list to receive one to two emails per month with updates from the blog. PLUS, you'll gain access to my printables and graphics library. Every new design I create will be added here, and you'll have free access - forever!