This project couldn't get any easier; I didn't even need to remove the fan from the ceiling!  Although ceiling fans aren't the most aesthetically appealing fixtures in a room, they are in every room in our house.  They cut down on heating costs in the summer, which saves us money.  Anything that saves us money is my friend, even if it's not beautiful.
This ceiling fan was far from beautiful.  The gold hardware was almost begging for people to look up at the fan, which, like I just mentioned, isn't usually the accessory you want attention drawn to.
When we were moving my daughter to her "big-girl" room, this update was on the to-do list.  It was one of those projects that I kept putting off, when it turned out to be one of the easiest painting projects I've done in awhile.
First up, remove the fan arms and remove the blades from the arms.  I gave those lovely gold arms two quick coats of white, gloss spray paint.
This next step was what got me nervous from the beginning, but it worked out surprisingly well.  I used painter's tape and saran wrap (aluminum foil also works well) to cover up the places on the fan that I didn't want painted, leaving just the gold strip showing.  I spray painted the area, holding a piece of cardboard above the tape, so the overspray didn't hit the top of the fan or the ceiling.  I just moved the cardboard around with me as I sprayed it in sections.
Now that it is all put back together, it looks as good as new!  The solid white isn't anything fancy, but it also isn't anything that hollers, "Hey, look at me!"  You could easily paint it in satin nickel, copper, or oil rubbed bronze, and it would give it a whole new look as well.
$3 and 15 minutes for a fan facelift – the perfect combination for a DIY project.
You can find all of my furniture refinishing projects here, along with all my tips and tricks for painting furniture.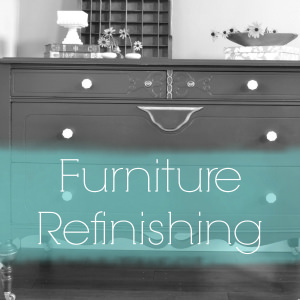 Join the Refresh Living DIY & Upcycling Community
Join the subscriber list to receive one to two emails per month with updates from the blog. PLUS, you'll gain access to my printables and graphics library. Every new design I create will be added here, and you'll have free access - forever!