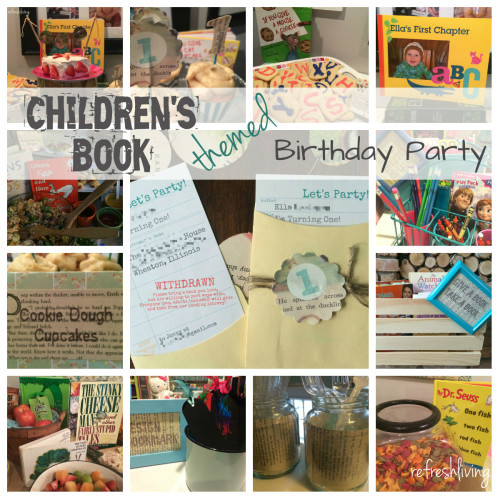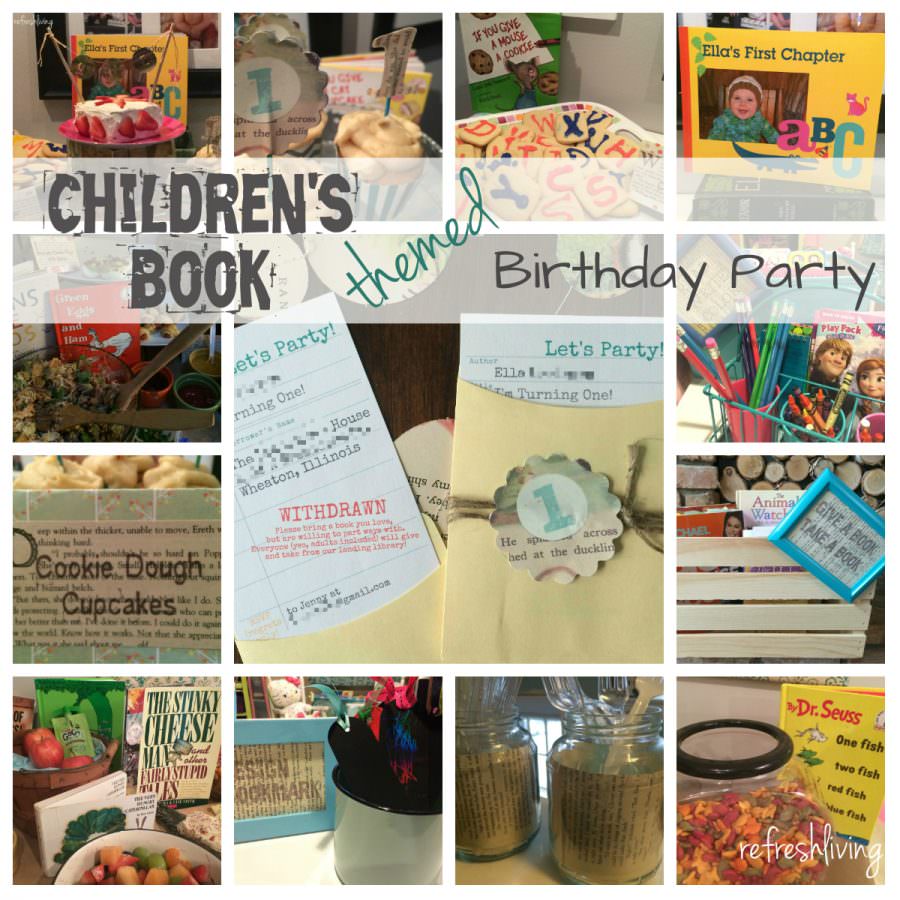 Instilling a lifelong love of reading is both my job as a mama and my job as a teacher, and as a result, books are everywhere – both in my home and in my classroom.  Since my little one just turned one and doesn't yet have a say in her birthday party theme, I picked out a theme that I would love this year – children's books.
Of course, I had to scour Pinterest for all the awesome ideas out there – I used a few, which you'll find linked throughout the post, but also added many of my own touches as well.  (*This post does contain some affiliate links, noted by an asterisk.*)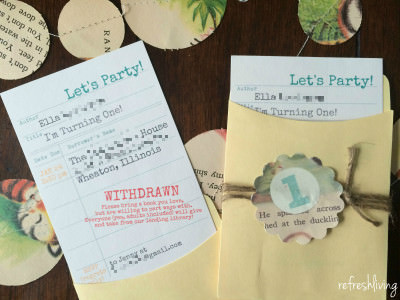 The invitations were made to resemble library card return date pockets.  Here's the background image I used for the library car invitation. Then, I used PickMonkey  a free online photo editor, to add in the details for our party.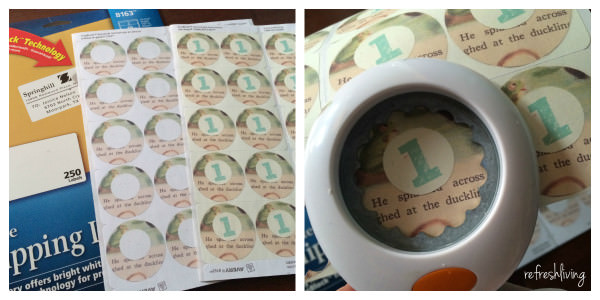 I used shipping labels and a hand held scalloped cutter (Fiskars Seal of Approval Squeeze Punch, Extra Large*
) to create stickers for the invitations (and I had leftovers to use as cupcake toppers).  Feel free to download the Microsoft Word file with the blank circles (you can add in your own text) or with the 1 in the centers.  They are formatted for Avery Shipping Labels
* (8163) or equivalent.
Because this was for my daughter's first birthday, there were a lot of adults, as well as kids, invited.  I wanted to add a fun little activity for the adults to participate in.  On the invite, I asked everyone to bring a book they were willing to donate to our little lending library.  Everyone brought a book, and before they left, picked out a new book to take home.  It was so much fun to see the variety of books, from children's to adult fiction to cookbooks to informational.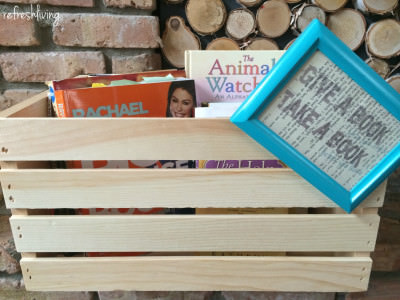 The Menu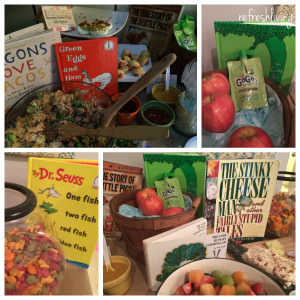 To keep with the theme, I just had to coordinate the appetizers and dessert with children's books. I think my favorite idea was my last minute addition – applesauce packets and apples in an old apple basket for The Giving Tree.  The biggest "crowd-pleasers" were the Green Eggs and Ham deviled eggs.  I linked up some of the recipes I used below:
Green Eggs and Ham – avocado & prosciutto deviled eggs
The Three Little Pigs – pigs in a blanket
Cloudy with a Chance of Meatballs – cocktail meatballs
Dragons Love Tacos – taco salad
One Fish, Two Fish, Red Fish, Blue Fish – multi-colored goldfish
The Stinky Cheese Man – cheese platter
The Very Hungry Caterpillar – fruit salad
If you Give a Mouse a Cookie – sugar cookies stamped with letters
If you Give a Cat a Cupcake – cookie dough cupcakes (by far the best cupcakes EVER – but any type will do)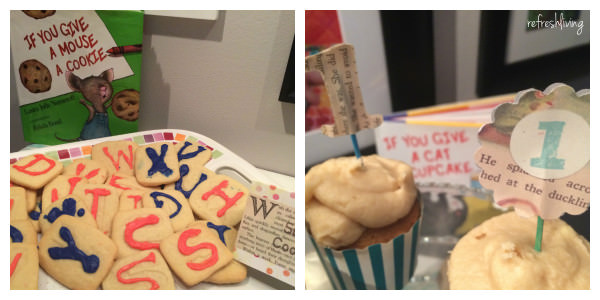 The Decorations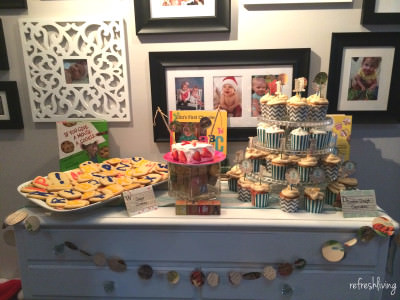 I made a circle garland out of an old children's book by cutting circles out and then sewing them together.
I also used an old book to serve as a background for food labels, little signs, and cupcake toppers.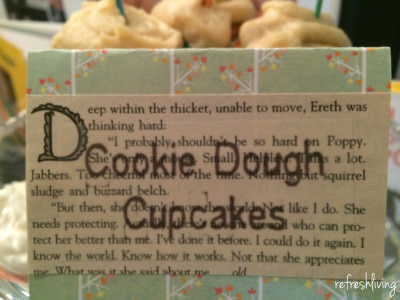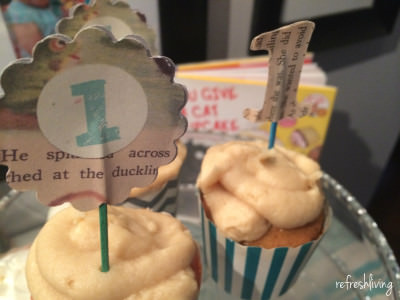 Vintage children's blocks spelled out my daughter's name on the cake table and filled a vase that her little cake sat on top of.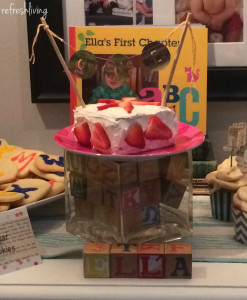 I made an ABC book on Shutterfly about all of her little quirks, favorites, dislikes, and nicknames from this past year.
My daughter is the youngest of the grandchildren on my husband's side (8 kids – 4 years old and under!) so there were a lot of little ones running around.  I tried to put out a few activities that would help keep them busy.  This website had quite a few very cute ideas for book themed parties.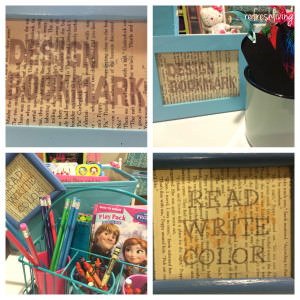 These Melissa and Doug scratch-off bookmarks (Melissa & Doug Bookmark Scratch Art Party Pack
*) were a hit, and a couple kids colored "a book".  Ironically, I didn't see a kid sitting down to actually read a book at any point during the party…
Besides every guest picking out a book from our lending library, I made all the kids a little gift bag to take home with them.  All of the kids were 4 or under, so I included a small board book from this First Library Sesame Street
*, The Very Hungry Caterpillar Lacing Cards*, Forest Friends Bookplate Book of Labels
*, and a homemade book.  All of these products I purchased from Amazon came in sets that I was able to split up – keeping the overall cost of the favors low.
All in all, the party was a success and my little girl seemed to have a blast!
Join the Refresh Living DIY & Upcycling Community
Join the subscriber list to receive one to two emails per month with updates from the blog. PLUS, you'll gain access to my printables and graphics library. Every new design I create will be added here, and you'll have free access - forever!