I love thinking about how many little butts have sat in these chairs.  As expected, they were quite worn and smattered with other signs of age like discoloration and little specks of paint.  I knew I wanted to try to get a chippy finish with Miss Mustard Seed Milk Paint, but I never know exactly what I'm doing when I get started on a project.  This one was no different.
I used MMS Hemp Oil for the first time, and baby, I'm a believer!  It took me about the length of this project to be convinced that this stuff is pretty amazing.
I've heard it works great as a resist when painting, so I brushed it on in random spots.  The wood just seemed to soak it up, probably because it was unfinished and quite old.
I quickly brushed on MMS Milk Paint in tricycle, and then started hoping for the chipping to start.  It didn't, so then I started sweating.  I had a patchy-looking chair in front of me, with paint that was doing the opposite of what I wanted:  it was sticking to the chair!
I got out my 150 grit sandpaper and lightly sanded.  I paint easily flaked off in the areas with the hemp oil, which gave me a little more hope, but I still was a bit skeptical.
Time for more hemp oil – I figured there was nothing to lose at this point, I could always paint another layer on top of it, because I was fine with chipping.
It was magic.  As I wiped the hemp oil over the chairs, they simply transformed.  The color deepened, the distressing became more heightened, and the chippy look was accentuated.
I had a vision in my head when I started this project, but I love the final outcome even better than my vision.  I LOVE it when that happens.
If you haven't tried using hemp oil as a finishing agent, you really should!!
Sadly, I don't think I'm actually keeping these chairs.  I'm trying to build up some inventory to possibly sell at a some fairs next year, but we'll see how it goes.  Either way, I know these chairs will have many more years of "little butt love".
(Please forgive the horrible photography and shadows!  You are probably catching on that I do all my projects at night, after I'm home from work and the girls are in bed.  I'm clearly not the best photo editor, either.  Hopefully you can look past it.
You can find all of my furniture refinishing projects here, along with all my tips and tricks for painting furniture.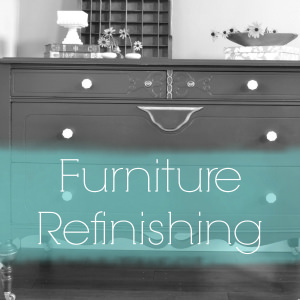 Join the Refresh Living DIY & Upcycling Community
Join the subscriber list to receive one to two emails per month with updates from the blog. PLUS, you'll gain access to my printables and graphics library. Every new design I create will be added here, and you'll have free access - forever!