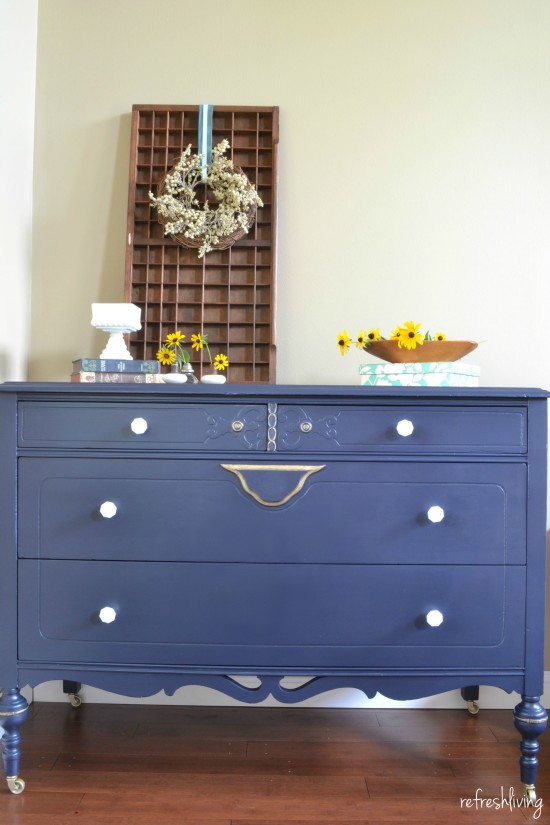 I'll admit it, I had no vision for this piece when I signed up for this month's Fab Furniture Flippin' Contest.  Even after picking out the gorgeous hardware, I still didn't have any idea on what I wanted to do with this piece.  I probably should have started with a vision, and then moved forward, but this dresser became an evolving vision.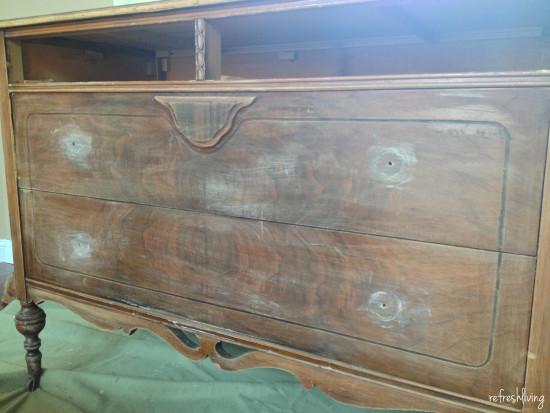 I started by prepping the dresser.  The top needed some major love – it looked like a lion attacked the edges of the top.  I just posted my tips for preparing furniture to paint.  Feel free to check it out!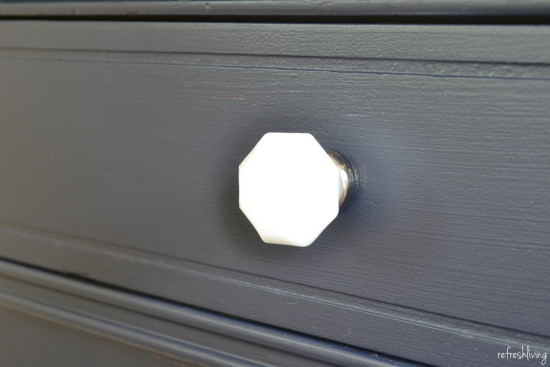 I knew I wanted to try General Finishes "Milk Paint" for this one, and chose Coastal Blue.  I thought the contrast between the dark blue and white would look nice and highlight those gorgeous "milk glass" knobs.
I could have stopped here, and I think if I weren't participating in the challenge this month, I would have called it quits.  But the theme this month is Icing on the Cake, and although those knobs are tasty bits of sweetness, I needed more.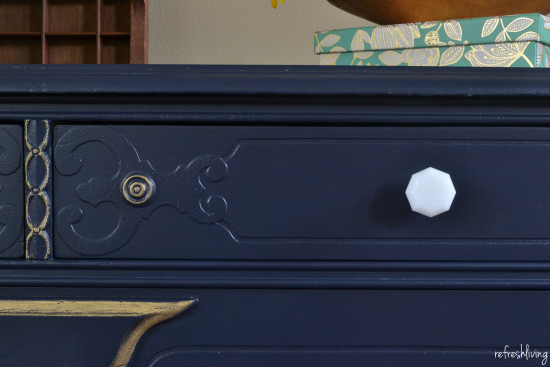 Gold.  I don't know if you'll see this color anywhere else in my décor or furniture creations, but I'm starting to enjoy it in little bits here and there.  I used Gilder's Paste and accented some of the original woodwork on the dresser.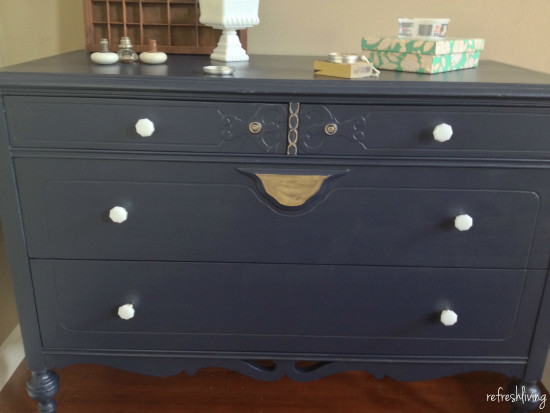 I made a major mistake and rubbed the gold on the large panel on the drawer, and I thought it looked horrible.  I used paint thinner and easily removed it and added it to the outline of the panel instead.

Those legs needed a little gold-icing love, too, so I spray painted the original casters with a rust preventer, and then gold spray paint.  A little extra accent on the front legs, and this dresser was done.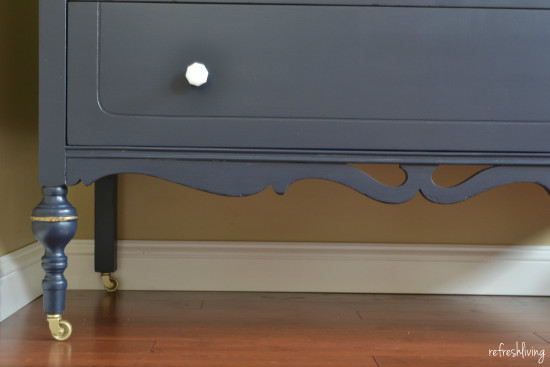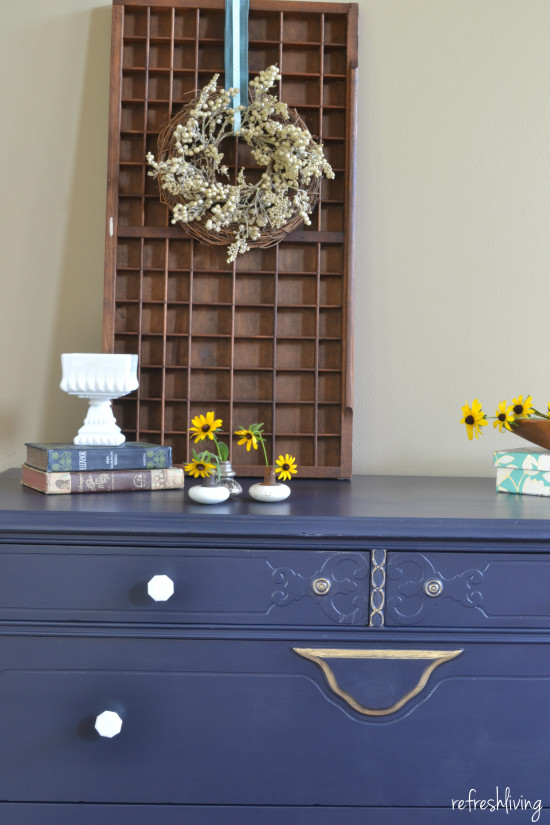 Although it's quite different from other pieces I usually create, I still love it, and it just wouldn't be the same without those knobs!  You definitely need to spend way too long looking at all the other knobs at D. Lawless Hardware. They seriously have an incredible collection of hardware to perfectly fit the style/era of your piece.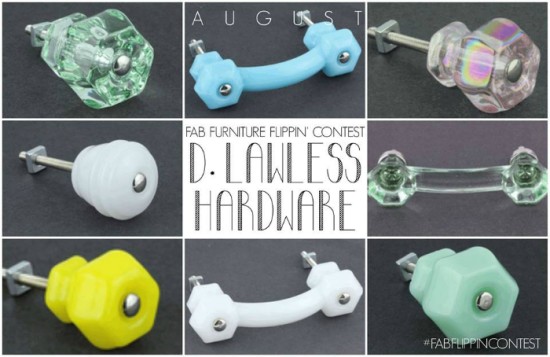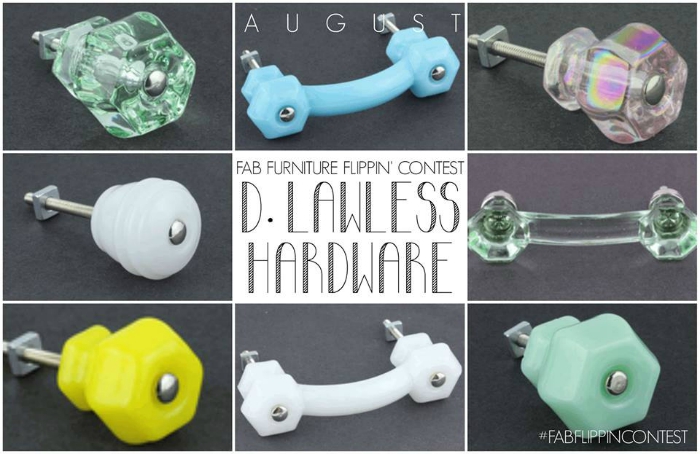 Our hosts this month are Michelle from Dandelion Patina and Evey from Sweet Songbird Designs.  Head on over to their blogs to check out all the amazing transformations featuring D. Lawless Hardware!

A few other recent furniture transformations:
Join the Refresh Living DIY & Upcycling Community
Join the subscriber list to receive one to two emails per month with updates from the blog. PLUS, you'll gain access to my printables and graphics library. Every new design I create will be added here, and you'll have free access - forever!