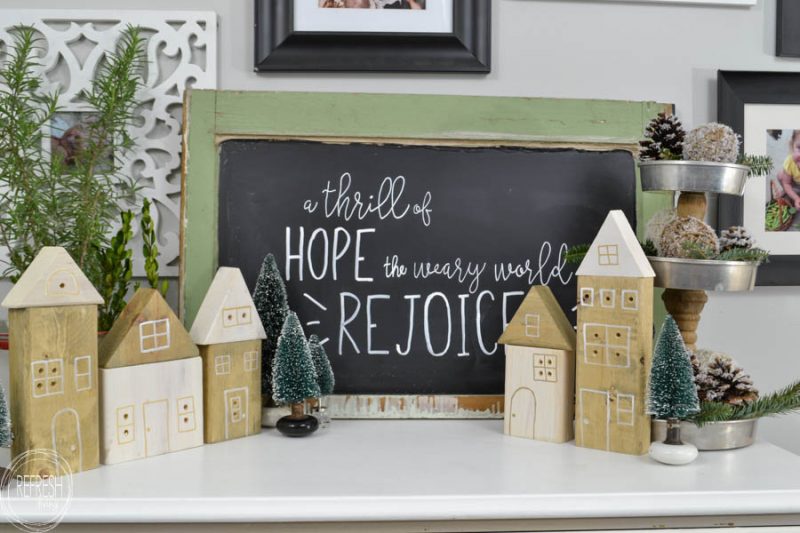 I hate to admit it, but I have a lot of scrap wood stored on the side of my garage.  I even have trouble throwing away a scrap piece of 2×4, which is a cheap piece of wood to start.  I used some of that leftover wood from building my daughter's loft bed to make these little Christmas houses.  Although it's an unconventional Christmas village, I love the simplicity of the white and wood tones.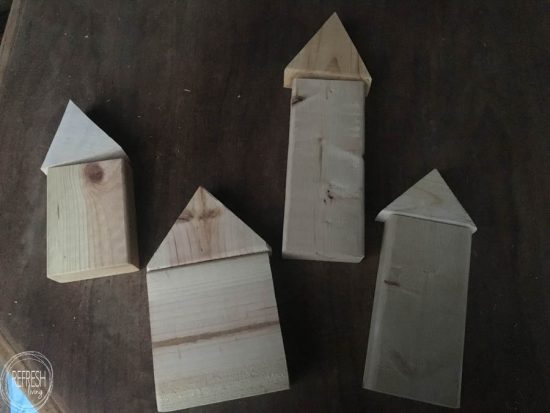 I used my miter saw to cut the angles of the roof tops.  I'll admit, there was no rhyme or reason to my measurements, I basically just picked an angle, and then made sure to use the same angle on the other side of the roof.  All of the pieces have different angled pitches to give them some variety.  If you don't have a compound miter saw, it would actually be one of the first tools I suggest you purchase (after buying a drill) if you plan to do any sort of DIY work with wood.  But, a miter box with a handheld saw will work just as effectively, you'll just need to use some arm power and manually saw the pieces in the miter box.
After the pieces were cut, I used watered down white paint on some of the pieces, and wood stain in Driftwood to paint and stain the pieces.  After everything dried, I used my favorite fast setting wood glue to attach the pieces together.  Literally, this glue bonds wood together in a minute!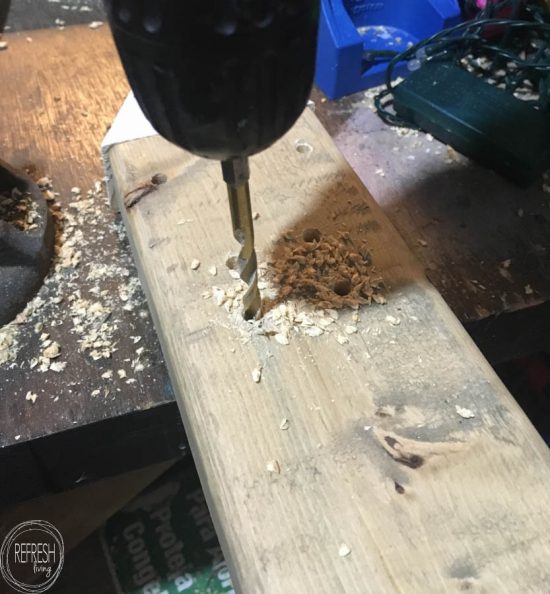 I used my drill (remember, my #1 DIY tool to have in your tool collection?!) to make holes all the way through the wood.  I basically took the battery powered light set and matched up the drill bit that was a tad bit bigger than the bulb of the light.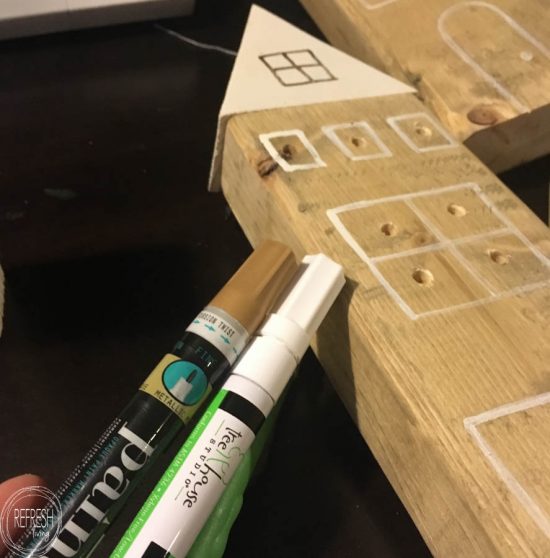 I used paint markers to draw windows and doors on the wood.  I should mention that when I drilled the holes, I thought about where I wanted some of the windows to go.  You could also draw your windows first, and then drill holes in some of those windows, too.
I pushed the lights through the holes and put a couple of houses on each string of 15 lights.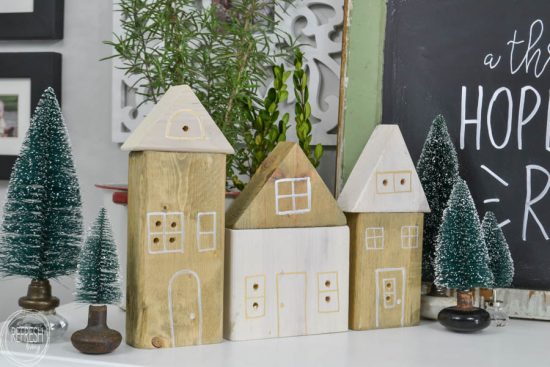 I personally think they are charming during both day and night!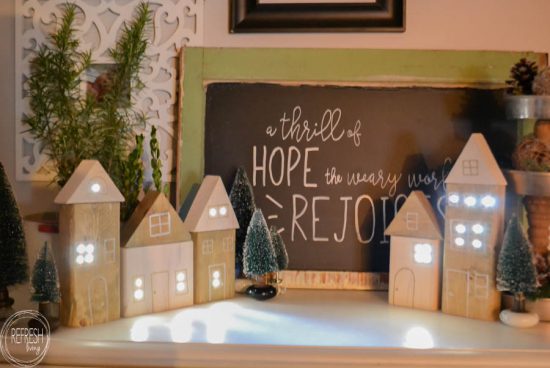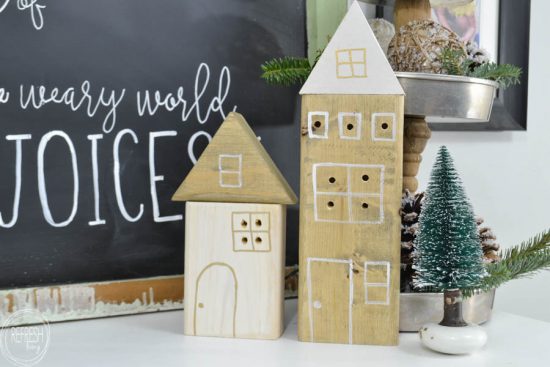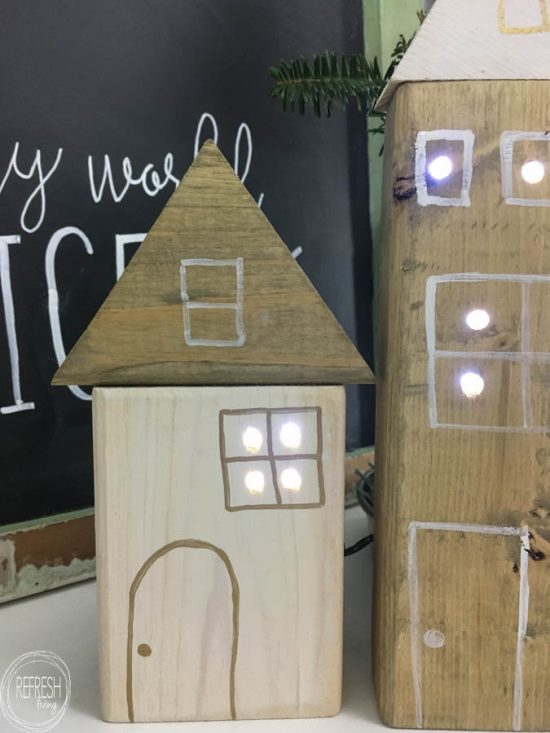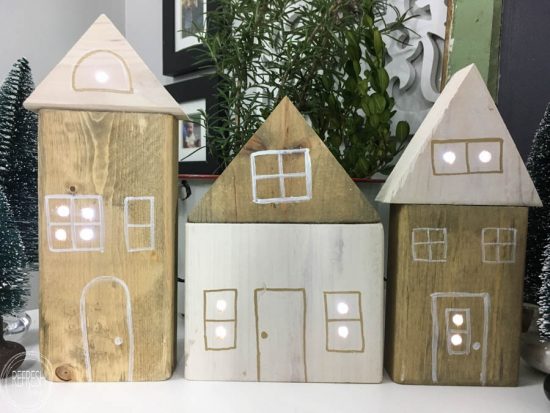 It was another easy and inexpensive project that only set me back for the cost of the light bulbs.  With it being Christmas time, there are plenty of cheap options for lights.  I bought mine at Aldi for $2.99 for a box of 15 lights.  $6.00 for a Christmas village scene?  I'll don't mind if I do!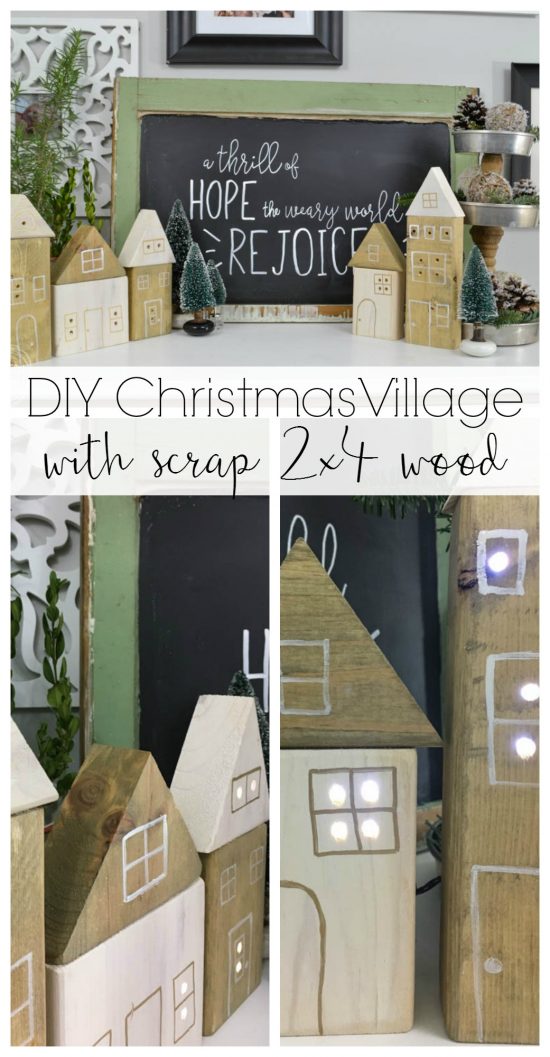 I have a ton of other easy DIY holiday projects here: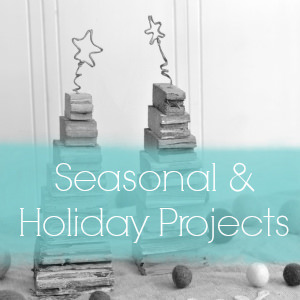 Join the Refresh Living DIY & Upcycling Community
Join the subscriber list to receive one to two emails per month with updates from the blog. PLUS, you'll gain access to my printables and graphics library. Every new design I create will be added here, and you'll have free access - forever!