We have hundreds of books at our house. I have thousands of books in my classroom. We have enough books to entertain a kid from birth to their early teens. Okay, you get the picture. We have a lot of books. With all those books comes the problem of where to store them all.  I've got a pretty organized system in my classroom, but I've been failing on the home front in this arena.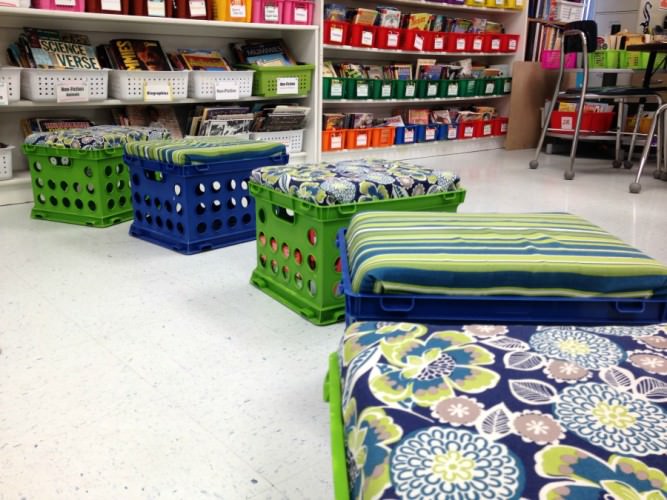 If you look behind those nifty stools, you can see all our classroom books, neatly arranged in baskets by genre.
But at home, they are piled onto bookcases, without much rhyme or reason.  Because my daughter loves reading, I've found that it's helpful to have books situated in most rooms in the house, even in the bathroom.
Without much space in the basement to spare (I did take up quite a bit of valuable floor space with the play kitchen I made for her), I had to create a storage system that was attached to the wall.  I have seen fabric book racks using double curtain rods on Pinterest, but I wasn't convinced they would hold the weight of a decent number of books.  Plus, curtain rods can be pricey.
Instead, I bought $0.50 dowel rods from the ReStore in my area, and reused wooden shelf brackets that I found in my grandpa's garage.  (If you haven't caught on, my family members keep a lot of stuff.)  I used spray paint I had on hand and leftover fabric from my upholstered storage bench with an IKEA shelf.  The metal keyhole hooks cost $5.00 for two packages.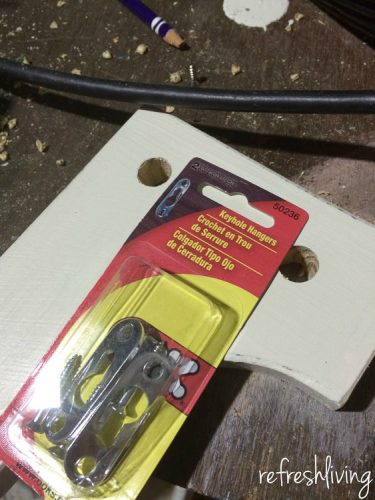 Total cost: $7.00!!  But, if you needed to buy all the supplies, you could still probably build both bookcases for under $20.
To attach the brackets to the wall, I screwed the keyhole hangers to the back of each piece of wood (in two places).  Then, I screwed into the studs and used screws in anchors in the places where there was only drywall.  (Use this method to help you know exactly where to drill those anchor holes.)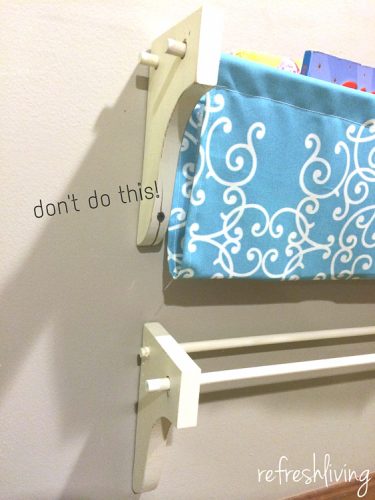 Don't get lazy and do what I did.  I tried to screw directly into the wooden bracket without drilling a pilot hole.  Big mistake.  (I knew I shouldn't have tried it, yet I did it anyway because I thought it might be thin enough to screw through without splitting.  I was wrong.)  I would actually recommend using the eyelet hooks I mentioned above, because then you don't see ugly screws on the outside.  But, if you want to save the money, be sure to drill a pilot hole before screwing right through it.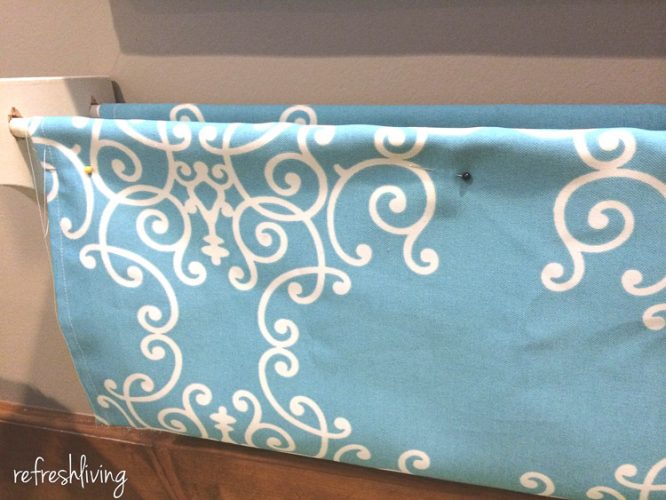 After the brackets were attached, I pinned fabric across the dowel rods.  I just eyeballed how far the fabric should hang down.  I sewed a stitch that left enough room so the dowel rod could slide through opening.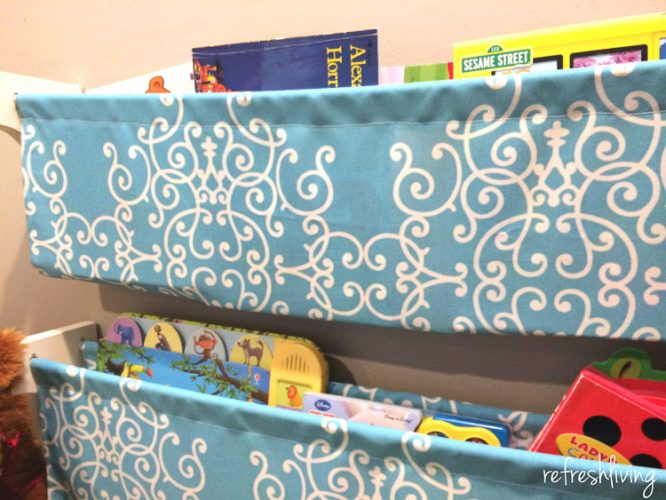 Join the Refresh Living DIY & Upcycling Community
Join the subscriber list to receive one to two emails per month with updates from the blog. PLUS, you'll gain access to my printables and graphics library. Every new design I create will be added here, and you'll have free access - forever!