Estate sales are one of my favorite places to shop.  There are so many time-worn treasures that are truly unique.  I love finding items that I can reuse in my own home decor or seasonal crafting projects.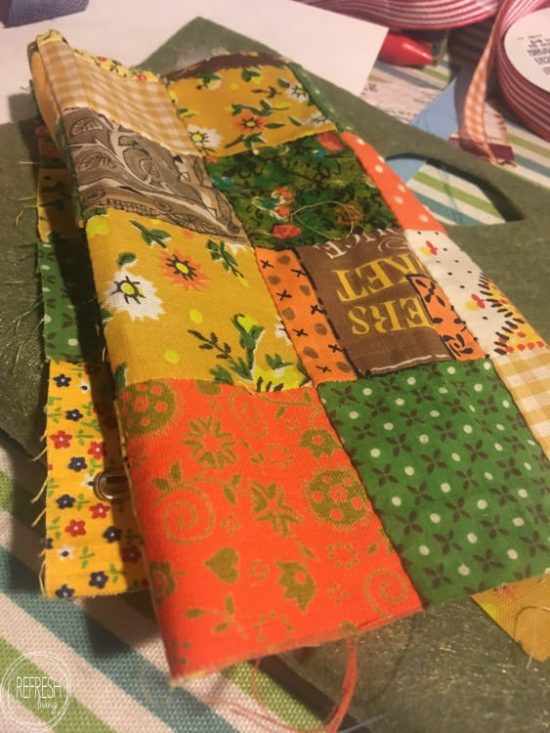 I'd venture to guess that there is no other piece of fabric like this out there.  Someone clearly quilted this themselves with a beautiful collection of fabrics that just scream Fall.   I bought both little 12″ x 12″ squares for $0.50 and added them to my fabric stash, knowing I'd find a use for it at some point.
A few months later, I pulled out these cute quilted squares and turned one of the pieces into 3 little stuffed pumpkins.  The process is super easy, and really allows you to customize the way they look depending on the fabric you choose.
First, cut the fabric into rectangles.  I have no advice as to the size of the pieces here.  I basically just eyeballed the pieces, and they all turned out just fine.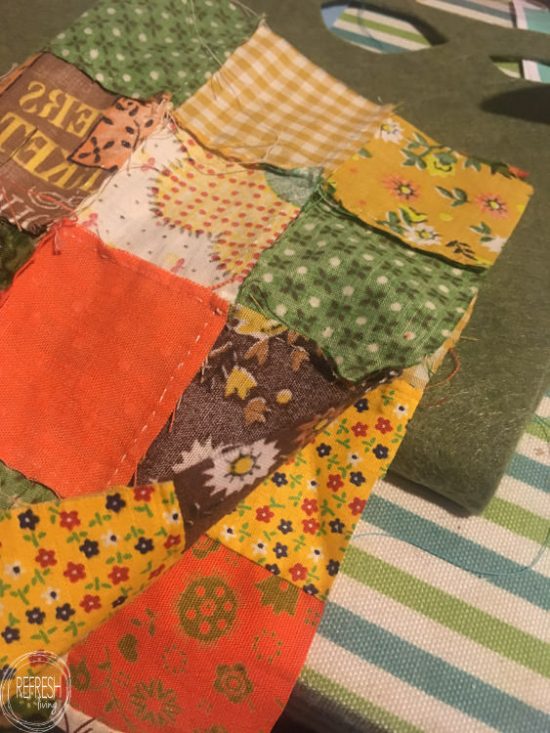 Fold the fabric in half with the right sides facing each other and sew along the side.  Don't have a sewing machine?  Fabric glue works just as well for this step too!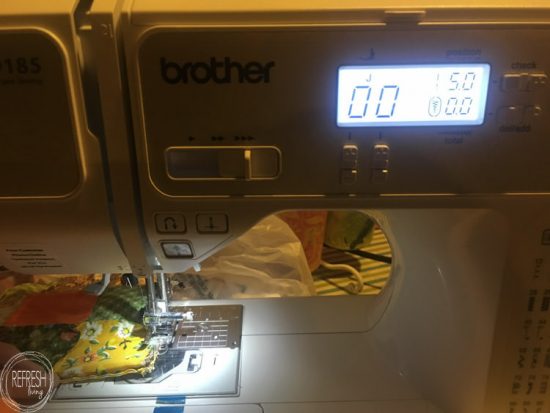 The next step will allow us to bring the ends together.  Sew a gathering stitch (wide stitch length) along one side.  You'll want to be able to pull the stitch to make the fabric bunch up.  (In the picture I had my fabric turned the wrong way.  Your pieces should still be facing right sides together!)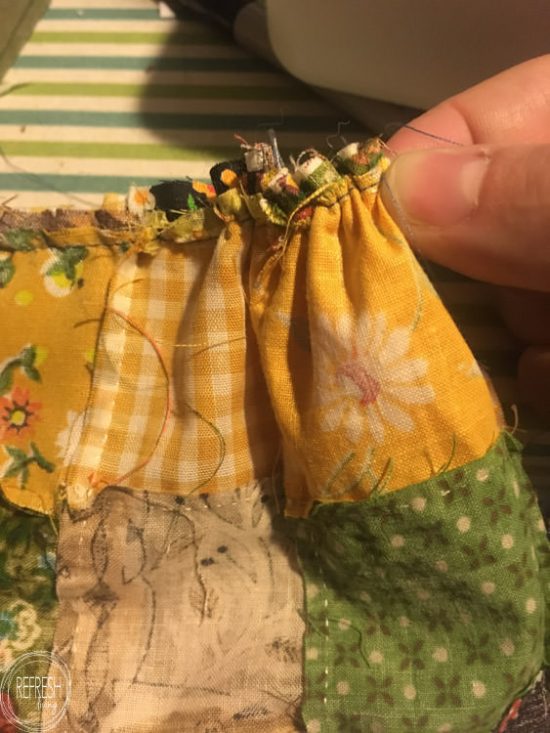 Take the bottom piece of thread and give it a tug.  You should see the fabric start to bunch up.  If that doesn't work, try the other piece of thread.  Continue pulling until the fabric is bunch up into a tight wad.  Then, hold the thread tight and tie a knot to hold it in place.
Don't have a sewing machine?  This step can also be easily hand stitched!  Just use a wide stitch across the entire top of the piece of fabric, and then pull it tight.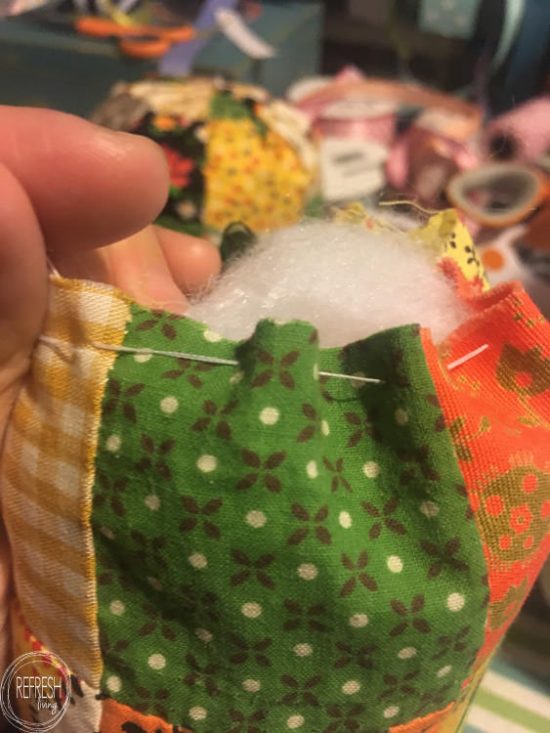 Next, turn the piece right-side out and stuff it with filling.  Hand sew a wide stitch across the top, pull the thread tight, and tie a knot .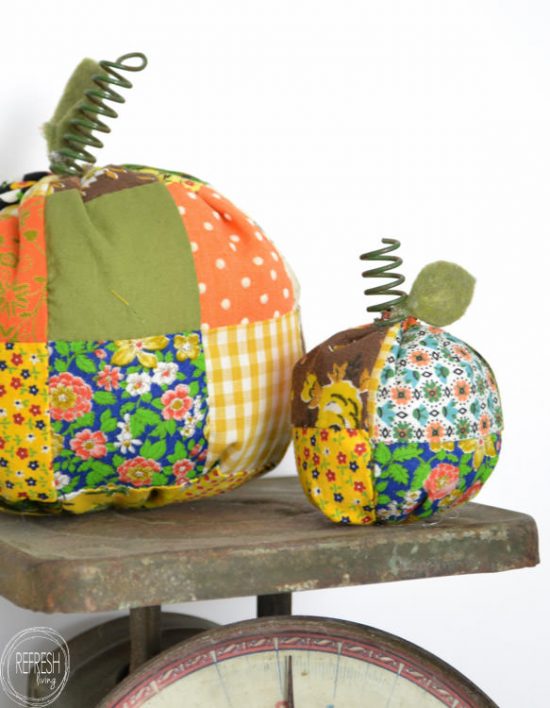 I used little green springs that I picked up from a flea market as the stems.  But I heard from a reader that she dips twine into glue and shapes them into spiral stems.  I love this idea!
Of course, the style of your pumpkin greatly depends on the fabric you use.  I've made them with Packers fabric as a gift (as a Chicago Bears fan, it was a little painful), and mattress ticking fabric and drop cloths for a farmhouse look.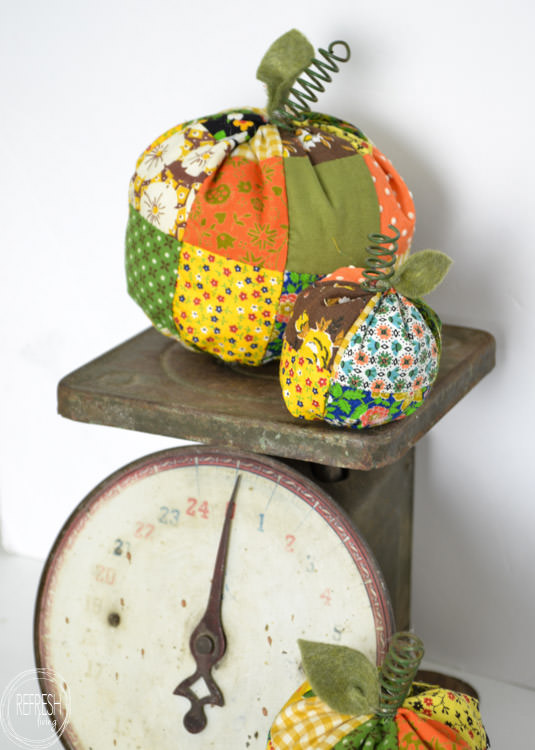 Love this fabric? I had an extra piece, and I gave it away to one of my email subscribers!  I actually have way too many vintage goodies at my house waiting to be upcycled, or left over from other projects, that I plan to do a little giveaway with every email I send out!
You can sign up right here.  I do not bombard you with emails (I can't get my act together enough to do that!), rather I send them out about every other week.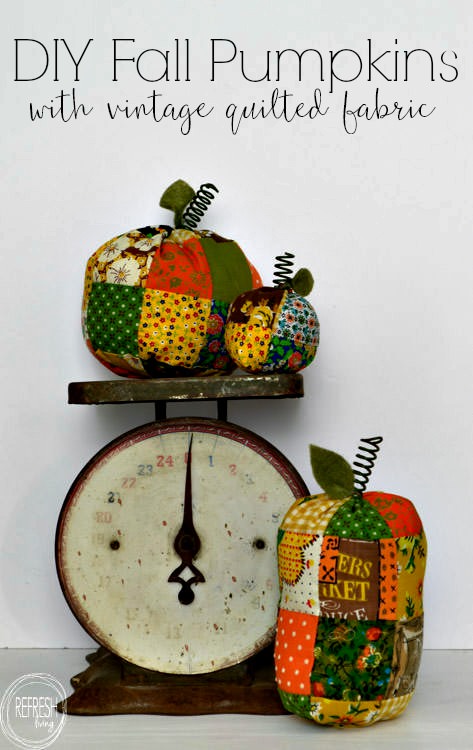 Like what you see? I'd love for you to follow along!

Join the Refresh Living DIY & Upcycling Community
Join the subscriber list to receive one to two emails per month with updates from the blog. PLUS, you'll gain access to my printables and graphics library. Every new design I create will be added here, and you'll have free access - forever!