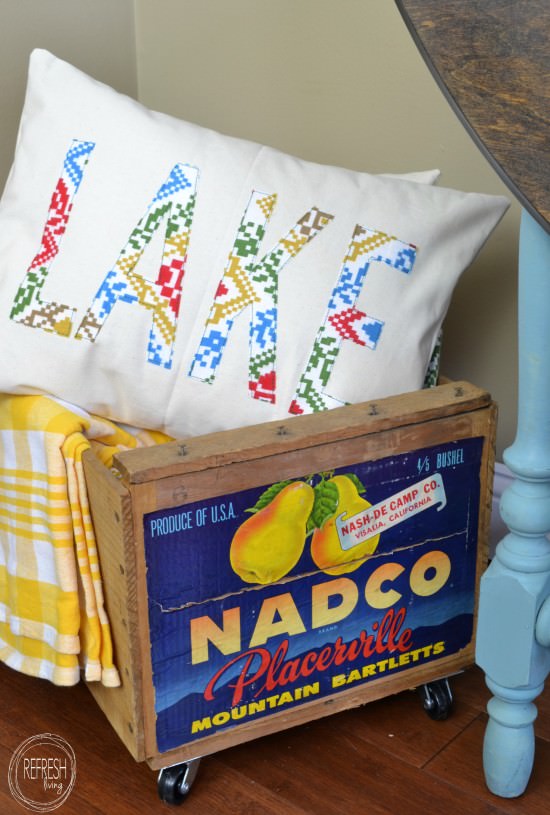 This post is an exciting one!!  First, I'm finally able to work on some of the smaller touches to our little lake house cottage, because most of the major work is complete.  These DIY custom word pillows with vintage fabric will be perfect for our living room/playroom/bedroom/sunroom/I don't know what to call it room.  Even better, I'm teaming up with 17 other amazing ladies to bring you some incredibly creative projects that you can make with your Silhouette.  Cat from Pocketful of Posies put it all together for us, so after looking at my tutorial, head on over to check out the other projects!
Don't own a Silhouette?  Don't stop reading yet, because the last bit of exciting news is that we will be giving away a Silhouette Cameo II and a vinyl starter bundle (similar to this kit
) to a lucky winner!!  If you don't have a Silhouette machine, you want one, and you especially want a free one, right?
Starting at 1 pm CST on Thursday, 2/4, visit me on Instagram and find this image.  Be sure to follow me, and then click over the the next hostess, follow her, and continue through the loop.  Once you've followed all 17 of us, you are officially entered into the drawing.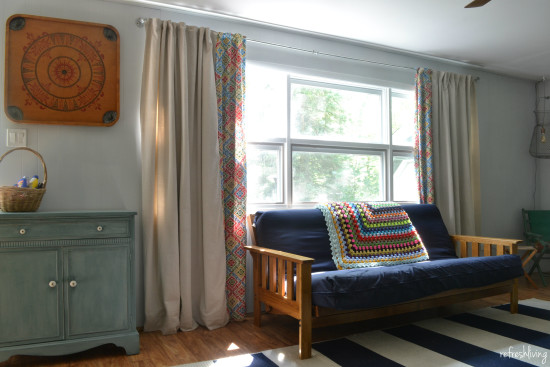 We have this room at our cottage that serves a few purposes, the primary one being a place to sleep some extra bodies, but it also functions as a living space and a play room.  There are a ton of windows, which I figured out how to cover with lined drop cloth curtains.  In those curtains, there is a touch of vintage fabric along the sides.  I found it at a flea market and fell in love with the colors.  I thought they'd work perfectly in our vintage camp inspired room.  With the leftover fabric, I used my Silhouette to make some custom word throw pillows.
For this project, I made the envelope slip covers with some lightweight canvas.  You could also buy some pre-made slipcovers, but if you have a sewing machine, you can make these covers, even as a novice.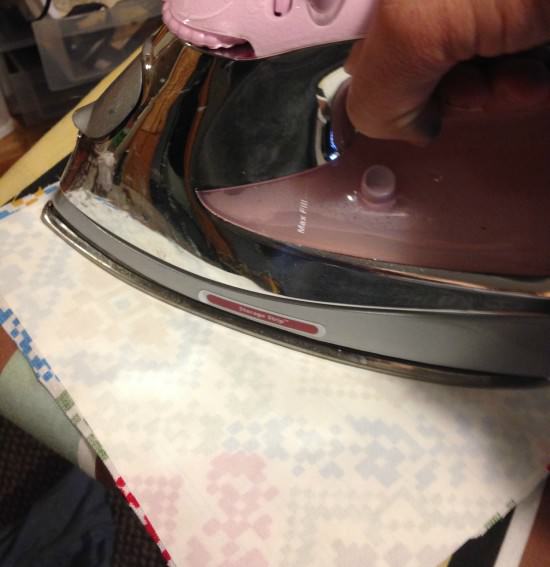 To be able to attach the fabric to the pillow, I used Heat n' Bond.  There are two different levels of hold – Lite and Ultra.  The Heat'n Bond Ultra
 is perfect for adhering fabric that you do not plan to sew.  The Heat'n Bond Lite
 is best if you plan to sew a stitch over the fabric.  I used Lite for my "lake" pillow and Ultra for my "relax" pillow.  Simply iron the Heat'n Bond to the back of the fabric (following the directions on the package).
Then, use a regular cutting mat and place the fabric, with the Heat'n Bond attached to the back, on the mat.  You'll need a special Silhouette Fabric Blade
 to cut cleanly through the fabric.
Remove the fabric from the mat (the paper backing will probably stay stuck to the mat, which is perfect, because it makes for easy removal of the backing) and then iron it onto the front panel of the cover.
Before sewing the cover together, I did a top stitch over the letters in "lake".  I love the way the contrast stitching in green turned out, but there wasn't a chance I was going to try to make that look nice with all those curves on the "relax" pillow.  I just left that one alone as is.
I think they'll look great in our cottage room.  I can't wait to bring them up next time we spend a weekend up there!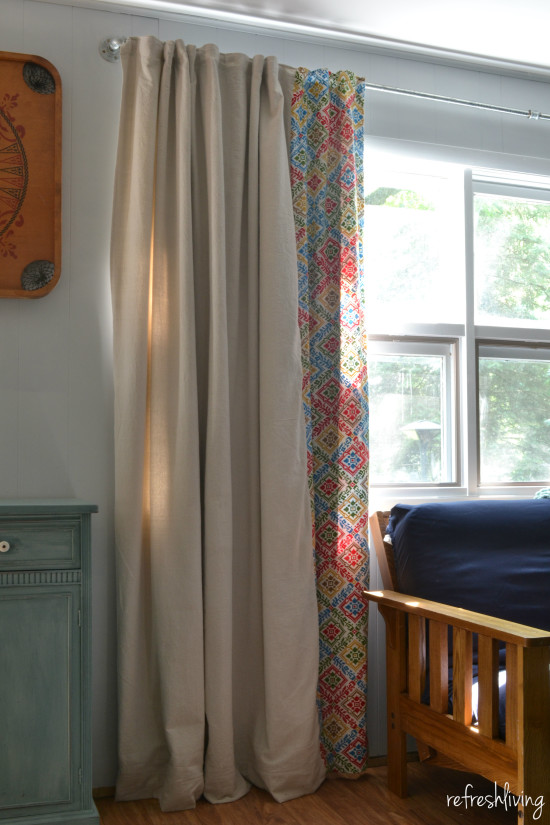 Look at all of the rest of these creative ideas that you could create if you win this Silhouette!  Good luck, and thanks for checking out some of the other projects!
Pocketful of Posies – Sultry and Saucy One of a Kind DIY Dip Cups.
Hobnail House – Silhouette Craft Blog Hop: Cut Vinyl Art Upcycle
In The Loop – How to Create a Silhouette Using the Silhouette Cameo
Craving Some Creativity – Silhouette Project Challenge: Distressed Laundry Room Sign
DIY Passion – Cheeky DIY Tote Bags that will Make You Smile
Domestic Ability – Paper Boxwood Wreath
Our House Now A Home – A Silhouette Giveaway and Creating New Wall Art
My Life From Home – Silhouette Challenge: What's Cooking? Recipe Holder
Holy Craft – How to Use a Photograph to Make a Custom T-Shirt with Your Silhouette
Knock it Off Crafts – DIY Otomi Coasters using a Silhouette Machine
One Project Closer – DIY Princess Party Decorations
Dream Design DIY – Chalkboard Workout Calendar and Silhouette Giveaway
The Country Chic Cottage – Makeup Organizer
Refresh Living – Custom Word Throw Pillows with Vintage Fabric
The Deans List – Scalloped Milk Glass for Valentine's Day
Tried & True – "Life Is Good" Bicycle Lover's Tee
Tastefully Frugal – Valentine's Day/St. Patrick's Day Reversible Sign
Join the Refresh Living DIY & Upcycling Community
Join the subscriber list to receive one to two emails per month with updates from the blog. PLUS, you'll gain access to my printables and graphics library. Every new design I create will be added here, and you'll have free access - forever!