It's the 15th of October, but this is only my 13th post.  Yep, I'm behind, but I'm not quitting yet.  I'll keep posting during this 31 day challenge and if it takes until the middle of November to reach my 31 days, then so be it.  When I started blogging, I made a commitment that it would not interfere with my time with my kids or my responsibilities to my students.  Things have been a bit crazy, especially on the school front, so posting took a back seat.
I'm back with a simple project that brought some color and organization into my basement craft/storage area.
I cut a 1 by 4 into two pieces about 18″ long.  I drilled holes large enough to fit the dowel rods that i picked up from the Habitat for Humanity ReStore for $1.00 (for all of them!).
I screwed both of them into either side of a pre-made shelf.  Mine was leftover from my grandpa's art room, but I see them at thrift stores all the time.  I spray painted all the pieces and then attached the shelf to the wall.
It's holding all my ribbon and tape – with room to spare.  It's easy to remove or add a roll by simply pulling the dowel rod out from one of the sides and threading the spool through the dowel rod.
You can find all of my furniture refinishing projects here, along with all my tips and tricks for painting furniture.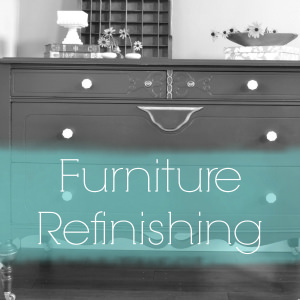 Join the Refresh Living DIY & Upcycling Community
Join the subscriber list to receive one to two emails per month with updates from the blog. PLUS, you'll gain access to my printables and graphics library. Every new design I create will be added here, and you'll have free access - forever!