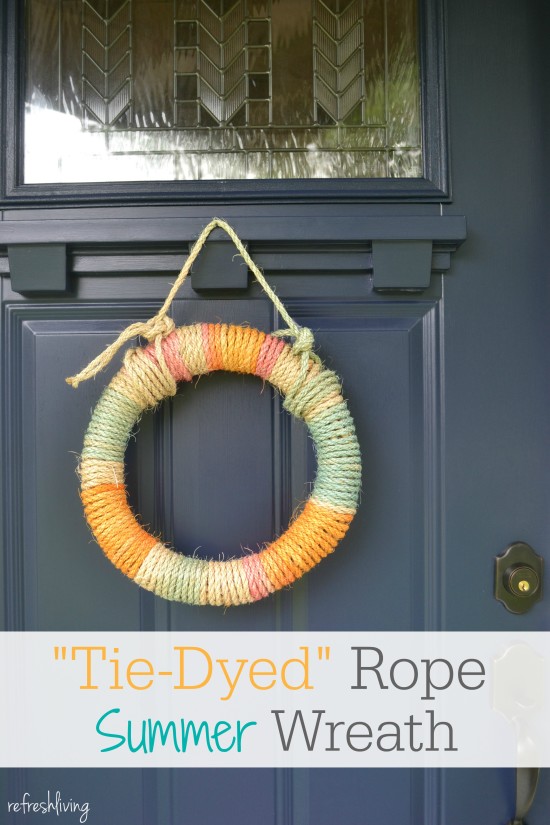 It's time for another DIY Challenge – this month's theme: Pinterest Inspired Projects. We all know how easy it is to find an inspiring project on Pinterest! (This post contains affiliate links. You can read about our disclosure policy here.)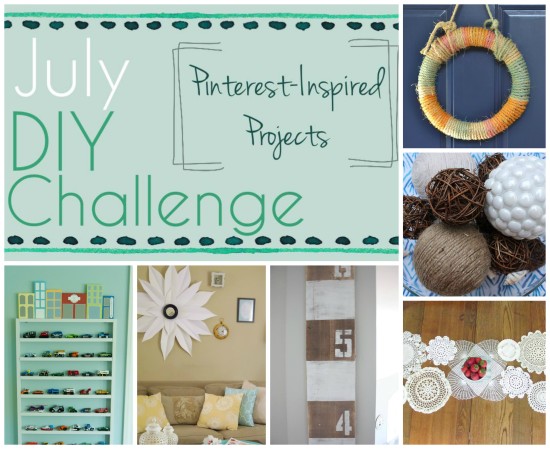 I recently updated my front door with Modern Masters Paint, and upon getting started, I realized the whole front patio needed a major facelift. So, not only did I paint the door, but I also made a DIY address sign, and stenciled my front stoop. To add a little interest to the door, I made my first ever wreath, inspired by this Sisal Rope Wreath from Honeybear Lane.
I have a handful of wreaths that I've picked up at Goodwill over the past year. I always have the best of intentions to make wreaths for the holidays, and then I never do. One thing is for certain, though, you won't ever find me paying full price for a wreath frame. $1 is the most I'll pay, and I usually rip off all the other decorations on it and leave it hanging in the basement, just waiting for me to actually do something with it.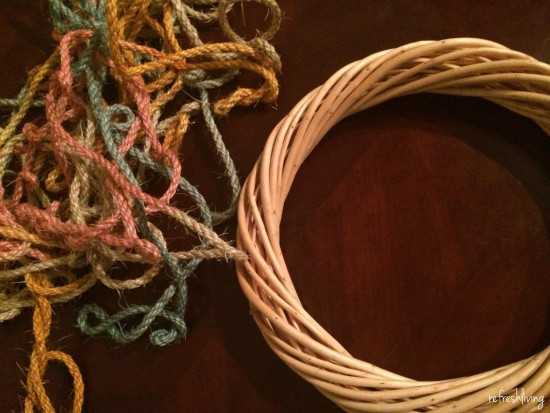 So this wreath was a whopping $0.50, and I had this sisal rope left over from another project (and off hand, I actually have no idea what that project was).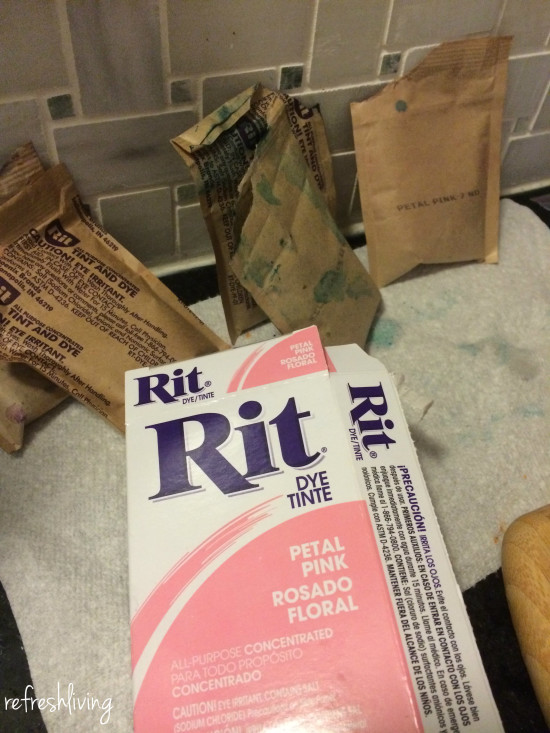 I used Rit Powder Dye
* in three colors (Teal, Petal Pink, and Sunshine Orange) and prepared three different glass jars with orange, pink, and turquoise. They also sell a Liquid Fabric Dye
*, which works just as well, but it's more expensive.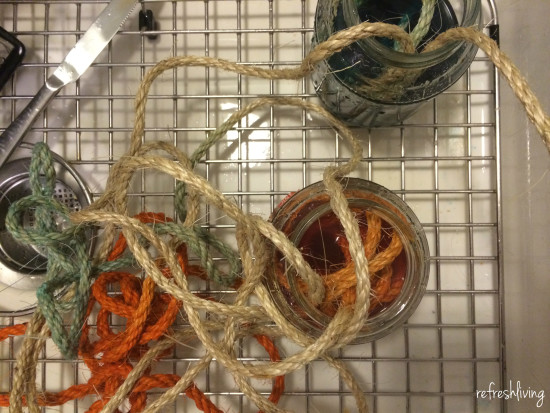 I randomly wrapped the rope around my hand into different lengths and put the coils into the dye. The longer you leave it in there, the darker it gets. I learned the hard way and left the orange in for way too long. It came out pumpkin orange – definitely not the summer look I was going for. I figured out that dipping the rope quickly in bleach, and then rinsing it off right away, lightened up the color perfectly.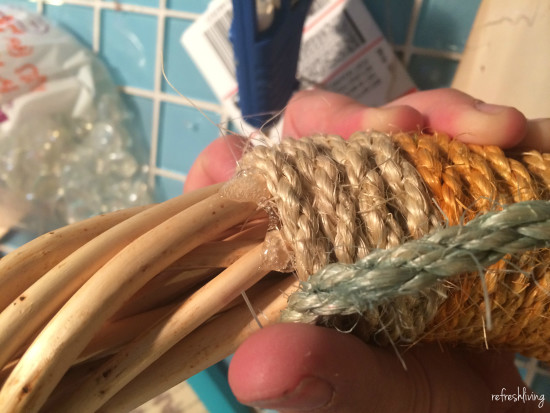 After the rope was dyed, I just wrapped it around the wreath frame as tight as possible, and put dabs of hot glue on the back every few inches.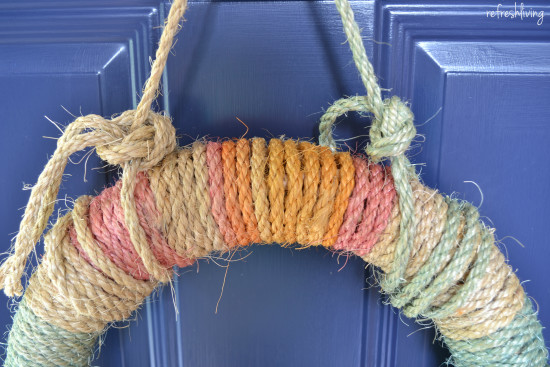 I knotted a loop around the top and my first DIY wreath was complete!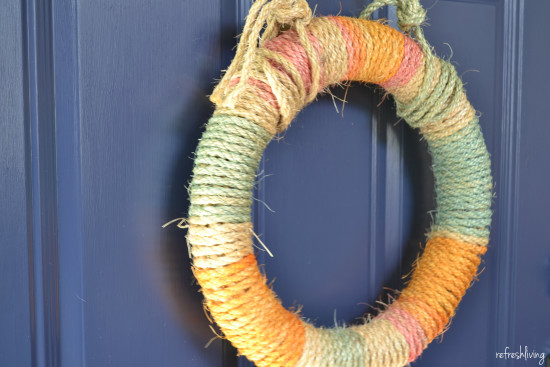 I thought about adding shells or little flowers, but opted just to keep it really simple. I may change things up soon, but for now, it's an easy rope-wrapped wreath with a pop of color.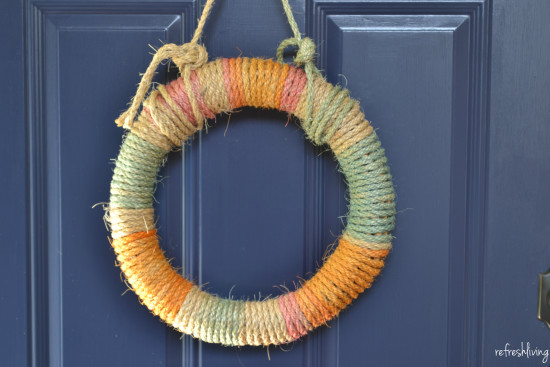 Now, you must go check out the other projects inspired by Pinterest!
| | | |
| --- | --- | --- |
| Colorful Summer Rope Wreath | DIY Beachy Accents | Vintage Doily Table Runner |
| DIY Striped Growth Chart | Hot Wheels Parking Garage | DIY Sunburst Mirror |
Join the Refresh Living DIY & Upcycling Community
Join the subscriber list to receive one to two emails per month with updates from the blog. PLUS, you'll gain access to my printables and graphics library. Every new design I create will be added here, and you'll have free access - forever!