I've been wanting to try out a new method for creating a distressed wood look, almost creating a whitewashed barn wood look.  It's finally been warm enough to do some staining outside, and I had the perfect use for my test boards – a rustic frame for my Easter mantle.
I started with some thin pine bead board strips.  I stained them with Dark Mahogony and let the stain dry for a few hours.
I applied some crackle finish (this step is completely optional, it just creates small crackles in the white, giving it a slightly more unique, aged look).  I've used this before, but it has been awhile, and I think I was a little too light-handed in applying it.  Next time around, I'd actually put a little more (be sure to put it all in one stroke, if you go over it too much, it looks pretty bad) so the crackle is a little more visible.
After drying for an hour, it was time to apply the white paint.  I dipped just the tips of the brush into the paint, and dabbed off the excess paint on a towel.  Then, in quick, sweeping motions, I applied the paint in the direction of the grain, hitting some areas more than others.
After this dried, I sanded it down, and stapled it into the back of the frame.  Oh yeah, that frame was a estate sale – corner of the basement – in an old box – free! – find.  I painted it in a base coat of Miss Mustard Seed French Enamel, added some help oil, and then the top got a coat of MMS Artissimo.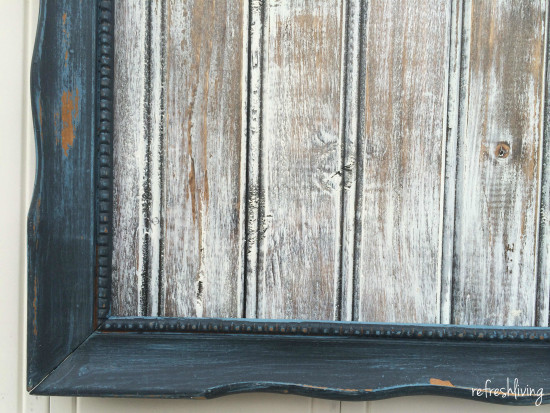 I love, love, love this little frame.  It's actually exactly as I envisioned it, which almost never happens.
I thought about adding little vintage knobs to create a jewelry hanger or hooks to hang keys or other odds and ends by the door, but I decided to just leave it as is for now before drilling any new holes.
To update it for Easter, I cut a cross out of burlap, and then a slightly larger one out of patterned fabric, and then sewed them together.  To attach it to the frame, I used Mavalus Tape*.
Quick detour – Mavalus tape is, well, marvelous.  I discovered it three years ago, after six years of walking into my classroom (later than I wanted to be) on a Monday morning and finding all the posters that were on the wall on Friday to be scattered on the floor.  You're right, I don't have time for this!  Sticky tack just isn't made the way it used to be.  If you plaster enough shipping tape around a poster, it does stay up, but looks pretty tacky, and I know the custodians don't appreciate the paint it pulls off the walls at the end of the year. 
With Mahvalus tape, posters actually stay up, on the walls, cabinets, and whiteboards, which is mahvalus dear, simply mavalus.  Okay, but even if you don't teach, you still need this tape.  It's great to have around the house to hang up little pieces of art, or a quick decoration that doesn't really need a new hole in the wall.
Nope, I sure didn't plan for this post to be about a roll of tape.  Let's get back to the frame.

It's now a part of my Easter mantle which I'll be sharing soon!
(Affiliate links marked with an asterisk.  Read about our disclosure policy here.)
Like what you see?   I'd love for you to follow along!
Send us some love with a like on Facebook, check out inspiring projects on Pinterest, follow along on Bloglovin', or have posts delivered to your inbox once a week. [mc4wp_form]
Join the Refresh Living DIY & Upcycling Community
Join the subscriber list to receive one to two emails per month with updates from the blog. PLUS, you'll gain access to my printables and graphics library. Every new design I create will be added here, and you'll have free access - forever!