As I've mentioned before, I consider myself to be a beginner at sewing.  However, I've learned that once you know the basics of how to use a machine and some simple stitches and techniques, many projects are completely attainable!
Take my "reupholstered" drop cloth couch.  At the time I made this, I had only sewn 2 other things in my life, both being simple pillows.  I managed to sew the basic slipcover for the couch, and sew together the cushion covers as well (with a zipper, I might add!).  You can check out that post here.
The reason I tell this little story is because I wish I had known how to sew these envelope pillow covers earlier, because they are even easier than the basic pillow (sew around edges, turn right-side out, stuff, and sew closing seam).  That's the only type of pillow I knew how to make, until now!
I used this tutorial from Teal and Lime to figure out the basic process of making an envelope cover, but I actually didn't have a piece of fabric long enough to wrap around from the front to the back, so I adapted it and figured out the measurements I would need to sew a pillow with a separate front panel instead.  I knew I would use this technique more often, because I've also been making pillows with striped panels of grain sacks for a market I've hoping to sell at this summer.  Here's a quick peek at those!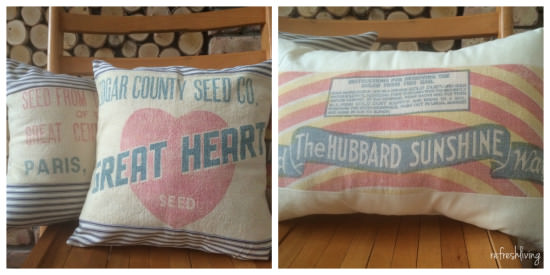 Here's a little handy cheat-sheet for figuring out the size of the panels you'll need to cut out.
Okay, here are the steps to sew your own envelope pillow covers.
1.  Measure the pillow or pillow form you plan to cover.
2.  Add 1 inch to the length and width and cut out the front panel using this measurement.  My pillow measured 18″ x 18″, so I added an inch and cut my square 19″ x 19″.
3.  For the back panels, you'll keep the width (A) the same (19″).  To find the length (B) of your back panels, divide your measurement in half (19″ divided by 2 = 9.5) and then add 4″ to this number (9.5 + 4 = 13.5″).  Each back panel will measure 19″ by 13.5″.
4.  For each back panel, fold over side A by 1/2″and iron, and then fold it over again, iron, pin (if necessary) and stitch.
5.  Now, you have three pieces.  Lay the front panel right side up, and lay the back panels on top of the front piece, right sides together.  The back panels will overlap one another.
6.  Sew around the perimeter of the pillow, reinforcing the places where the back panels meet with a back stitch for extra strength.  Cut corners.
7.  Turn right-side out and stuff with your old pillow or pillow form.
This pillow was actually made with back panels that I only added 3″ to.  I didn't like how they peeked open in the back, so I adjusted the addition to 4″, and I like the look much better!
I seriously can't believe I didn't try to make these sooner.  I lived with these ugly pillows that came with our couch for 8 years too long.  Even if you are new to sewing, you will definitely be able to make these successfully!
Join the Refresh Living DIY & Upcycling Community
Join the subscriber list to receive one to two emails per month with updates from the blog. PLUS, you'll gain access to my printables and graphics library. Every new design I create will be added here, and you'll have free access - forever!