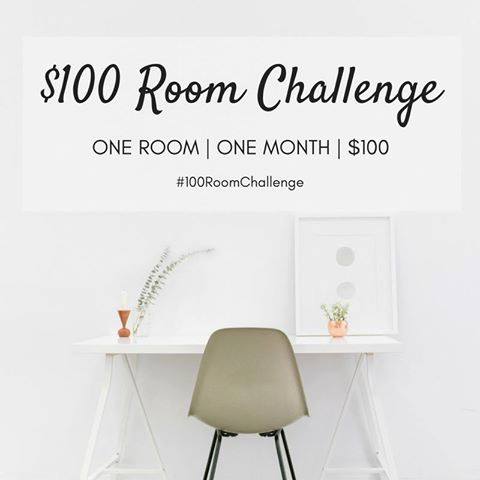 Four weeks always seems like plenty of time to give a room a quick overhaul, but I should have learned by now that the time flies by, especially when you have a scattered brain like me and can't focus on one project at a time.  Even one with a "deadline".  If you're seeing this post for the first time, you can see my week 1 post here, or head on over to Lemons, Lavender, and Laundry to see all the details about the $100 Room Challenge.
I didn't even post an update last week because I had done NOTHING.  I could have put together a round up of all the fabrics I was considering for the chairs or something, but let's be honest, I didn't even have that sorted out in my head until a couple of days ago.  (I still don't know which fabric I want to use, either.)
Thankfully, I did a little bit of work this week, and the room looks slightly different (but definitely not any better).  We are just scooting stuff into the center of the dining table to eat…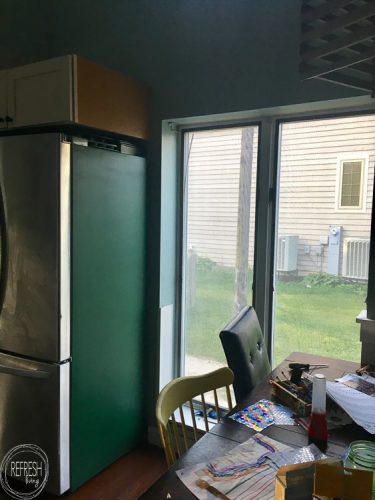 This week, I worked on our "new" dining room table.  I scored this table, with five chairs, for $72 at a used furniture store.  I didn't need the chairs, so you better believe I sold them on Craigslist;  $35 for all of them.  The total cost of my table sits at a whopping $37.  It has two removable leaves, which is exactly what we needed, as the space it sits in is small, but when we have family over, we need to extend it.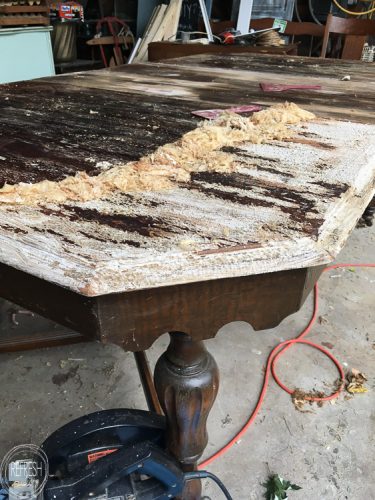 I stripped down the top, which is always, always a labor of love.  After two coats of stripper I still wanted it to be lighter, so I decided to then use wood bleach.  I'll be writing an entire post about the makeover, but right now the top is bare and ready for stain.  Then, I'll paint the base and legs and move her in!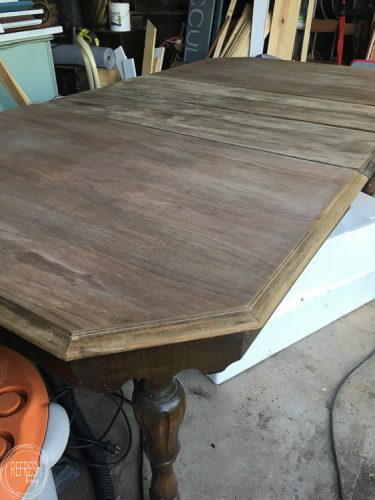 Besides that, I also painted the side of our fridge with vintage green chalkboard paint.  I had a ton left over from my daughter's "vintage schoolroom" nursery, and I love green.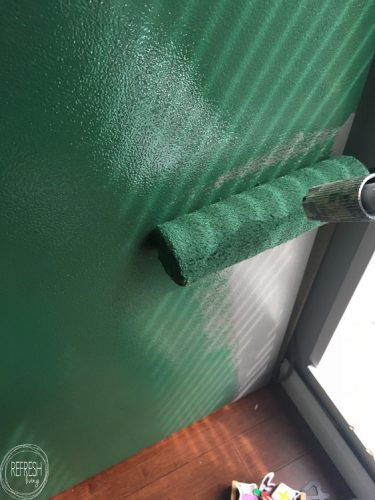 Clearly, I still have quite a bit more to do in this room, which is going to require me to stay focused.
To-Do List:
Stain and seal the tabletop ($37 for table, $15 for supplies)
Paint the base (leftover paint)
Recover three vintage chairs (and dust off the spider webs from the garage) ($? – and if I knew what fabric I was going to use, I'd know the cost…)
Install floating shelves in the window nook (barn wood planks – $5)
Install frame around the chalkboard (fridge) (wood my dad found when remodeling an old apartment)
Pot plants in reclaimed vintage containers ($? cost of plants)
It looks like I still have $43 left in my budget.  I'll need about a yard and a half of fabric, and then I should have some money leftover for some plants for my new window garden!
There are a bunch of others taking on the challenge of redecorating a room for only $100.  Stop by and see what they are up to!

Join the Refresh Living DIY & Upcycling Community
Join the subscriber list to receive one to two emails per month with updates from the blog. PLUS, you'll gain access to my printables and graphics library. Every new design I create will be added here, and you'll have free access - forever!