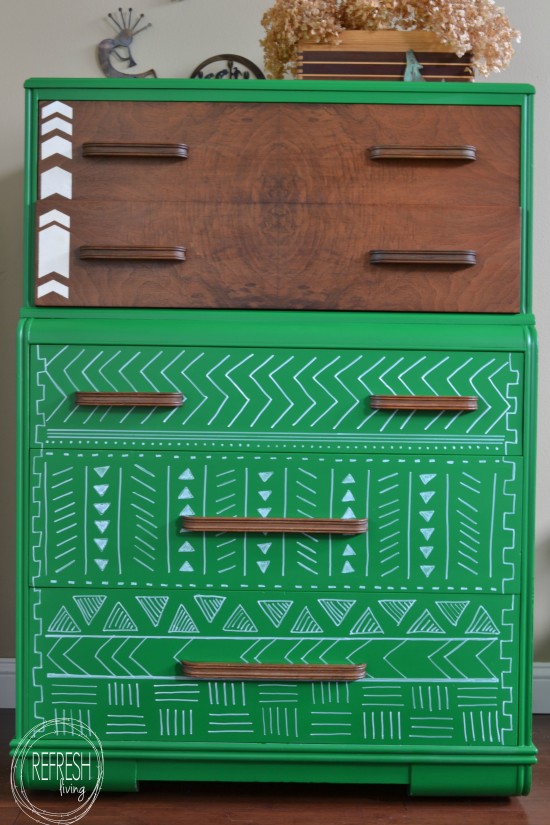 It's time for another round of the Fab Furniture Flippin' Contest!  I'm finding that these contests really push my creativity, challenge me to try something new, and help me to step out of my comfort zone.  And I sure did step out of my comfort zone with this one.
This month's theme was geometric design, something I don't normally do on my furniture (but always swoon over when I see pictures of them on Pinterest).  Although this theme required me to step out of my little cushy furniture painting zone, this month's product certainly did not.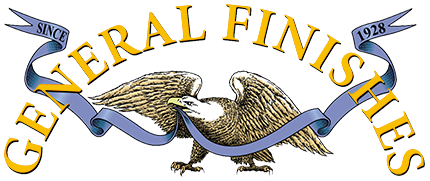 General Finishes is our fabulous sponsor, and having used their paint and finish before, I was so ready to get my hands on a new color.  If you haven't tried this paint, you should look up your nearest retailer right now.  The coverage is silky smooth and it self levels beautifully.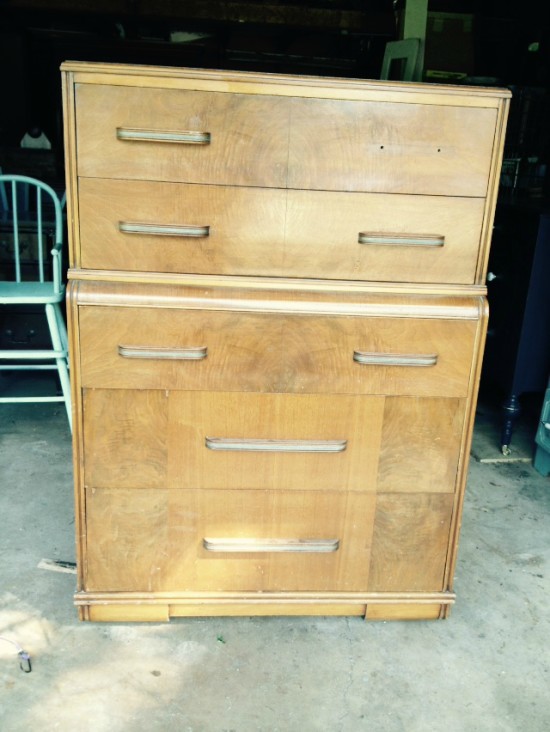 Being that the theme was geometric design, I walked past all the antique dressers with rounded legs and curved drawer fronts and found this waterfall dresser in the back corner of my garage.  This was actually one of the first pieces I purchased to refinish about a year and a half ago!  It was a garage sale find (which are still my favorite places to find furniture).  I left it sitting because I honestly didn't have a vision for the piece, and I'm naturally drawn to more antique pieces, but nonetheless, it's a solid dresser and the veneer was still in decent shape, and it was in excellent condition on the top two drawers.
I stared at that dresser for at least 30 minutes collectively.  Every time I walked by that garage I stopped for a few minutes to just look at it.  Finally, five days ago (I liked to cut things close to deadlines – it's how I work best), inspiration struck.
The top drawers are beautiful, and the design on the wood is geometric all in itself, but the wood grain was getting lost in the scuffed finish, so I decided to strip the top drawers, stain them in a slightly darker color, and highlight the natural geometric design that this dresser already offered!
With the drawers on the bottom being "connected", I knew I wanted to create a design across all of the drawers.  I saw a tribal painted fabric on Pinterest, and it was decided – this geometric dresser was going south!
I used my normal prepping techniques for painting furniture, which included sanding and filling in some chipped veneer on the bottom drawers.  Then, it was time to paint!
I've been loving all the pieces I've seen painted with Emerald Milk Paint, but I've never been brave enough to use it.  I thought this would be the perfect opportunity to showcase this gorgeous green!
To paint the tribal pattern, I actually starting by finding designs from various photos online.  I just took a screen shot of the part I liked, and then used a digital projector to enlarge it on the dresser.  (One of the perks of being – and being married – to a teacher is you can easily get your hands on digital projectors.  Overhead projectors also work for this, but those are probably harder and harder to find these days.)  I used chalk to trace the pattern, which is awesome, because if you mess up, you can just wipe it off.  Once the pattern was on the dresser, I used a white paint pen to trace over the chalk.
Finally, I created a stencil and painted on the arrow pattern with Snow White.  Instead of using shellac, my usual go-to for painting perfectly clean lines, I used General Finishes High Performance Polyurethane in Flat, which I had on hand because it's also how I finished the dresser.  It gives such a clean, silky finish, and it self levels beautifully – no brush marks here!  Beware – once you use this polyurethane, you will never want to go back to traditional polyurethane or polyacrylic.
I cleaned up the hardware and removed the dingy piece of metal that was wrapped around each handle.  Now, I have the original solid wood handles that were just made for this piece.  The hardware spacing was not even close to any standard sized pulls today.  I often fill in the hardware holes and drill new ones to add new hardware, but remember I told you I like cutting it close to deadlines?  Plus, I really like the contrast of the wood and the green, so I think even if I had more time, I wouldn't have switched out the hardware anyway.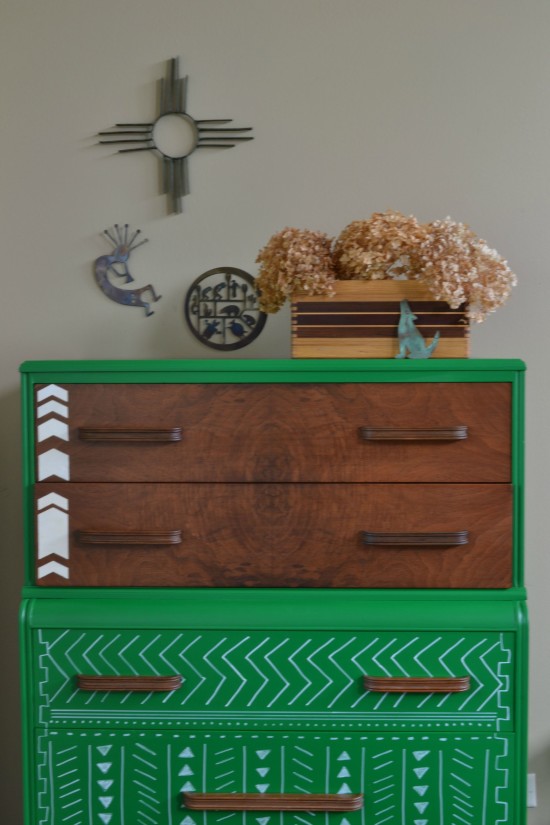 I understand that this dresser won't appeal to everyone, but I really like the contrast of the gorgeous wood with this vibrant green.  I don't think geometric designs will become my new comfort zone, but it was really fun to try my hand at something new with this piece!
Now, you certainly need to go check out all the other geometric inspired designs!!  Head on over to our hosts for the month Carrie at Thirty-Eighth Street and Lynn at Fern Avenue to see their creations, and all the other participants' amazing work!
General Finishes supplied me with the paint for this post, but all opinions are 100% my own.  (I just love their paint!)
Here's a look at my other Fab Furniture Flippin' Contest posts:
Join the Refresh Living DIY & Upcycling Community
Join the subscriber list to receive one to two emails per month with updates from the blog. PLUS, you'll gain access to my printables and graphics library. Every new design I create will be added here, and you'll have free access - forever!