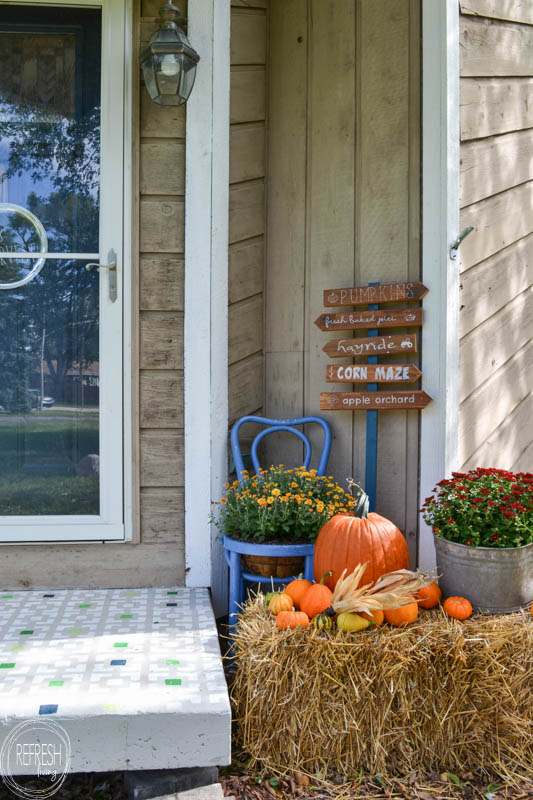 Welcome to our front porch – one of the areas in my home that I have a love/hate relationship with.  I've hated most everything about the little concrete stoop, angled front door, falling brick stairs, and weeds growing through the cracks and mulch everywhere I turn.  Although it's a frustrating space, I realized that when I made a couple of small updates, like painting the front door, installing a new screen door, and stenciling the front stoop, I've grown to hate it less.
Due to the ugly past with my front porch, I've never decorated it for any holidays.  When Tara of Lehman Lane arranged a fall outdoor blog hop, I thought I should push myself past the hatred.  This is a first for me, and I'm actually happy with how it turned out!  The hate is slowly dwindling.
When I decorate around here, it is always on a budget.  Because I love using natural elements in my decor, but don't love spending money on them, I purposely planted a few extra pumpkin plants this year.  All of the pumpkins on our front porch are from our garden!
Last year I used the mini  pumpkins from our garden on our mantel.  This year, needless to say, we have a few more!!
As I was setting this up, I could hear the squirrels laughing and snickering at me from the massive maple tree in our front yard.  It's like a breakfast, lunch, and dinner buffet for fall, and the upcoming winter combined.   Last year, their laughing would have been justified – they annihilated any pumpkin that made it to the front porch.  But this year, I just chuckled to myself.  I have a trick up my sleeve, and it saved all of these pumpkins from getting devoured on the vine, and it's going to save them on the front porch, too.  More on that soon, but for now here is the rest of my front porch.
All of the other items used on my front porch are finds from estate sales.  I sell at a vintage market twice a year, but these items didn't sell at this past fall market, so I decided to keep them for myself!
I made this DIY fall sign for less than a couple of bucks.
I also picked up that vintage galvanized pitcher at an estate sale, but you better believe I didn't try to sell that beauty.  That one was staying with me from the get go.
It's hard to see through our screen door, but I also made our wreath from a thrift store find.
Maybe you'll see more of this front porch in the upcoming seasons…maybe.
Take a look at all of my DIY & upcycled holiday decor projects by clicking on the image below.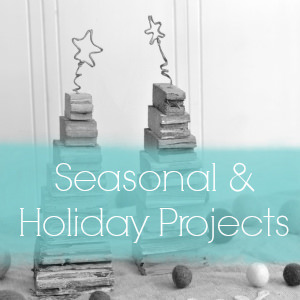 Looking for more outdoor inspiration?  Head on over to these other amazing outdoor spaces all decked out for fall!

Fall Outdoor Hop
Monday
Lehman Lane / 2 Bees in a Pod – Vicki's House / My Life from Home / North Country Nest
Tuesday
Our Crafty Mom / Twelve on Main / Little Bits of Home / Beauteeful Living / Fun Home Things
Wednesday
Simple Nature Décor / Timeless Creations / Refresh Living / UnCookie Cutter
Thursday
2 Purple Couches / Our House Now a Home / Knock it Off Kim / Green with Décor
Friday
2 Bees in a Pod – Jenn's House / Joy in Our Home

Join the Refresh Living DIY & Upcycling Community
Join the subscriber list to receive one to two emails per month with updates from the blog. PLUS, you'll gain access to my printables and graphics library. Every new design I create will be added here, and you'll have free access - forever!