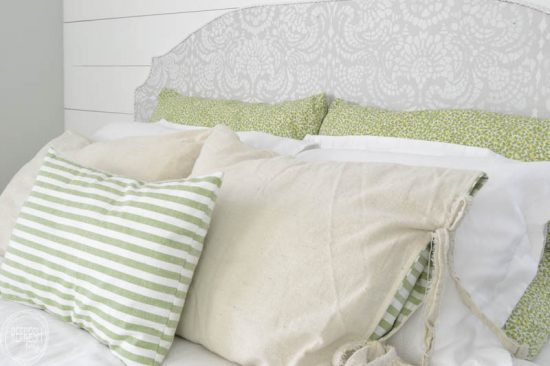 For the first seven years of owning my own home, I spent a lot of money on home decor products.  I still kick myself for how much money I spent, because now most of the items have been given away due to being poorly made or not fitting into my style anymore.
Once I bought myself a sewing machine and taught myself the basics of sewing (let's be honest, YouTube taught me the basics), I now can make so many of my own home decor items.  Pillow covers are by far one of my favorite items to sew because they can change the look of a room with minimal work and cost.
Seriously, even if you are new to sewing, you can sew a farmhouse pillow cover (or any type of pillow cover for that matter)!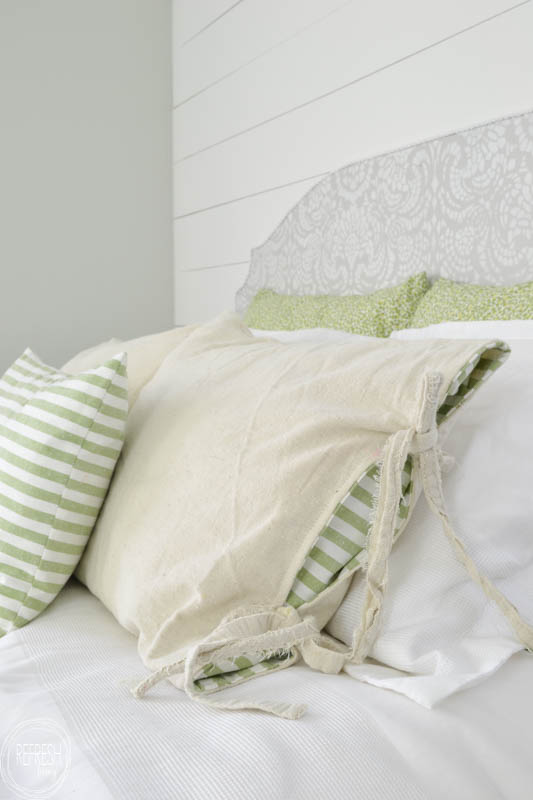 Supplies Needed to Make a Farmhouse Pillowcase
two patterns of fabric (one for outside and one for lining)
ribbon, twill tape, or pieces of fabric (I used the pre-sewn seam on drop cloths and just cut it off the edge of the drop cloth for my ties)
sewing machine (here is the one I use – simple yet functional)
thread
pins
iron
pillow form
A few months back I updated our master bedroom for the One Room Challenge.  Basically, my goal was to add storage and a little bit of farmhouse style to our boring and decor-less bedroom.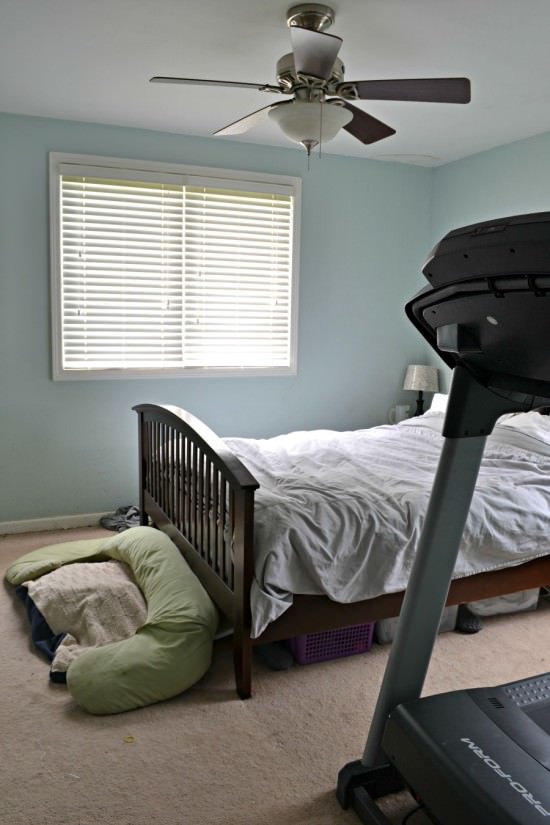 Although the change wasn't drastic, I love our new bedroom, complete with a DIY storage bed, shiplap wall, DIY stenciled headboard, and plenty of vintage touches.  You can see the entire room transformation here.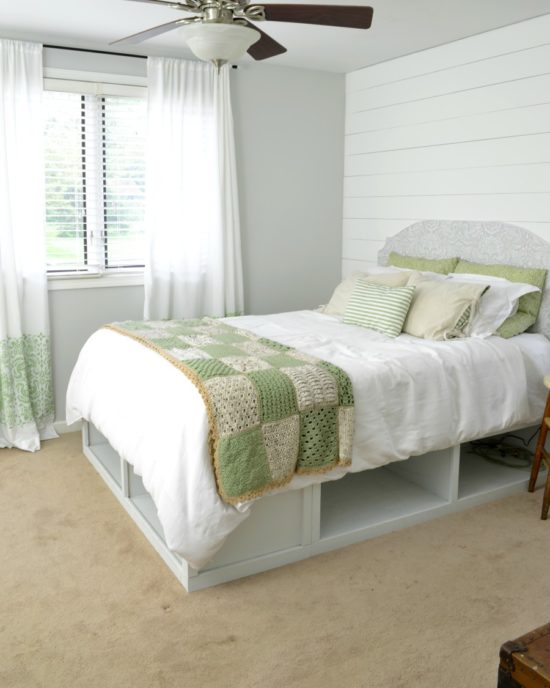 I made almost all of the pillow covers on the bed and spent very little money on them!  Let's jump right into how I made the lined covers with the ties.  If you're looking to make simple envelope pillow covers like the rest of the pillows, you can read how to make those here. (Added bonus – they are even easier!)
I knew I wanted to have ties on these pillow cases, because I love the farmhouse look they add.  I found this great tutorial from On Sutton Place on how to make a pillow case with ties, but I really didn't want to be able to see the pillow inside the cover, so I adapted it and created a lining that would fold over the pillow to cover it up.
I love using vintage fabrics, but I'm going to be honest with you, I have a hard time finding it.  I sometimes steal some up at estate sales, but I've never found a pattern that I love, love, love.
Enter Etsy, and a shop that carries an amazing collection of vintage fabric!
I finally ended up choosing a vintage green striped fabric for the inside of my pillows, and I just love how the pattern peeks through the open end of the pillowcase.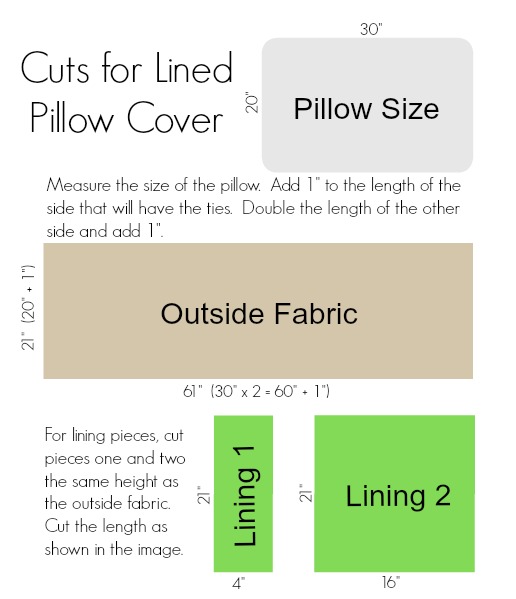 First, measure the pillow and cut fabrics as shown in the image above.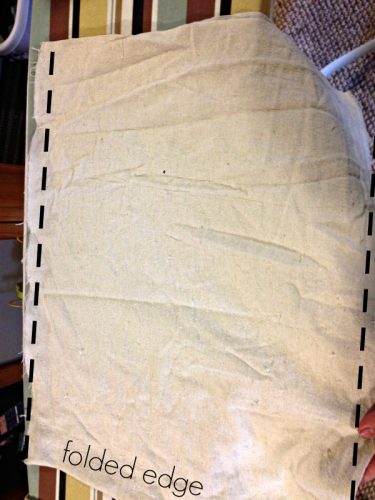 Fold the outside fabric in half, with right sides together.  Pin and sew a 1/2″ seam along the two sides (the bottom will already be folded and the top will remain open).  Turn right side out and set aside.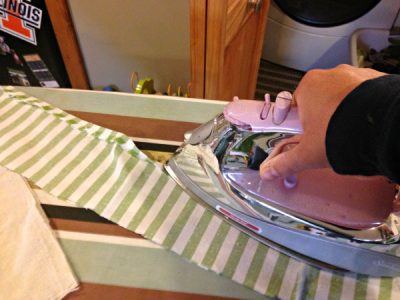 On both lining pieces, fold over the 21″ long edges and iron a 1/4″ seam, fold over again, and iron again.  Sew along edge to create a hemmed edge.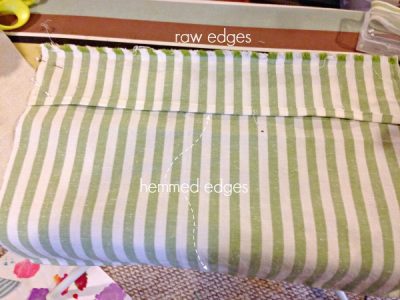 Pin the two lining pieces with right sides together, along the 4″ edge.  (The raw edges will be matched up along the top, the hemmed edges will fall at different places along the bottom.)  Sew together with a 1/4″ seam allowance on both sides.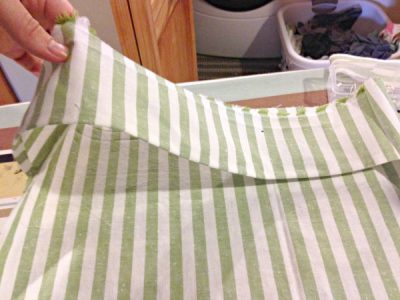 At this point, it will sewn together in a ring.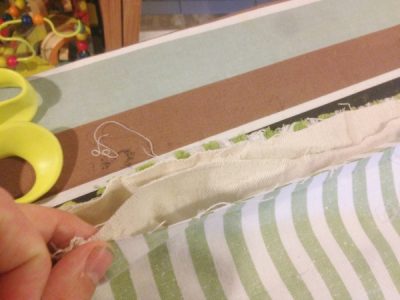 Place the lining ring along the outside of the outside pillowcase fabric and pin in place.  (The right sides of the fabrics will be facing each other, and the edges will all be raw along the top.)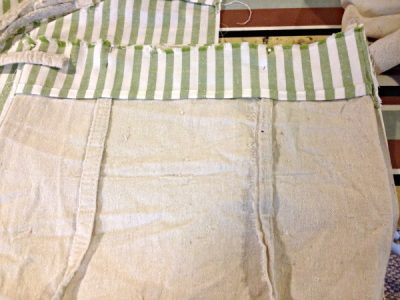 Pin the ties into place between the outside and lining pieces of fabric.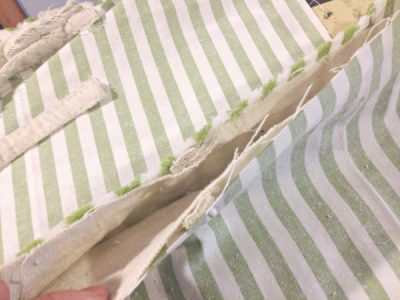 Sew along the top edge, through all of the layers, with a 1/2″ sew allowance.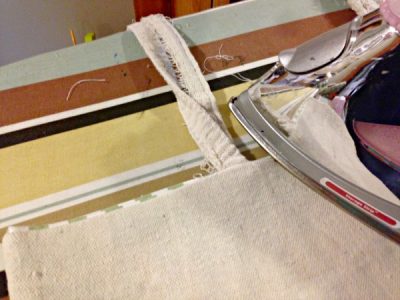 Invert the pillowcase and iron along the top to create a crisp edge where the two fabrics meet.  Optional – sew a seam along the top edge to hold everything in place and give it a finished edge.
Insert the pillow, take the longer piece of lining fabric, and fold it over the edge of the pillow.  Tie together with loose bows or knots and step back to take a look at your masterpiece!  (See, I told you you could do it.)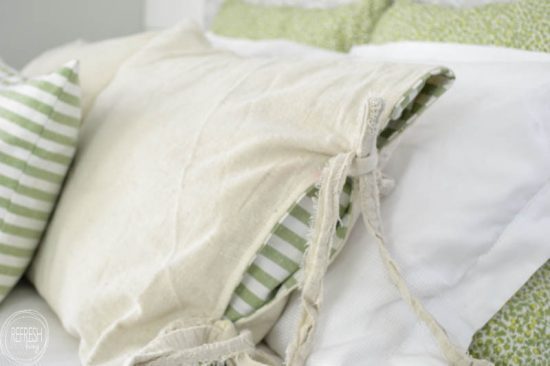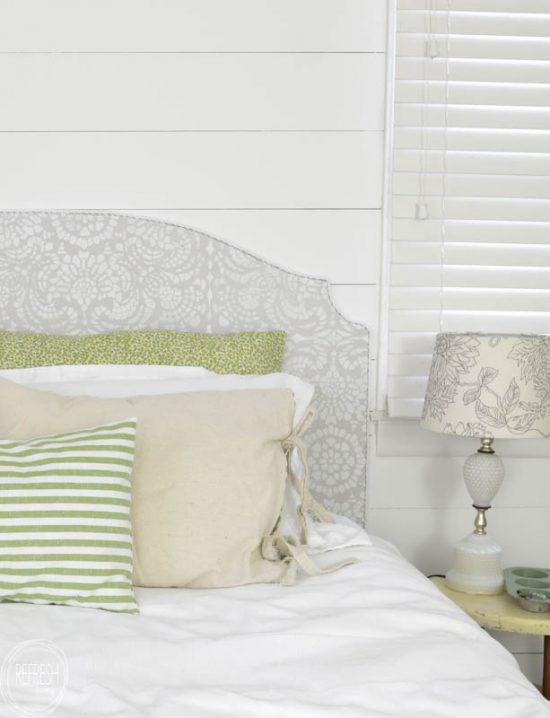 A few other DIY projects you might enjoy:

Join the Refresh Living DIY & Upcycling Community
Join the subscriber list to receive one to two emails per month with updates from the blog. PLUS, you'll gain access to my printables and graphics library. Every new design I create will be added here, and you'll have free access - forever!