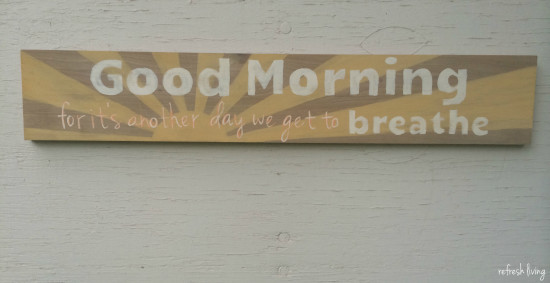 One of my goals this year is to be more "here". Wherever I may be, my goal is to be present in that moment. This past year, more than ever, I found myself thinking about everything else that was going on, besides what was going on around me: I'd be at work thinking about the time I was missing with my girls, I'd be at home with the girls, worrying about a student, or about a piece of furniture I needed to finish for a show, or even about a post on this silly little blog.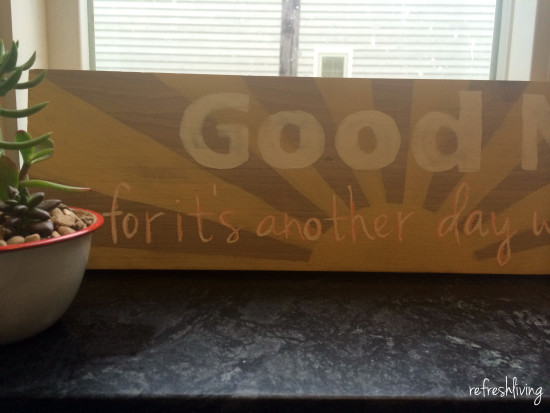 Either way – it's not healthy. We're only guaranteed this very moment, and I wanted to create a little reminder of how much of a blessing every breath truly is.
I used Weatherwood Stain in Reclamation on a piece of hickory wood to give the piece some texture and "age". Have you heard of this product before? It's great because it has no VOCs and it naturally creates an aged effect to wood. Plus, the color and finish changes significantly based on the type of wood you use it on. Isn't that neat?
So I would definitely wonder why someone would use a new stain, and then paint all over it for her first project. I understand if you're wondering the same thing about my project. I had another idea up my sleeve to really showcase this stain, but I didn't have a tool that I needed, so it will have to wait. For now, you can catch a glimpse or two of the "weathered" wood between the sun's rays.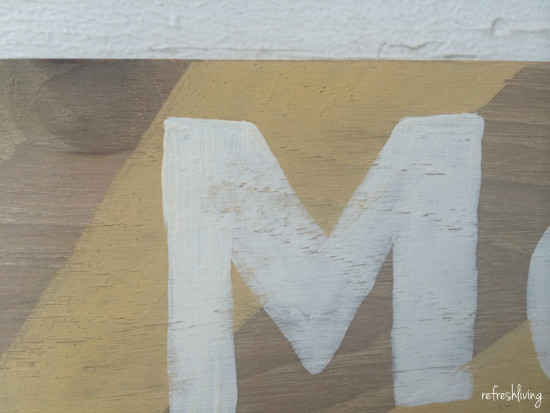 I freehand drew the sun, painted it in with Miss Mustard Seed Milk Paint in Mustard Yellow mixed with Linen and then tried to use the normal way I transfer graphics to projects to paint, but it went horribly wrong.
LONG story – short version. We run out of ink -> I print it at school that day -> get home and only then remember this only works with inkjet printers -> make my husband go get black ink -> images still printing all wonky -> two more colors of ink are "out" -> clean heads, nozzle alignment -> still printing wrong -> I go buy those colors of ink -> get home, install them in the printer -> realize I bought the wrong size -> I LOSE IT -> husband goes and gets the right size -> images still printing with wonky lines -> clean heads, nozzle alignment -> now printing only small parts of the words -> verge of a mental breakdown -> tried other colors -> light gray prints, but won't transfer -> decide to use the other image transfer method -> realized I printed them in mirror image and they need to be flipped -> FINALLY got a graphic I could use -> bit the bullet and purchased a Silhouette machine on Amazon.
Here's evidence of the nightmare: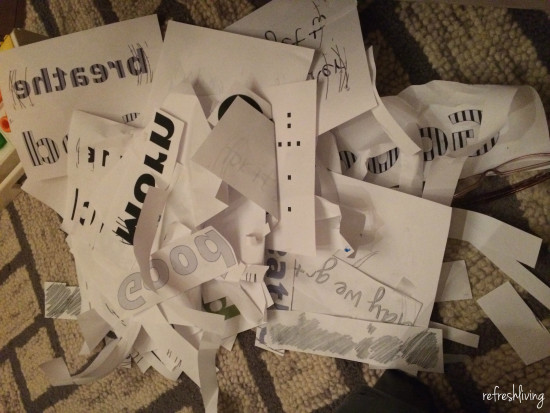 The irony in it all? The word BREATHE kept staring back at me in that pile of "mess ups". At least 10 images of breathe, in two different fonts, frontwards, backwards, with stripes in it, halfway there, but I still knew it said BREATHE. Although I wanted to stab it during the process, in the end, I had to laugh.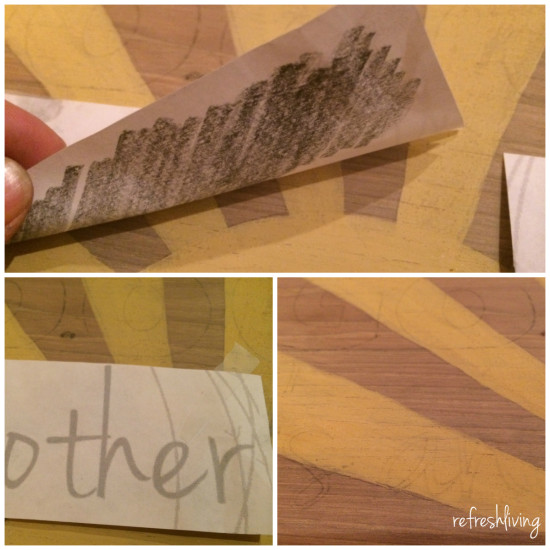 To finally transfer the image, I colored the back of the paper with pencil, taped it to my board, and then traced the outline of every letter with the pencil. This leaves a slight mark on the wood so it's easy to paint "perfect" letters. I was trying to use this image transfer method (which I think it easier, if your printer is working…) which is to print the words in mirror, lay them ink side down, and shade over each letter with a pencil. Of course, we all know how that worked out for me this time around…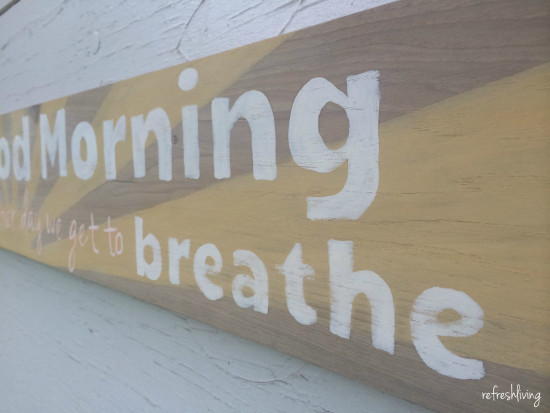 I painted the letters in and calmed down. (It's amazing how therapeutic painting is for me. I wish I could whip out a piece of furniture and some paint in the classroom when the kids are stressing me out!)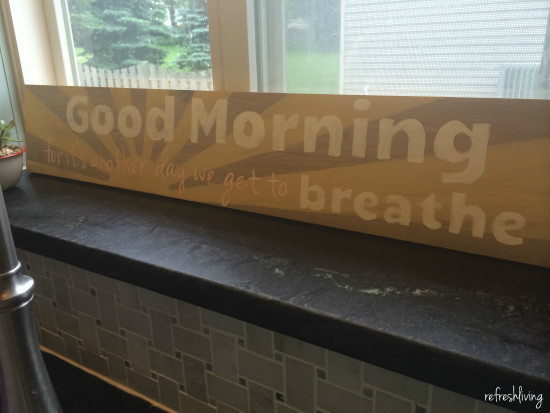 After sanding it down, and putting it in my kitchen window, I now have a daily reminder of those breaths we are blessed to take, and cherishing the moments in which we take them in.
Ahhh, and a sigh of relief that this project is complete!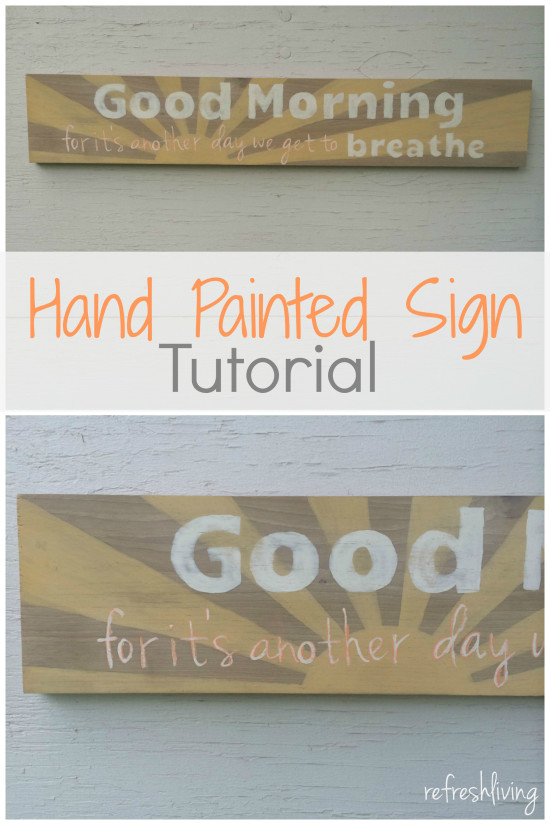 Disclosure: I received product from Weatherwood Stains in exchange for this post. All opinions stated are entirely mine. Please read our disclosure policy here.
Like what you see? I'd love for you to follow along!
Send us some love with a like on Facebook, check out inspiring projects on Pinterest, follow along on Bloglovin', or have posts delivered to your inbox once a week. [mc4wp_form]
A few other extremely talented bloggers used Weatherwood stain as well. Check out their projects!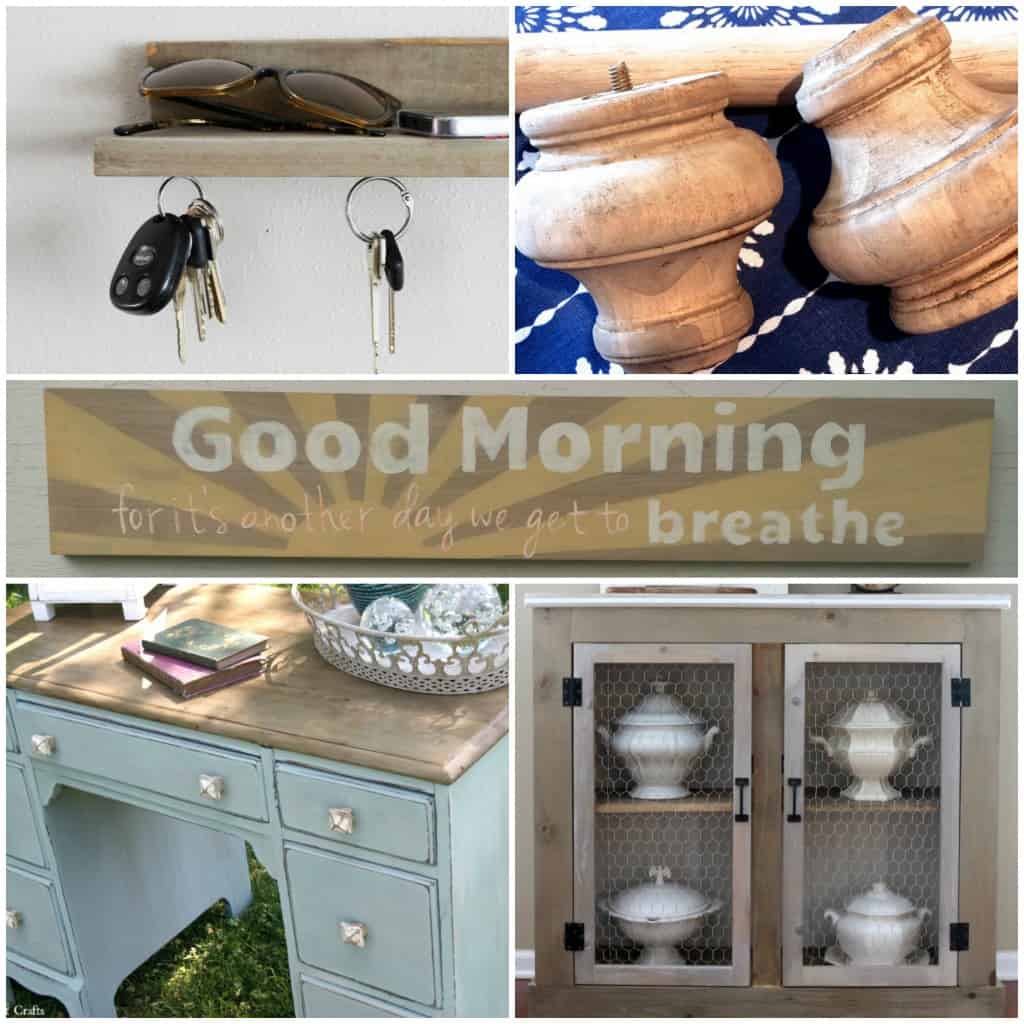 Barn Wood Magnetic Key Holder With Shelf- Hawthorne & Main
DIY Curtain Rod- 2 Bees In A Pod
DIY Hand Painted Sign- Refresh Living
Coastal Desk Makeover-Canary Street Crafts
Stained Cabinet- The Crowned Goat
Join the Refresh Living DIY & Upcycling Community
Join the subscriber list to receive one to two emails per month with updates from the blog. PLUS, you'll gain access to my printables and graphics library. Every new design I create will be added here, and you'll have free access - forever!