Everything you need to know to paint the exterior of a pop-up camper, travel trailer, or RV! This post includes the best kind of paint for painting the outside of a camper, how to clean and prepare before painting, how to remove decals or how to paint over decals on a camper, and how to paint clean lines for stripes or a two-toned finish on a camper.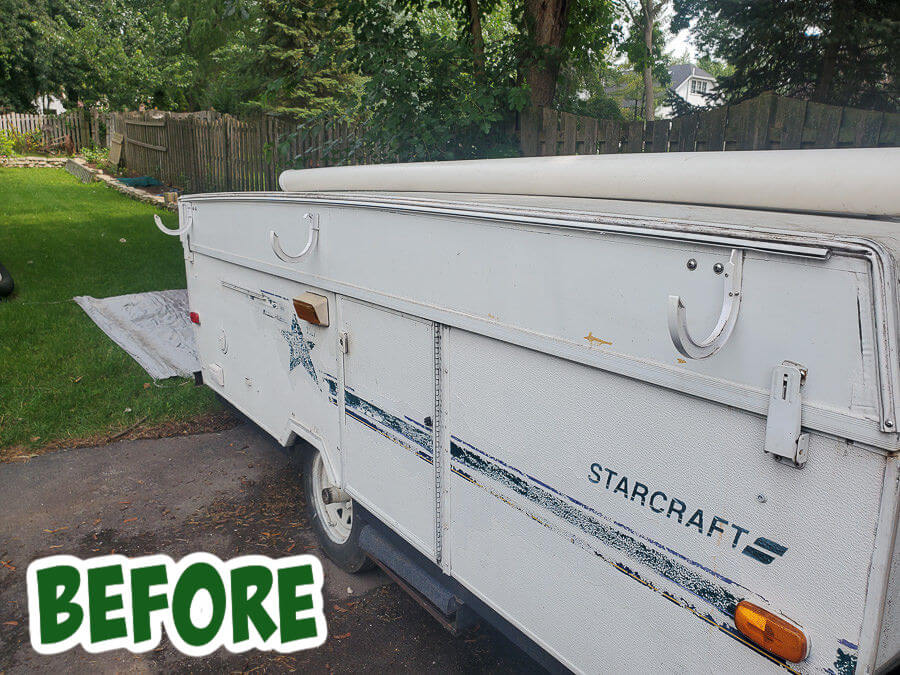 I bought a 1993 (or maybe it was a 1994?) pop up camper several years ago for a steal of a deal. Unfortunately, this cheap price came with a rotting roof! After rebuilding the entire frame of the roof, I updated the interior and it looked like new. Well, at least from the inside. The outside showed its age with peeling 1990s colored decals and faded trim. This summer, I finally got around to giving the outside a facelift as well with green and white paint and stenciled trees.
For the video tutorial of this project, scroll down to the bottom of this post.
First, here's a look at all the projects I've done on our little pop-up camper:
How to Clean a Camper Before Painting
Like anything I paint, I always make sure to clean the surface well. To clean the exterior of a camper before painting, use car wash soap mixed with water and a large scrub brush. Clean and then rinse the surface. If you have a power washer, this will also work well to clean the exterior. Right before painting, I go over the surface with denatured alcohol (rubbing alcohol will also work fine) to remove any extra residue or oils. Just place some on a cloth and wipe over the surface. (If you have decals you need to remove first, go to the step below and wait to apply the alcohol until after they are removed.)
How to Remove Decals on a Camper Before Painting
Now, if you have decals on your camper you have two choices before painting – remove them or paint right over them! If your camper is newer (made within the last 20 years), you might have good luck with removing the decals easily. I would honestly try to remove them using the method below to see if it works easily before reverting to option #2, which is to paint over them.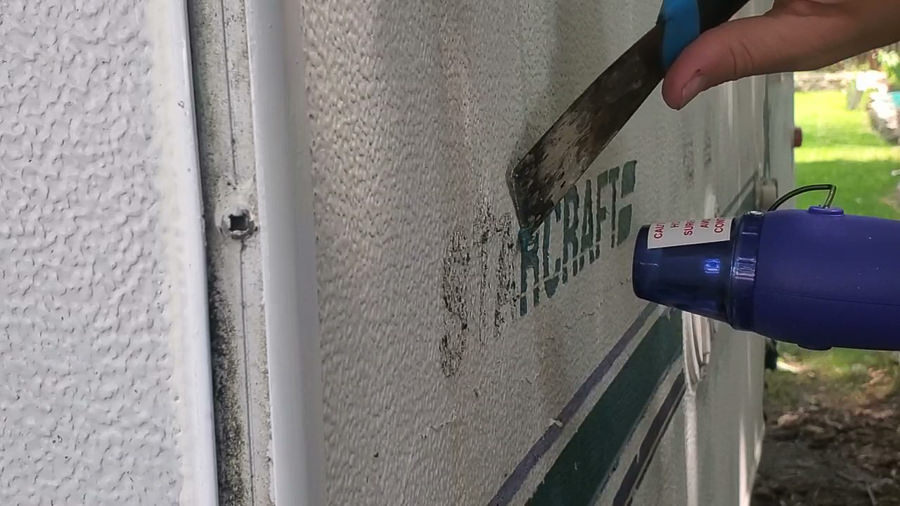 To remove the decals, I've found that using a heat gun and a spatula scraping tool works well (you might even have luck with a hair dryer on high heat as well!). Simply heat up the decal and then scrape it off with the scraper. Then, use a fine grade steel wool dipped in mineral spirits to remove any excess gunk. Unfortunately, older campers can have some really caked on and/or gooey decal gunk that makes them very stuck on. If the heat gun doesn't work, you can try Goo Gone or WD-40 which some have also had success with to remove the sticky decals. If none of this works for yours, I would suggest trying out option #2 (which is what I did because after 30 minutes of removing decals on approximately 1/8 of the camper, I was done, impatient, and ready to move along!
How to Paint Over Decals on a Camper
Chances are that if your camper decals won't come off using the methods above, they are stuck on there for good and won't magically start to peel off after being painted over. However, because decals are slightly raised and the edges can sometimes peel/flake away, you want to be sure to address this before painting.
To get as smooth of a surface as possible, use 80 grit sandpaper (using a hand-sander here would be optimal, but you could hand sand it at well) and sand along the edges of the decals. This will remove any fly-away decals and give a smoother transition between camper and decal when painting over them.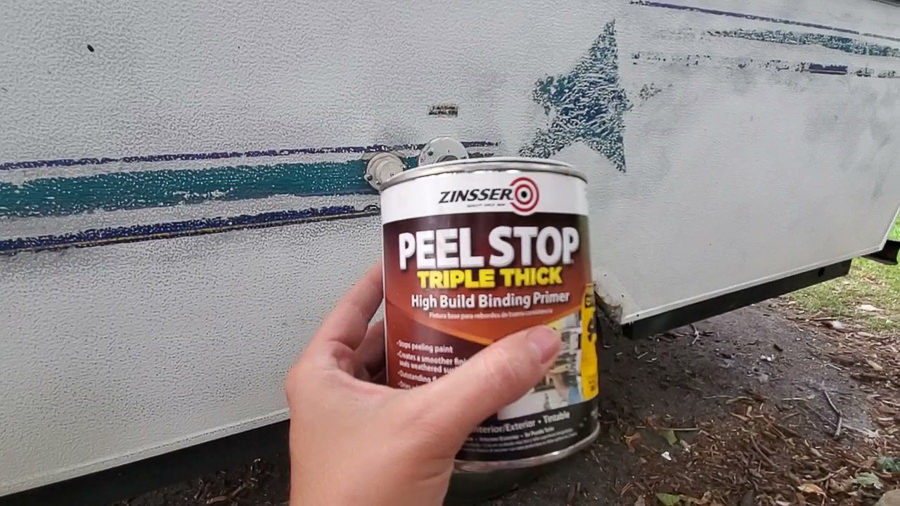 I took the extra step to apply some Peel-Stop primer that I had left over from another project. If you don't want to purchase this, I think that simply applying regular primer over the decals as described in the next step should also be sufficient.
Priming a Camper Exterior Before Painting
I'm a pretty big fan of priming before painting. When I paint kitchen cabinets I always prime them and when I paint furniture pieces I often prime before painting. Clearly, I'm not going to stray from my own advice on this project. When painting the exterior of a camper I would highly recommend one coat of primer before painting. My personal preference for primers is Zinsser Bulls Eye 1-2-3 Primer. It works on interior and exterior applications and can be used under both water-based and oil-based paints.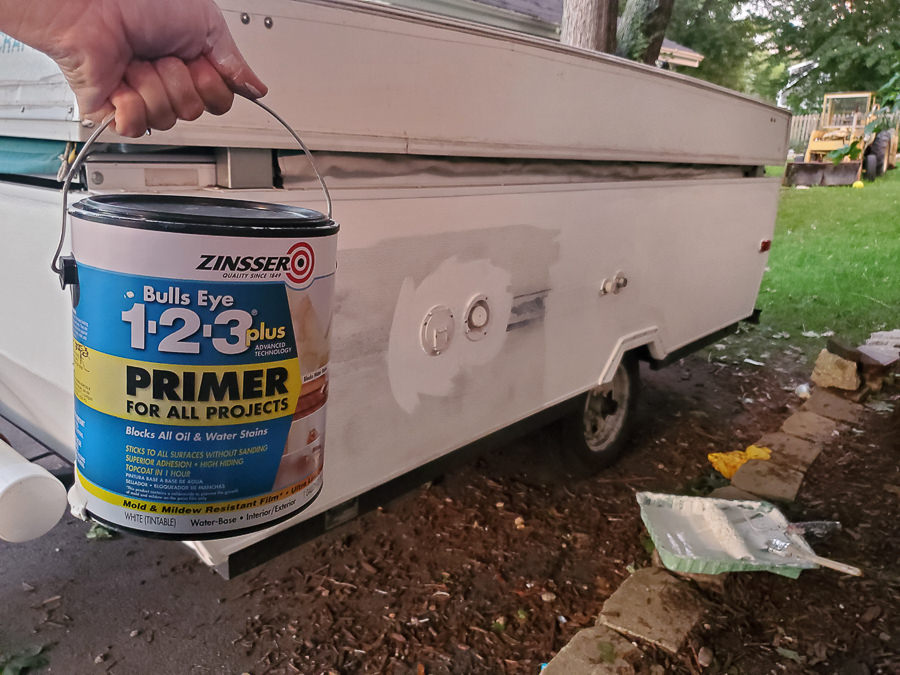 After I cleaned everything and let it dry, I applied a coat of primer to every surface I planned to paint.
Best Paint to Use on the Outside of a Camper
I've read differing advice on this topic, so I had to base my decision on the advice of my dad and my personal experience with a lot of different kinds of paint. My dad has painted many cars, trucks and machinery over the past few decades, and his recommendation was to use oil-based paint. I rarely, rarely use oil-based paint, but the benefit of the strength of the finish for a moveable, exterior finish convinced me to use it. It applied and adhered really well.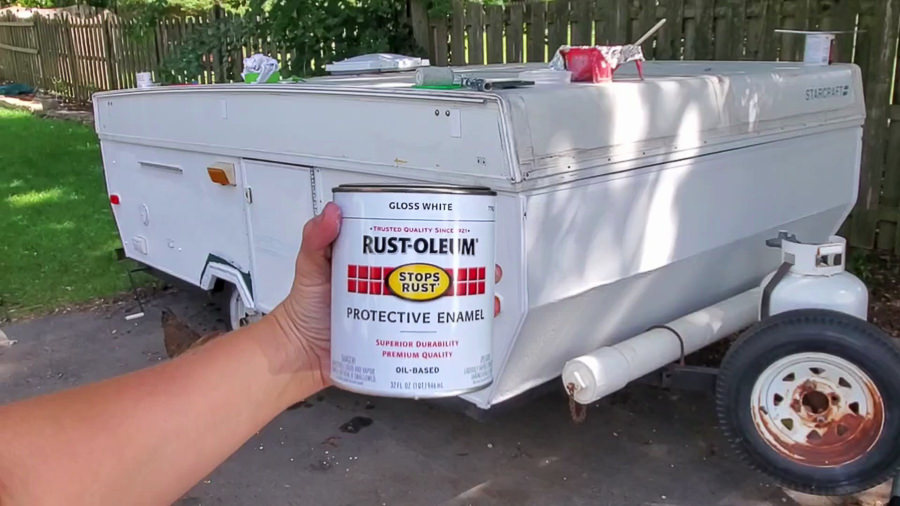 Other options that I have heard work well besides oil-based paint:
automotive paint (made especially for this type of application, but much more expensive)
Alkyd enamel paint (water-based)
If you want a water-based paint, I would lean towards using an alkyd enamel paint. I've read that this type of paint has worked well for campers for others. Additionally, most brands of alkyd paint can be used in exterior applications. I actually LOVE this type of paint for many interior applications (including kitchen cabinets). This post will give you all the different brands of alkyd paint, the prices, and where they can be purchased. If I opted for water-based instead of oil-based paint, this would have been the paint I would have used.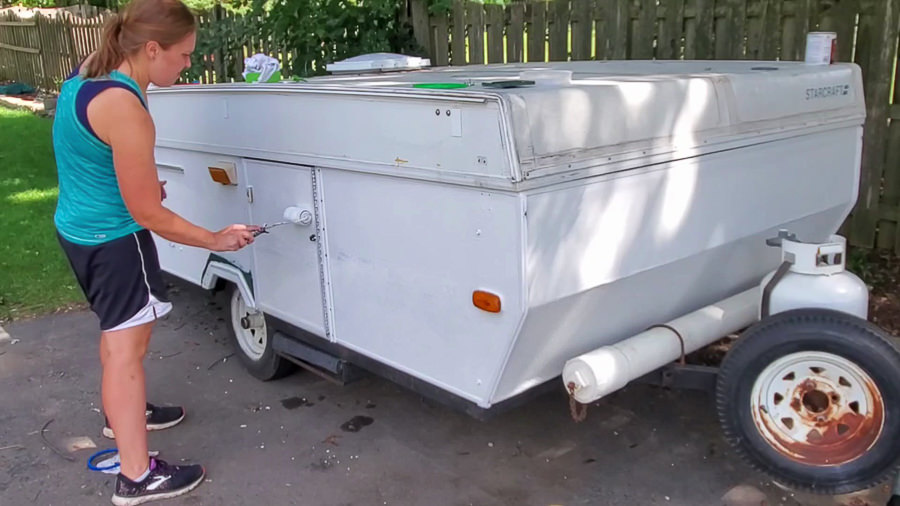 Many people recommend spraying the exterior of a camper. I have a sprayer and generally like spraying pieces, but I decided to hand paint my little pop-up camper. (We'll see if I make this same decision when I paint my larger travel trailer!) I use a brush to cut in the edges, and then I roll the rest of the paint on the surface. Two coats was the perfect amount for my camper (especially since I primed to begin).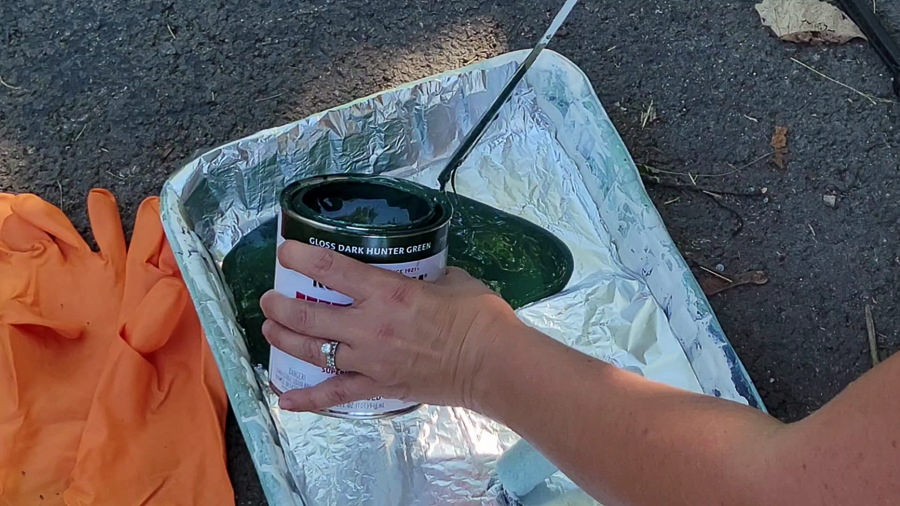 Since oil-based paint can only be cleaned up with paint thinner, I line my paint tray with aluminum foil to make clean up way easier.
How to Paint Clean Lines on a Camper
To give the pop-up camper a little something extra, I decided to split the paint to give it a two-toned finish. After painting the entire camper in white, I added the green on the bottom.
Getting clean lines when using painter's tape (especially on a rough, bumpy surface like my camper) can be pretty difficult. If you just use painter's tape (even the best kind) some of the second color will bleed under the paint, and even more so when you're painting on a rough surface. To help stop bleed through when painting lines, the trick it to follow these steps:
Put down the painter's tape (this brand of painter's tape is the best and the only I ever use).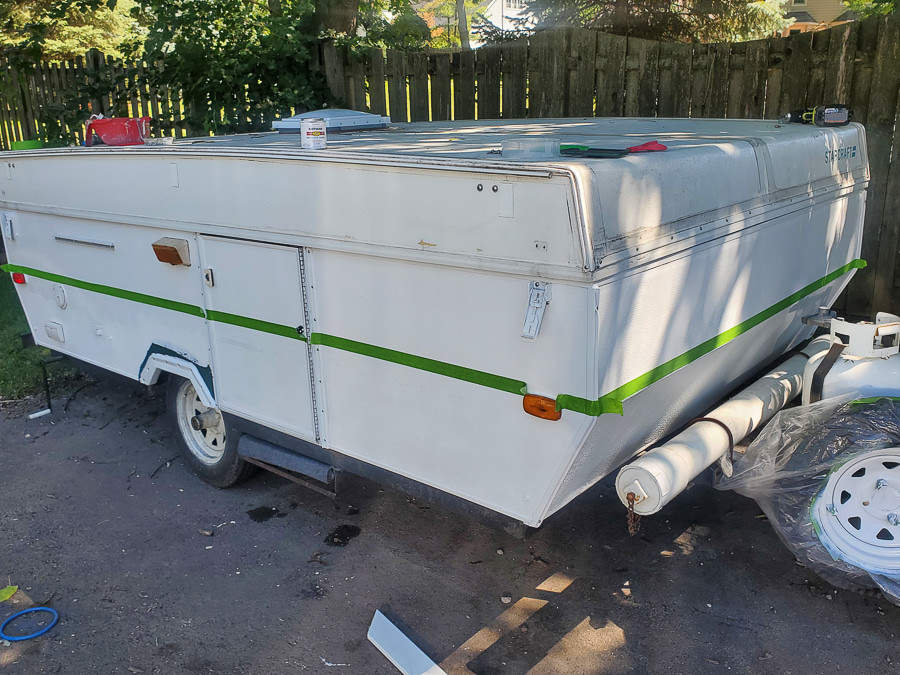 Paint on the side of the tape you plan to put the new color (green), but first paint in the original color (white). (This seems counterintuitive, but this allows the original color to bleed under the tape, forming a clean seam at the tape line.)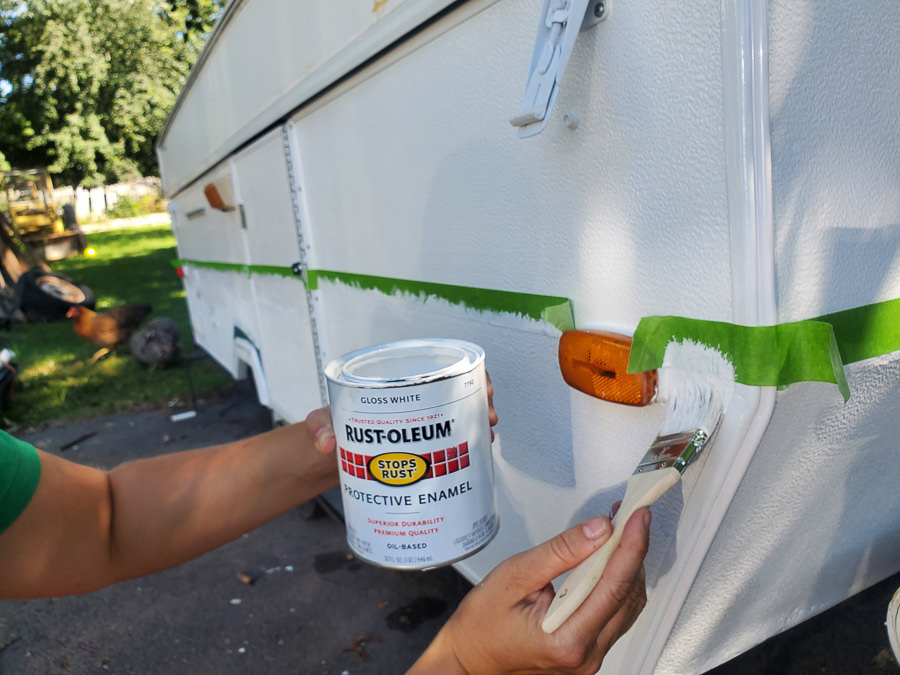 Once that paint is dry, paint the new, second color (green) along the tape edge and the rest of the area. This will usually take two coats of paint. It's important to keep the tape in place until after the second coat has been applied.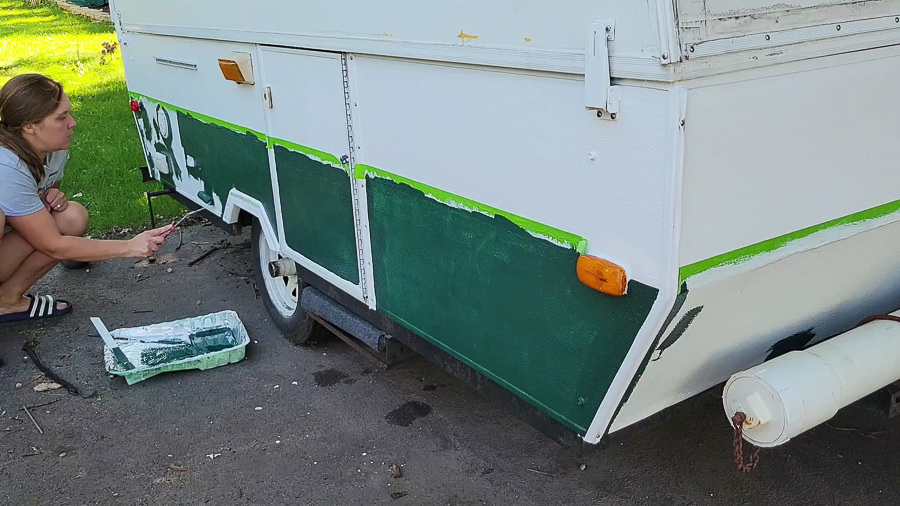 Remove the tape. Most of the paint seepage will be in the first color (white in my case). Because of this, the green paint had nowhere to creep into!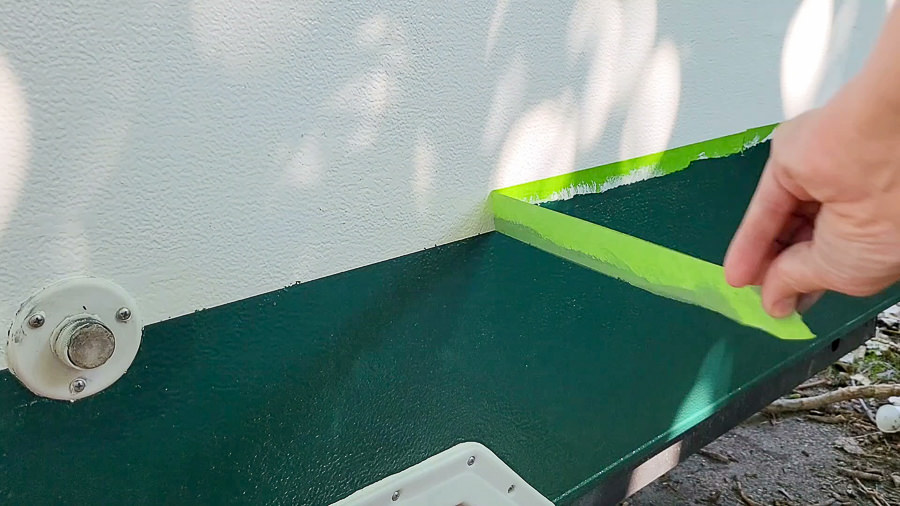 You'll also see these steps in the video at the bottom of this post.
Finishing Touches
Oil-based paint does not require a topcoat because the finish dries to a hard and durable finish. I decided to add a tree stencil to the back of both sides. I cut the stencil using my Silhouette, but there are so many options for pre-cut stencils to purchase. If I had purchased them instead of making them, I would have bought this group of tree stencils.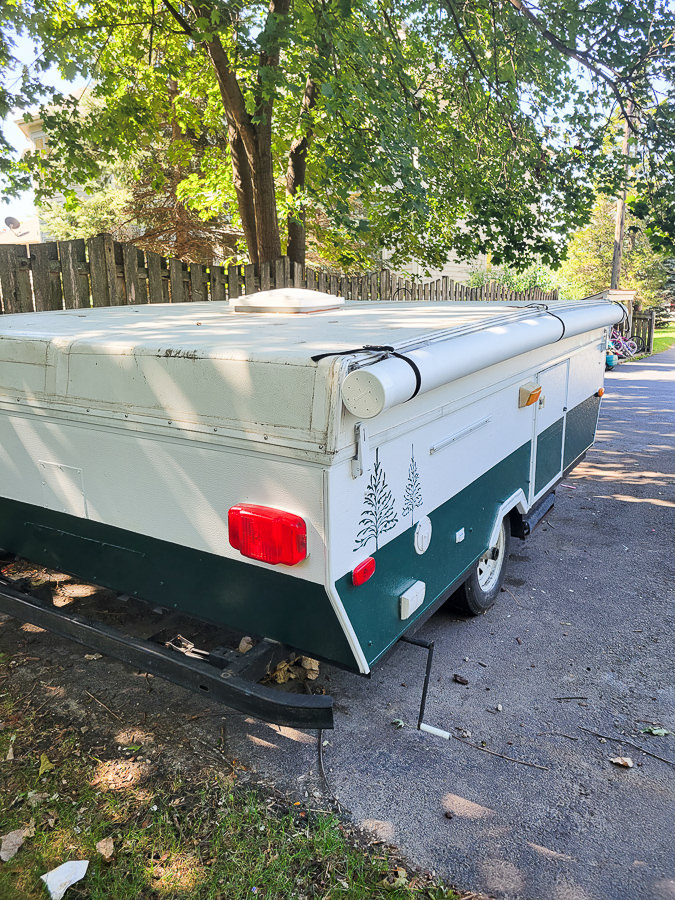 You can see I didn't paint the top of the camper. I probably should have, but then didn't get around to it before deciding to sell it to make room for the new to us hybrid camper we purchased. You better believe that camper has brought on more waterproofing projects as well as interior update projects. All of these will be coming to the blog this spring!
Video Tutorial: How to Paint the Exterior of a Pop-Up Camper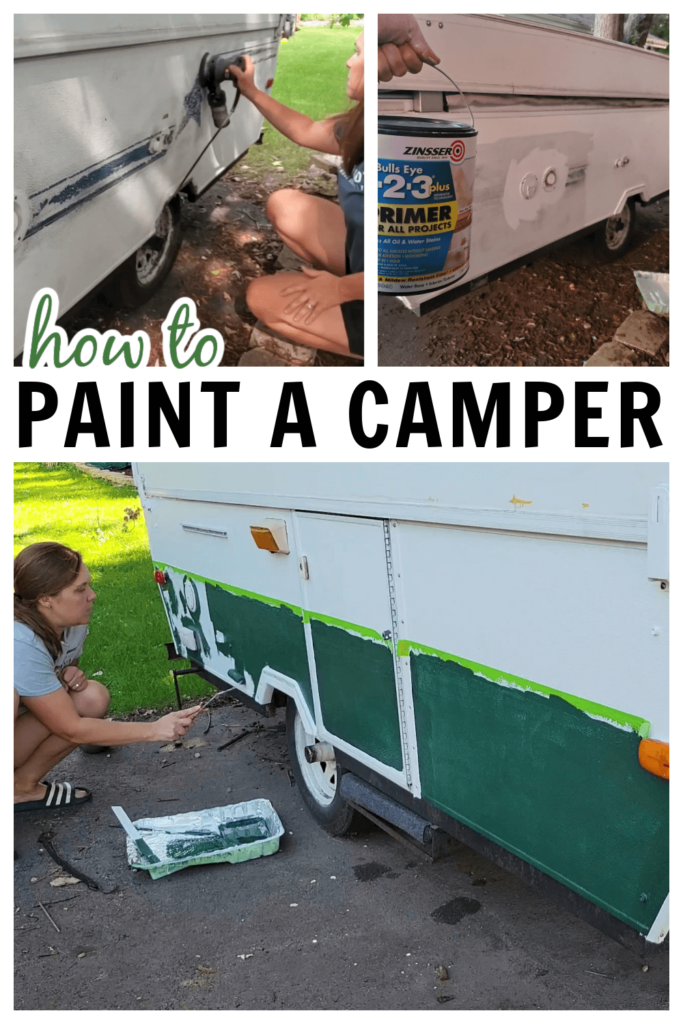 Check out all my other pop-up camper projects below:

Join the Refresh Living DIY & Upcycling Community
Join the subscriber list to receive one to two emails per month with updates from the blog. PLUS, you'll gain access to my printables and graphics library. Every new design I create will be added here, and you'll have free access - forever!