Do you have a pop up camper with water damage to the roof? The used camper we bought had taken so much water that the wood was rotting away and the roof needed to be repaired. Here's how to rebuild a pop up camper roof and make it watertight so it doesn't leak in the future.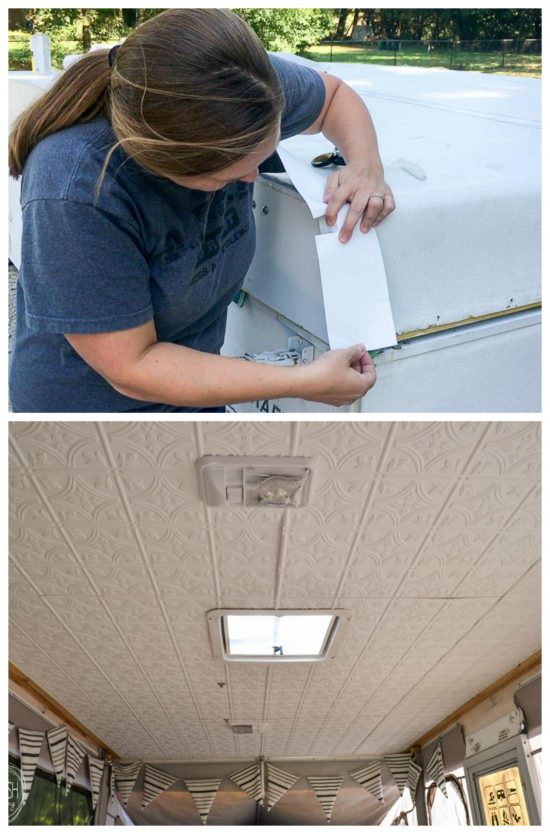 This is the second post in a two part series. Head on over to the first post to see where we started with our Starcraft pop up camper roof and how we took apart the roof before rebuilding.
Remove the Exterior Trim to Assess Damage
Detach the Canvas and Remove the Roof
Remove Rotted and Water Damaged Wood
Part 2: Rebuilding/Repairing the Roof and Making it Water Tight (you are here)
Rebuild Roof Structure with New Wood
Reattach Roof and Canvas to Camper
Seal Up Holes and Seams to Prevent Future Leaks
Cosmetically Repair the Ceiling
Rebuild Roof Structure with New Wood
New Material Needed:
1″ x 2″ boards (we needed about 30′, but this number will vary)
1″ x 8″ x 12′ pine board (cut in half and used for front and back roof sides)
1″ x 12″ x 10′ pine boards (2 – one for each side of roof)
contact cement (or other permanent adhesive)
Prefer to watch? Here's a video description of how we rebuilt the roof. Or, scroll down to read the tutorial.
In Part 1 of how to remove the pop up camper roof, I showed you how rotted away the 1 x 2 ceiling frame was on our pop up camper.  We decided to replace all of the perimeter of this frame, but thankfully, once we removed that wood, we found that the 1 x 2s that ran across the ceiling, and the square in the middle for the roof vent, hadn't taken much water to cause any structural damage.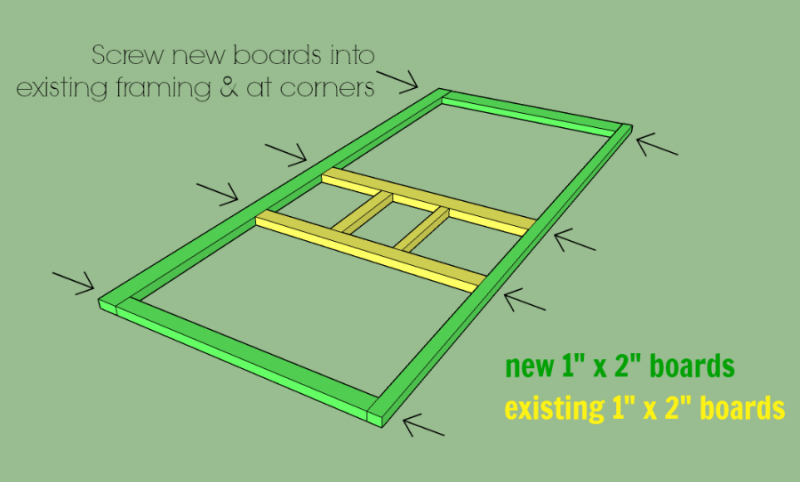 Besides the perimeter frame of the roof top, we also had to completely rebuild all four sides of the camper roof. As you probably saw in the videos in part 1, these pieces of wood were completely rotting away. We used these old sides as templates to cut out our new sides.
Our old pop up roof sides were constructed of 1/2″ plywood, which you could definitely use to make your new sides as well. We decided to use 1″ boards (which are actually 3/4″ thick). Then, to compensate for the difference in thickness, we just used a router to notch away 1/4″ from the ends where the boards would meet. (You could also just cut the front and back panels 1/2″ shorter than the original panels to make up for the slightly thicker sides.)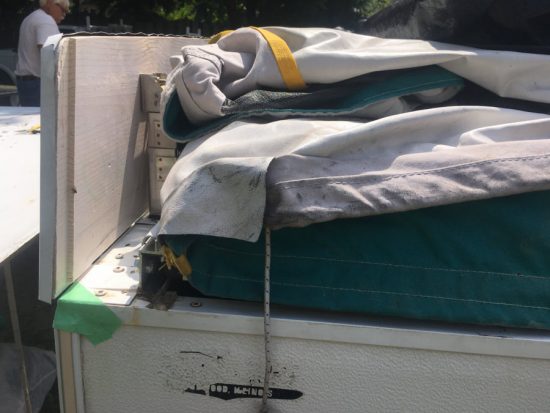 There are a couple of  benefits to using 1″ boards instead of plywood. First, plywood is only sold in 8′ x 4′ panels at the home improvement store, so in order to get a 10′ run, you'd need to join those two boards together. Also, we planned to leave the wood exposed on the inside, so a pine board would look much better than plywood.
Rather than reuse the aluminum skin from the two sides of the roof boards (and spend hours trying to peel away rotted plywood pieces), we just purchased a roll of white aluminum flashing and used contact cement to adhere it to the side pine boards.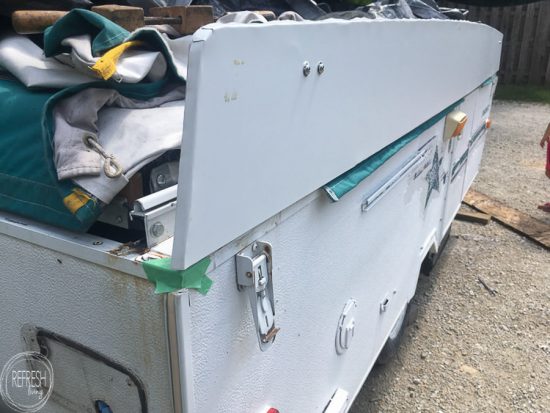 We also used the old side boards as a template for where to drill our pilot holes for the lifting mechanism screw bolts and attached each one back to the brackets.
Reattach Roof Sides and Top to Camper
Next, it was finally time to put the roof back on! We had rebuilt the frame on a pair of sawhorses next to the camper, so we flipped it back over and laid it back in place. Because we had used our side boards as templates, everything was the same size and the roof top fit perfectly within the roof sides.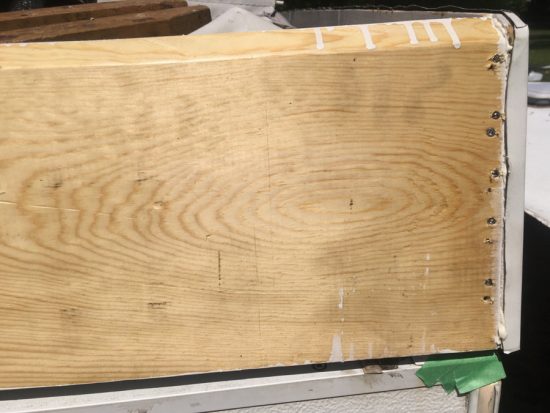 We used wood glue and small screws to attach the front and rear roof sides to the two side panels.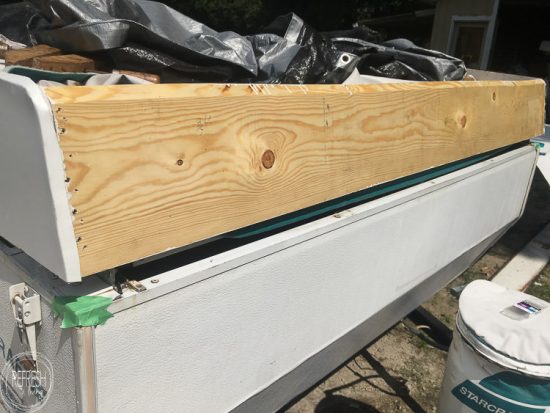 Because we used 3/4″ thick pine board as opposed to the original 1/2″ plywood, the skin didn't overhang and fold over quite as much as before. However, with the way I decided to keep everything watertight (which you'll see in the next step), the slight difference in overhang didn't matter at all.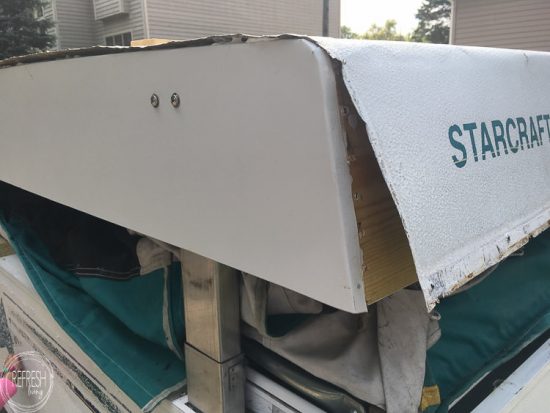 We used thin screws to attach the roof sides to the 1 x 2s in the roof top frame.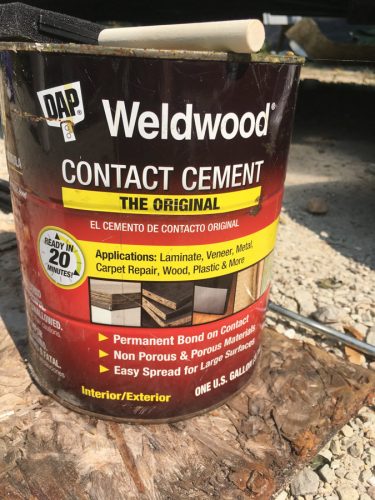 Finally, we again used contact cement to adhere the roof skin to the front and back roof pieces.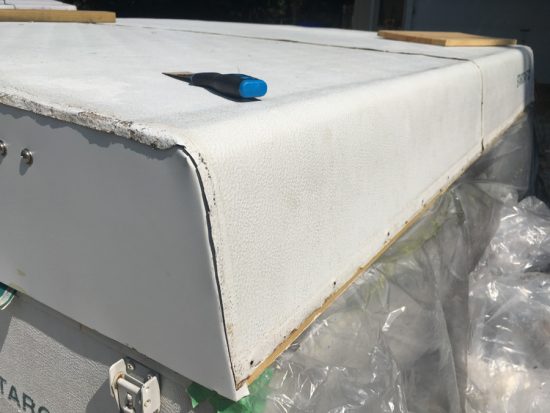 Seal Up Holes and Seams to Prevent Future Leaks
Prefer to watch instead of read? Here's an overview of how we sealed the camper roof. Or, scroll down to read below.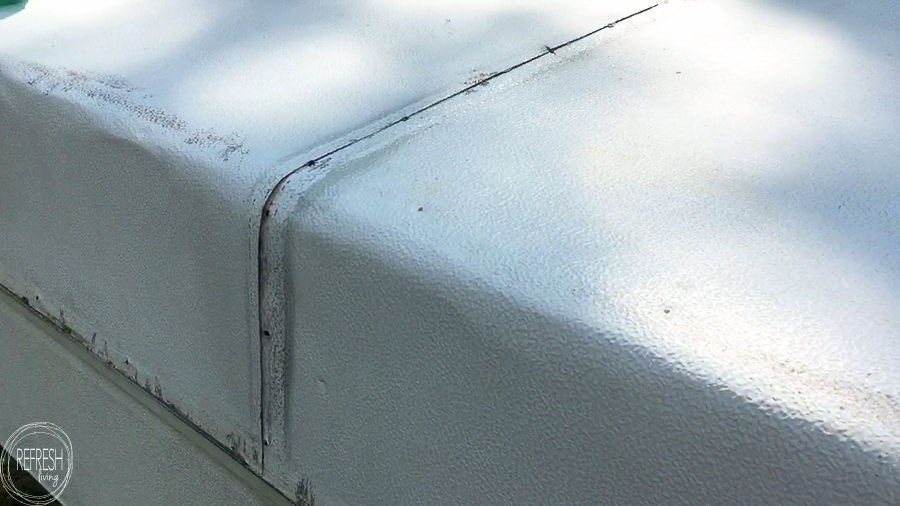 After everything was rebuilt and the skin was glued back down to the front and back sides, it was time to finish up the top and make sure it didn't take any more water in the future. Before I removed the skin, I made sure all of the old butyl tape and glue was completely removed.  This step is very important because any new tape or product won't stick to the old gunk. (Check out the details in this post on how to remove the old sealant and butyl tape on a camper roof.)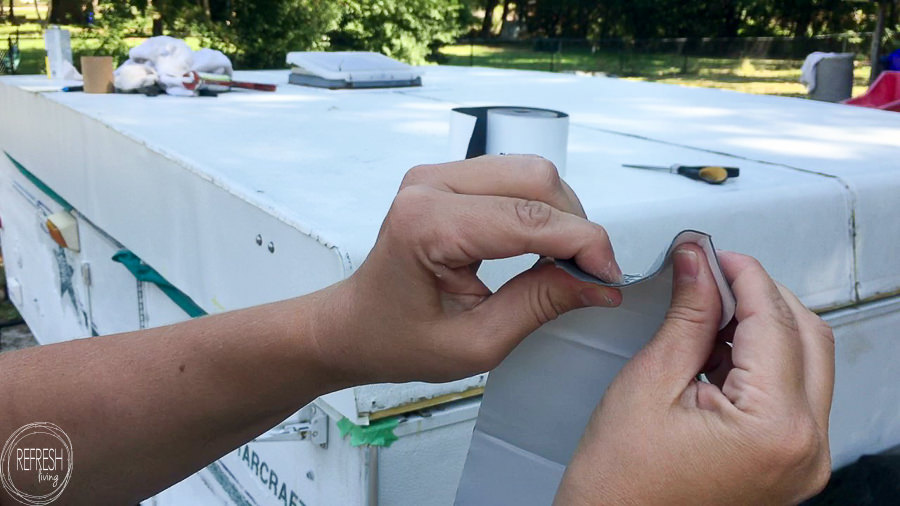 The product I decided to use to make sure none of those seams took any more water was Eternabond Tape.  I read a ton of reviews, and went to my local RV store to talk to someone there about the efficacy of this tape. Based on all of these opinions, it seemed that this stuff really does work to seal up any seams, holes, or tears in a camper roof, so the only thing left to do was to try it out for myself.  Basically, it's a rubberized tape that flexes with changes in temperature and conditions. It's uber sticky, and creates a waterproof seal.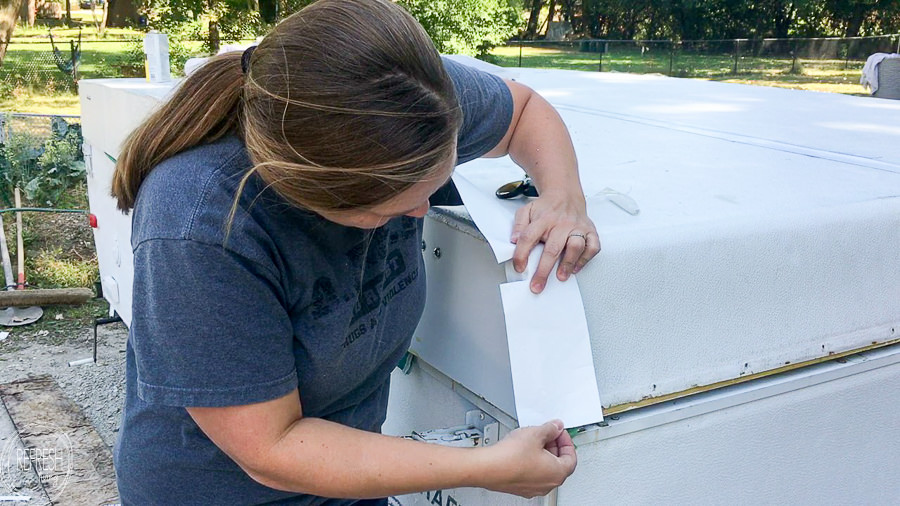 I started with the side seams of my camper and applied one long run of the tape across each seam.  By making small slits halfway through the tape, I was able to create a smooth pass along the curved edges as well.
Basically, I applied this tape anywhere there were screw heads, seams, holes, pin marks, or where trim would be applied on top of it.
There are a few tricks to applying it, and you have to be careful about overlapping pieces, because sometimes water can still sneak in. I am in the process of writing an entire post about applying Eternabond Tape, but I've described most of the details in the YouTube video at the top of the post.
Reattach Canvas and Cosmetically Repair the Interior Ceiling
After the roof was attached back to the lifting brackets, we could attach the canvas back to the roof. Because some of the old screws were rusted due to water damage, I decided to use new, self-drilling screws to attach the canvas bracket to the wood frame.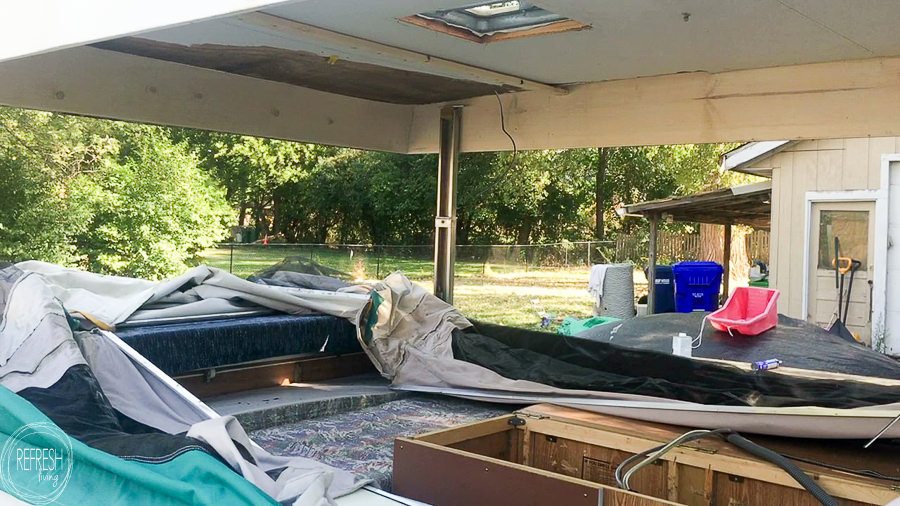 Because we decided to only replace the 1 x 2″ exterior frame of the roof and reuse the foam and interior paneling, I definitely needed to come up with a solution to cover up the part of the roof that had peeled away because of the water damage. Here you'll find the complete tutorial on how we used glue up ceiling tiles to give the interior a completely new look.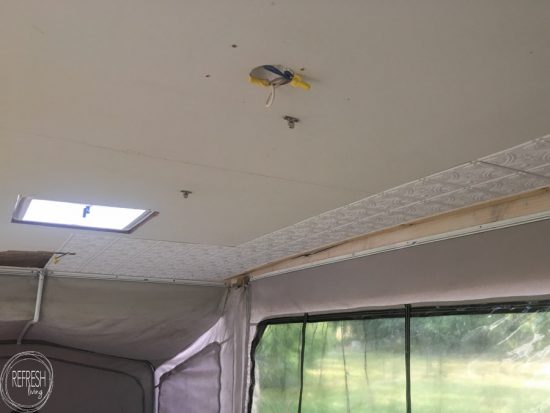 I completed these repairs three years ago, and it has held up beautifully.  We haven't had any leaks or water entering the camper yet!  We keep it stored outside (and are located in northern Illinois where it rains, snows, and hails), but to be safe we covered it with a piece of 4 mil plastic, and then placed a tarp on top of that for the winter.
Like it? Pin It. (Thank you!)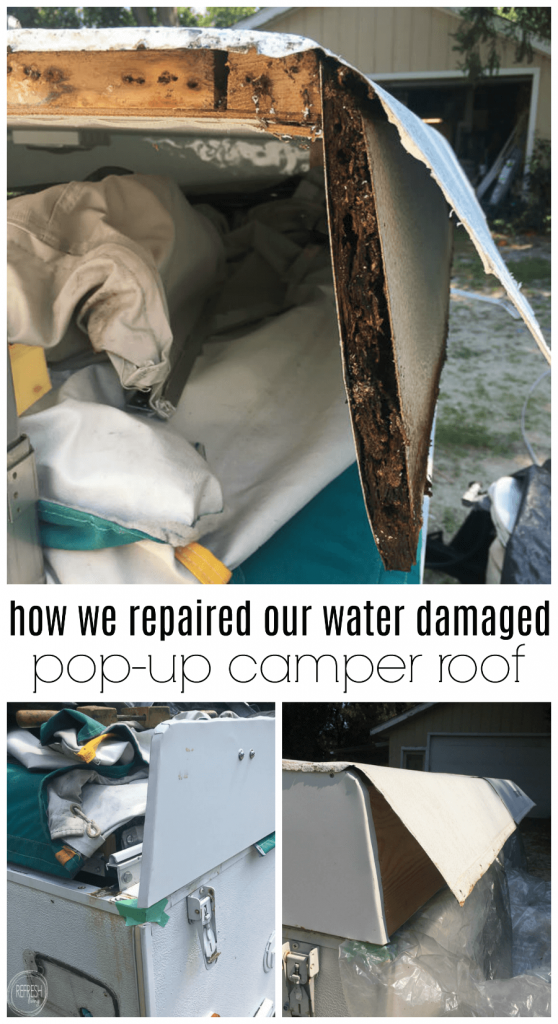 Join the Refresh Living DIY & Upcycling Community
Join the subscriber list to receive one to two emails per month with updates from the blog. PLUS, you'll gain access to my printables and graphics library. Every new design I create will be added here, and you'll have free access - forever!