It's week three out of six of the One Room Challenge hosted by Calling it Home, which means we are halfway done with the room.  Or we still have half of the room to complete.  I guess it depends if you are a glass half empty or half full sort of person.
I'm definitely the optimistic type, so I'm going to say that I am well over halfway done with this room.  This, however, would be a lie.  Although I still feel a lot of work remains, I'm committed to finishing this room and including all the elements I had in the design.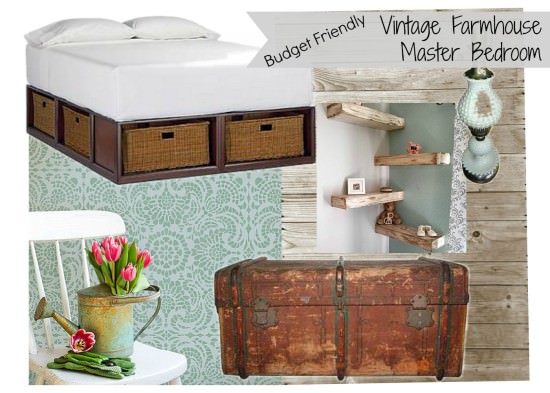 I've actually added two more projects to my original plans.  One of them is to refinish this gorgeous chair that is sitting in my garage.  It doesn't actually have a seat right now, but that's a small detail in my crazy DIY brain.  Did I mention I'm going out of town for a week?  This should be interesting.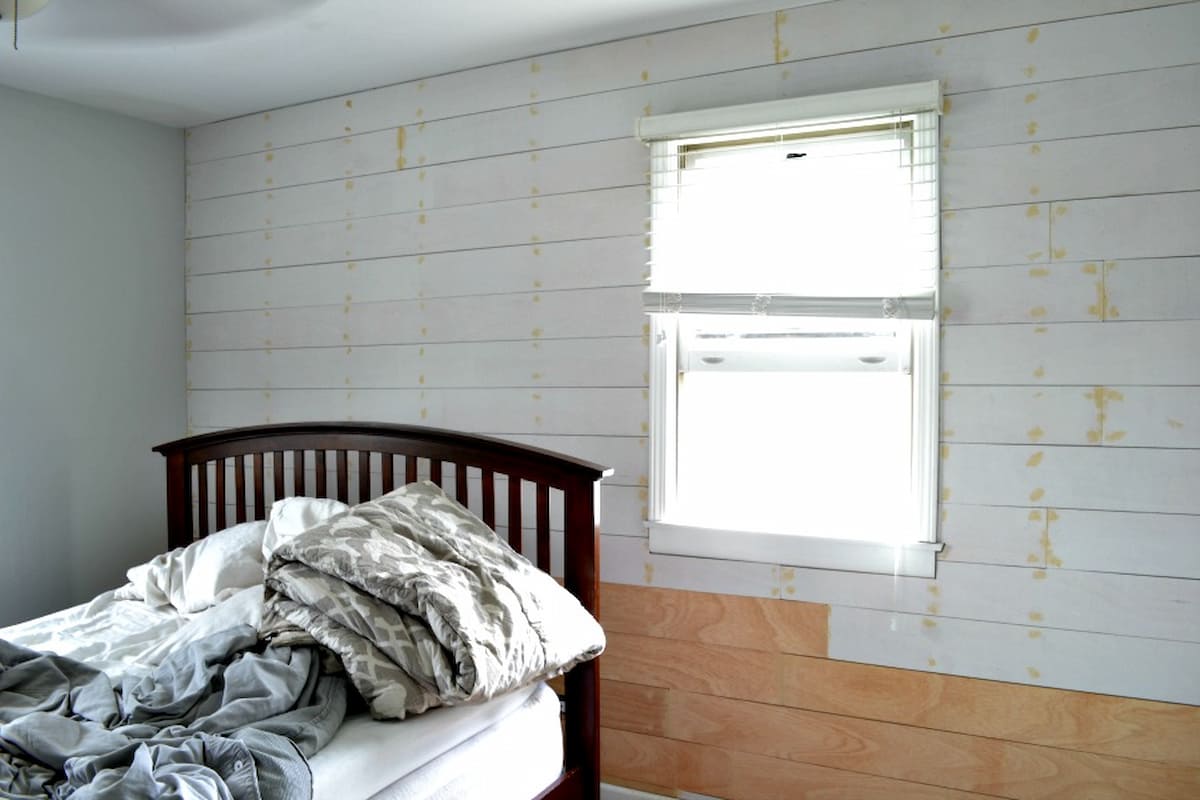 This week, I was able to install our faux shiplap plank wall, and I'm already loving how it looks.  Obviously, it still needs to be painted, but that should go fairly quickly.
I've installed two other plank walls (one at my own house in our bathroom and one at a friend's house, in her bathroom as well) and I still follow this basic tutorial from my first wall.  For this wall, I used wood filler to cover up the holes and the seams since I plan to paint it white and want a more seamless look.
I've also improved my strategy for finding the studs in the wall.  Instead of just putting a piece of painter's tape at the top and bottom of the wall to mark the stud, this time I drew a line.  I don't know why I didn't think of that one before.  Duh.
I also started building our new queen bed, but more on that next week!
I generally don't like lists, but when I'm feeling a little overwhelmed about a project, making a list helps me to stay calm.  So, here's what I have left to do:
Paint bed
Paint plank wall
Make and stencil headboard
Make crates for underneath bed
Sew and stencil curtains
Repair and upholster vintage chair
DIY nightstand project
Make pillow covers from vintage fabric
Hang new (old) light fixture?
I think that's it!  See, that's really not too bad.  (I'm being serious here, I told you I'm the optimistic type.)
Plus, I'm bringing my sewing machine on vacation.  Nothing says relaxing like sewing on the deck overlooking the beach.  (Again, I'm being completely serious.  I'm weird, but still serious.)
Check out how the room looked a mere three weeks ago here, and then see the progress I made in the first week here.
Like what you see? I'd love for you to follow along!
Facebook || Pinterest || Instagram || Google + || Bloglovin'
Join the Refresh Living DIY & Upcycling Community
Join the subscriber list to receive one to two emails per month with updates from the blog. PLUS, you'll gain access to my printables and graphics library. Every new design I create will be added here, and you'll have free access - forever!