I'm all about buying used stuff for cheap rather than going out and buying something new that serves the same purpose. These towel hooks for my girls cost a total of $5.00, for both. Getting the 5×7 pictures printed cost just as much as the supplies for the project!
They started out as two wooden 5×7 frames for $1 from my local Goodwill store. A coat of spray paint (I used Rustoleum Green Apple in gloss) on each one gave them a fun new look.
I drilled holes through the back, and then cut the screws from the white knobs (they cost a quarter each from the ReStore!) to just long enough so the end of the screw stuck out from the front of the frame. (I've found that a small pair of bolt cutters works great for cutting down knob screws.) I screwed them in and then attached a picture frame hook to the back.
My oldest loves that she has a place to hang her towel that she can reach, which is all the better for me because now she hangs it up on her own!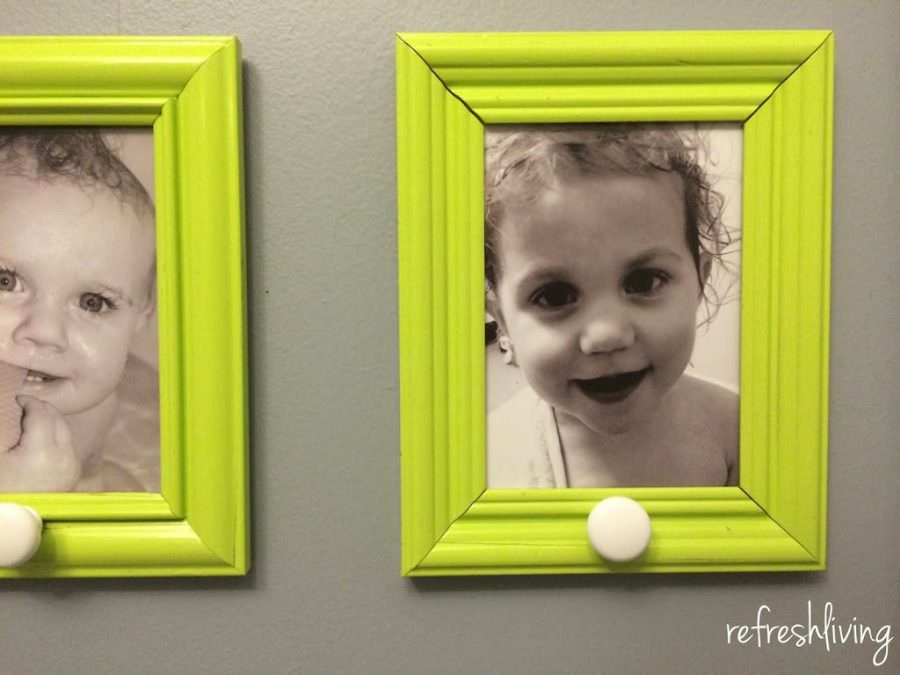 Can you tell which photo I took with my DLSR camera and which one is with my little old iphone? It's just a tad bit obvious, but it's rare these days for my 2 and a half year old to even look at a camera, let alone smile, so I had to take what I could get. For now, it'll just have to work.
Join the Refresh Living DIY & Upcycling Community
Join the subscriber list to receive one to two emails per month with updates from the blog. PLUS, you'll gain access to my printables and graphics library. Every new design I create will be added here, and you'll have free access - forever!