Reveal day is one week away.  Which means I have five days to put this room back together.  Nothing is finished.  Not a one single project is finished.  I have, however, at least ten projects started.  That counts for something, doesn't it?
Herein lies the reason why I sign onto these six-week room overhauls with Calling it Home.  I need the One Room Challenge deadline to, well, give me a deadline.  I'm really good at scheming up ideas, and starting those projects, but I really struggle with ever finishing anything in a timely manner.  This is precisely why the nursery I'm working on looks like this right now.
I wish this was a photo from this weekend, or even from Monday night.  But no, it was taken Tuesday night right before the baby went to bed.
Needless to say, I have a lot to do during these next five days.  Here are a few process photos to show I really have started all the projects I need to finish this room!  (I'm trying to use positive self talk here.  I will finish this room on time!)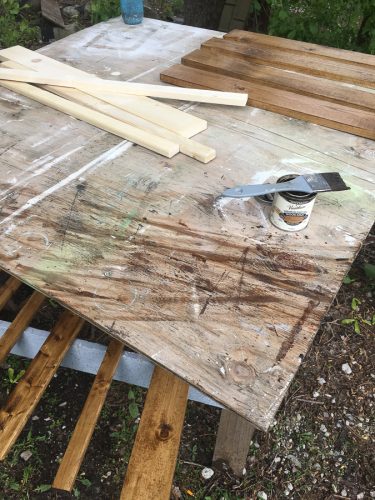 Here's  that to-do list.  Since I can't really cross anything off the list, I'll make a note if something is started, which doesn't really count for much, except that it makes me feel like I've done something, anything, to make progress towards finishing this room.
Paint walls and chalkboard wall (Need to condition the wall)
Install laminate flooring (1/3 of the way done)
Refinish and upholster rocking chair (Shouldn't have crossed this off either. I still need to attach the back to the frame)
Paint dresser (I still need to install the hardware)
Paint crib (Need to finish faux wood treatment on the top)
Build, stain, and install book ledges
Strip and refinish large shelf
Install gallery wall (it's all planned out!)
Make frame for map (pieces are cut…)
Sew curtains (started, but not finished)
DIY art projects – mobile & wall accessories (none of these are done yet, either)
Here's a look at what I've been up to during previous weeks: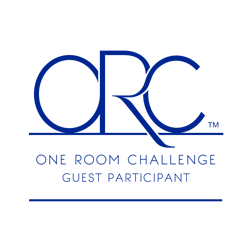 Be sure to head on over to Calling It Home to see all the other One Room Challenge participants!
Like what you see? I'd love for you to follow along!
The graphics library is free to all of my email subscribers; you can sign up by clicking the image below.

Join the Refresh Living DIY & Upcycling Community
Join the subscriber list to receive one to two emails per month with updates from the blog. PLUS, you'll gain access to my printables and graphics library. Every new design I create will be added here, and you'll have free access - forever!