It's week 4 of the One Room Challenge, and it's safe to say that I'm behind in my list of projects to complete. But, this feeling of needing to play catch up is certainly not a new one. In fact, I think I find more comfort in feeling behind than I would if I was ahead of the game. Now that would just feel plain weird.
For this round of the One Room Challenge, I'm updating my kitchen without spending a lot of money. Which is basically how I do all of my projects around here – on a budget. For my kitchen, much of the update is going to come from paint, but then I also plan to incorporate some vintage light fixtures that I've found over the last couple of years, and a couple of DIY building projects.
However, the only thing I've really done is painted, and I'm not even done with that yet. I feel like I've been painting forever, but I've just been taking it in really small chunks – a couple of hours over than the weekend during naps, 30 minutes after the kids go to bed – any down time in over the past couple of weeks I've had a paint brush or sprayer in my hand.
The turquoise walls are being painted over with Benjamin Moore's Cloud White,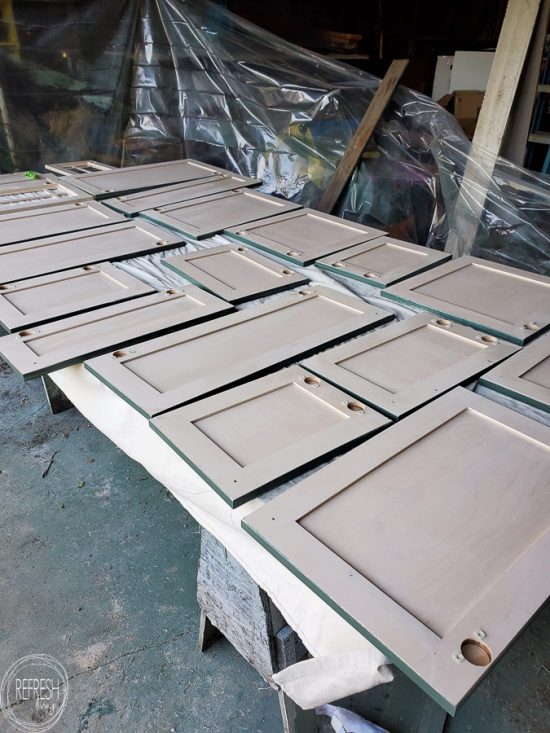 and the cabinets are getting some color! (You can probably tell what color it is by the color of my garage floor…)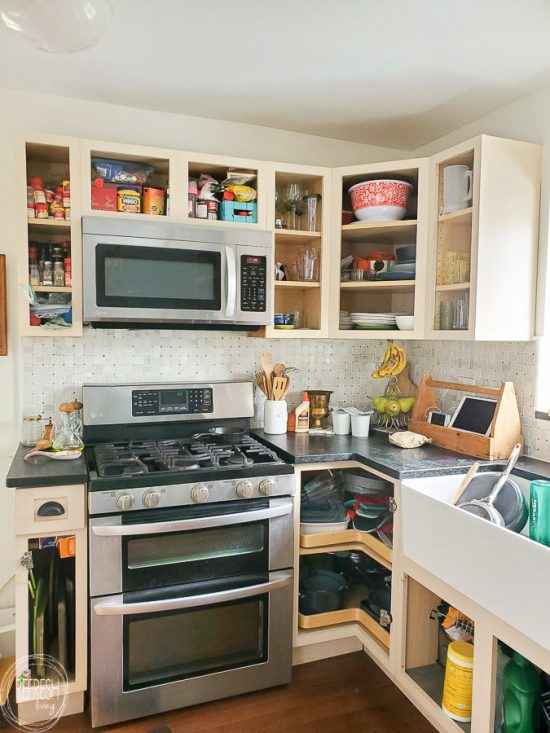 Our kitchen just feels like a big mess because the drawers are on top of the counters (or in our bedroom) and the messy cabinets are open and exposed.
Right now the cabinet boxes need one more coat of paint, as do the front of the cabinet doors. Then, I think I'll be done painting and can move onto my other projects. Here's my to-do list:
Paint walls
Remove doors, clean, sand, and prep cabinets and doors
Prime cabinet frames and doors
Paint cabinet frames and doors
Spray paint hanging pendant and reinstall
Install "new" vintage light in kitchen
Install "new" vintage pendant light in staircase
Make beaded chandelier for above the dining table
Organize pantry
Make wooden shelf covers for pantry
Cut out slats from pantry door and rebuild
Strip paint from pantry door
Strip paint from card catalog
Build base for card catalog "island"
Countertop for island?
Join the Refresh Living DIY & Upcycling Community
Join the subscriber list to receive one to two emails per month with updates from the blog. PLUS, you'll gain access to my printables and graphics library. Every new design I create will be added here, and you'll have free access - forever!