Last summer, I was admiring my little niece's playroom and noticed a dry erase calendar that my sister-in-law used to write the events and outings for my niece. It may sound silly, but I hadn't thought about designating a special calendar just for my daughter. Let's get real, she's not even one and she doesn't know or truly care what's happening tomorrow, let alone two weeks from now. But then I started to think ahead, to even six months from now, when she will begin to look forward to certain outings, and understand the idea of waiting for an upcoming event. My daughter needed a calendar for her playroom.
Of course, I couldn't go out and just buy one of those cute dry erase calendars, I needed to create my own. I had seen a picture of a paint swatch calendar over a year ago, but got creative on how I wanted to make mine.
After buying a frame from Goodwill for $3, I headed to my local hardware store where I had them cut down a piece of plexiglass that measured the same dimensions as the glass inside my frame.
I spray painted the frame in Heirloom White. I only gave it one coat, because I liked the look of the dark brown showing through ever so slightly in some places.
This was my first attempt at glazing, and it is now my new favorite painting technique. I mixed two parts Martha Stewart Faux Finish Glaze with one part DutchBoy paint. I roughly brushed it onto the detailed parts of the frame, and then took a cloth and wiped away the excess. It's really fun to work with, because it allows you the freedom to smear, blot, and rub until you achieve the look you want.
On the plexiglass, I used a scrapbook dot runner to affix my paint swatches. After cutting out a frame using the Cricut and clear stickers for the days of the week, my frame just needed to be assembled.
Here's the finished product, ready to be used next month. (I'll probably use dry erase crayon, much cleaner than markers!)
Check out my other basement playroom projects: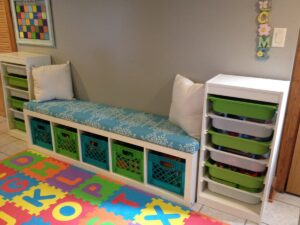 Join the Refresh Living DIY & Upcycling Community
Join the subscriber list to receive one to two emails per month with updates from the blog. PLUS, you'll gain access to my printables and graphics library. Every new design I create will be added here, and you'll have free access - forever!