If this is the first time you're visiting, I'm making over our new to us pop-up camper on a 6 week time frame as part of the One Room Challenge.
What started as a fun, camper makeover project, quickly turned into a time-sucking camper rebuild project.  If you're more interested in the redecorating that the rebuilding, you should head over to see how the inside of it looked when I bought it, and my plans for our little home away from home in my week 1 post.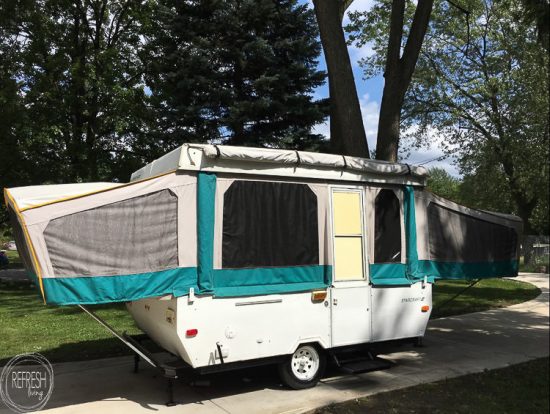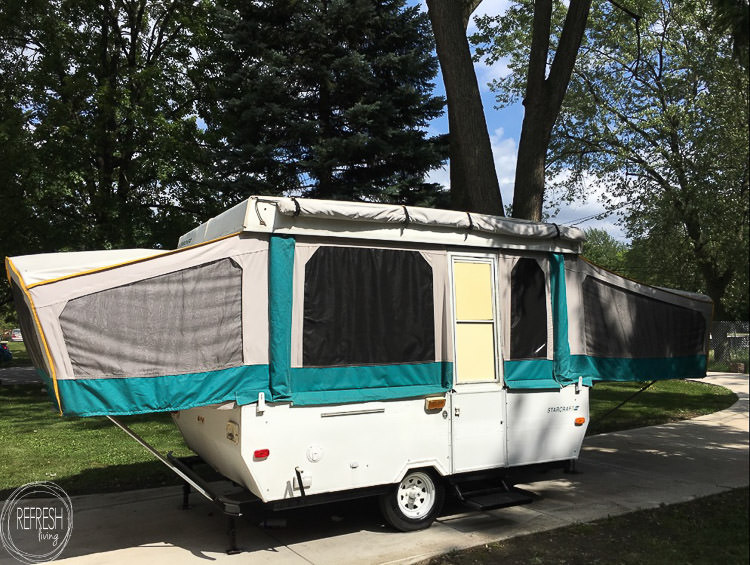 You see, when I bought this 1990s pop-up camper over the summer.  I knew there was some water damage at one point in time in the roof, and I knew there would be some repairs needed.  What I didn't know was that the entire roof and side roof panels were completely water-logged, and the entire roof needed to be rebuilt.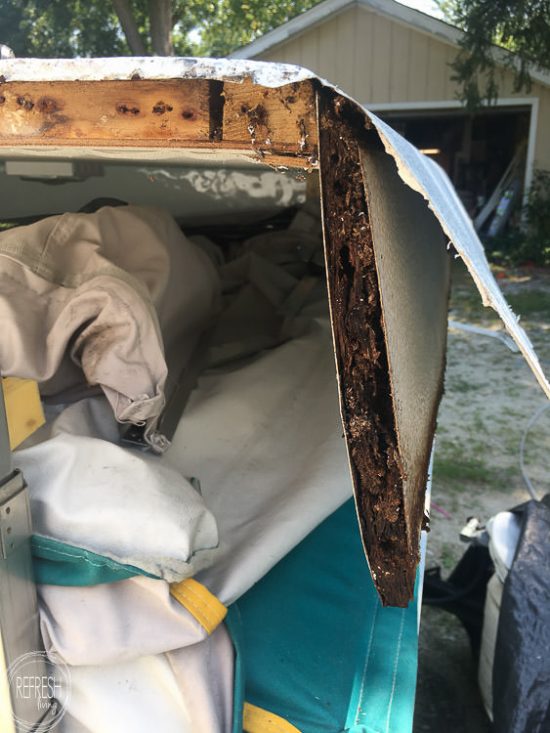 Yep, here's what I found when I started peeling back the aluminum panels.  And this was the "good" side.
Thankfully, it was dad to the rescue again, who took a look and commented something like, "Oh yeah, when I bought our old pop-up camper I had to rebuild the roof."  Perfect, that's one more pop-up camper roof rebuild under his belt than I had under mine.
We actually worked on rebuilding the roof in September, because I knew there would be no way I could finish the rebuild and all the cosmetic work in six weeks.
I'll be detailing the entire roof rebuild soon, but basically we used the side panels as templates, and cut new pieces of wood and aluminum for the frame.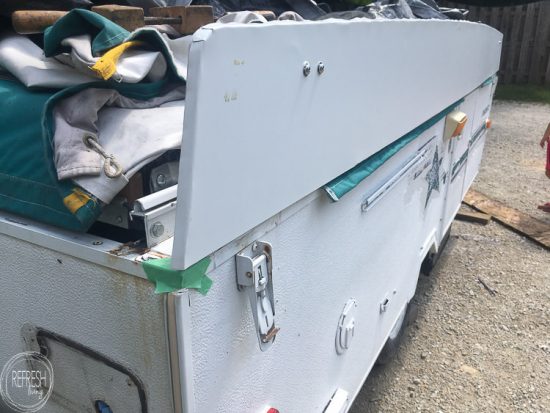 Once all was built, we installed the roof sides back on the camper, and attached the roof back onto the sides.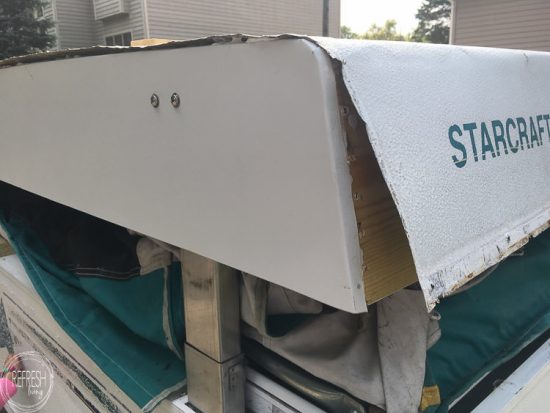 I sealed it up to hopefully prevent any more water from leaking in, and now the fun of redecorating can begin!
I like lists, but I especially love crossing things off my lists.  In fact, sometimes I add something to a list that I've already finished, just so I can cross it off.  Which is precisely why I'm sharing this list with you today:  so I can cross the worst project off the list.
Rebuild roof, put it back together, and seal everything up
Prime and paint cabinets
Install peel and stick vinyl floors
Build new counters and tables
Sew slip covers for the cushions
Build and install a DIY backsplash
Install ceiling panels
Install new lights
Make throw pillows
Paint exterior?
Decorate with finishing touches
Be sure to head on over to see how all the other rooms are coming along at Calling it Home.
Like what you see? I'd love for you to follow along!

Join the Refresh Living DIY & Upcycling Community
Join the subscriber list to receive one to two emails per month with updates from the blog. PLUS, you'll gain access to my printables and graphics library. Every new design I create will be added here, and you'll have free access - forever!