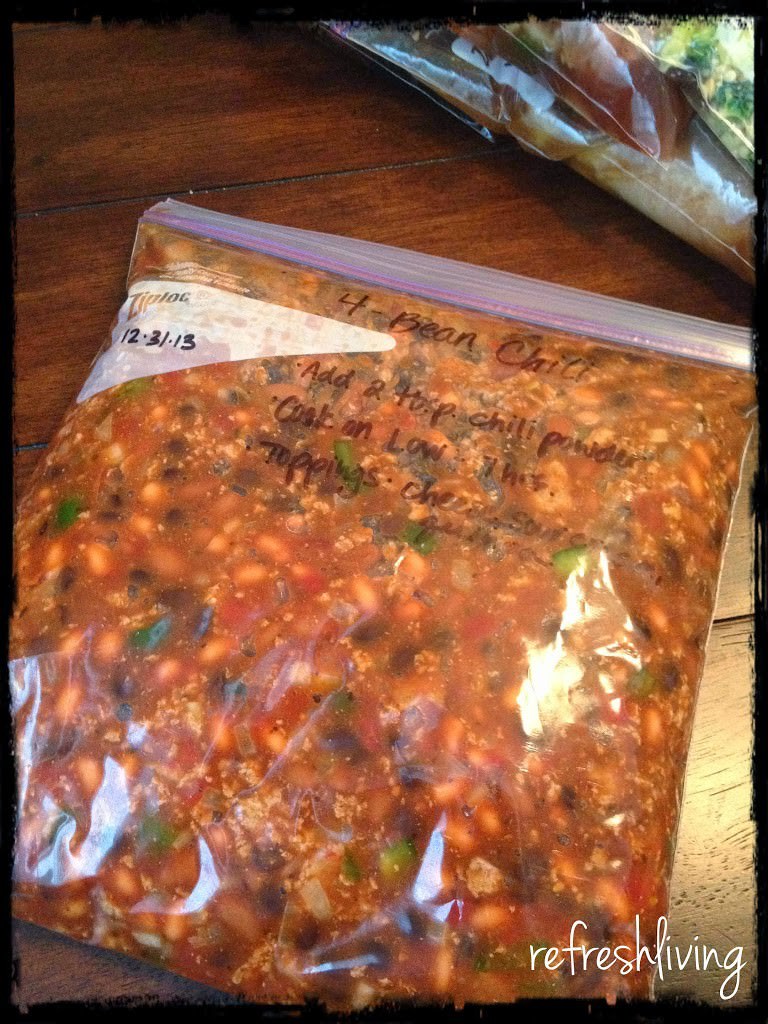 1

pound

ground beef (or turkey or chicken)

1

onion

2

green pepper, chopped

1

can (6 oz.)

tomato paste

1

can (12 oz.)

chili beans, drained

1

can (12 oz.)

black beans, drained

1

can (12 oz.)

pinto beans, drained

1

can (12 oz.)

kidney beans, drained

1

can (12 oz.)

diced tomatoes, undrained

2

tbsp.

chili powder
1

pound

ground beef (or turkey or chicken)

1

onion

2

green pepper, chopped

1

can (6 oz.)

tomato paste

1

can (12 oz.)

chili beans, drained

1

can (12 oz.)

black beans, drained

1

can (12 oz.)

pinto beans, drained

1

can (12 oz.)

kidney beans, drained

1

can (12 oz.)

diced tomatoes, undrained

2

tbsp.

chili powder
Brown ground turkey in nonstick skillet. Drain off excess liquid. Combine browned ground turkey, onion, green bell peppers, and tomato paste in slow cooker. Add chili powder, beans, and tomatoes. Mix to combine all ingredients.

Place in a ziplock bag and freeze.
Write on bag:  Cook on low for 6-8 hours.