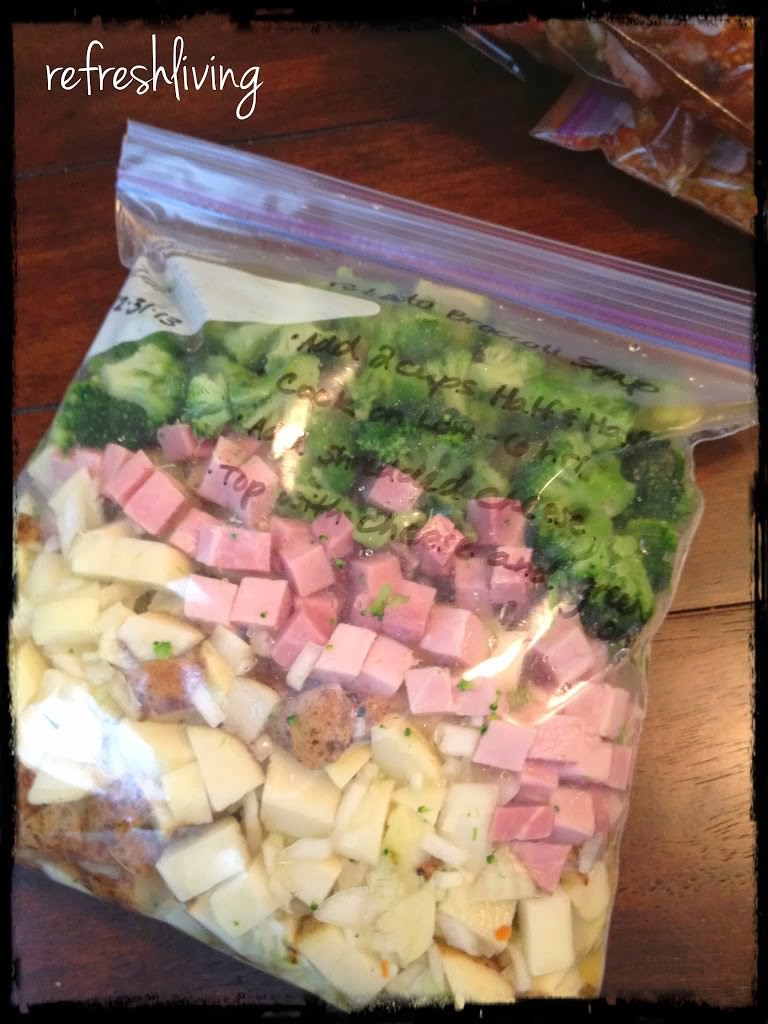 2

lbs.

potatoes

diced

1

onion

diced

3

cloves

garlic

minced

16

oz.

frozen broccoli

1

cup

ham

diced

3

cups

chicken stock

1

tsp.

salt

1/2

tsp.

pepper

2

cups

half & half

[added during cooking]

1

cup

cheddar cheese (shredded)

[added during cooking]
2

lbs.

potatoes

diced

1

onion

diced

3

cloves

garlic

minced

16

oz.

frozen broccoli

1

cup

ham

diced

3

cups

chicken stock

1

tsp.

salt

1/2

tsp.

pepper

2

cups

half & half

[added during cooking]

1

cup

cheddar cheese (shredded)

[added during cooking]
Boil the diced potatoes for 5 minutes (they still should be firm) and then cool in a bowl of ice water.

Combine all ingredients (except half & half and cheddar cheese) in a ziplock bag and freeze for up to 3 months.

When ready to cook, placed contents of bag into slow cooker and cook for 6 hours.

During last 30 minutes of cooking, use an immersion blender or masher to puree/mash some of the potatoes and broccoli.

Add half & half and cheddar cheese and cook for an additional 30 minutes.