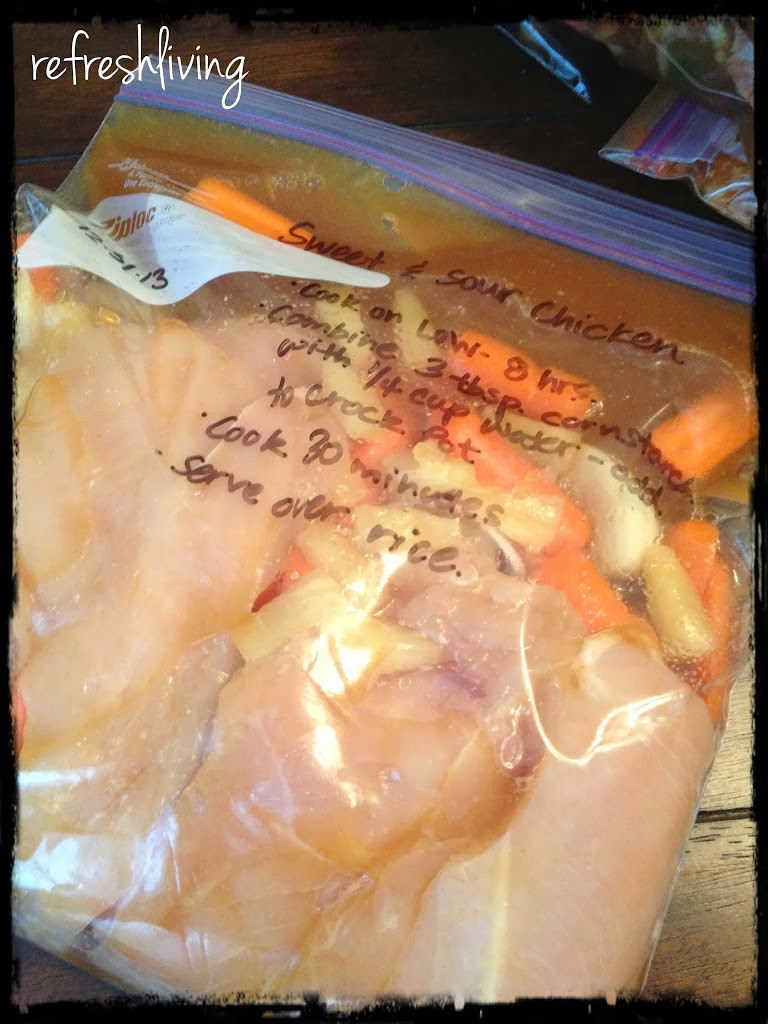 3

boneless skinless chicken breasts

1

pound

baby carrots

1

onion, cut into wedges

1

can (20 oz.)

unsweetened pineapple chunks

1/3

cup

brown sugar

1

tbsp.

soy sauce

1

cube

chicken bouillon

1/2

tsp.

salt

1/2

tsp.

ground ginger

1/2

tsp.

garlic powder

3

tbsp.

cornstarch

(not needed until day of cooking)

1/4

cup

water

(not needed until day of cooking)
3

boneless skinless chicken breasts

1

pound

baby carrots

1

onion, cut into wedges

1

can (20 oz.)

unsweetened pineapple chunks

1/3

cup

brown sugar

1

tbsp.

soy sauce

1

cube

chicken bouillon

1/2

tsp.

salt

1/2

tsp.

ground ginger

1/2

tsp.

garlic powder

3

tbsp.

cornstarch

(not needed until day of cooking)

1/4

cup

water

(not needed until day of cooking)
Drain pineapple chunks, reserving the juice. Place carrots, onions, pineapples and chicken in a ziplock bag.

Combine pineapple juice, brown sugar, soy sauce, chicken bouillon, salt, ginger, and garlic powder. Pour mixture into the ziplock bag and freeze.
Write on bag:  Cook on low for 6 hours.  Combine 3 tbsp. corn starch with 1/4 cup water and stir.  Add to slow cooker.  Cook 30 minutes until the sauce thickens. Serve over cooked rice.