I'm embarrassed, I don't even know where I picked up this piano bench.  It was probably one of three places – an estate sale, a garage sale, or my favorite furniture thrift store, Jubilee Furniture.  Oddly enough, I do remember that it was $10.  I also remember that it smelled, and the fabric had seen better days.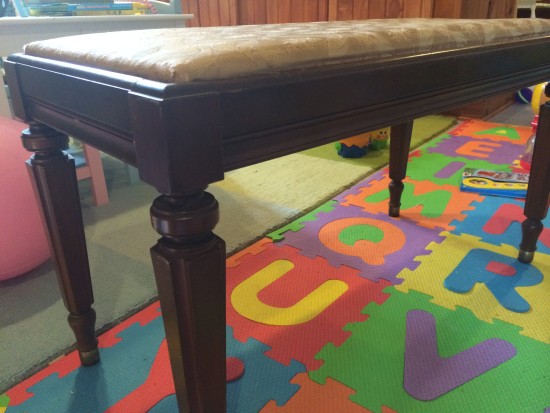 I ripped off the old fabric and batting (there really wasn't much "cush" left in this cushion), and tossed it all away (I needed to get the cat smell out of my house).
I gave the base a coat of Miss Mustard Seed Milk Paint in Artissimo and finished with furniture wax.  The brass on the bottom of the legs got cleaned up with my favorite DIY hardware cleaning mixture.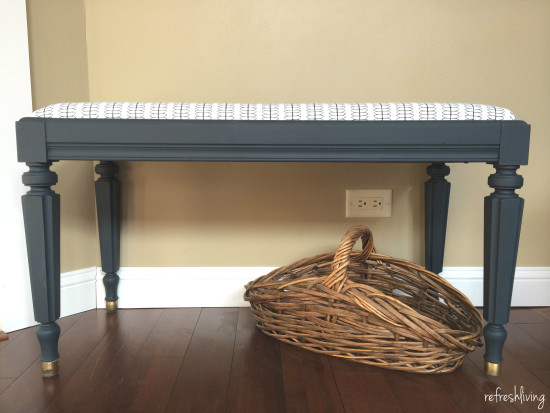 I knew I needed to add a little extra padding to the seat, so I used 1/2″ foam and high-loft batting underneath my fabric.
Here's the easy steps I used to reupholster this bench:
Because this piano bench has a removable top for sheet music storage, I wanted to create a handle to easily remove it.  (Living in a small house, I appreciate every extra square inch of storage that I can find!)  I cut a strip of fabric, ironed a crease on both edges, folded it in half, wrong sides together, and then sewed it together along one edge.  (I know, I could have sewed it inside out and inverted it so the seam is hidden, but I was lazy, and I like the blue thread being visible as a contrast.)
I looped it, stapled it in place on one end, and finished the bottom off with a piece of felt (which won't fray).
Although I love this reupholstered bench, we won't be keeping it in our house.  For one, our house is small, and honestly I don't have room for it.  But a second, and more exciting reason I won't be keeping it, is because I finally am taking the plunge to put some of my pieces out there for others to (hopefully) buy!  I just signed up to sell at two vintage markets at the beginning of the summer, and I am beyond excited.  This means I need to get busy on the piles of furniture in the garage.  Maybe tomorrow will be a "cold day" in Chicagoland and I won't have to go to work because school will be canceled…  A girl can hope, right?
Like what you see?   I'd love for you to follow along!
Send us some love with a like on Facebook, check out inspiring projects on Pinterest, or have posts delivered to your inbox once a week. [mc4wp_form]
Join the Refresh Living DIY & Upcycling Community
Join the subscriber list to receive one to two emails per month with updates from the blog. PLUS, you'll gain access to my printables and graphics library. Every new design I create will be added here, and you'll have free access - forever!