This home stretch feels a bit longer than the standard 90 feet, but I know I'll be able to finish this bathroom by next week.  When I started taking pictures of the space for this update, I started to get a little down, thinking that the room really wasn't going to look much different than it did last week.  But then I remembered that there are a few hidden details that were accomplished, which made me feel a little better.
Here's a look at our main bathroom last week: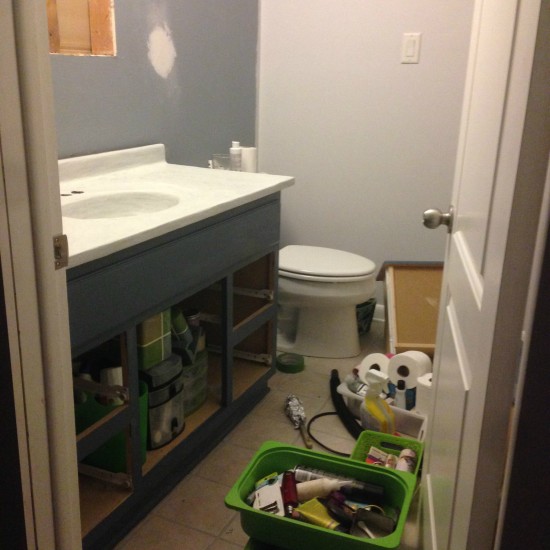 And here's where I'm at today:
The vanity has been painted and finished off with new hardware (and greasy two and three-year-old fingerprints).  I need to remember to clean those before those final pictures!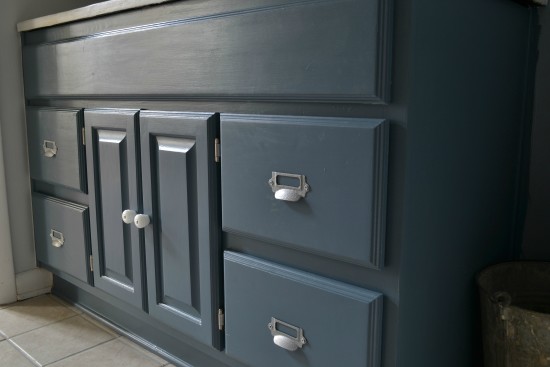 Whenever I refresh an old piece of furniture, I also try to add special little touches to make it feel new.  This week, one of my "hidden" projects accomplished just that.  I added fabric to the inside of the icky drawers and cabinet base, and it's just what I needed to give me that push to actually keep the vanity drawers clean!  I'll be posting all about the vanity update soon.
The other hidden project is my recessed cubbyhole storage.  All four of my family members brush their teeth in this bathroom, and it is also the bathroom that any guests use.  I've lived with toothbrushes and toothpaste on the vanity for 10 years too long.  Of course, I still need to frame in the cubbyhole, but it's still one step closer to being finished.
That whitewashed wood inside the cubbyhole is a small scale version of the planked wall I still have yet to install on the main wall.  I need to get to work!
I also finished up the concrete counter top and gave it a marble look, but since it was finished less than an hour ago, you'll just need to wait until the final reveal to see how it turned out.
Here's my to-do list.  I told you that home stretch looked long.  It now looks even longer than I thought.  I'm starting to sweat.
Remove fixtures and patch holes in drywall
"Cubbyhole" storage in the wall
Feather finish concrete counter top
Dye counter top and seal
Install faucet
Repair and refinish grout
Paint walls
Paint vanity
Install new light fixture
Wood feature wall
Vintage door knob towel rack
Antique spindle toilet paper holder
Final touches
You can check out my progress here:
Week 1 – Face Lift for a Blah Bathroom
Week 2 – The Ugly, Dirty & Dingy is Gone
Week 3 – Finally, a Vision for the Space
Week 4 – Updating the Vanity on the Cheap
Week 5 – The Home Stretch with Hidden Accomplishments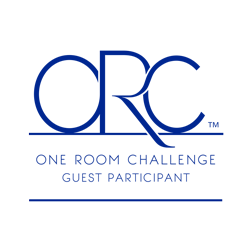 Now, go ahead and check out all the other One Room Challenge participants here.
Like what you see?  I'd love for you to follow along!
Facebook || Pinterest || Instagram || Google + || Bloglovin'
Or, enter your email to have posts delivered to your inbox every Friday morning:
[mc4wp_form]
Join the Refresh Living DIY & Upcycling Community
Join the subscriber list to receive one to two emails per month with updates from the blog. PLUS, you'll gain access to my printables and graphics library. Every new design I create will be added here, and you'll have free access - forever!