I've been trying to push myself beyond my comfort zone of sewing straight, simple lines.  I'm slowly figuring out that if I have a solid tutorial, I'm more talented than I thought!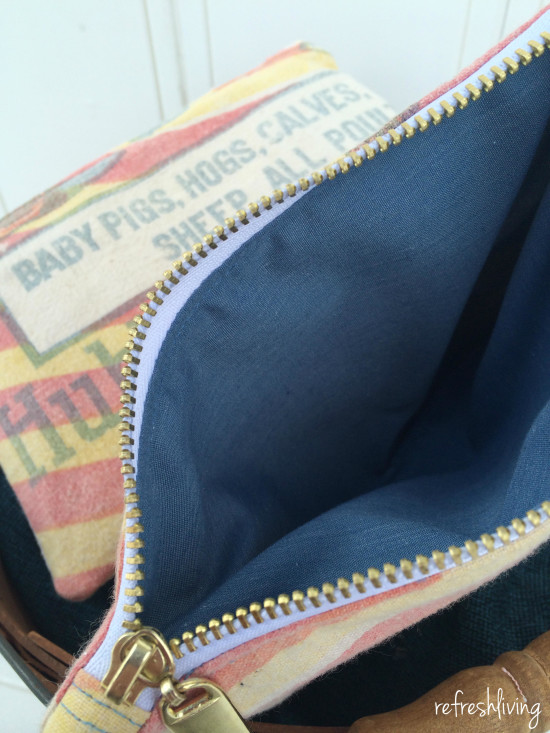 I found this amazing tutorial at Flossie Teacakes for sewing zippered pouches with the zippered ends covered, and I gave it a try.  To my surprise, it was a success!  One of my friends received a cute little bag for her birthday this year.  Before I could commit to ruining this grain sack, I knew I had to practice a couple of more times.  Two more of my friends got zippered bags for their birthdays with extra fabric I had laying around.  (I'm still not sure if my friends like being guinea pigs for my projects…)
I took the plunge and cut some pieces from a Hubbard Sunshine grain sack.  I'm so glad I did, because I am in love with these little zippered pouches.  I'm pretty certain these are the only two like it out there AND I gave new life to something that had been shoved in a closet for who knows how long.  (I found it at an estate sale for $1!)
I love the colors, and the fact that I can have a little bag that says baby pigs, hogs, calves, and sheep!  I think I'll make some more of these and try to sell them at one of the vintage markets I'm setting up a pop-up shop at this summer.  I'll just have to wait to see if others love them as well.
Join the Refresh Living DIY & Upcycling Community
Join the subscriber list to receive one to two emails per month with updates from the blog. PLUS, you'll gain access to my printables and graphics library. Every new design I create will be added here, and you'll have free access - forever!