For all of you who have remodeled, or even redecorated a room, you know that things need to get worse before they get better.  I think I'm at my low point this week.  So low, in fact, that the best shot I could get of the room looks like this: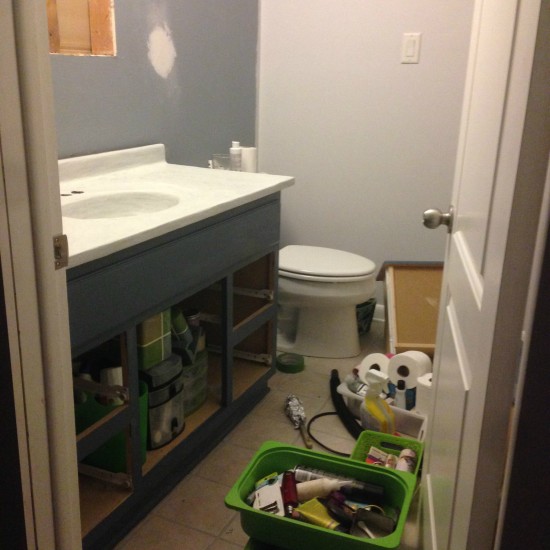 I do my best work at night when the girls are sleeping, so I seized the opportunity to get some work done tonight and painted the vanity.  For now, all you get to see is a vanity with misplaced drawers and doors.  You'll need to wait until the final reveal for the glamour shots.  I used a mix of three General Finishes Milk Paint colors to come up with this shade.  My husband commented right away that I matched the old color of the walls quite perfectly.  Maybe I'm not changing that much of this room after all…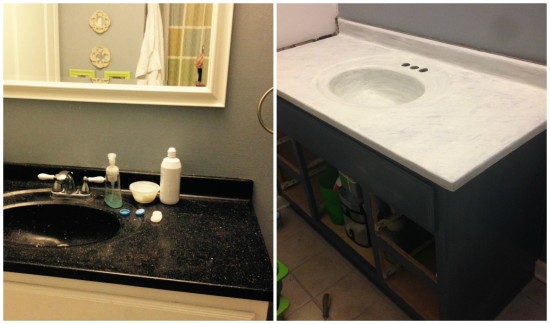 I am most excited about the vanity top.  Remember it used to be a faux granite-looking black?  I told you last week that I used concrete feather finish to cover it, but I didn't want the dark color of natural concrete when it's sealed.  I figured out a way to lighten up the counter for $11, but I'm not done yet.  I have one more step before this baby is finished.  I'll share more details next week.  So far, I've only put in $27 into updating this vanity!!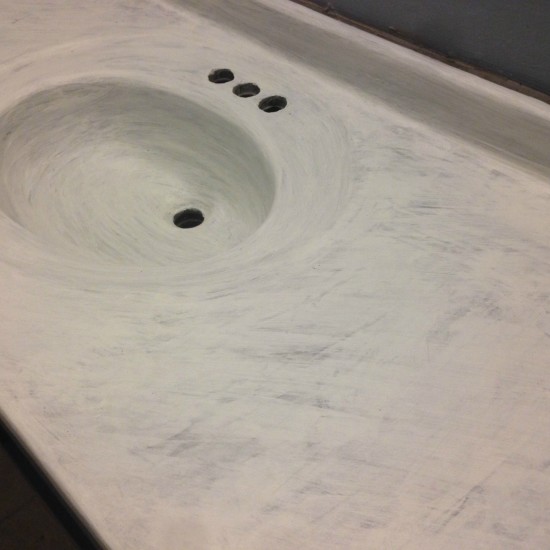 Last week I was one project behind on my to-do list, and this week I'm still only one project behind.  Time to get moving.  Here's what's left to do:
Remove fixtures and patch holes in drywall
"Cubbyhole" storage in the wall
Feather finish concrete counter top
Dye counter top and seal
Install faucet
Repair and refinish grout
Paint walls
Paint vanity
Install new light fixture
Wood feature wall
Vintage door knob towel rack
Antique spindle toilet paper holder
Final touches
For next week, I need to finish up that cubbyhole shelf, finish and seal the vanity top, and tackle that wood feature wall!
You can check out my progress here:
Week 1 – Face Lift for a Blah Bathroom
Week 2 – The Ugly, Dirty & Dingy is Gone
Week 3 – Finally, a Vision for the Space
Week 4 – Updating the Vanity on the Cheap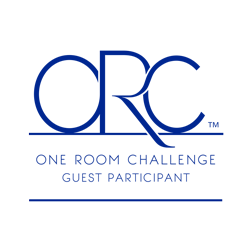 Now, go ahead and check out all the other One Room Challenge participants here.
Like what you see?  I'd love for you to follow along!
Facebook || Pinterest || Instagram || Google + || Bloglovin'
Or, enter your email to have posts delivered to your inbox every Friday morning:
[mc4wp_form]
Join the Refresh Living DIY & Upcycling Community
Join the subscriber list to receive one to two emails per month with updates from the blog. PLUS, you'll gain access to my printables and graphics library. Every new design I create will be added here, and you'll have free access - forever!