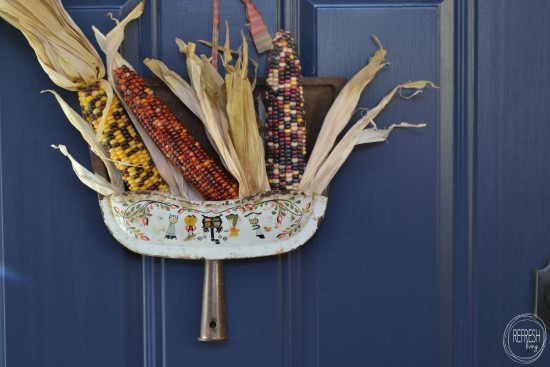 The title pretty much explains it all.  This "wreath" started as a dustpan.  I was helping to clear out my cousin's grandfather's house after he moved and I snagged this vintage dustpan.  I love the colors in the graphic, and to me, they seemed perfect for fall.
I drilled a hole in the top and added some Indian Corn and husks.  I can't decide if I like it better with the fabric scrap ribbon or not.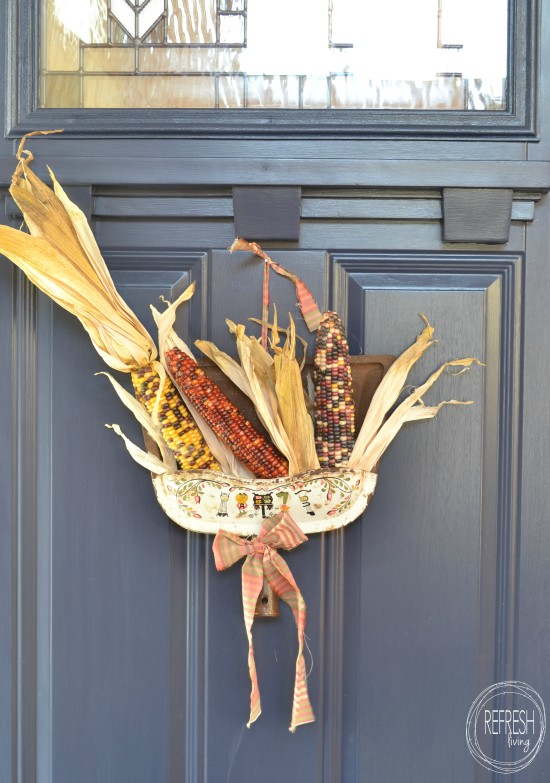 I have been absolutely loving the challenge of trying to create and post for 31 days.  I think I've missed two days so far, but I'll just continue posting my projects into November if I need to.  Speaking of projects, I think I'm going to switch over to the next holiday.  Yep, you might be seeing some Christmas in October posts.  I dislike it as much as you do, but maybe you'll get an idea for an upcycled craft you want to try out this year.
Until tomorrow!
Click on the icon below to view all the posts in this series!

Join the Refresh Living DIY & Upcycling Community
Join the subscriber list to receive one to two emails per month with updates from the blog. PLUS, you'll gain access to my printables and graphics library. Every new design I create will be added here, and you'll have free access - forever!