I've lived in this house, with this mantel, for 8 years, and the only time I've ever decorated it is for Christmas. Every Christmas, it's looked the exact same, and fairly boring at that.
I'm honestly a little intimidated about decorating my mantel for different holidays, mainly because I have no idea what I'm doing. I look at images in magazines and on blogs and am always amazed by how people have an eye for this sort of thing.  I don't, but I thought I'd step out of my comfort zone, and collect together all the things I've been storing in my basement, and try to put together a little vintage collection for Easter.
Most of these goodies were from my grandparents' house. They had a lot of stuff, but I'm so glad I rummaged through and found a lot of neat gems.
That little crate was made with old Melissa and Doug toy packaging, and a spray painted egg carton. Check out how I used them for another Easter decoration!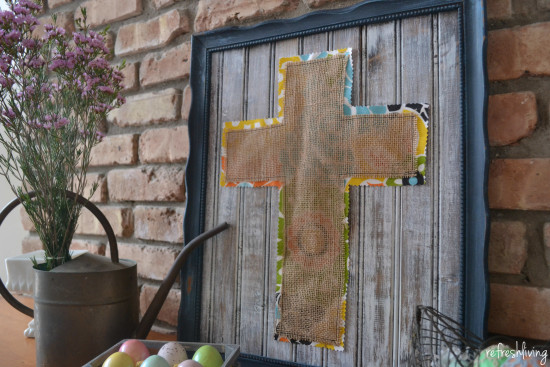 I centered the whole mantel around this upcycled frame that I used a new distressing technique on. Check out how I painted the bead board and made the cross here.
I found this antique ice bucket at an estate sale and I had to fill it with hydrangeas – they just scream spring!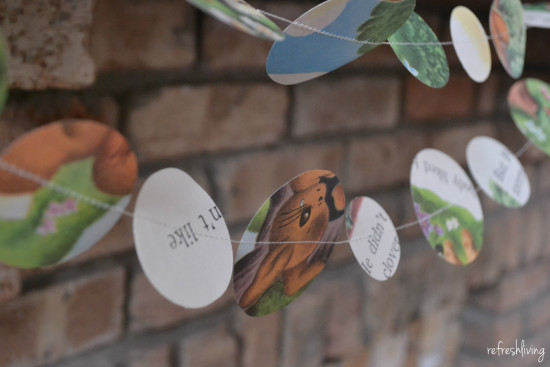 I used a vintage children's book to create this garland. I have another one for sale in my Etsy shop if you'd like to add it to your decor!
Join the Refresh Living DIY & Upcycling Community
Join the subscriber list to receive one to two emails per month with updates from the blog. PLUS, you'll gain access to my printables and graphics library. Every new design I create will be added here, and you'll have free access - forever!