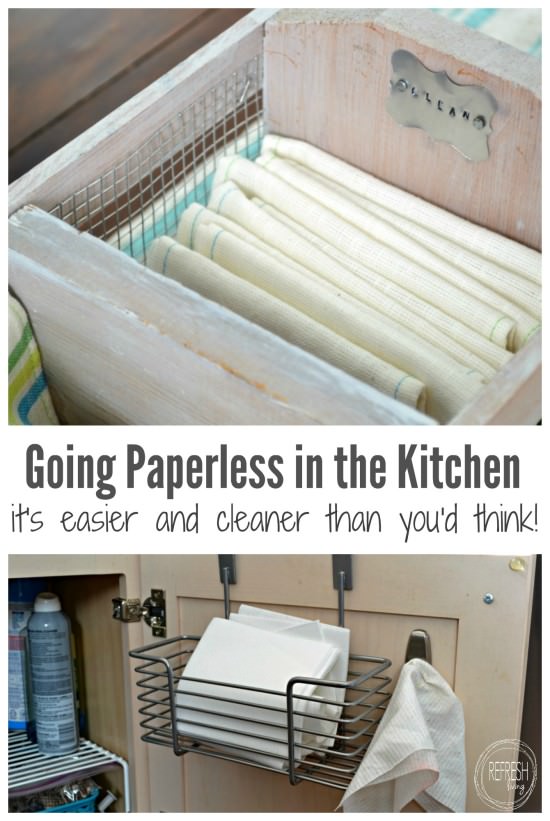 Believe it or not, removing all the paper towels from our kitchen was easier than I ever thought possible.  For all of you furniture painters, home improvement DIYers, and thrift store treasure upcyclers out there like myself, you might question if this "paperless in the kitchen" post really jives with my usual posts.  I'll admit, it's a little more of a homemaking feel than what I'm used to.  However, if you've read almost anything else around here, you know I am quite committed to working within a budget for all of my DIY, renovation, and upcycled projects.
Something tells me that if you enjoy repurposing, painting, and DIY projects, you probably also enjoy saving some money, too.  Although I'd love to claim that we went paperless in our kitchen with the sole purpose to help save our planet, we did it to save money.  Now that we've lived without paper towels for the past four months, there is no way we would turn back.  It's easier, cheaper, and more hygienic than I ever thought possible.
If you're considering that this might be a good choice for your family, let me share with you a few tips that made the transition quite easy for our family of four.
Observe your habits – Before cutting out the paper products, take a look at when they are used in your kitchen.  Does each family member have one at dinner?  Do you use them to dry your hands?  Do they wipe up spills?  Do you wipe down the counters with them?  Take note of when and where in the kitchen they are used, because you'll want to have a replacement for all of those purposes when you make the switch.
Cut the cord – That's right, remove all the paper towels from your house.  I'd recommend using up the supply you have, and then simply not buying anymore.  If they aren't in your house, you won't use them as a crutch when you think you need them.
Have alternative towels ready – I failed to do this, and when I went all cold turkey on the paper towels, my husband was unhappy and my 2 year old and 4 year old were stickier than ever.  I'll share with you the plan that worked for us, but no matter how you decide to organize it, make sure you have your cloth towels ready.
Once I did set up a plan and gave my family members somewhere to actually wipe their hands, it was smooth sailing!
We have two main places in our kitchen where paper towels were used: in the kitchen near the sink, and at the kitchen table with meals.  I set up two different areas to hold our towels and actually chose two different kinds of cloth towels for the different purposes.
The Kitchen Sink
We abused paper towels in this area of our kitchen.  Wiping spills, drying hands, and cleaning countertops were common uses.  I decided to go with thin rags, because I really didn't have any drawer space to spare in my kitchen.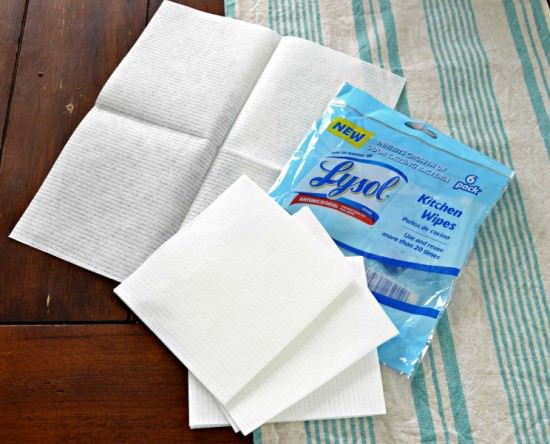 These Lysol reusable kitchen wipes are perfect.  I cut each one in half, so one pack gave me 12 towels.  I bought two packs and end up washing them every week or so.  They can be washed in the washing machine, and so far, they are holding up really well.  They closely resemble paper towels, which has made the transition easier for everyone.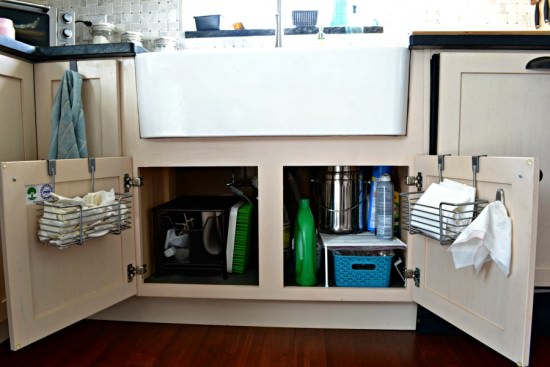 I used two hanging baskets (this option is slightly smaller and cheaper) one on each door underneath my sink, to hold the towels.  One side is for clean towels, and the other for dirty towels.  A small hook on the inside of one door holds the towel being used.  I use the same towel for one day (generally speaking), but if you were worried about bacteria, you could definitely just put it in the dirty side after one use.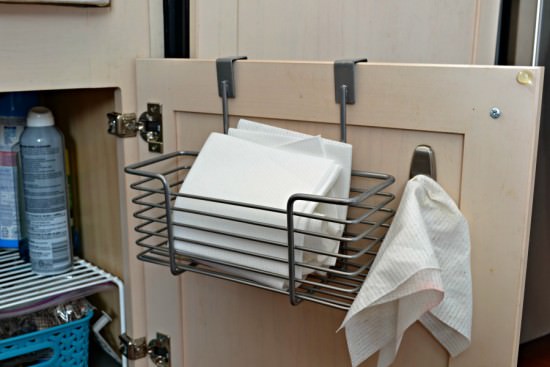 I think cotton towels would also work really well for kitchen uses.  I actually recently bought a pack on sale, and will add those into the rotation too.
The Kitchen Table
Here is where we would use paper towels as napkins to wipe our hands (and kids' faces).  I found some "toweling fabric" at JoAnn's and it ended up being less than $3 per yard with my coupon.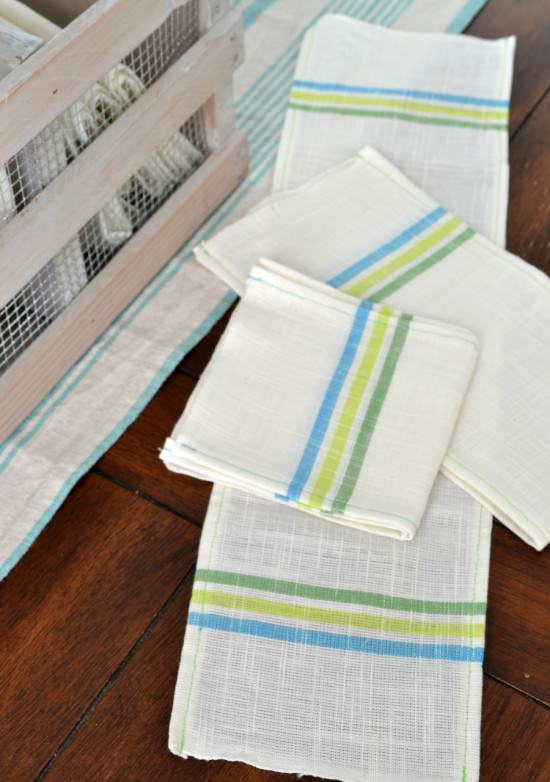 I cut it into strips and hemmed the two raw edges.  I believe I bought 2 yards and we now have 24 small napkins.  You could also buy cloth napkins.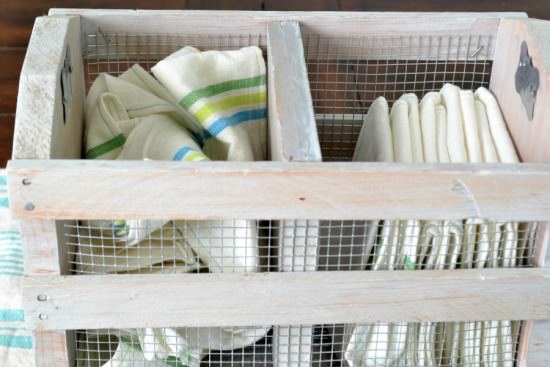 Remember my thrift store find that was given a farmhouse feel?  Well, here is what I had planned to use it for all along.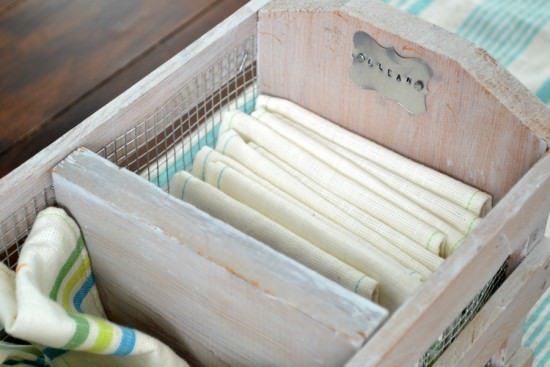 One side holds dirty towels and the other holds our clean ones.  Both of my girls caught on to the dinner napkin system right away – and they love it!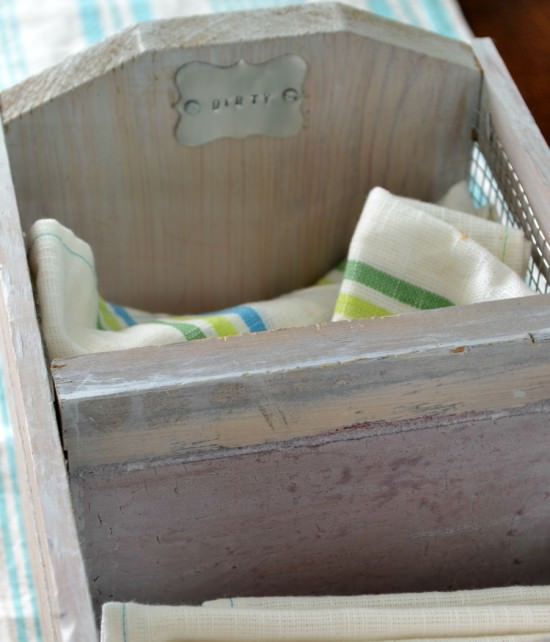 And I just love the whitewashed barn wood I added as a divider in this crate.  Who would have thought going paperless could look so good?
How much has it saved us?
We used to buy our paper towels in bulk from Sam's Club.  We would buy the generic ones, that ripped off in three sizes so we could always use the smallest piece.  I would say we were already fairly conservative in the amount of paper towels we were using, and we would go through a 15 pack of mega rolls every other month.  With each pack costing $24, in one year we were spending $144 on paper towels.
Now, we actually do still have a couple of rolls of paper towels in the house, set aside for emergencies.  You know, the type of emergency when the dog throws up all over the carpet and you just need to use something that can be thrown away to get the chunks up.
We are now using one roll of paper towels every three months.  We're now spending $6.40 on paper towels a year, and it's going to take us over three years to go through one pack of paper towels!
Of course, there is the initial cost of setting up the system to use cloth paper towels.
In less than 4 months, we will already have saved more on this paperless system than if we had bought paper towels for those months.
Let me know if you have any tips for eliminating or reducing the amount of paper used in your kitchen or house.  I'd love to learn more tricks!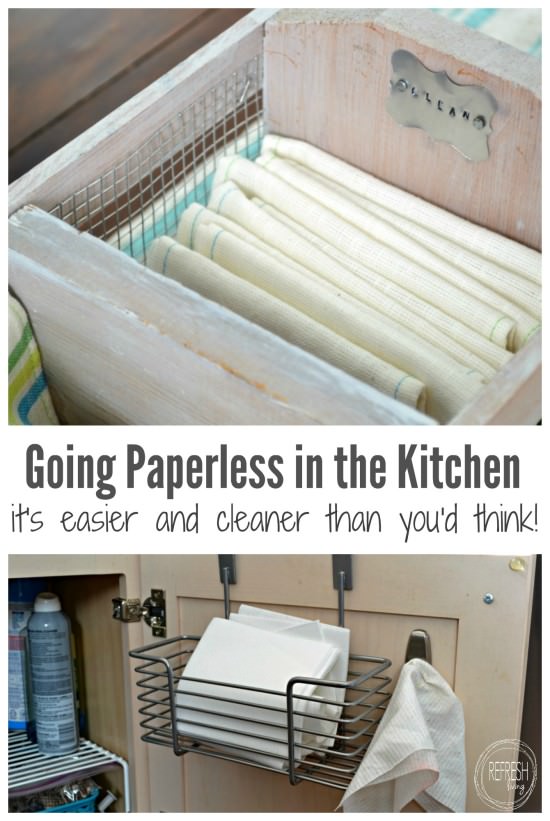 Like what you see? I'd love for you to follow along!
Facebook || Pinterest || Instagram || Google + || Bloglovin'

Join the Refresh Living DIY & Upcycling Community
Join the subscriber list to receive one to two emails per month with updates from the blog. PLUS, you'll gain access to my printables and graphics library. Every new design I create will be added here, and you'll have free access - forever!