Remodeled pop-up camper where every part was a DIY project. Includes a new pop-up camper roof, new flooring, curtains, cushion covers, countertops, and painted cabinets.
It felt so strange.  Yesterday, I closed up our pop-up camper for the last time until next Spring.  I can't even count how many times I've opened and closed that camper over the course of the last four months.
Although I'm a tad bit relieved that I won't need to crank that puppy back up again for a few months, it's bittersweet.  I've thoroughly enjoyed the challenge of rebuilding and remodeling our camper.  Even more importantly, I can't wait to be able to pop it back up so we can actually use it next year!
Let me remind you of where we started back in July. You can read all about my impulse buy and see how it looked when I purchased it, but basically here's a visual rundown of the issues.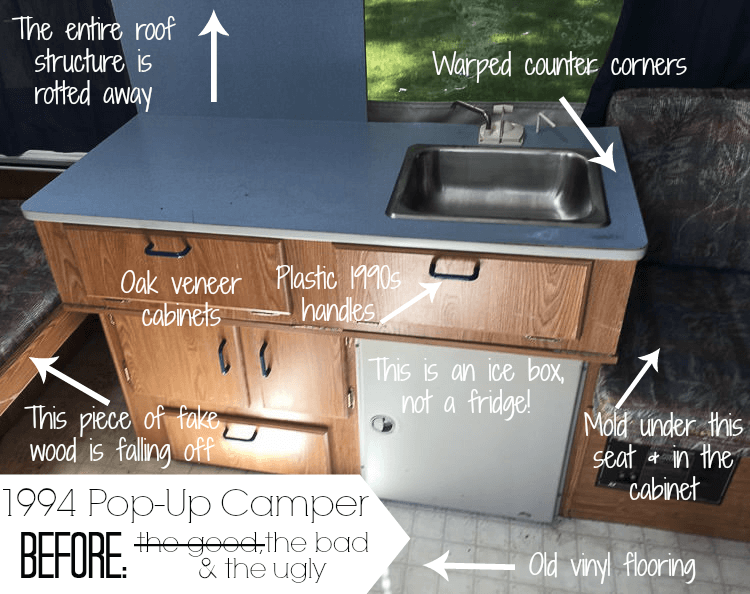 The worst of all of those issues was definitely the roof cap. The four walls of the roof cap were completely waterlogged and rotted away, which you can see in more detail here. My dad helped me to rebuild the entire roof structure, and after everything was put back together, it was time to have fun with the interior. I decided to jump on board with the 6-week One Room Challenge to give the interior a completely new look.
I envisioned an eclectic space filled with vintage, flea market finds and a ton of bright colors. It was seriously so much fun to put everything together. So. Much. Fun. Yes, it was quite a bit of work, but every project brought new challenges and creativity.
Come take a look around!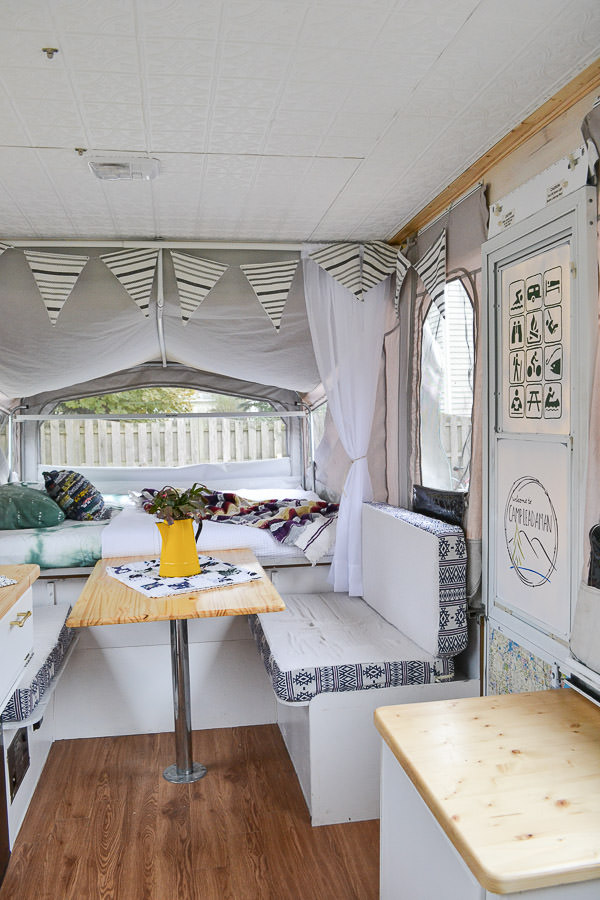 I used peel and stick vinyl plank flooring that I found on clearance for $7. I'm not completely in love with the color, but I couldn't pass up updating the floor for less than $10!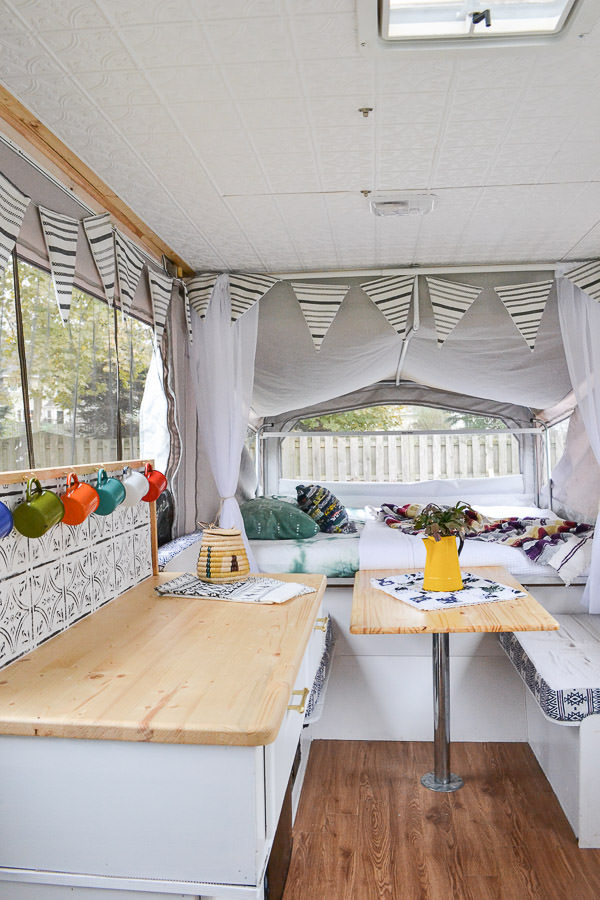 The camper didn't come with a table, so we installed an in-floor base and used the table legs from my old childhood camper. (My dad basically keeps everything, so this leg has been stored in the garage for over 20 years. Thanks, Dad!) I used edge-glued pine panels for the table and the new counters. I just used a router to round off the edges.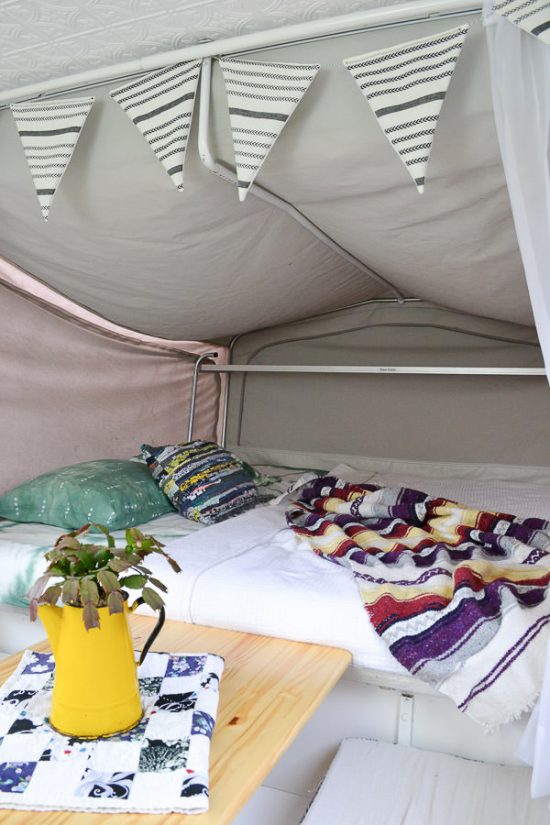 The bedding is a collection of vintage throws paired with DIY shibori-style sheets. Of course, traditional shibori is made with indigo dyes, but I opted for my favorite color, and one that I think is perfect for camping: dark green.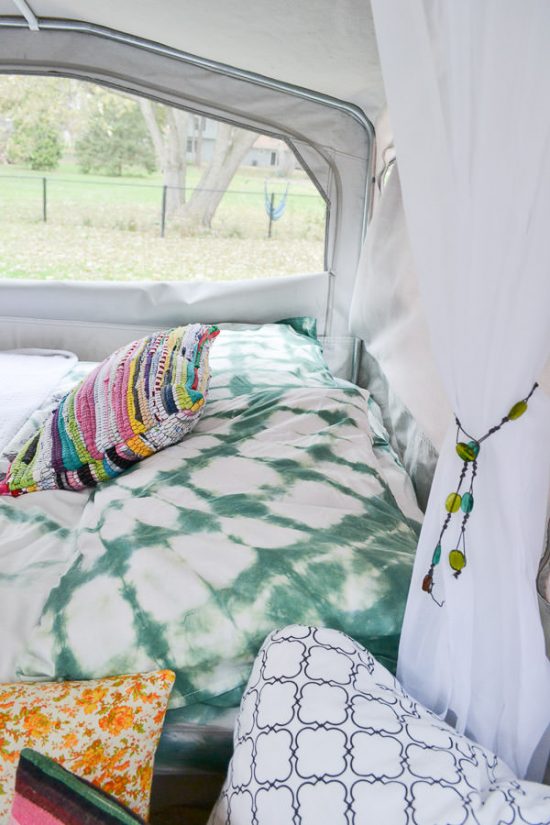 I'll be sharing my process for creating these shibori patterns soon!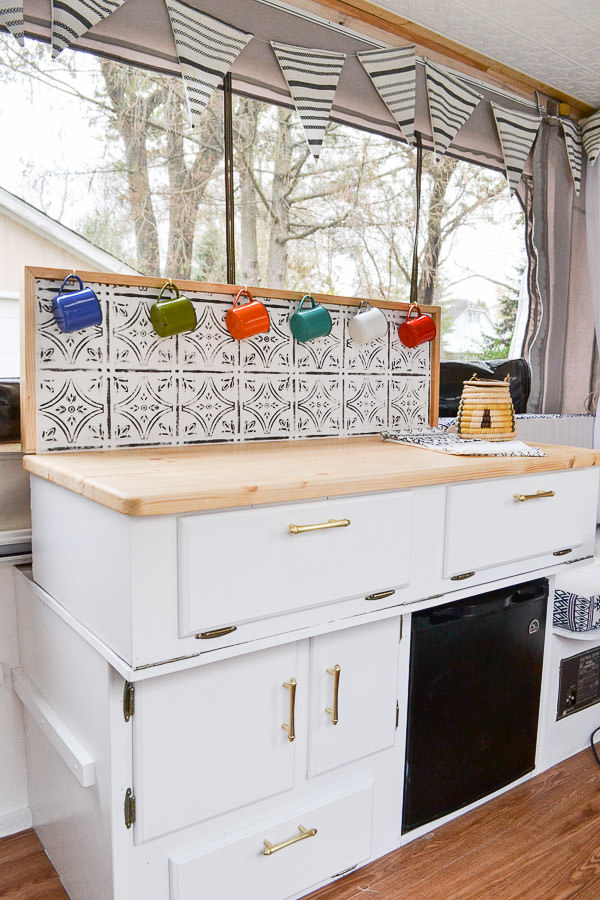 Obviously, I painted all of the cabinets and walls, which I think brightens up the space a ton. The gold pulls from D.Lawless hardware look perfect on the white cabinetry, and about 1,000 times better than the original blue plastic pulls! I also removed the old ice box cooler and replaced it with a mini-fridge I found at an estate sale.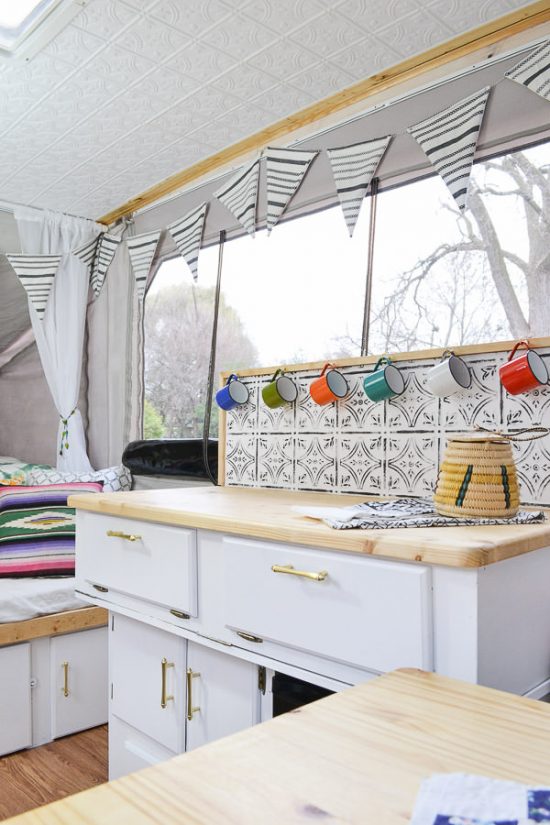 The back splash got a new look with Fascade panels from DIYdecorstore.com. I painted the raised edges in black to bring out the details of the panels.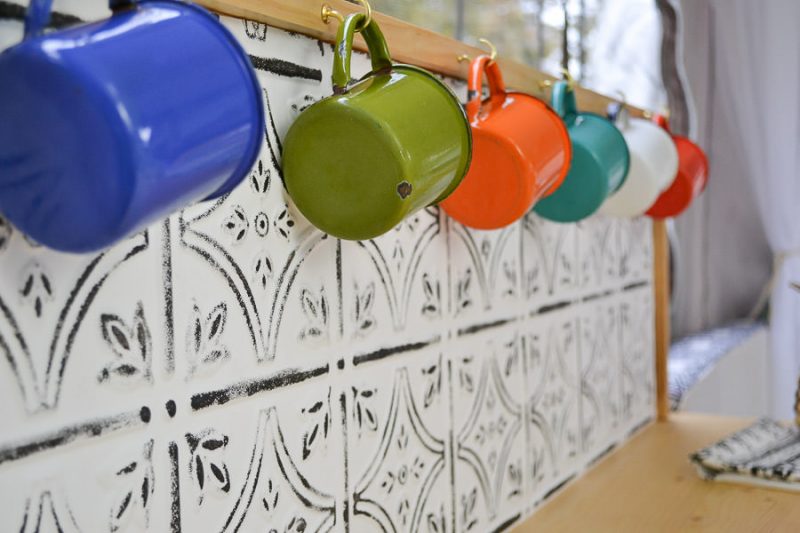 Vintage enamelware just makes me happy. Period.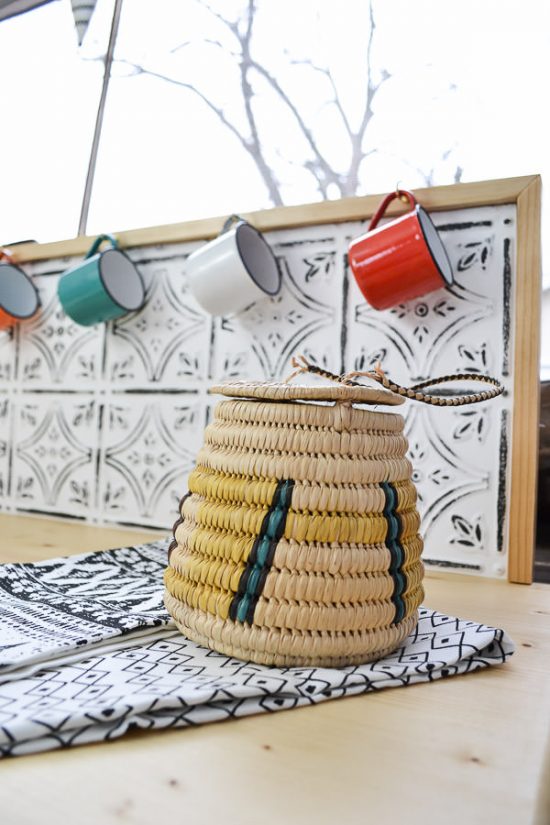 Oh yeah, did you see the new ceiling?? I can't tell you how nice it is to look up and not see water-damaged luan wood. You can read about how I updated the ceiling in this post.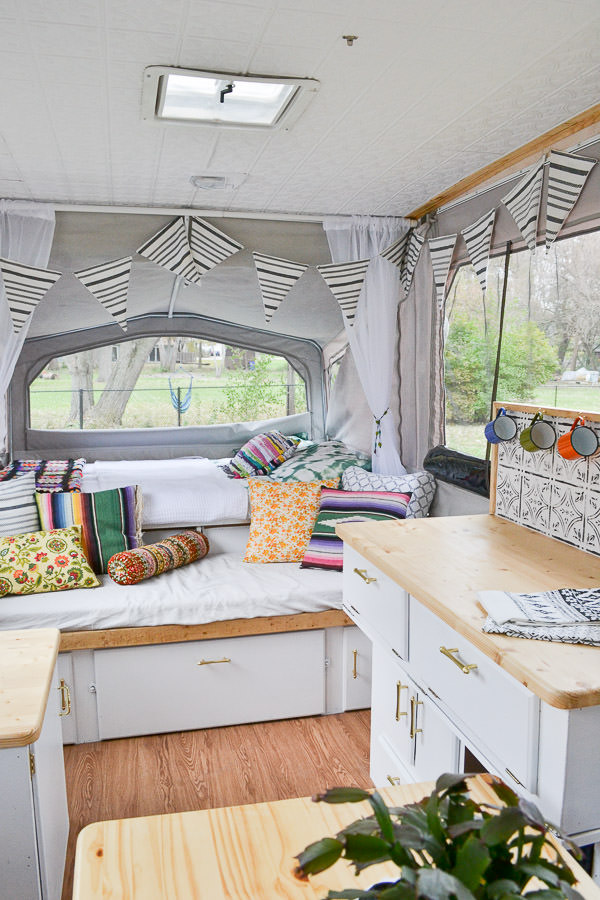 I finally taught myself how to make pillow covers with zippers! All these pillows gave me a good amount of practice, but I was so surprised that I was able to make three of them in an hour!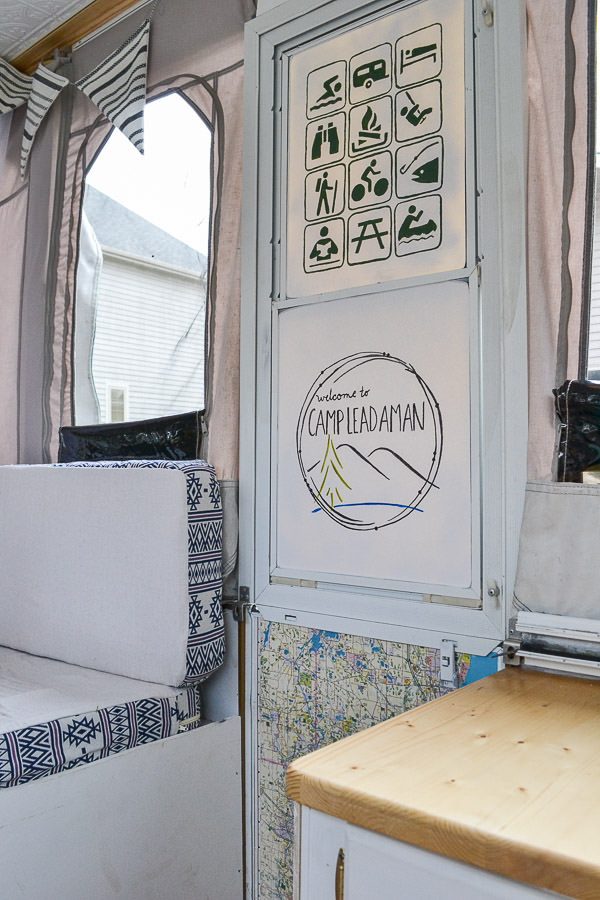 I love our personalized door and painted graphics. A vintage map of our hometown area of Chicago finishes out the bottom of the door.
Like it? Pin it. (Thank you!)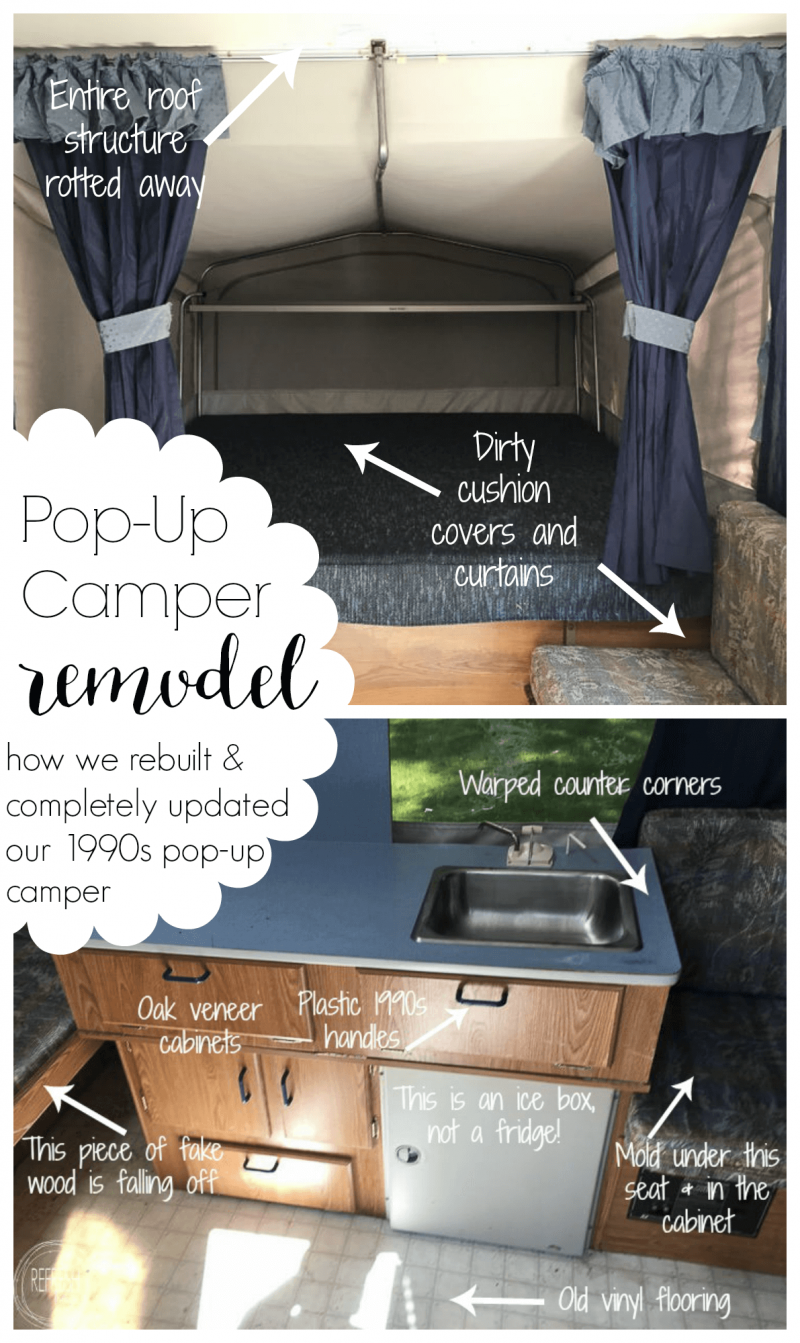 I just can't wait to get to enjoy family camping trips in this comfortable space. Thanks for taking a look around!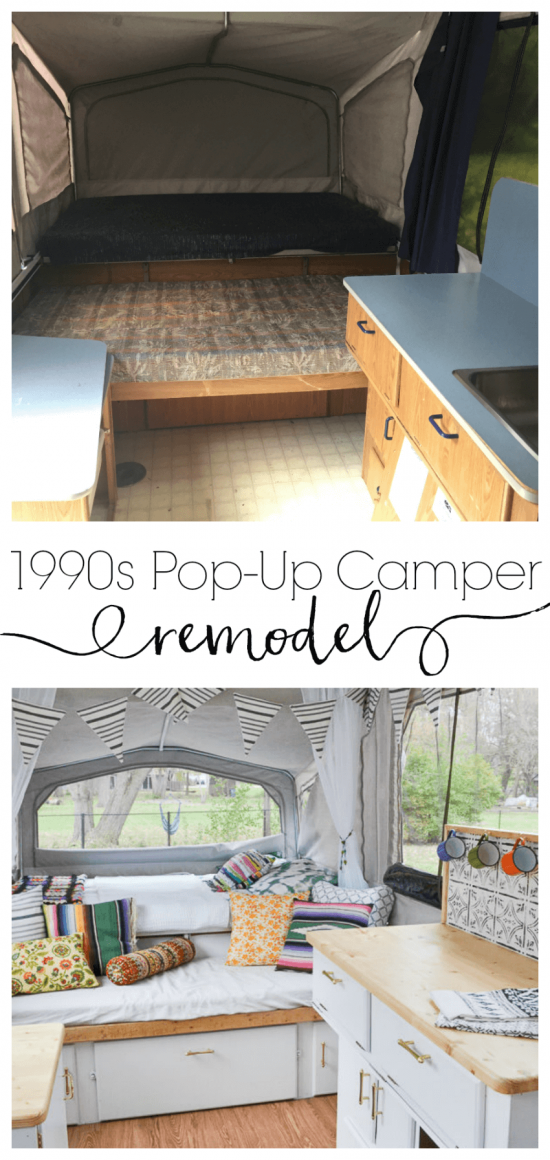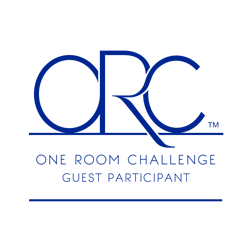 Be sure to head on over to Calling it Home to see over one hundred other room reveals.

Join the Refresh Living DIY & Upcycling Community
Join the subscriber list to receive one to two emails per month with updates from the blog. PLUS, you'll gain access to my printables and graphics library. Every new design I create will be added here, and you'll have free access - forever!