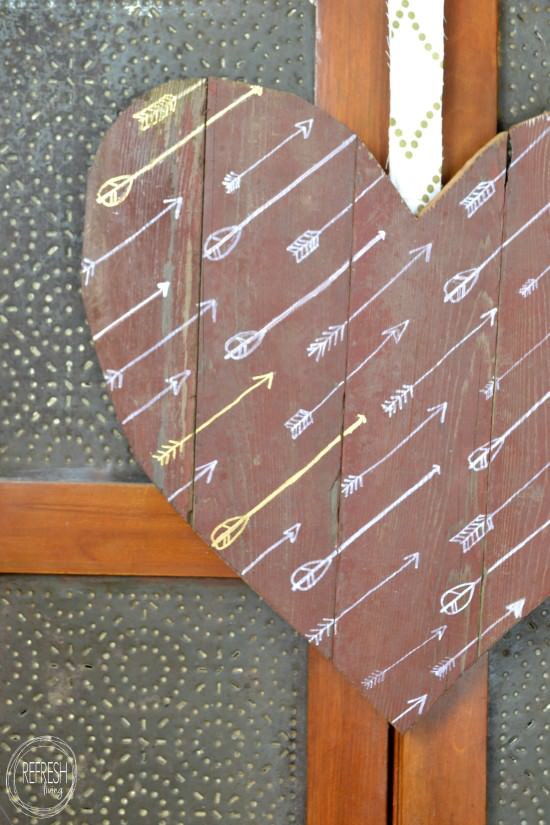 I took out my Valentine's decorations box from the attic in my garage, and realized I have virtually nothing in it.  Thinking back to previous years, I don't think I've really ever decorated for this holiday, mainly because it's so commercialized.  But, I really do like love, and now that I have kids I think I might get into the Valentine's spirit a bit more.  This year, I'm trying to create some inexpensive decor that I'll be pleased to find in my plastic tote box next year when it comes down from the attic!
The Create and Share challenge seemed like the perfect opportunity to create something to decorate my home for this lovely holiday.  This month, Stephanie from Casa Watkins partnered up with  Graphic Stock.  They are offering a free 7 day trial, with access to all of their images, free to all of our readers!  If you would like to browse through all the images and sign up for the free trial, just click here.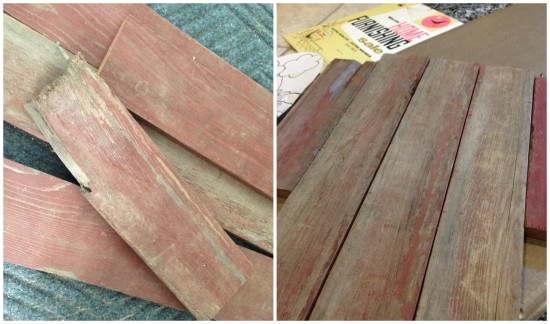 I started by making a heart from some red barn wood I found in a pile at a barn sale this summer.  I laid out the pieces in the rough shape of a heart.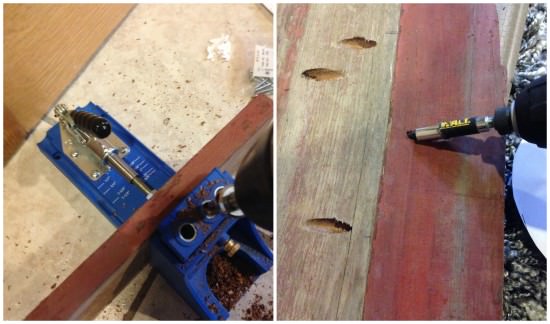 To attach the boards together I used my Kreg Jig
.  I seriously love this little tool.  It gives me the ability to create so much more with wood than I ever could before.  In this case, I just adjusted the drill bit to match the thickness of my wood, clamped the board in place, and drilled the holes into the wood.  Then, I screwed the planks together in the holes that I drilled.  I spaced out the holes and made sure to put at least two for each joint.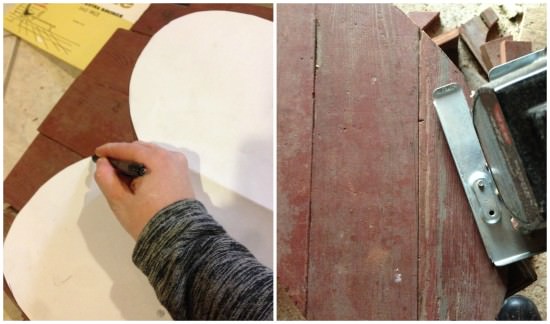 After making a template, I traced it onto the wood.  Using a jigsaw, I cut out the heart.
I was a little tempted to just leave it as-is, and I probably would have, except that I became a little obsessed with browsing through Graphic Stock images during all hours of the night.  They truly have royalty-free images of almost anything you can imagine, but once I had a vision for this heart, I was able to narrow down my search.
I debated between painting love birds on a branch onto the heart, but then opted for this repeating arrow pattern.  I still love these little birds, though.  I'll just have to use them for another project.
Once I chose the image, I simply downloaded it and printed it out.  To transfer the image onto the wood to be able to paint it, I used the chalk transfer method.  Basically, you flip the image over and rub the side of the chalk over the entire back of the page.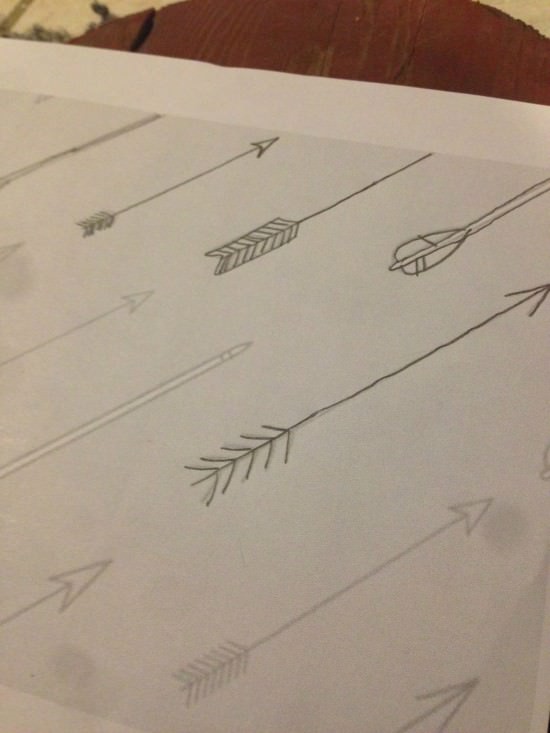 Then, you lay the image right side up on your piece, and trace over the image with a pencil or pen.  The pressure will transfer the chalk onto the wood, leaving you the image to paint in!
There are a couple of other ways to transfer images you've printed onto pieces to paint, you can read more about them here:
Once the image is replicated with the chalk, you simply paint in the design.  For something small, thin, and detailed like these arrows, I used paint pens.  There's not a chance I would be able to create those with a paint brush!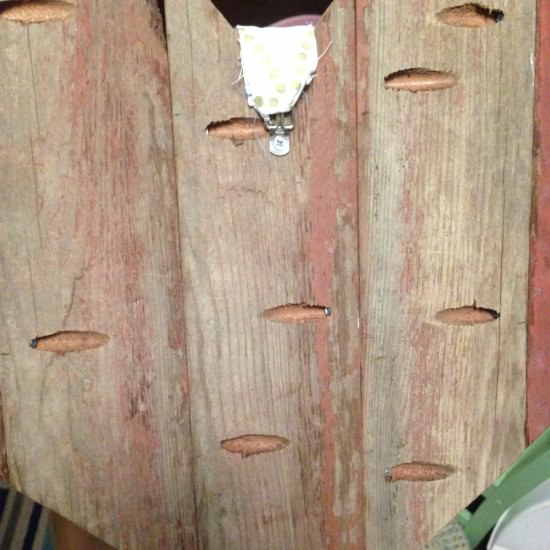 On the back, I attached an eyelet hook and cut a strip of fabric from a table runner I had bought on clearance solely to use it as fabric.  I kept the edges frayed to keep with the rustic feel, even though the pattern is more modern.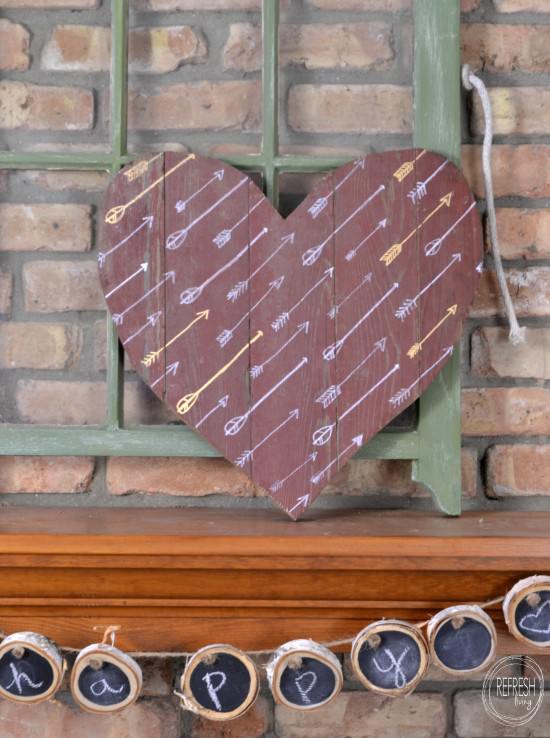 I first had it on my mantel, but remember I told you I have very little in the way of Valentine's decor?  So instead of rummaging through my non-heated garage for fun vintage goodies to add to my mantel, I hung my heart on my favorite piece of furniture in my house.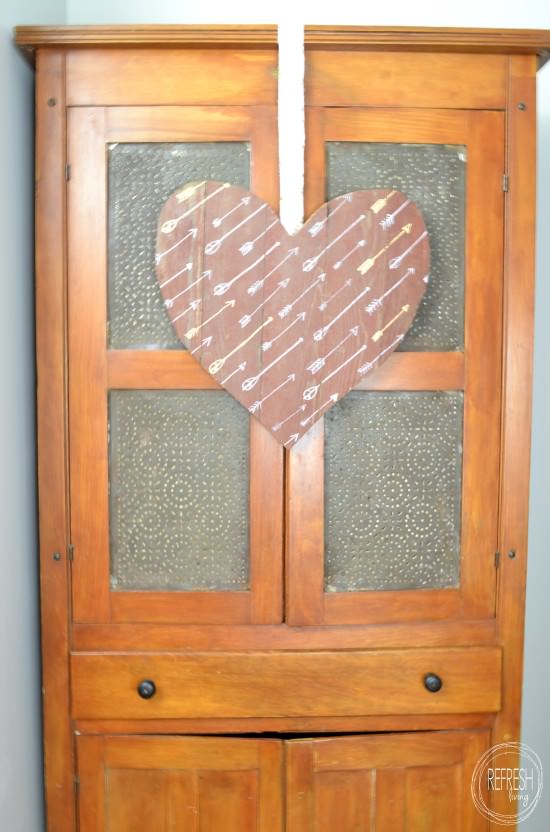 I love my antique pie safe!  We keep items in it that don't need to be accessed all that much, so placing a large wooden sign covering the doors really isn't an inconvenience.  They probably won't even need to be opened before Valentine's is over.  (That might be a sign that I don't really need the stuff in that cabinet….)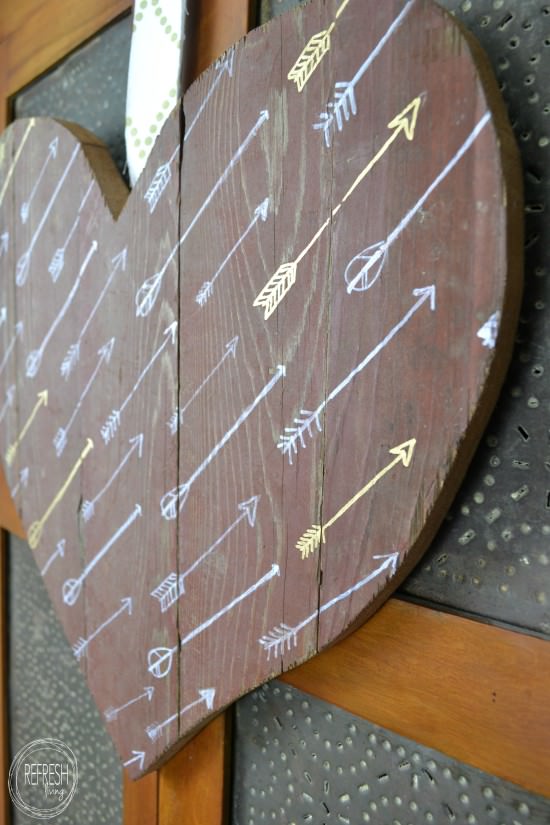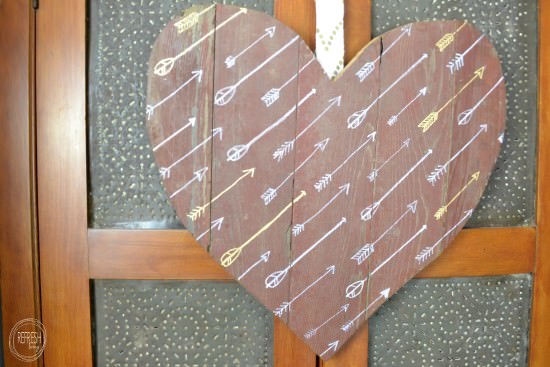 Look at all the other inspiring ideas my friends came up with using Graphic Stock images.  Please head on over and check them out!
7. The Weathered Fox ~ True Love Pillow
9. Domicile 37 ~ Butterfly Entomology Clock
12. Uncookie Cutter ~ Rustic Americana Wall Art
15. Pocketful of Posies ~ Valentine's Day Paper
16. The House Down The Lane ~ DIY Heart Candle Holders and Printable
20. Farmhouse 40 ~ Bird Canvas Wall Art
Join the Refresh Living DIY & Upcycling Community
Join the subscriber list to receive one to two emails per month with updates from the blog. PLUS, you'll gain access to my printables and graphics library. Every new design I create will be added here, and you'll have free access - forever!