Painting your own kitchen cabinets to give a professional finish is totally possible with the right type of paint! This post describes the best type of paint for cabinets, including which words to look for in the name of a paint, and the best brands of paint for kitchen cabinets.
This post was originally published in August, 2019 and has been updated in September, 2021 with information on new brands of paint available for painting cabinets.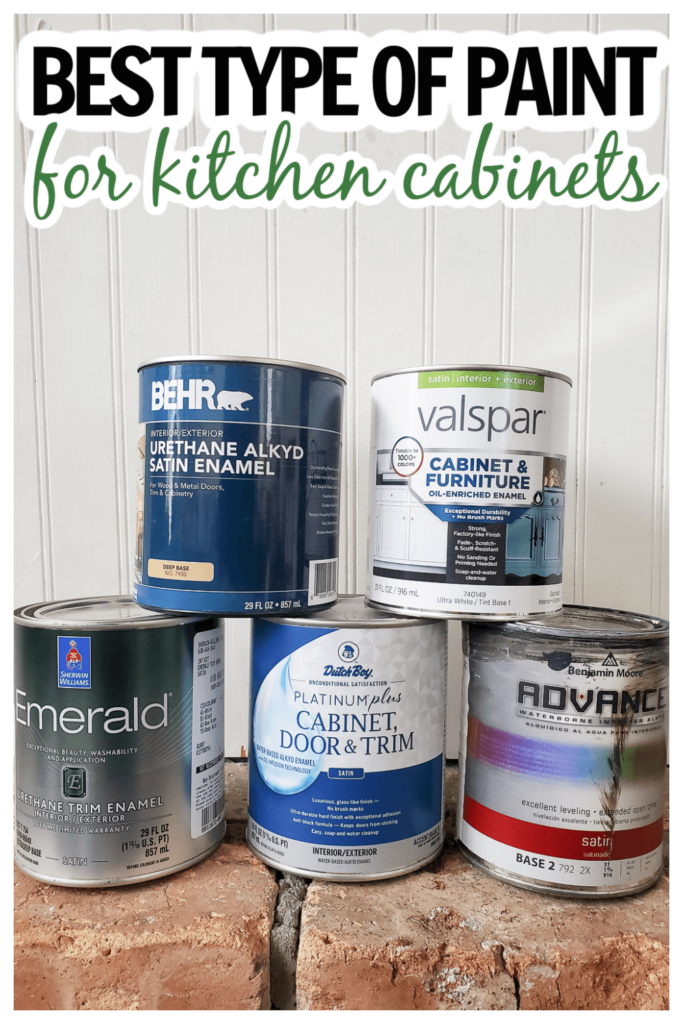 Although I certainly do not claim to be an expert, I've painted a few different sets of kitchen cabinets, and a whole bunch of different furniture pieces, using a variety of different types and brands of paints. Because kitchen cabinets are a high use item and often have a finish over the original wood that is being painted over, there are certain types of paint that I have found work best for cabinets. 
Before we start talking about paint, I can't go on without giving a quick PSA about sanding and priming cabinets before painting them. I would highly recommend sanding (and possibly priming) before painting your cabinets, no matter what type of paint you are using.
I know, I know, there are plenty of people on Pinterest who say you can paint your cabinets without sanding or priming (which you can, of course, do, because ultimately you can do whatever you want), but I would never recommend painting such a high use piece without first sanding, at the very least.  I always, always give my cabinets and furniture a light sanding before I paint. Always. Then, depending on the type of paint I use, I sometimes will prime them as well. This post will answer the much debated question – Do I need to prime my cabinets before painting?
Even if you are hiring a contractor to paint your kitchen cabinets, I would still highly recommend that you request for them to use alkyd paint on your kitchen!
Best Paint for Cabinets: Alkyd Enamel Paint
One of my favorite types of paints for painting cabinets is alkyd paint. They now make water-based alkyd paint which allows for easy clean up, but still creates an extremely durable finish without the need for a topcoat. Basically, it has all the great properties of an oil-based paint (dries to a tough finish, levels well), without the "bad" (it doesn't smell nearly as bad as oil-based, and you don't need solvents to clean it up). Quadruple win!
A few years ago, there were only two paint companies that manufactured this type of paint in a water-based finish.  Now, I've seen every major paint manufacturer now has an alkyd enamel paint and it can be found at all of the major home improvement stores.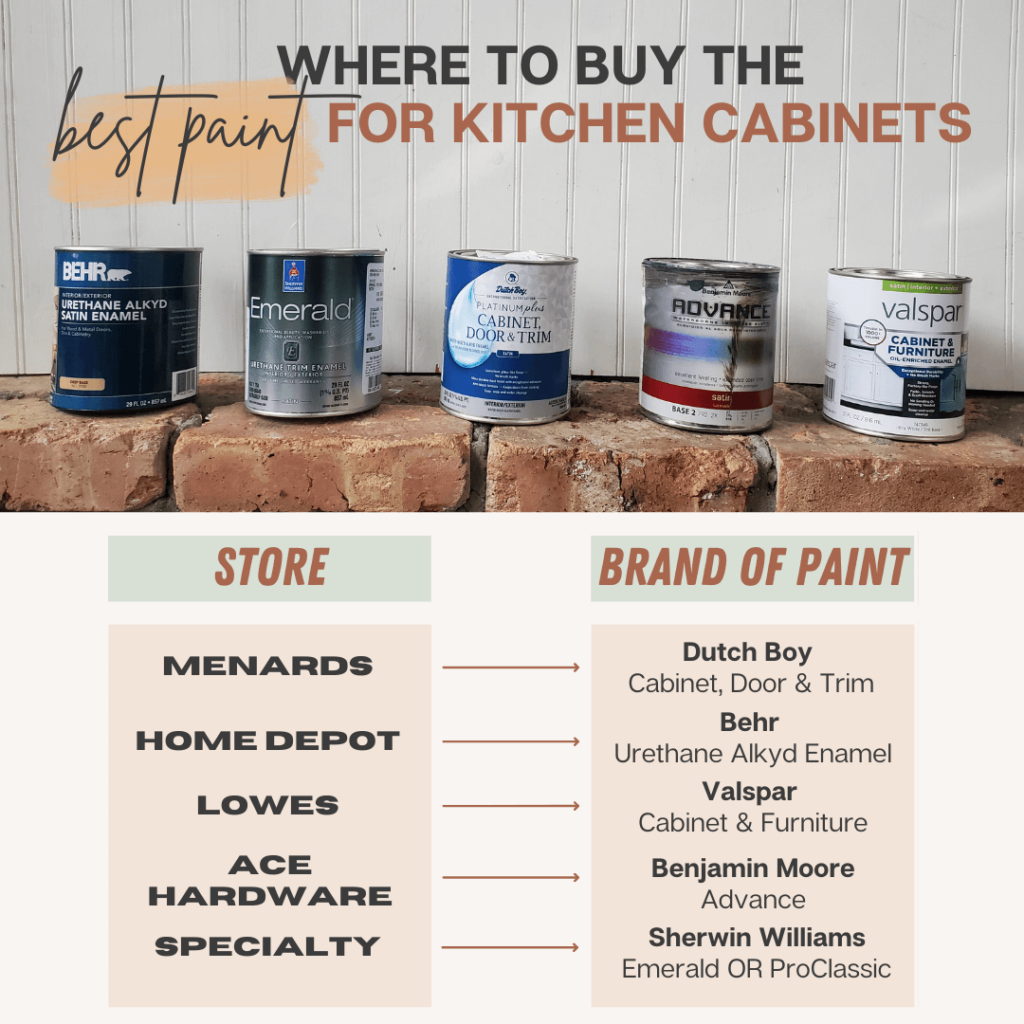 I've found that alkyd paint adheres best (and for a long period of time) if a primer is used first. It's well worth the little bit of extra time you'll put in to keep your cabinets looking beautiful!  If your cabinets are prefinished (meaning not unfinished wood) or painted, you can use any type of primer for this step. If they are unfinished wood, or made of cherry or mahogany, you'll need to use a primer that blocks wood tannins. This post describes the best types of primer for furniture and cabinets and will give you all the details you need to choose the best primer for your project.
Benefits to Alkyd Paint
Alkyd paint is made to mimic the benefits of oil-based paint, but without the hassle of clean up and the environmental impact. Here are those positive benefits to alkyd paint that make it the perfect paint for cabinets:
Levels beautifully – Basically, it levels when it dries, which means that you won't be able to see any brush strokes once the paint dries.
Dries to a tough, durable finish – Because the enamel finish is durable, it can be easily cleaned, which is essential in a kitchen.
No need for a topcoat – The tough finish means that you don't need a topcoat. Even if you choose a matte finish in alkyd, it is still tough enough to be wiped clean without a topcoat. (I've used both matte and satin finishes in two different kitchens and have been very pleased with the durability of both!)
Easy water clean-up – This paint is water-based, which means all supplies can be easily cleaned with water.
Cost of Alkyd Paint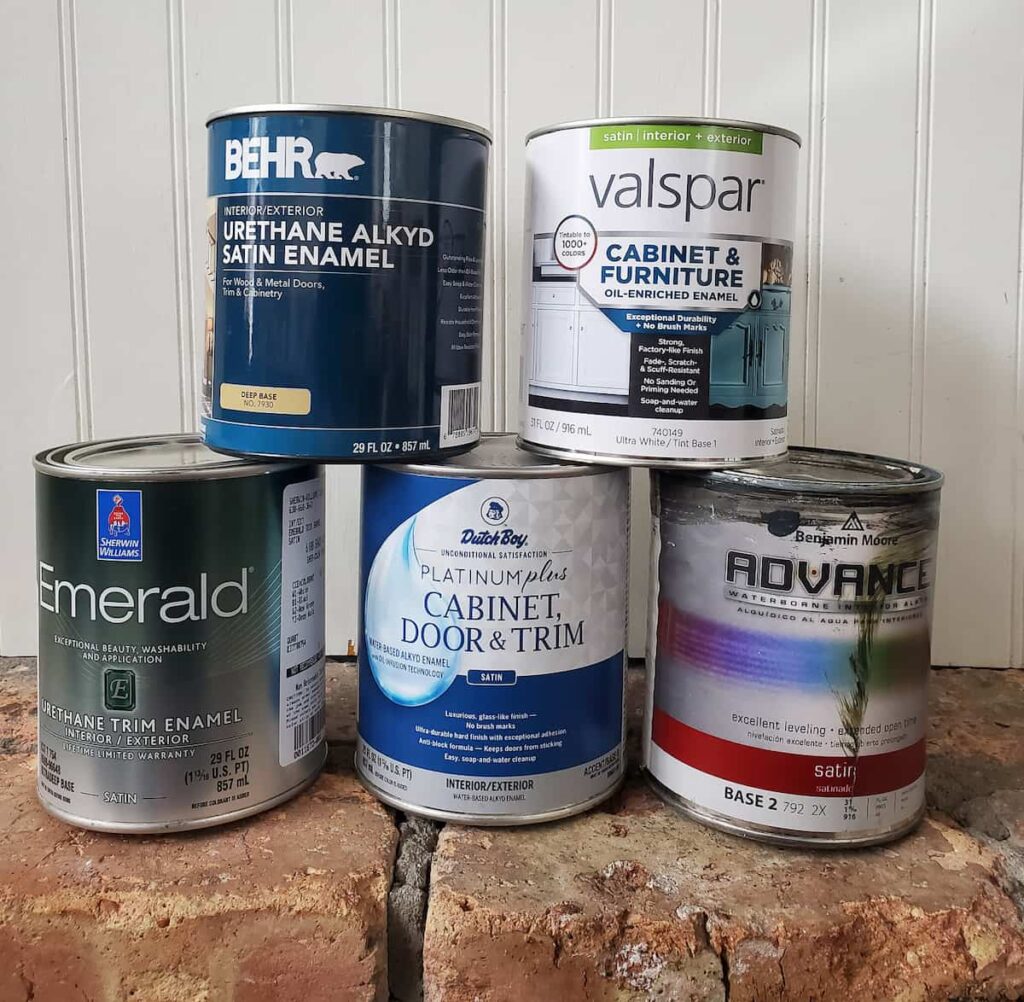 Please be aware that with all of these benefits, alkyd based paints will be more expensive than traditional "wall paint". Of course, there are different price points between the different brands, so you can save money there if you'd like. Also, a lower sheen will be less expensive as well. *Sherwin Williams and Benjamin Moore paints are the other ones that come in a flat/matte sheen in alkyd paint. The other, less expensive brands only offer satin and semi-gloss as finish options.*
| | |
| --- | --- |
| Brand of Paint | Approximate Cost per Gallon |
| Sherwin Williams ProClassic | starts at $93 (but they often have sales for 25% off making it around $70) |
| Sherwin Williams Emerald | starts at $78 (but they often have sales for 25% off making it around $60) |
| Benjamin Moore Advance | starts at $62 |
| Valspar Cabinet and Furniture Paint | starts at $54 |
| Dutch Boy Cabinet, Door and Trim | starts at $54 |
| Behr Urethane Alkyd | starts at $38 |
If you're looking for my personal favorite of all of these brands, I would have to choose Sherwin Williams Emerald paint. Of course, it's also one of the most expensive. With that being said, I've used all of these other brands and have been extremely pleased with all of them. If I had to pick a favorite of the more budget friendly paints (between Valspar, Behr, and Dutch Boy) I would choose Behr.
Quick note on Valspar Cabinet and Furniture Paint: I used it on a small piece of furniture and was please with it in comparison to the other lower cost alkyd paints. I recently noticed it has received very mixed reviews. With this in mind, I would recommend it with a word of caution. It seems that some people have not been able to achieve consistently good results with this paint.
Kitchen Cabinets and Furniture Pieces Painted with Alkyd Paint
I've used these paints in a variety of ways. In these posts, I share specific tips and tricks for the specific type of paint and project.
Another Option for Paint for Cabinets: General Finishes Paint
I've also used General Finishes Milk Paint on a set of kitchen cabinets with great success. This is the paint that you might have seen Pinterest posts floating around about that claim you don't need to sand or prime before applying it. Although it does adhere well to surfaces and you might be okay not sanding before using it, I would personally never recommend it.
Lightly scuffing the surface of the cabinets will create a little extra tooth in the slick finished surface of the wood for the paint to stick to. Whenever I use General Finishes on cabinets or furniture, I always lightly sand with 220 grit sandpaper, but rarely prime. The only time I have primed before using General Finishes paint is when I'm applying it to unfinished wood, or there is a water stain or tannin bleed through that I need to paint over.
Unlike Alkyd paint, I would strongly recommend using a topcoat over cabinets painted with General Finishes. The company makes clear acrylic finishes in sheens ranging from extra flat to high gloss that are super easy to apply and give a gorgeous finish. Although I often don't topcoat my General Finishes furniture pieces because it's not needed due to the fairly durable finish that the paint naturally creates, I definitely used a topcoat on the kitchen cabinets I painted with General Finishes because cabinets are high use and must endure a lot of wear and tear.
Words to Look for in Cabinet and Furniture Paint
Paint has come a long way in even the last ten years, as manufacturers are coming up with new blends and formulas that are easy to apply and give the best finishes. For example, interior wall paint used to be primarily latex, however now most are an acrylic-latex blend. Most oil-based paint isn't even available to the general public anymore, but instead they've created paints that have the benefits of oil-based in water-based finishes. ("Alkyd" was always an oil-based type of paint, but now these modified alkyds are water based.) With all of that being said – it's very difficult to find a paint that isn't a blend of something. Instead, look for key words when selecting paint for cabinets or furniture, and avoid others!
Words to look for when painting cabinets, furniture, and trim:
enamel – This paint will dry to a tough finish, and you shouldn't need a topcoat.
acrylic – I've found that acrylic paints (without latex) tend to adhere to finished wood (i.e. cabinets and furniture) much better. They also don't peel or flake away from the surface over time nearly as much.
urethane and/or alkyd – These paints were traditionally used for industrial or automotive applications because they are tough, but now with some of the blends that have been created, components are being integrated for easy use in the home.
Words to avoid when painting cabinets, furniture, and trim:
latex – If it has latex, it means that some of the binders are vinyl resins and the paint peels and flakes more easily. (Remember, we're talking about painting cabinets and furniture here; latex-based paint is still totally okay for walls, though.)
oil-based – Let's save our environment and stay away from oil-based paints that can't be disposed of, need solvents to clean up, and are highly flammable. Plus, they tend to yellow over time – yuck!
If you are chemistry minded and want to dive a whole lot deeper into this topic, this website breaks it all down way further than I could ever begin to comprehend.  
Cabinet Refacing and Painting
I updated our outdated 70s era kitchen at our cottage by replacing the doors with new, wood doors and painting them. Rather than ripping everything out (and wasting a ton of money!), I installed new doors and painted the entire space to give it a completely new look on a small budget. You can see how to replace kitchen cabinet doors in this post, or clicking the images below.
Tips for Painting Kitchen Cabinets
Now that you know the best type of paint to buy to paint your kitchen cabinets, this post might be a helpful read as it gives all the details on how to paint kitchen cabinets with all of my tips and tricks for a successful, professional-looking finish.
Thanks for much for being here! I can only hope this post was helpful to you in one way or another. Best of luck on your upcoming kitchen painting project. You've got this!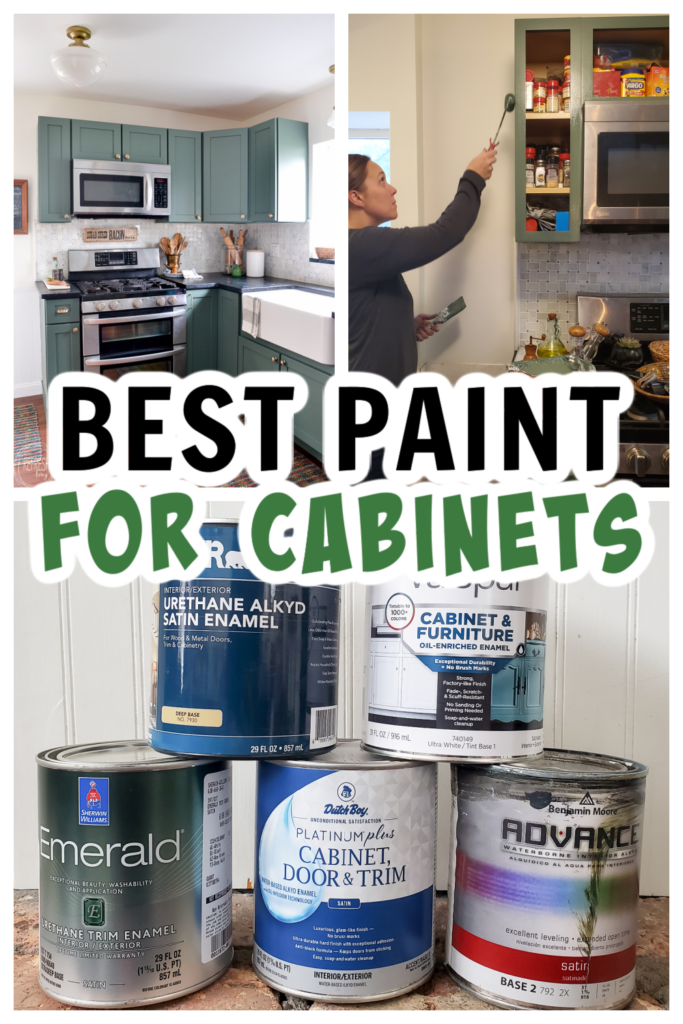 Join the Refresh Living DIY & Upcycling Community
Join the subscriber list to receive one to two emails per month with updates from the blog. PLUS, you'll gain access to my printables and graphics library. Every new design I create will be added here, and you'll have free access - forever!