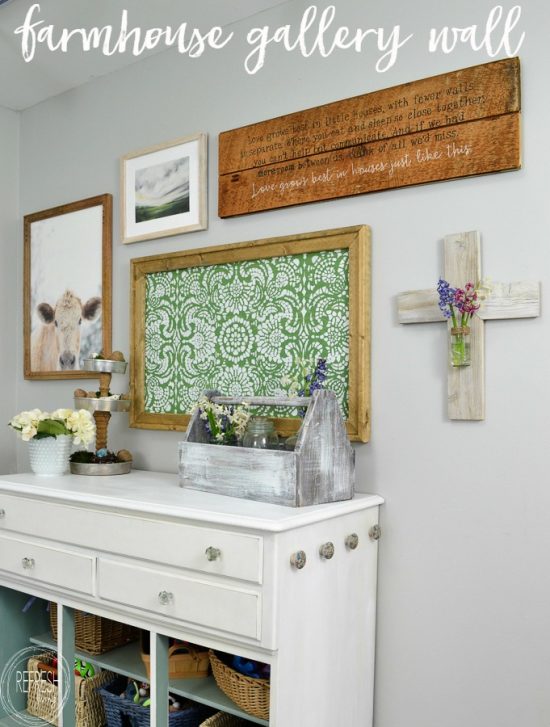 I've been so inspired lately by the huge variety of gallery walls I see when browsing through Pinterest.  I think what I love most about them is that they allow you to create such an original design element in your home, showcasing anything from original photographs, to artwork, to signs, to even items hung right on the wall!
Searching for pieces to include is half the fun of creating a gallery wall, because as they all come together I find that they can show your design style, even if you didn't intend for it to being with!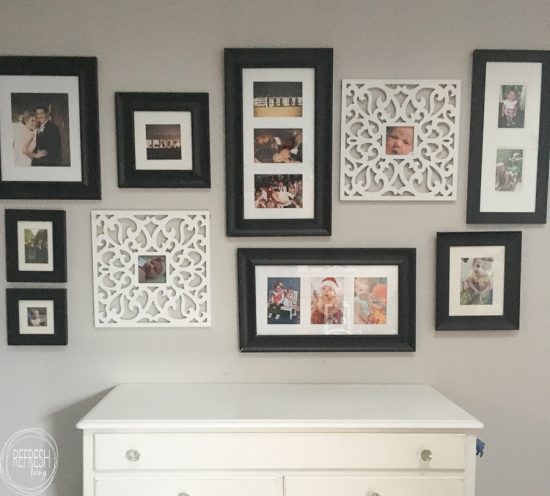 I've been wanting to update my gallery wall in the room called "the middle room" in our house.  It's really just a massive hallway connecting all areas of our home, but I've given it some function over the years with some storage pieces.
Any-who, I added family photographs about four years ago with these black frames.  At the time I loved it, but I've since become a little bored of the black.  Plus, I sometimes like to take photos of projects on that dresser, and I'd prefer not to have one of my naked babies in the background.
I'm moving those frames to another wall, painting them, and updating all of our family photos.  Expect a post on that gallery wall coming soon!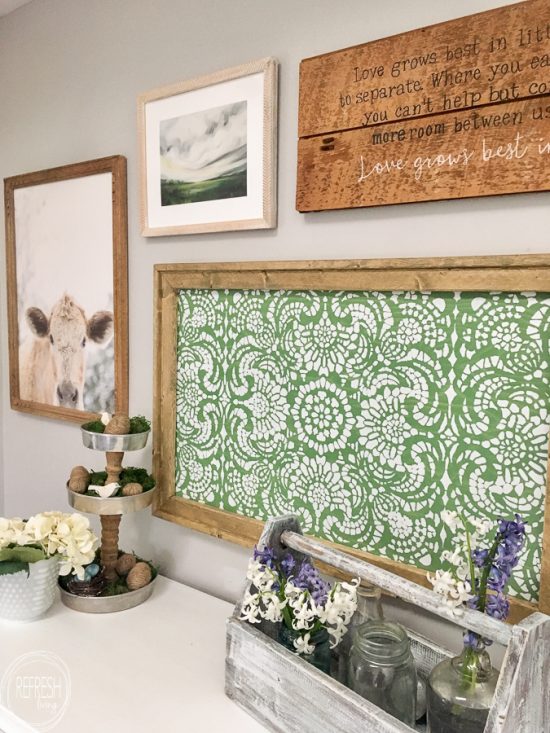 I started by gathering all my pieces for the gallery wall.  I knew I wanted a couple of pieces of art in the design this time, so I turned to Minted.com.  They have an amazing selection of fine art prints, and they are all limited edition prints, meaning only 350 of that size are printed and sold.  I love this option, because original art can be so expensive, and I still have some pieces that aren't sold to millions of people in big box stores either.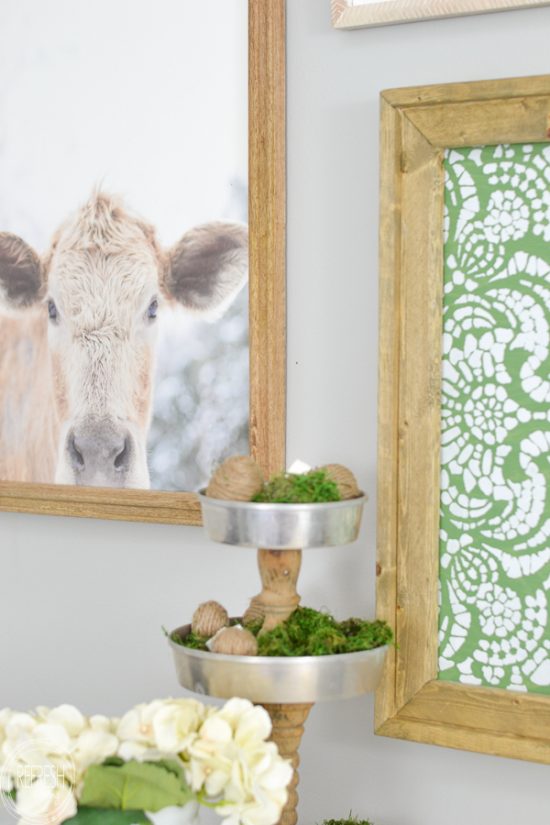 Once I saw this adorable cow photograph, I just couldn't pass her up.  My theory: I can't own a real cow, so I'm putting one on my wall.  My husband's theory: Why do we have a cow on our wall?
Either way, she's up, and I've named her Clarabelle.  My middle daughter named every baby doll Clarabelle when she was two.  I'm not sure where she heard the name, but now we have our own little Clarabelle.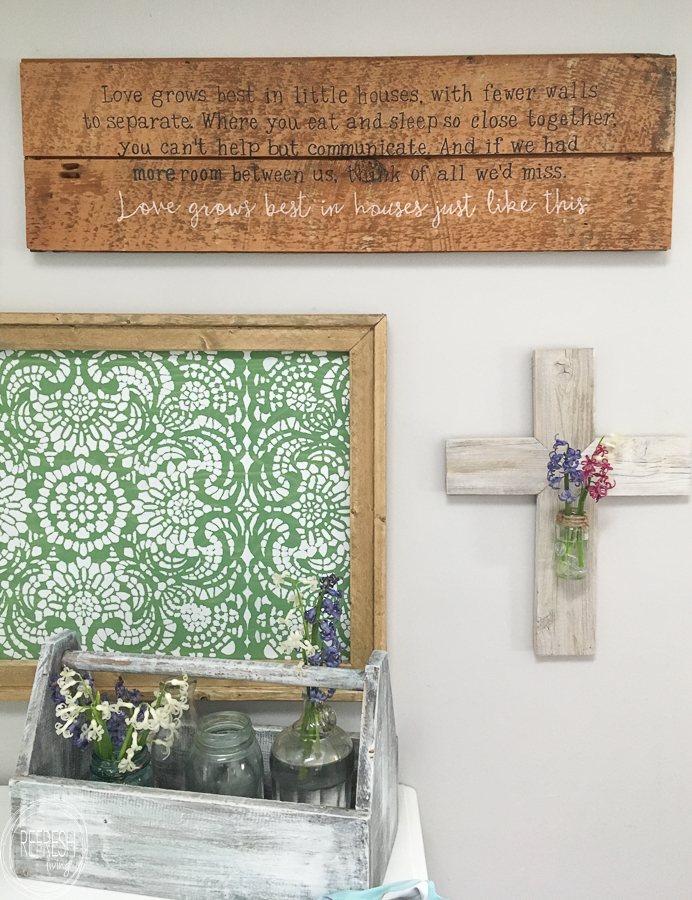 I created the wood cross from an old cedar fence picket and the little houses quote on some old wood paneling.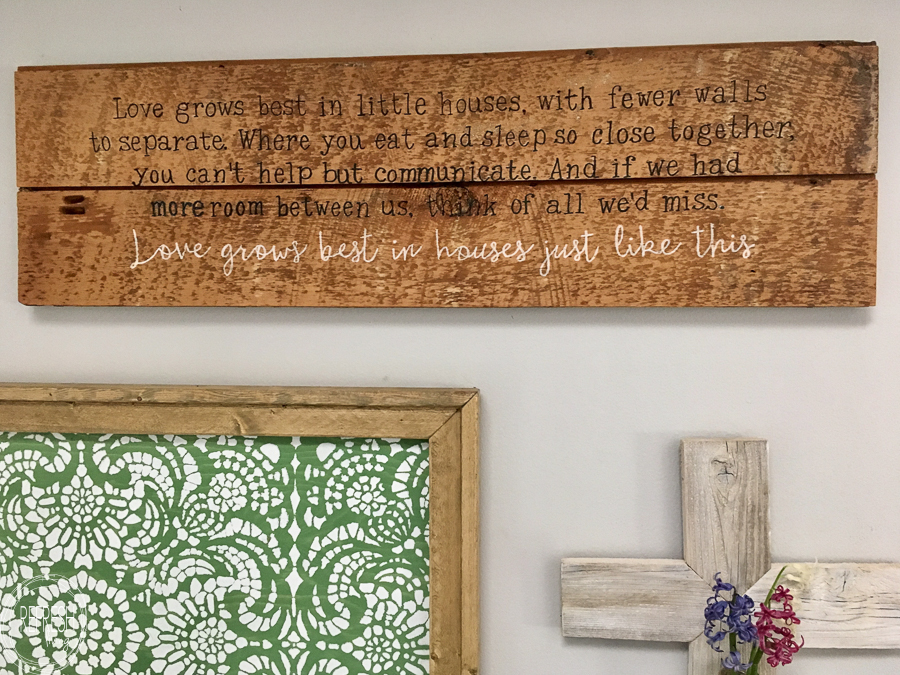 I love our home, and although I don't really consider it that little, it's certainly small in comparison to today's home size standards.  I feel that whenever kids need to share rooms or your "dining room" is actually just a table in your kitchen, you have a "small" house.  For those of you that are wondering, our house is a little under 1,500 square feet.  We do, however, have almost an acre of land.  As you can imagine, we spend a lot of time outside!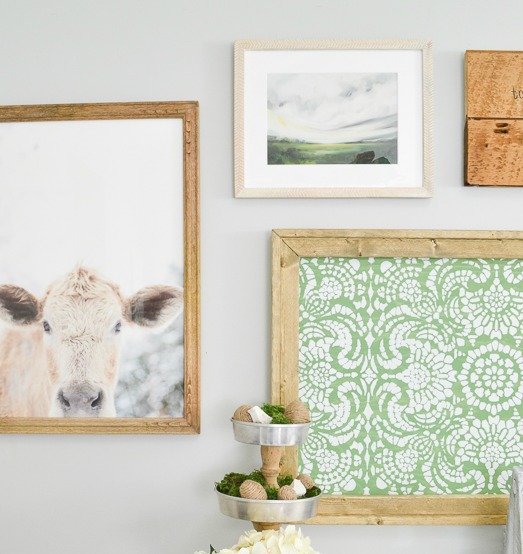 The other piece of art I picked out from Minted was the landscape image at the top called Mornings Away.  I was really drawn to the green in it, but also loved the muted colors.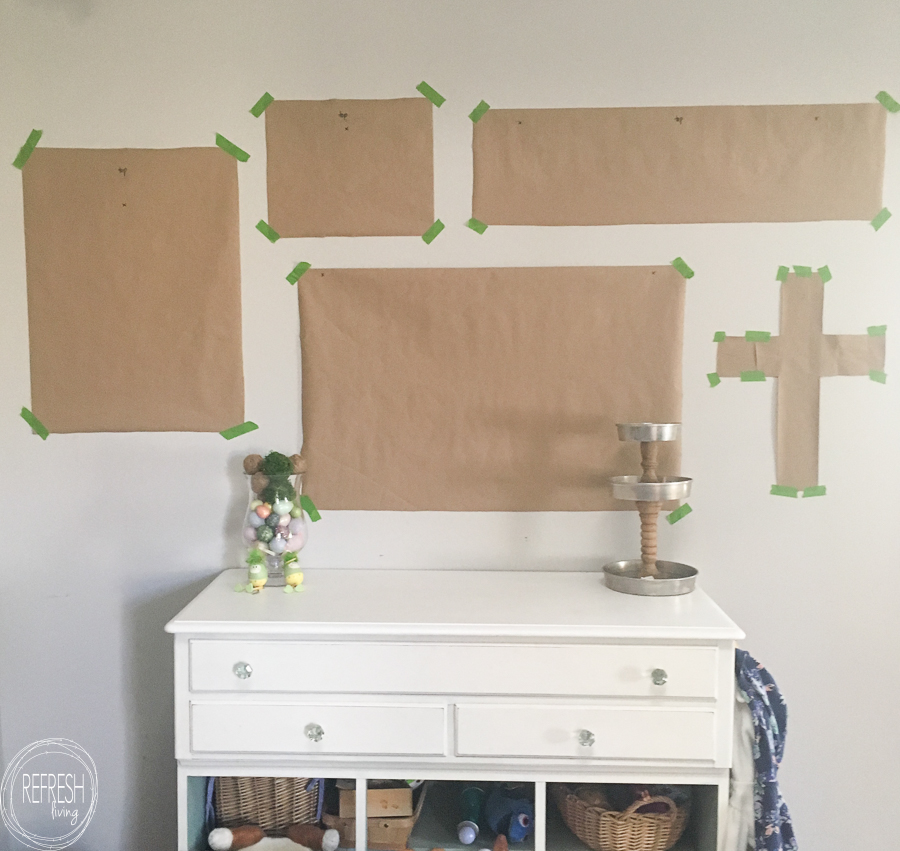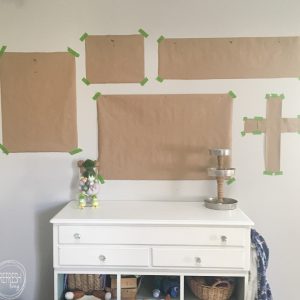 To make installing the gallery wall much easier, I traced each piece onto a piece of butcher paper and cut it out.  Then, I laid each piece of paper on the back of the artwork and marked where the hanging brackets were located.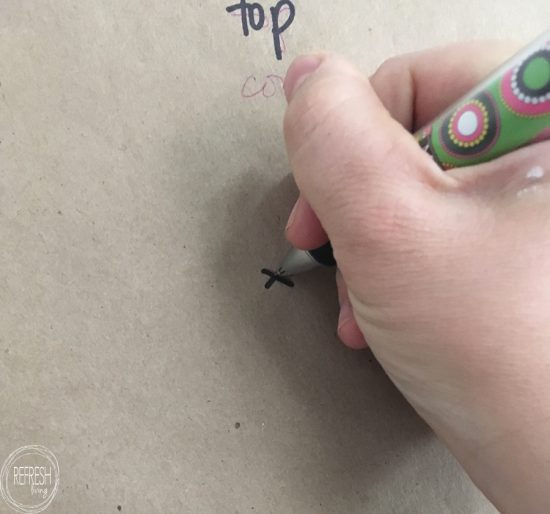 After I taped the paper to the wall, I made a mark through the paper onto the wall.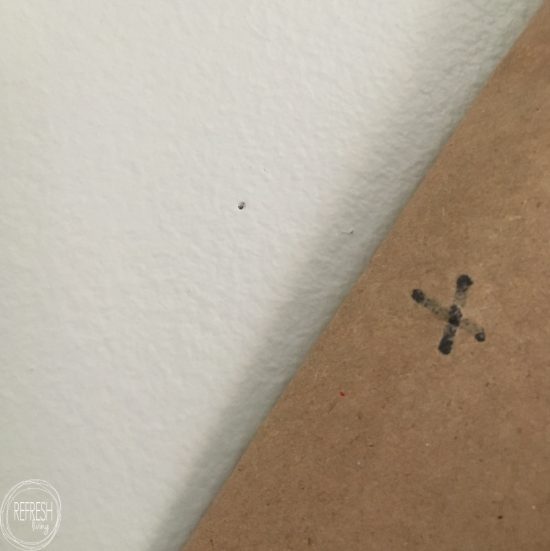 I prefer to use Command Hook picture hanging hooks to hang most picture frames and artwork.  I just place the hook or nail/screw right on the mark I made on the wall and the pictures come out perfectly spaced!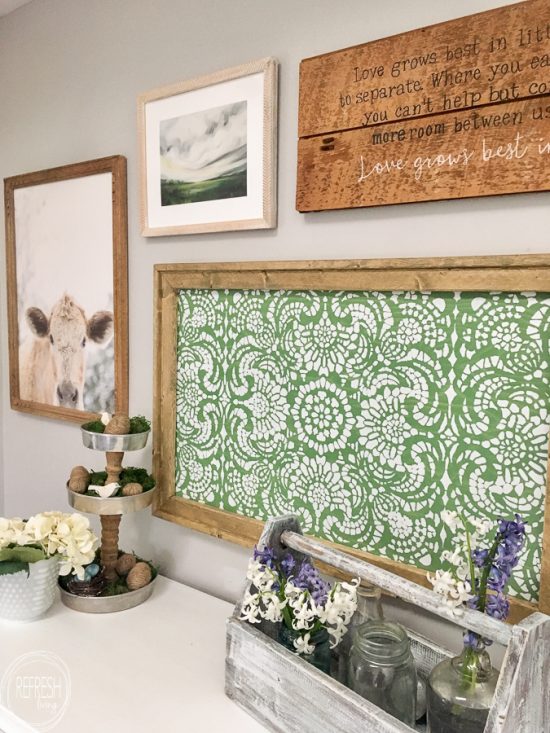 I'll share how I made the stenciled art and wood frame in an upcoming post.  It was so easy and cost a total of $4.  I'll take that price any day for a large scale piece of art!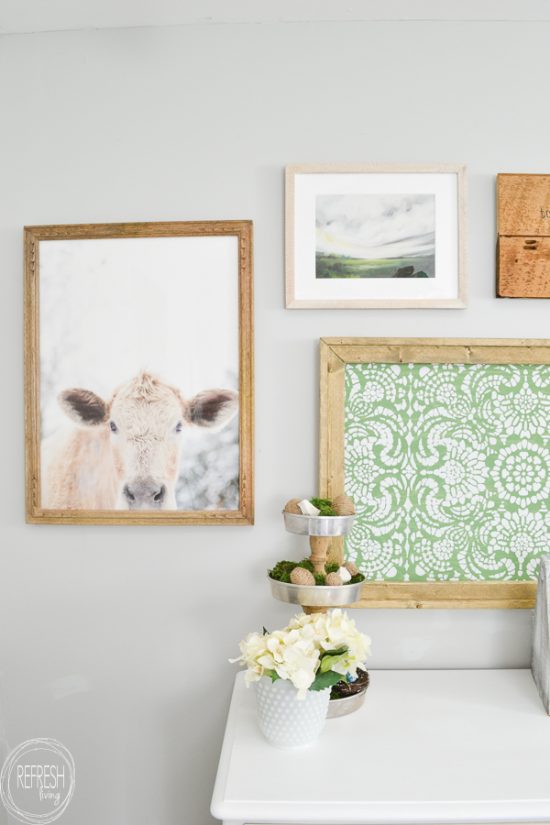 I can't help but smile every time I walk by this wall.  With a combination of personalized DIY projects and beautiful pieces of art from Minted, it's just perfect for our home.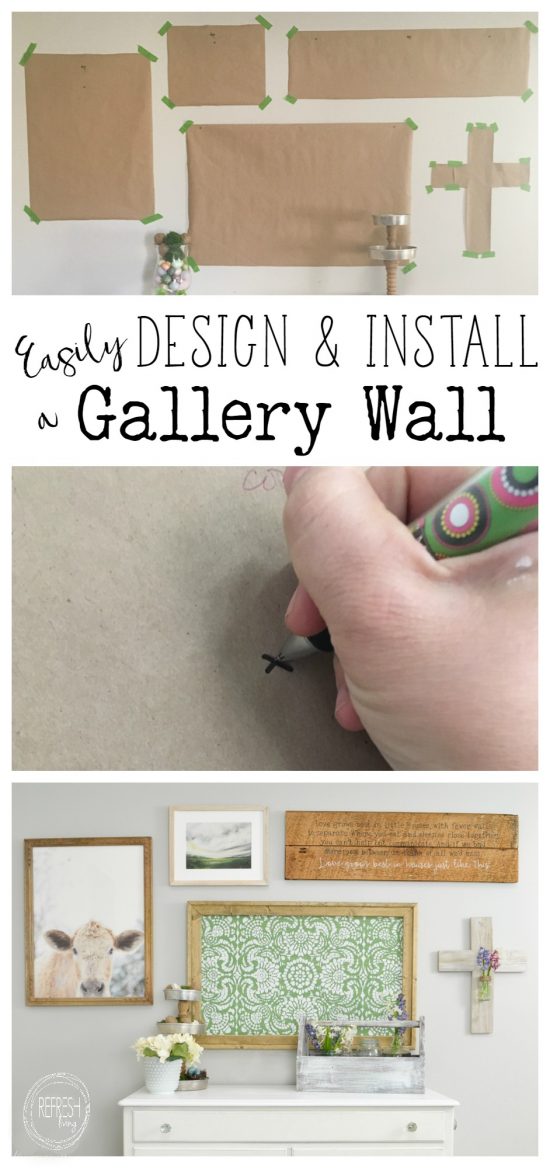 A few other DIY projects in this room:
Like what you see? I'd love for you to follow along!
The graphics library is free to all of my email subscribers; you can sign up by clicking the image below.

Join the Refresh Living DIY & Upcycling Community
Join the subscriber list to receive one to two emails per month with updates from the blog. PLUS, you'll gain access to my printables and graphics library. Every new design I create will be added here, and you'll have free access - forever!