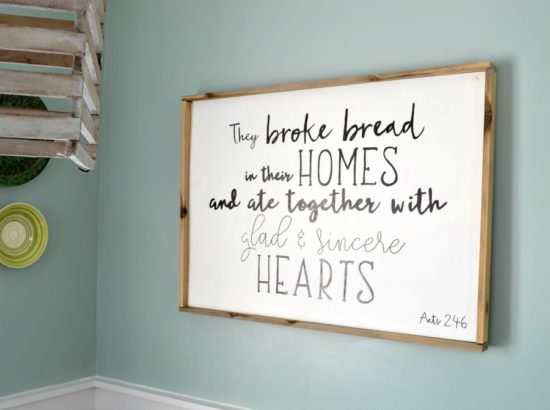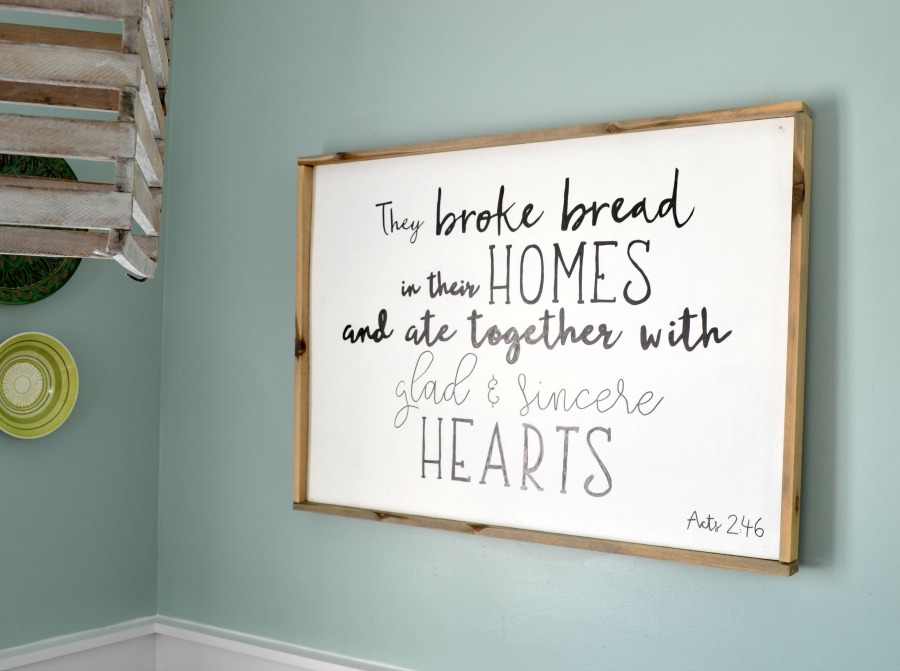 Putting the finishing touches on our kitchen has been on my to-do list for the past three years.  We gutted the kitchen, installed new hardwood floors, cabinets, appliances and half of the wainscoting, and then I stopped.  Everything was livable and looked good enough, so I let it sit in a 90% finished state for way too long.  I'm finally finishing up the room, and I started with our eat-in dining area.
I've been wanting to try to make my own wood signs and love this verse from Acts, so it seemed like the perfect fit for above our table.  I'll show you how to make a sign with a wood frame; you won't believe easy it actually is and how few tools you actually need!
I've made signs with two different bases – 1/4″ plywood (cheaper, sold in smaller sizes from craft stores, and often pre-sanded, but you'll need to reinforce the back with other pieces of wood) OR 1/2″ plywood (more expensive option, but you won't need to reinforce it – it's thick enough to nail the frame right to it)
This post contains affiliate links.
Supplies Needed to Make Wood Framed Lettered Sign
Option 1:
1/4″ sanded plywood, cut down to the size you'd like to make your sign
1″ x 2″ boards (see note below)
Option 2:
Other supplies:
Make the Base Panel of the Sign
You'll start by making the base of your sign.  I know the employees at most home improvement stores will cut down pieces of plywood to the exact size you'd like, or they also sell smaller pieces (I've seen 24″ x 24″ or 48″ x 24″). Home improvement stores sell both 1/4″ and 1/2″ plywood.  Recently, I've noticed that craft stores are carrying 1/4″ plywood panels as well (however, I have not seen 1/2″ panels sold at craft stores).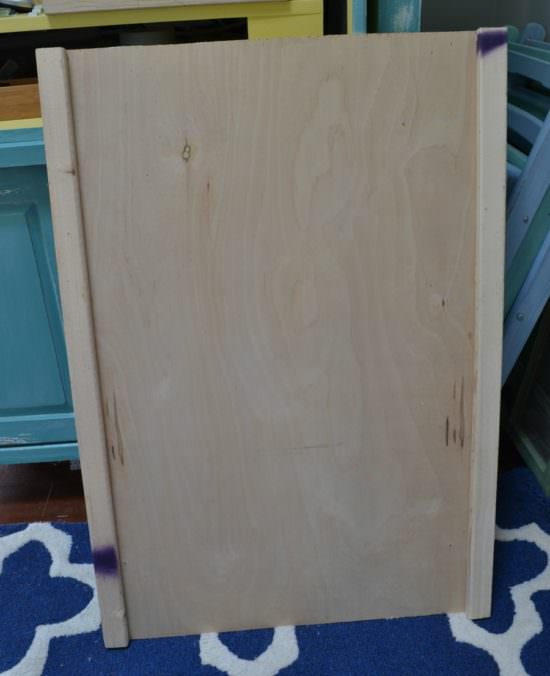 Option 1:  In order to be able to nail the wood frame into the panel, you'll need to add a little extra to the back.  Nailing into the thin sides of 1/4″ plywood is not easy, nor is it very sturdy.  I used two 1x2s that I cut down to the same length as the longer side of the plywood.  Again, the folks at your home improvement store can cut them down for you, or a simple saw will cut through them easily.  Then, nail (with 1″ nails) those two boards to the back of the panel, by nailing through the front of the plywood panel.  You can use wood filler to fill in the holes, if you'd like.
Option 2:  Because 1/2″ plywood is thicker, you don't need to nail the 1×2 frame boards to the back.  So, for this step, just cut your piece of 1/2″ plywood to the size of your sign.
At this point it's best to paint or stain the plywood.  If you want to paint your sign white, I'd recommend priming it first, so the knots from the wood don't eventually bleed through.
Design Lettering for the Sign
While the paint is drying, you can set up the lettering or quote for your sign.  I used a free, online program called PicMonkey to design the verse.  PicMonkey has a lot of fonts that are free to use for personal use, so if you are planning on making a sign to hang in your home, have fun designing with all the fonts!  If you plan to sell any of your signs, you'll need to purchase fonts with a commercial license.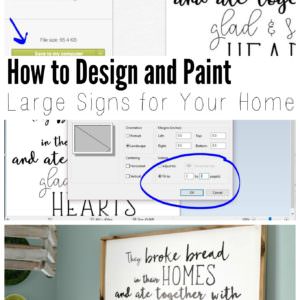 Here is a complete tutorial on using PicMonkey to design lettering for signs!  This will give you all the information you need on how to design lettered graphics, or just use a pre-made graphic and transfer it to the wood in order to paint it.  Go check it out, and then come back for the rest of this sign building tutorial.
*Update – I created a graphics library with many of the images and lettering I've used in DIY project, including this verse!  You can click here to sign up and gain access to all of those files!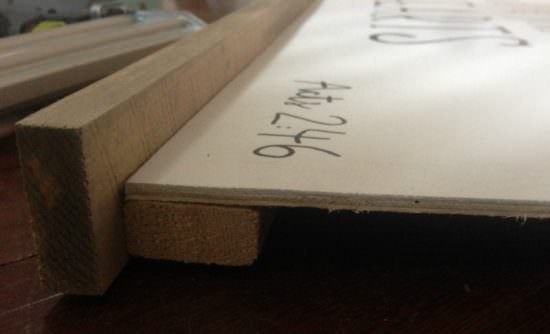 Make and Attach the Wood Frame
After the paint or stain dries and you paint on the lettering, you can attach the wood frame.  You'll need four 1x2s cut to two different lengths.  I honestly just laid my plywood on the ground and then measured the height of the board.  I cut those two pieces, set them on the frame, and then measured the length I would need for the top and bottom boards.  Those boards will cover the top and bottom edges of the sides of the frame.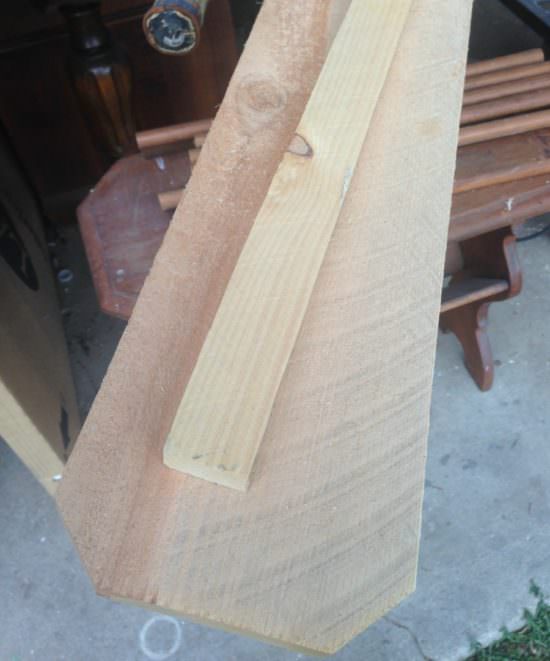 Instead of using 1x2s for my frame, I just bought a cedar fence panel and ripped it down to 3/4″ inch thick pieces (the same thickness as a 1×2″ board).  I also chose to add a little color to my frame.  You could stain them in a color of your choice once they are cut.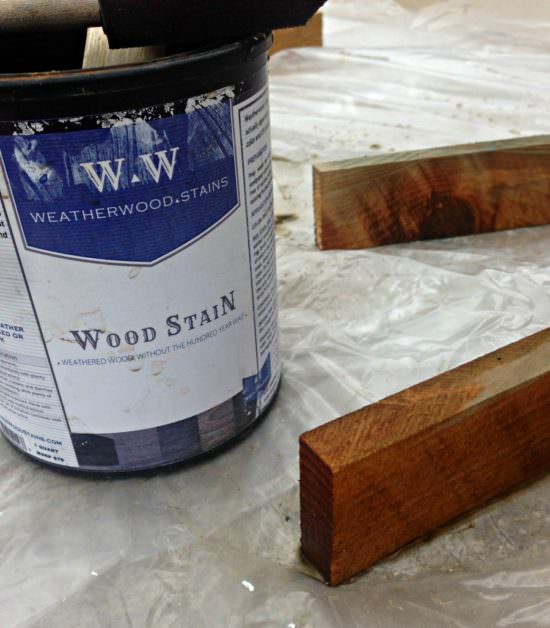 I used Weatherwood Stain; an awesome product that naturally weathers wood.  It brought out the knots and veins in the wood just beautifully!
Once the frame has dried, it's time to attach it to your panel.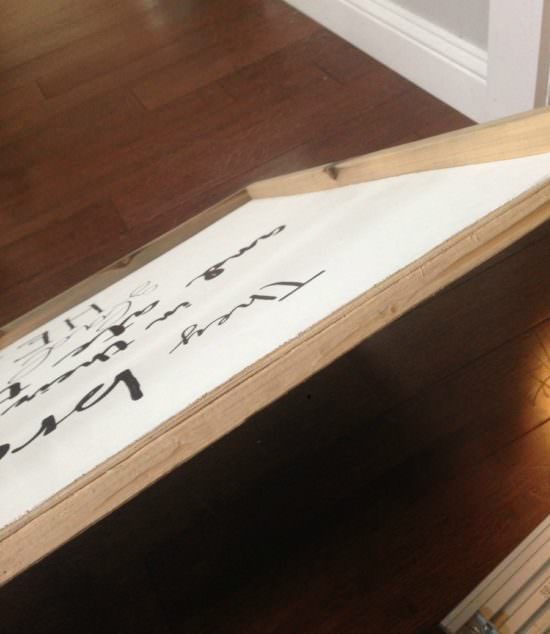 Basically, you will nail each of your frame boards into the 1x2s on the back of your plywood panel.  On the top, you'll nail every few inches, but on the side boards, you'll only nail into the end of the 1×2 on the top and the bottom.
If you use 1/2″ plywood for your sign base, just nail the frame right into the side of the plywood.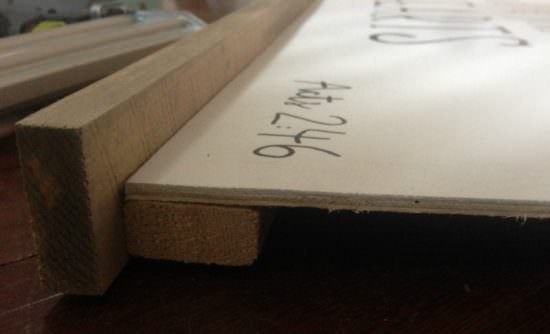 After it's all put together, it's ready to hang on the wall!  I used two saw tooth picture hangers on the back, but you could also use d-ring hangers on each end on the back as well.  This kit contains both d-ring hangers and sawtooth hangers!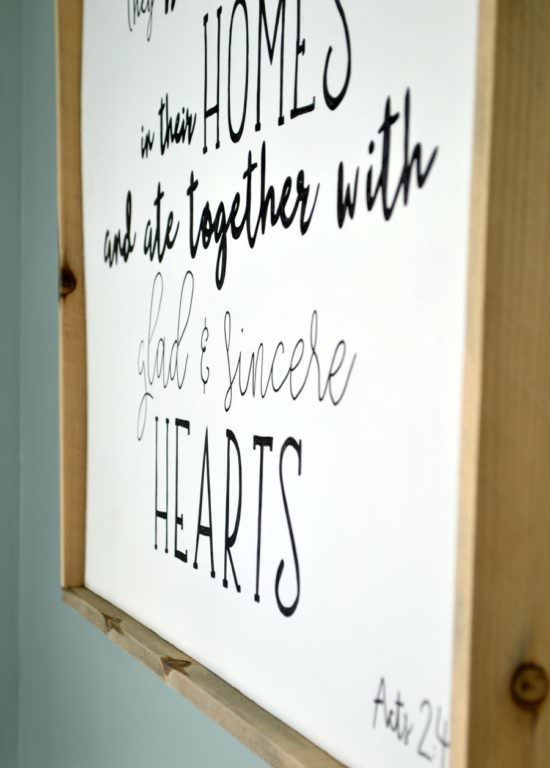 If you wanted to forego the step of adding a 1×2 to the back of the panel, you could probably just buy 1/2″ plywood.  It should be thick enough to nail the wood frame into, but it will be quite a bit heavier.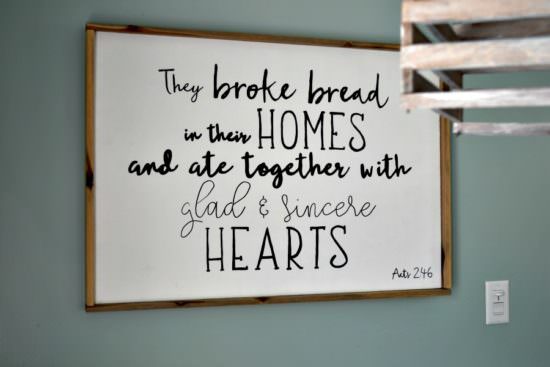 Here is a little peek at our eat-in kitchen that is now 98% finished.  Unfortunately, I only finished the trim on the wainscoting in this area, so I still need to finish this in the rest of the kitchen.  It will get done, eventually.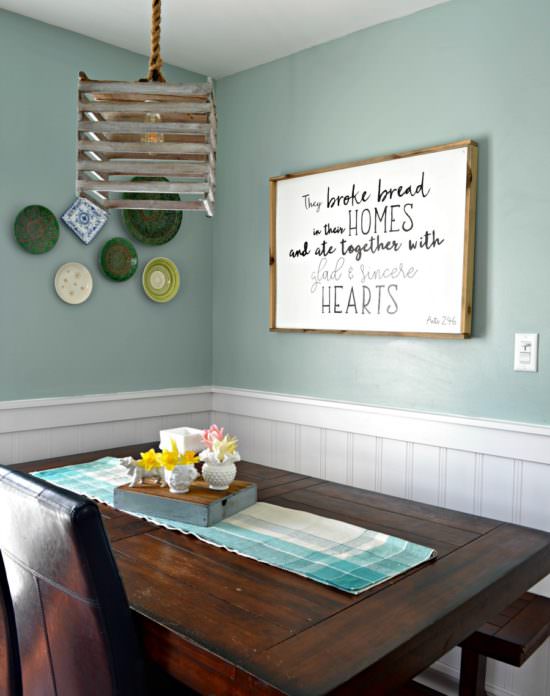 I recently updated the entire dining room for $100, including a whole new dining table!  Here's how it looks now, but you can see the entire room makeover here.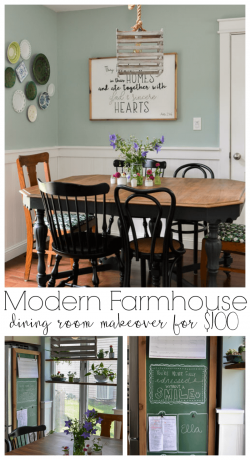 Here are a few more signs I've made for our house and cottage.
Like what you see? I'd love for you to follow along!

Join the Refresh Living DIY & Upcycling Community
Join the subscriber list to receive one to two emails per month with updates from the blog. PLUS, you'll gain access to my printables and graphics library. Every new design I create will be added here, and you'll have free access - forever!