Sometimes, I get a little bored of projects halfway through.  In fact, I have so many unfinished projects laying around because I get a new idea about something else mid-project and switch gears.  I'm really trying to improve on my DIY attention issues, but thankfully, I didn't struggle with it one bit on this raised garden bed.  I've been so excited about this project ever since I dreamed it up a couple of weeks ago.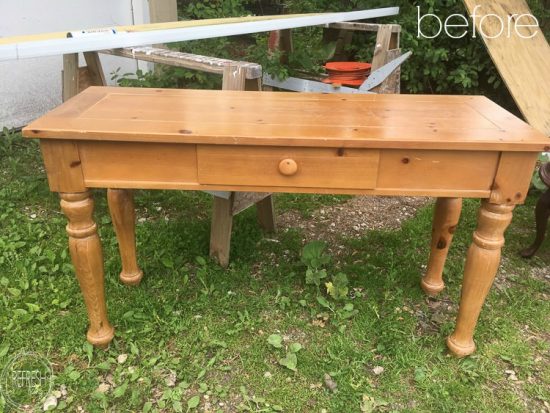 It started with this sofa table that was given to me by my brother and sister-in-law.  Their mom was moving, and she didn't want the table anymore.  I certainly didn't want to add another piece of furniture to my already overcrowded garage, but I just couldn't pass up a solid table with good bones.
Inspiration struck when I was searching for DIY raised garden beds.  I planned to build one, because I've recently discovered that building stuff isn't nearly as scary as it once was a short year ago.  Then it hit me; I have a  long, thin, tall table in my garage.  The perfect size for a raised garden!  It was off to the races to figure out how to make it all work.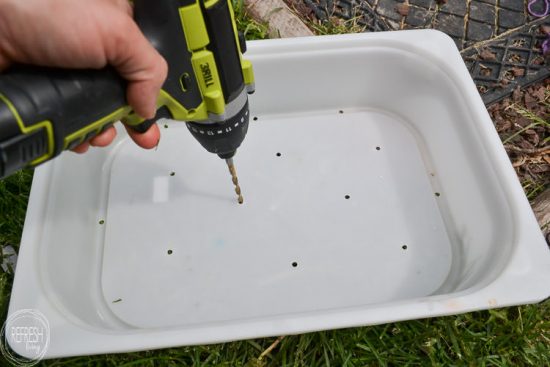 I started with an IKEA bin that I stole from my kids' basement storage racks.  Oh, too bad, I now have to make another trip to one of the greatest stores on earth.  And, the kids will probably be hungry and I'll just have to stop and eat.  I guarantee we'll ride the elevators at least 5 times.  Happy kids = happy mom.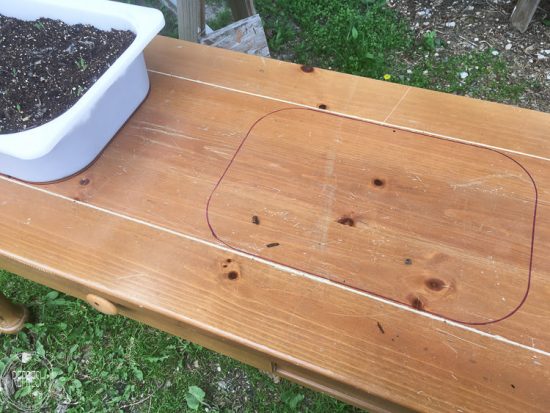 After drilling holes into the bin, I used it as my guide to trace the size of the bin onto the top of the dresser.  These bins have these little nubs on each corner, so although I traced rounded corners, I ended up needing to make them square.  Thankfully this made the cutting much easier!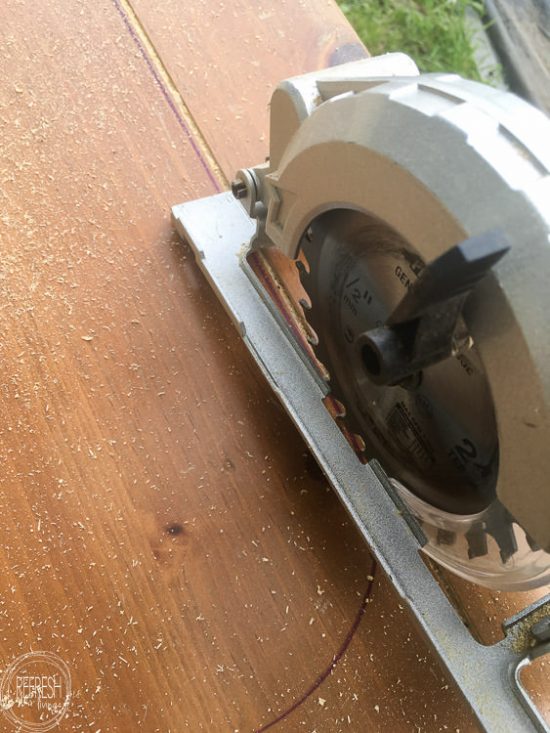 I used my compact circular saw (like this one) and cut into the top.  The trick to starting the cut is to place the front guard onto the piece, pull the trigger to get the blade going, and then slowly lower the blade into the wood.  From there, it's just straight cuts. I did need to use my jigsaw to get the small corner pieces cut out.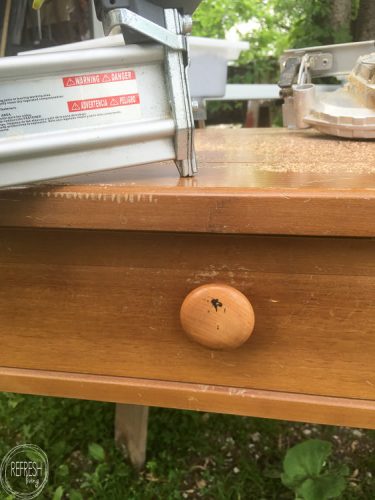 This table had a small drawer, but since the bins were going to be lower than the drawer, I knew it had to go.  I just sawed off the drawer pieces from the front, and then wood glued and nailed the front plate in place from both the top and the bottom.
After the holes were cut, I sanded it down before painting.
This DecoArt Outdoor Living is made for projects just like this!  It has a sealer right in it that makes it suitable for painting pieces that will be left outdoors.  I used Frosted Glass, but check out all these other colors that I had such a hard time deciding between.
My girls come running every time they see my with a paintbrush in my hand.  Since this piece was staying at our house, I let them help me paint it.  The control freak in me still made sure to give my three year old the task of painting the underside of the table.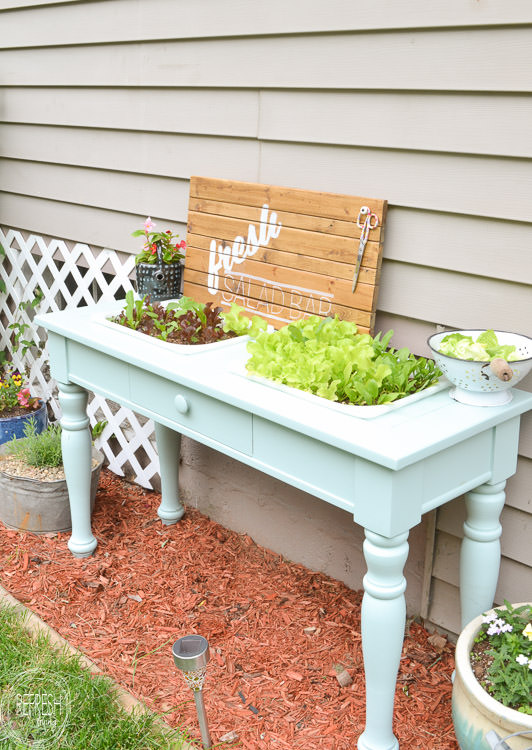 I added three coats of paint because I wanted to be sure that any of the little imperfections were completely covered with paint.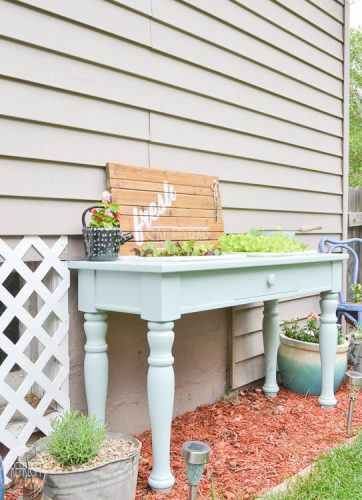 This guy sits under a fairly large roof overhang, so it actually doesn't get drenched when it rains.  So far, the paint it holding up beautifully.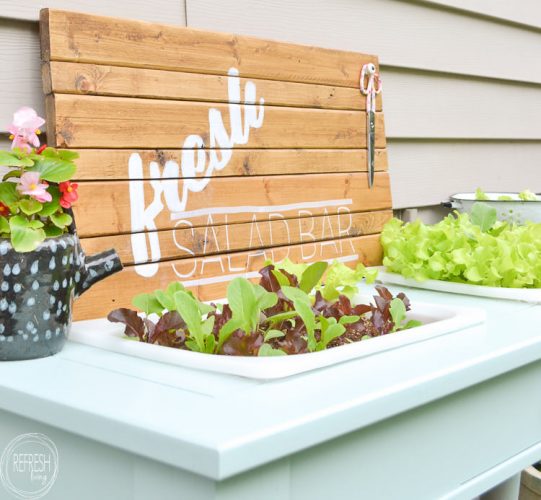 Of course, I'll definitely make sure to bring it into the garage or covered area for the winter.  I don't like snow on me, so I'm guessing this guy won't either.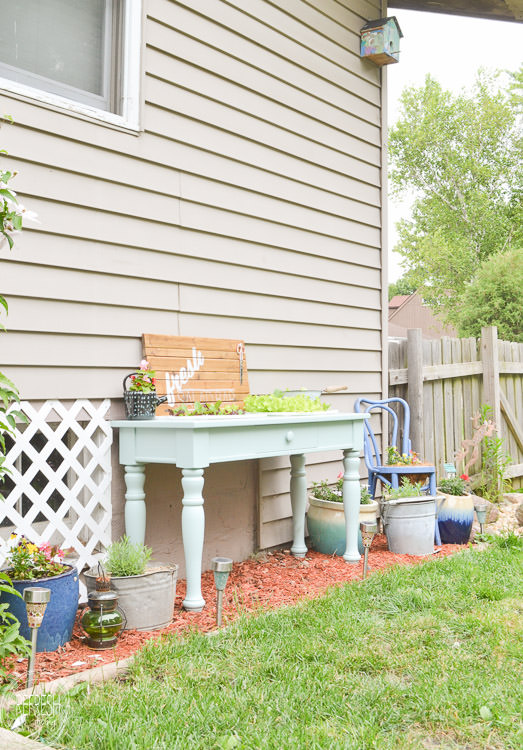 The poor bunnies don't stand a chance at eating this lettuce! (At least I don't think they can jump that high.  Can they jump that high?  Maybe use those pots as stair steps?  Uh-oh.)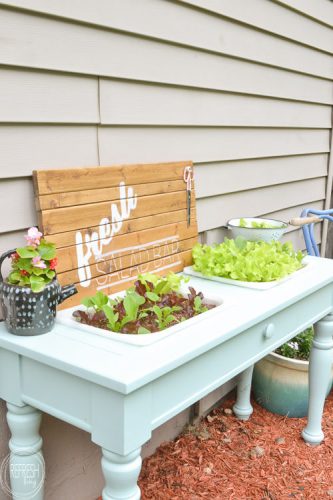 I'll share how I made this easy salad bar sign soon!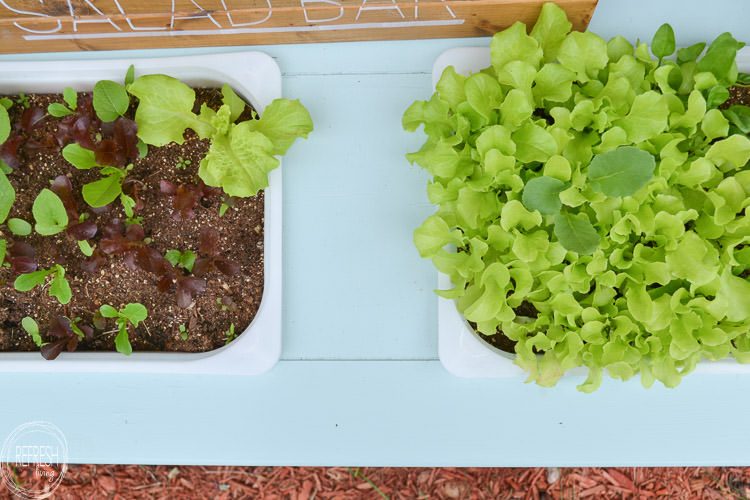 Want to make sure you don't forget about this idea?  Pin it for later!  (Many thanks!)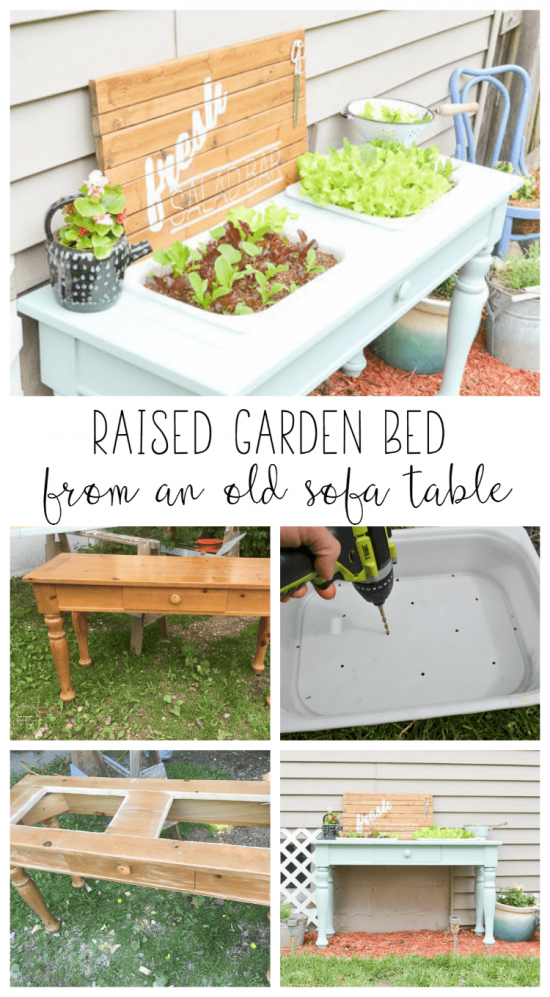 Think someone else might like this idea?  Pin it! (Again, thank you!)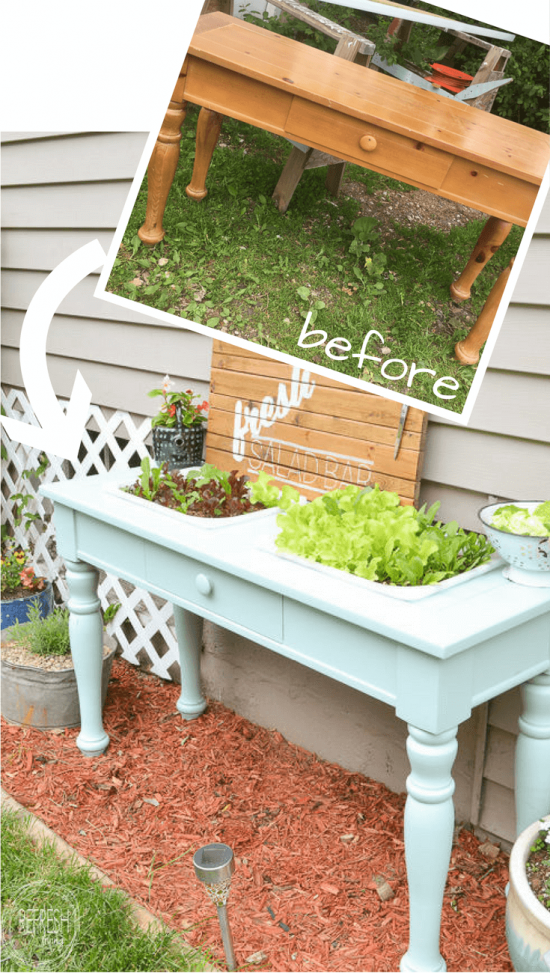 Or, you can gain inspiration from my other refinished furniture projects here:


Join the Refresh Living DIY & Upcycling Community
Join the subscriber list to receive one to two emails per month with updates from the blog. PLUS, you'll gain access to my printables and graphics library. Every new design I create will be added here, and you'll have free access - forever!